Wes Vernon
Memo to GOP hopefuls: leave our conservative farm team alone (so who for VP?)

By
Wes Vernon
April 9, 2012
Several years ago during the Jesse Helms era, a top staffer for a relatively conservative East Coast U.S. Senator told me that Senator Helms was probably the only true unalloyed conservative in that august body. The other Senate conservatives felt pressured to cut corners here and there to avoid establishment ridicule. That mindset, of course, was a product of the one-way street ideological media monopoly prior to the talkradio/Fox/internet counterpunch.
Some attributed such caution also to the Senate's intentionally slow deliberate pace, and the fact that 50 statewide constituencies encouraged "consensus" and "compromises" more often than in the more splintered House.
Helms, the organizer
When North Carolinian Helms was a senator (1973-2001), he organized in his state to elect conservatives at every level of what was (early in his Senate tenure) still a part of the rapidly fading "Solid [Democrat] South." Republican Helms was himself a former Democrat.
He went about changing the political culture of his state from top to bottom, creating a "machine" that made significant inroads all up and down the Republican ticket. Helms also knew the opaque rules of the Senate like the back of his hand. He could finagle his liberal colleagues into going on record with votes and positions that were popular with their party's base, but detested by the voters who had sent them to Washington.
Though Senator Helms was surely an icon, his grassroots organizing was largely (though not entirely) confined to North Carolina.
That was then, this is now
Today, the Senate has another conservative organizer. He is James DeMint, who hails from next door in South Carolina. He has all the organizing talents that Helms possessed, except that DeMint enjoys a strong wind to his back, thanks to the new conservative media and grassroots Tea Partiers. With that support, the Palmetto State lawmaker has taken organizing to a new national level with the specific goal of electing unabashed conservatives to the Senate. And today, thanks largely to Jim DeMint, the Senate has more principled conservatives amongst its membership than it has had for a long time.
Last year, Tea Partiers were aghast when it was suggested that the South Carolinian should run for President. In theory, a DeMint administration would be conservative paradise. But then, he couldn't do much unless he had a Congress to back him.
That's the point
Which is why conservatives might want to consider sending out this plea to the 2012 presidential nominee: Don't pick a running mate who is extremely valuable where he/she is. What's needed is a farm team for the future.
There is a lot of talk these days about according the vice presidential nomination to freshman Senator Marco Rubio. That's understandable. Rubio is young, articulate, and knowledgeable. He would be a very attractive addition to the Republican ticket. If Mitt Romney is the nominee, Rubio would offer reassurance to those of the party's base who have questioned the former Massachusetts governor's conservative credentials.
But ask yourselves: How much good do you think Marco Rubio can do by sitting out the next four to eight years in the Vice President's mansion?
Here's a young man on the move. He can stay in the Senate long enough to build seniority — maybe someday chair the Senate Foreign Relations Committee (of which he is a member). Rubio is a former Speaker of the Florida House of Representatives, a position leaving him experienced for the role of — say — Senate Majority Leader in Washington after he gets a few Capitol Hill years under his belt.
Or after he has become a national figure through the Senate clout he will acquire, Marco Rubio would be ready to run for President himself. And Republicans are even thinking of taking this rising star out of the Senate? What a waste.
On to New Jersey? Oh, no you don't
It has been suggested that Americans are so fed up with political double-talk that they would greet with open arms a would-be President or Vice President whose sheer candor could make him a Will Rogers-style celebrity.
New Jersey Governor Chris Christie would indeed rock this town like few others have done — as President or Vice President — someday. Just not now. For 2012, as he has said many times, he has too much work to do right where he is.
He also is young — by politician standards. Though New Jersey in recent years has leaned heavily Democrat, the Garden State in the past has exhibited some strong Republican tendencies. Just two decades ago, its legislature was lopsidedly in GOP hands, with a majority that lasted for about ten years.
At that same time, however, a RINO Republican governor almost single-handedly destroyed the party in the state. Chris Christie, by breaking up some cozy arrangements with the teachers unions and other special interests, is making progress toward returning New Jersey to its traditional status as a political "tossup."
His deft leadership has restored fiscal sanity in a state where off-the-charts-spending had gained routine status. Governor Christie faces a tough re-election fight in 2013. His legislature remains in Democrat hands. Without him at the top of the ticket, any hopes of further Republican inroads would be dimmed.
In addition, his logical pathway to a U.S. Senate race down the road would be curtailed. Theoretically, after a stint in the Vice President's mansion, he could go back home and run for the Senate. But once you've gone national, it isn't necessarily easy to replant your political roots at home base. The last VP to accomplish that was Alban Barkley of the Truman era.
Leave Chris Christie alone. New Jersey needs him to stay put. Some see the governor as "a moderate with a mouth." To the extent there is an element of truth in that, remember this is New Jersey. In those environs, he can be defined more as a "street corner conservative" with good basic instincts, especially on social issues. In due course, Garden State voters might send him to Washington as their first Republican senator in decades. From then on, who knows?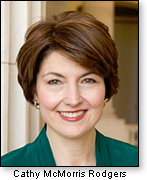 A conservative woman
Recent elections have increased the numbers of conservative women in the House of Representatives. Foremost among them is Cathy McMorris Rodgers of Spokane, Washington.
As vice-chairman of the House Republican Conference, she is the highest ranking woman in the Congress, where she is in an ideal position to continue a ladder climb to — well — perhaps Speaker of the House someday.
Back home, McMorris-Rodgers previously served as the highest ranking Republican in her state's House of Representatives as its minority leader. In that capacity, she was the first woman to lead a House caucus, and the youngest since World War II. She also chaired the House Commerce and Labor Committee.
The congresswoman has taken the lead on such issues as the International Monetary Fund, authoring legislation requiring that any unused U.S. funds granted to it in an earlier $100 billion package be refunded to American taxpayers.
When Rep. McMorris-Rodgers couldn't get a straight answer from Treasury Secretary Timothy Geithner as to how much was owed, she did elicit the information in a face-to-face meeting in her office with IMF head Christine Lagarde. The amount used so far is $28 billion, according to
Human Events.
And at last count, her legislation was nearing 100 co-sponsors. A companion measure in the Senate has been authored by Senator DeMint.
At age 42, McMorris-Rodgers, a member of the House Energy and Commerce Committee, obviously has a bright future, either in rising through the ranks of House leadership, or perhaps a run for the U.S. Senate. Four to eight years in the VP's digs? Really?
Stay away from SC gov & Wisc. senator
We could go next to South Carolina Governor Nikki Haley, offering similar reasons for letting this newly-elected chief executive (and former state senator) serve out her terms, and then perhaps she will join her fellow South Carolinian DeMint in the U.S. Senate. Leave her in place.
Ditto freshman Senator Ron Johnson, a super-intellect and very articulate Wisconsinite. Arguably among the best of the newcomers from the Class of 2010. Let him stay there.
Got the message?
The Republicans have an incredible team of young talented leaders building outstanding records. President? Maybe — someday. Vice President? What a waste.
OK, so who?
The ticket of course, must be filled by someone, and not just anybody. One might want to consider any one of several proven senior statesmen or women who are smart and able to step into the presidency if necessary. As one example, we would suggest Jon Kyl, an accomplished and decent patriot who has decided after 18 years in the Senate (preceded by eight years in the House) that he is ready to step down.
Last year, when Senator Kyl announced his plans to leave the Hill, he told reporters the vice presidency is the only possible job that might lure him from retirement, adding that the chances of his being asked by the presidential nominee to run for No. 2 were zero.
Why? If anything, the Arizonan is
over-
qualified for that job, and if necessary, could step in and do the No. 1 job, as well. There is no question of his qualifications. None. A little old, maybe? Kyl is just 7 months older than Joe Biden, and would demolish the latter in a debate.
Check Senator Kyl's record: 96% lifetime rating from the American Conservative Union. He is one of us.
© Wes Vernon
---
The views expressed by RenewAmerica columnists are their own and do not necessarily reflect the position of RenewAmerica or its affiliates.
---