Wes Vernon
Fact-checking president Obama's State of the Union: where to begin?

By
Wes Vernon
January 26, 2012
What we witnessed Tuesday night on Capitol Hill was the oratorical version of a typical White House that one would expect on a Friday afternoon (i.e., when forced to reveal bad news, the Obama White House releases a blizzard of paperwork Friday at about 4:30 or 5, hoping most reporters have launched their weekends at the bar).
Where to begin?
The president's State of the Union address this week (hopefully his last) was so chock-full of disingenuous eyewash and doubletalk that anyone trying to sort it out feels somewhat overwhelmed by a metaphorical giant mowing machine. But here goes:
The global warming hoax
As the president himself acknowledged, his consumer-unfriendly middle-class-taxing "climate change" plan is a non-starter in this Congress. (Hint — wait until he gets a second term and is unaccountable to mere voters whose utility bills, according to him, will "necessarily skyrocket" because of "cap and trade" legislation.)
In fact, Senator James Inhofe of Oklahoma — who, with airtight evidence, has exposed the global warming hoax — notes that cap and trade remains the ultimate goal of the administration. "[I]t's just that now he intends to achieve through regulation what he could not achieve through legislation," the senator observes.
The shout-out of the word "Keystone" at my TV set reflected the president's conspicuous omission of the Keystone pipeline project which he stopped notwithstanding the thousands of American jobs it would have created. (Oh, wait. Those would have been
private sector
jobs. How silly to think that prospect would resonate with this administration!)
House Speaker John Boehner — whose demeanor during the president's remarks was understandably stoic — had summed up Mr. Obama's rejection of the pipeline as "selling out American jobs for politics."
This is "security"?
We don't like to think our president would sell out our energy security for the requirements of Tammany Hall politics on a worldwide scale. But sadly, any other explanation escapes the most intent listener. Indeed, the lack of an oil pipeline would benefit BNSF Railway — wholly owned by Warren Buffett, a big Obama donor. The jury is out as to whether that was the factor in the White House decision, or Obama's political indebtedness to the organized "greens," or both. The greens likely won't be satisfied until we are all living in caves.
Mr. Obama claims concern over energy security, noting he has decreased oil imports from the Middle East, while failing to mention that gasoline prices have more than doubled since he took office as, with laser-like precision, he has blocked almost anything and everything that would enable America to provide its own energy needs. Why? One must refer to his energy secretary, Steven Chu, who — with impolitic candor — has boasted of an effort to "boost the price of gasoline to the levels of Europe." (Note: that's roughly $8 per gallon).
WH to small business: I'll save you
"Expand tax relief for small businesses that are raising wages and creating good jobs," the president instructs lawmakers.
Fact
: Apparently he and the congressional Democrats don't say that to each other; the Democrats last fall proposed a tax increase that would have delivered a body blow to fully one-third of small business income next year (after the election).
The president himself has proposed boosting taxes on capital and would have adversely affected job providers in new businesses and start-ups (see
Investors Business Daily).
Also AP reported White House proposals last year that could hurt not only small business owners but "potentially low and middle income families. (Comment: "Top 1 percent," anyone?)
The "Buffett rule"
"You can call it class warfare all you want," sayeth Mr. O, who then goes on once again to preach — well, let's define it as
class hatred
. (Is that better, Mr. President?)
That gets us back to the oldest demagoguery in the political book. Always set Americans against each other. Class hatred is the 19th century invention of Karl Marx: Gin up the proletariat against the job-creators. Works every time, according to the conventional wisdom. Except when it doesn't — which is every time it's been tried. Let's see, the Soviet Union (Red Socialism), Nazi Germany (Brown Socialism), the gradual inch-by-inch variety of socialism as now practiced throughout Europe, whose basket-case economies portend what may very well be in store for us under this president.
Warren Buffett's secretary was a guest at the president's Tuesday oration. She has been touted by her boss — and by Obama in his speech — as an example of someone who ends up paying a larger percentage of her income for the tax man than does Mr. Buffett.
That overlooks the fact that Mr. Buffett has already been taxed at the regular corporate rate. He then subsequently invested part of what was left over. For that, he now pays
for the second time,
in this go-round, through a tax on the proceeds he derives from his investment. That second and lower rate comes in the form of the Capital Gains tax, a rate accorded him for his position as a job-creator/investor. His secretary's salary, on the other hand, is taxed at the regular rate for the
first
time.
John Berlau and Trey Kovacs write in the
Wall Street Journal
that our tax code (unfairly) "layers taxation of dividends and capital gains on top of a corporate tax rate of 35%, which even President Obama acknowledges is one of the highest in the world." But it is confusing enough to make a cute little political dog and pony show for the disingenuous. (BTW — That same confusion — deliberately inserted into the public mind — also explains the flap over Mitt Romney's tax returns.)
But as a matter of fact...
The Atlantic
— in no sense a "right-wing" journal — has exposed the "Buffett Rule" as a "political gimmick," as Speaker Boehner's office describes it.
Daniel Indiviglio — then an editor for the magazine, and now a columnist for
Reuters
— calculated that if you imposed a floor or minimum that the millionaire or billionaire taxpayer would pay at the marginal 35% tax rate, you would collect another 2.5 percent.
If you wanted to shoot for the moon — so to speak — you could impose a tax minimum of 75% for these individuals. By static analysis, that would still cover less than 20 percent of the deficit.
Of course, the real economic world doesn't follow the script of static analysis. As Indiviglio says, "Even the most populist among us worries that a tax rate that high could do more harm to the U.S. economy than good. All of these calculations also assume that these wealthy individuals wouldn't find new and creative ways to ensure that their income was shielded from very high tax rates (They would)."
Note: Does one dare suggest that Warren Buffett release his tax returns? What? You say he's not running for president? Well, then, is he willingly being used as a political prop by a man who
is
in the running on the issue of so-called tax "fairness?" Huh? — Hello? Is he? Hello? Anybody home?
Obamacare
From the podium Tuesday night, this intonation: "I will not go back to the days when health insurance companies had unchecked power to cancel your policy, deny you coverage, or charge women differently from men."
Fact:
Obamacare is already driving up or setting the table to drive up the cost of premiums and jeopardizing coverage for millions of Americans.
1 — Centers for Medicare and Medicaid Services actuaries find Obamacare will dramatically increase near-term growth in the net cost of health insurance by nearly 14 percent, compared to 3.5% if the bill had never passed. 2 — The Kaiser Family Foundation says "employers' spending on health coverage for workers spiked abruptly in 2011, with the average cost of a
family
plan increasing by nine percent, and the average cost for an
individual
plan increasing by eight percent. 3 — A June 2011 report found that 30-50 percent of employers said they would stop offering health coverage once Obamacare goes into effect. 4 — A PriceWaterhouseCoopers survey found 84 percent of employers would make changes to their plan because of Obamacare.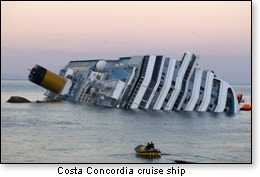 Ah, sweet "momentum"
President Obama told us this week not to worry — that our economy has "momentum."
Hmmmm, let's see. A — 600,000 jobs lost under "stimulus." B — Nearly 3 years of 8-plus percent unemployment. C — Gas prices, as mentioned above, have doubled. D — Food stamp use is at a record high. E — Retiree portfolios diminished. That's momentum, all right — "momentum" that conjures up images of the "momentum" of the
Costa Concordia
cruise ship, possibly — metaphorically — with similar results.
© Wes Vernon
---
The views expressed by RenewAmerica columnists are their own and do not necessarily reflect the position of RenewAmerica or its affiliates.
---