Wes Vernon
BOOK REVIEW: 'Being George Washington'

By
Wes Vernon
January 23, 2012
BEING GEORGE WASHINGTON: THE INDISPENSABLE MAN AS YOU'VE NEVER SEEN HIM
By Glenn Beck
Threshold Editions, $26, 351 pages
The life story of George Washington is "a miracle." After all, Glenn Beck asks, what other mortal "can lay claim to a legacy that has allowed so many to experience freedom around the world?"
In
Being George Washington: The Indispensable Man as You've Never Seen Him,
Mr. Beck brings the "father of our country" and first president to life. To the extent possible, he puts the reader in Washington's shoes, complete with dialogue — based both on the record and logical paraphrasing related to circumstances and context.
The book reads like a suspense novel combining a war story with adventure, heroism, spies and double agents, and hardship beyond the modern-day imagination.
George Washington, whose teen years were remembered for occasional bad temper, learned as he matured to control his emotions and comport himself with civility and respect. His success as a commander in war, a Founding Father, statesman and our first president reflected a set of standards that included strong discipline, unbounded courage, a persuasive personality, good judgment of character and, above all, humility before God, or the "Great Author."
The "miracle" to which Mr. Beck alludes lies in the fact that in war Gen. Washington and his men prevailed in spite of overwhelming odds, even with the help of the French and some German mercenaries.
Imagine fighting a war (as the author describes it) with primitive mud roads at wintertime Valley Forge that "brought no clothing, no food, no medicine, no muskets or ammunition — only carts of corpses; corpses that were responsible for the final color beneath Washington's boots: blood red."
The long political knives were out for Washington — "not a British noose, but an American one." The Continental Congress tried to micromanage the general's conduct of the war by commissioning a board to oversee it. When its inspector general showed up at the commander's headquarters, Washington made swift work of him, stopping short of rudeness. The man was stunned.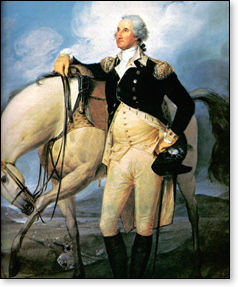 In addition to the congressional roadblocks, Washington's burden was increased by the fact that some soldiers had "nefarious intentions in mind." There were 2,000 deserters during the Valley Forge winter alone. Add to that the 80 colonists who were British spies.
Gen. Benedict Arnold's treason, a focal point in many history books to this day, no doubt was encouraged by congressional politics leading to the promotion of five officers over him, all of them his junior and all less talented. Congress repeatedly ignored Washington's praise for Arnold. But then, add to that the fact that Arnold married into a family of British Loyalists.
When the treason was revealed, Washington wondered, "If heroes like Arnold would desert, who is next?"
Washington's army did get some breaks aside from the huge military and monetary help from the French, a circumstance worked out in Paris by Ben Franklin. British Gen. William Howe was distracted by an affair with the beautiful wife of one of his subordinates. The redcoat blunders in some military campaigns also were a factor.
At war's end, Washington's negotiating skills headed off an insurrection by his soldiers, who were angered that Congress had not given them the rewards they had been promised.
The old general then hoped to retire to his Mount Vernon estate but reluctantly agreed to take a leading role at the Constitutional Convention, just as he later would initially decline to become the first president of the United States. But when duty called, Washington answered.
At the founding convention, the delegates were hopelessly divided in a large-state versus small-state battle that threatened to strangle the infant nation before it was firmly established. Suddenly, on a pivotal vote, some key delegates changed sides or conveniently were assigned to other duties. Thus, a compromise was approved. Each state would get two senators, while the House membership would be based on population.
Noting that history has not settled with finality the role that Washington played in all this, Mr. Beck can't quite decide whether "The Great Author" intervened. Washington had worked ably behind the scenes on other issues. At dinners, at dances, at taverns and even at theaters, he had lobbied tirelessly throughout the proceedings. "[B]ut then if 'the remarkable hand of Providence' was responsible, "well ... that is not such a bad thing either," the author opines.
A narrative on other constitutional debates (i.e. the Electoral College and life terms for the federal judiciary) would have been welcome. It is not clear whether Mr. Beck or his editors made the decision to exclude them.
Moreover, Washington did not liken the American Revolution to the "blood-spattered" French Revolution that followed. The former led to freedom; the latter to anarchy and lack of freedom.
The father of our country also warned against excess debt, "the heaviest [tyranny] of them all" — a timely warning to 21st-century America.
© Wes Vernon
---
The views expressed by RenewAmerica columnists are their own and do not necessarily reflect the position of RenewAmerica or its affiliates.
---