Wes Vernon
Utah: the establishment strikes back

By
Wes Vernon
January 16, 2012
In years past, incumbent office-holders more often than not could count on a popular passivity to enable them to get by on name recognition and thirty-second sound bites.
That neat little arrangement has been interrupted in many places. The state of Utah presents a case study for Americans elsewhere to consider as they pursue their own efforts to hold their public servants accountable.
What follows is not to suggest that every state needs to mimic the Utah system (the genius of our 50 states is in their respective roles as political laboratories able to exchange ideas as to governance).
The Utah nominating process
Utah's nominating system, intended to strike a balance between pure majority rule — i.e., 50.00001% — and informed citizen activist input in its electoral process, has upset the "business as usual" procedure assumed by the political establishment. The result was the ouster of a three-term U.S. senator even prior to the starting gate of the 2010 Republican primary, and his replacement by a more conservative Tea Party favorite. Outraged party establishmentarians, as well as liberal pundits and editorial writers, have decided this must not be repeated.
So in 2012, they aim to revise the state's nominating approach, hopefully to facilitate the perpetuation in office by the entrenched and, conversely, making it all the more difficult for "upstarts" to make a credible case before the voters.
How the system works
Since the focus of our story here is the Republican Party in Utah, we will reference that party's rules. The Democratic Party process in the Beehive State, though similar, may differ in some details.
1 — Early in the process, there are held throughout the state over two thousand pre-convention "neighborhood caucuses" (when I lived there, they were called "mass meetings") that are organized under rules approved at the previous state and county GOP conventions. Locally, legislative district chairmen and precinct chairmen organize the actual caucuses, in accordance with state and county party rules (the county rules vary a bit).
Anyone can attend the caucuses, but only registered Republicans can run for precinct office or vote in the GOP precinct caucuses. These neighborhood gatherings elect state and county delegates who attend the conventions. You do not get much more "grassroots" than that.
2 — At the state convention, a candidate who receives at least 60 percent of the vote can avoid a primary contest altogether. A candidate must receive at least 40 percent of the delegate votes (after balloting narrows the candidates to two) in order to force a primary.
A closed GOP primary is intended as a barrier to the kind of mischief that results when Democrat crossovers vote for weaker Republican candidates. Unaffiliated voters must fill out a registration form to declare a party affiliation when they arrive to vote in a primary election.
The 2010 election
In 2010, the nationwide grassroots-oriented Tea Party drew a large following in Utah precincts. Veteran U. S. Senator Robert Bennett was winding up another term. The Bennett name recognition in the state was well-established, not only for the senator's three terms, but stretching all the way back more than a half century when his father served in that same Senate seat (1950-1974).
But in 2010 there was some discontent among the GOP party faithful who believed the incumbent had over-compromised on conservative principles. They turned out in droves at their neighborhood caucuses and ended up sending two opponents to contest Mr. Bennett's bid to secure the state convention's nod for the primary ballot.
During the days leading up to the state convention, the Tea Party candidate, Mike Lee, was victimized by a dirty tricks campaign (currently under investigation by the Federal Election Commission). At the time, the back-alley tactics were alleged to have been traced to a source with ties to Bennett, though there is no evidence to date the senator himself was involved. (For background, see this column "
Templegate
," 6/14/10, and the notation leading the
following week
, 6/17).
At the state convention, delegates not only denied Senator Bennett a spot on the primary ballot, they gave both of his opponents more votes than the sitting senator. The two newcomers opposed each other, and the victor, both in the primary and later in the general election, was the Tea Party-supported Mike Lee, who is now Utah's junior senator.
The establishment strikes back
To say the power-brokers and their media allies are still smarting with indignation is self-evident. In 2012, a group calling itself the Count My Vote Coalition is pressuring the Utah state legislature to dilute the will of locally-driven neighborhood gatherings.
This organization is of somewhat mysterious origins. Paul Mero, President of Utah's Sutherland Institute, says he attended "early conversations" about changing the convention system, but that — quoting — "I don't know if I'm part of the Count My vote Coalition." That ominous statement suggests the new "reform" movement is rather amorphous, although it allegedly has the support of some former governors and party chairmen whose names — as of this writing — are only rumored. The inescapable supposition is that former Senator Bennett and/or his friends may also be playing a role here.
Enter former Gov. Leavitt
The attempt to enable the better-funded more well-connected to circumvent the will of the neighborhood-based citizens this past week received a boost from an op-ed by former Utah governor and Bush administration official Michael O. Leavitt.
In an op-ed in the Salt Lake
Deseret News,
Mr. Leavitt acknowledges that without the "personal and intimate" break accorded relatively unknown candidates by the caucus system, it is doubtful he would have ever become governor.
But the former Utah chief executive sees a demographic problem at the neighborhood meetings — "the absence of young people, new residents and women."
So he proposes what would appear to be a transitional idea: retain the present system, but add a layer on top of it whereby any candidate can bypass the caucus/convention and secure a place on the primary ballot with the signatures of 2 percent or 13,000 of registered party members. Obviously, a Senator Bennett — with incumbency, high name recognition, and an established organization in his corner — would have an easy time collecting signatures from voters (including the casually interested), and this would enable him to leave the upstart grassroots-supported candidates in the dust.
Bad to worse
The
Ogden Standard-Examiner
acknowledges as much, editorializing that "the Count My Vote Coalition should not be trying to play a political King Solomon game of splitting the difference between the caucus-convention politics and primary politics." But then the paper advocates abolishing the neighborhood meetings altogether and simply replacing them with a direct primary system. That effectively would cut out the grassroots involvement entirely. Thus, metaphorically, while Governor Leavitt would cut off the dog's tail twice, the OSE says cut it off all at once and be done with it.
No one excluded
Again,
anyone
of any demographic can attend these caucus meetings, and speak up. Input is encouraged. Nobody discriminates against anybody. Marco Diaz, a party activist and small businessman who heads Pantheon Construction in Sandy, opines to this writer that while there is always room for improvement in any system, the Leavitt idea would "throw out the baby with the bathwater."
In his own op-ed, Diaz recalls that 12 years ago, he showed up at a local caucus and "felt welcomed" by his neighbors "who were happy that I came out." Although he had showed up just to listen and be informed, he writes "I was elected to be a county delegate; it was not hard at all." Again, you do not get much more "grassroots" than that.
The idea is to give
all who are interested
a chance to participate meaningfully at the lowest level of state politics. We're talking here about citizens who can easily become entry-level
elected officials
in a state that welcomes grassroots involvement
.
Utahns who care about self-government have a real opportunity to get politically involved.
Anti-conservative
There are suspicions that something else is afoot here, and it is totally unrelated to "expanding citizen participation."
Is it a coincidence that Utah, based on voting patterns, is the nation's most conservative state (along with Wyoming)? Enabling concerned rank-and-file voters to become entry-level party officials has played no small part in seeing to it that the state's conservative inclinations are reflected at the polls.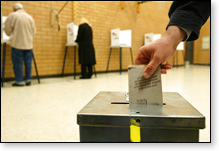 Get "with it," Utah?
Governor Leavitt argues that Utah "can no longer remain the lone outlier," and should instead join the rest of the country in advancing a voter process closer to 21st century norms.
By that logic, Utah needs to "get with it" and stop having children at the highest birth rate in the nation — and blend in with the Malthusians, whose "small family" pressures already threaten the long-term survivability of Western Civilization.
True "participation"
Leavitt's stated premise is that high voter turnout at the polls is a better index of a healthy political system than
the system's accessibility to all citizens whose political awareness may involve nothing more than an interest in setting aside one evening every two years to deliver their input into the mix.
The former governor sees Election Day turnout as the be-all end-all. Never mind that confining the rank-and-file voice only to primary and general elections gives the advantage to those with name-recognition and special interest support, to say nothing of a good head start on the money chase.
Current system superior
The state's caucus/convention system encourages — and allows — informed, committed participation by even those with literally no name recognition, substantial wealth, or powerful promoters.
It is one thing to thank Senator Bennett and Governor Leavitt and other elder statesmen for their years of past public service. But the more recent entrants into the state's political fray are the result of a procedure whose message from the neighborhoods to these establishment figures is to move on. We will say it once more: You don't get much more "grassroots" than that.
© Wes Vernon
---
The views expressed by RenewAmerica columnists are their own and do not necessarily reflect the position of RenewAmerica or its affiliates.
---