Wes Vernon
The Iran nukes intelligence fumble: where are the rolling heads?

Is there another Philip Agee?

By
Wes Vernon
November 14, 2011
Let's just roll out the facts, and see what you think.
Start with the UN report
1 — The International Atomic Energy Agency (IAEA) has just confirmed the long widespread knowledge that Iran has been trying to build nuclear weapons.
2 — The report contains considerable detail regarding procurement, acquisition of development information, including an underground nuclear supply network, and Iran's "activities relevant to the development of a nuclear explosive device."
3 — By no means are we talking here about something way off in the future. The Institute for Science and International Security reports, "Starting in 2012, Iran seems poised to install up to a thousand advanced centrifuges" — indicating that sanctions against the Iranian regime by the current Obama administration are not working.
Play kissyface?
4 — President Obama nonetheless has insisted that "if we show ourselves willing to talk and to offer carrots and sticks in order to deal with these pressing problems, and if Iran then rejects any overtures of that sort, it puts us in a stronger position to mobilize the international community to ratchet up the pressure on Iran." Furthermore —
5 — Obama administration officials are saying anonymously that while the IAEA study confirms suspicions that Iran's pursuit of nuclear ambitions is not of the benevolent kind, the new information is not likely to change the U.S. position.
See no evil
6 — In December 2007, an assessment by American intelligence agencies concluded that Iran had actually halted its nuclear weapons program in 2003.
7 — The consensus report of U.S. intelligence agencies added "with confidence" that the halt "was directed primarily in response to increasing international security and pressure."
8 — Visitors to Iran have stated that in some ways such pressures — mainly economic boycotts — have harmed and weakened the civilian anti-government population and in fact have served to strengthen the oppressive regime.
By "coincidence"?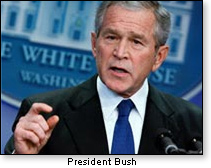 9 — The 2007 intelligence estimate came just two months after then-President Bush said that a nuclear-armed Iran could lead to another world war, and Vice President Richard Cheney warned of "serious consequences" if Tehran did not abandon its nuclear plans.
10 — Senator Harry Reid, then as now Senate Majority leader, declared the assessment was a direct challenge to the Bush administration's "alarming rhetoric about the threat posed by Iran." He said he hoped the administration "appropriately adjusts its rhetoric and policy."
But hold on. Get this.
11 — Reports of "boots-on-the-ground" spying indicate Iran started its nuclear weapons program back in the 1980s. At that time, Iran was at war with Saddam Hussein's Iraq. The Iranian Guards at the time had intelligence that Iraq's then-dictator Saddam Hussein had attempted to buy a nuclear bomb for Iraq. Obviously, the Iranians feared Saddam would use the bomb on them.
12 — A former CIA spy, writing under a pseudonym, says an Iranian official's trip to Pakistan (which is a nuclear power) resulted in Iran obtaining a blueprint and centrifuges for nuke weaponry, the first of which was transported to Iran on Ayatollah Ruhollah Khomeini's private plane. From then on, Iran's nuclear weapons ambitions were translated into a focused drive toward reality.
Now what?
The National Intelligence Estimate (NIE) in 2007 failed to consider alternate explanations as to
why
Iran may have
appeared
to have "shut down" its nuclear program. The NIE said the plan "was stopped rather abruptly pursuant to a 'halt order' instruction issued in late 2003 by senior Iranian officials."
Of course, some were not so naïve as to think the bloodthirsty, ultra-hard line Iranian regime would suddenly say, "Okay, I guess they've got us. We're just going to have to shut this thing down so we can all live happily ever after." In reality, all the Iranians did was to move their nuclear operation underground.
What were they thinking?
Israeli Foreign Minister Uzi Landau has accused European leaders of being in an appeasement mode toward Iran. He likens the situation to the 1930s diplomacy of British Prime Minister Neville Chamberlain's concessions to Adolph Hitler pre-World War II. Chamberlain returned from a visit to Germany and declared to his fellow Britishers that he had brought them "peace in our time."
Much the same mindset could be attributed to the Obama administration in the early 21st century. Knocking off a couple of high-profile Islamist killers won't do much good if a fully armed Iran can threaten us with nuclear blackmail. (But we'll worry about that after the 2012 election, okay?)
But was it all just naiveté?
So as the flawed National Intelligence Estimate was issued in 2007 about something that supposedly happened in 2003, what else was happening in that time period?
Recall that the CIA (since its inception populated more often than not with ivory-tower educated types with a leftward tilt) was then embroiled in a classic teapot tempest over the alleged "outing" of a desk-bound bureaucrat named Valerie Plame, whose equally self-absorbed ex-diplomat husband Joseph Wilson sought to undermine Bush administration policy in Iraq.
Ironically, that effort concerned an inaccurate claim by Wilson contradicting President Bush's claim that Saddam Hussein had sought to purchase yellow cake uranium. Mr. Bush cited credible reports by British intelligence and others.
The attitude at CIA Langley headquarters was very anti-Bush at the time — mainly for ideological reasons.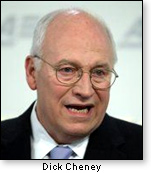 What else was involved?
But was that wildly over-publicized spat enough to motivate some inside the intelligence community to undermine a sitting president in the face of a very real threat? Whether Cheney's ominous warnings of "serious consequences" did or did not reflect a plan to take military action against Iran, it might have set off someone at Langley to devise a pre-emptive scheme of this sort.
Yet the nagging question: If the above-referenced anonymous CIA undercover agent (telling his story recently in the
Washington Times
) was in on Iranian plans for a nuclear program as far back as the 1980s, does that not suggest that Langley
knew
very well that the hate-filled Islamist regime in Iran was in fact building up a nuclear system capable of wiping out Israel and possibly raining bombs on American cities?
Still, would that prompt the CIA to push for a false Intelligence Estimate to set the public opinion table in a pre-emptive move whose effect would be to deny the U.S. of options in the face of a regime that is disposed to take the lives of millions of Americans?
And for what? To effect a conviction of Scooter Libby — Cheney's close aide and the only party to suffer a legal penalty (unjustly) in the Valerie Plame case?
Doesn't add up
Back in the seventies and eighties, a CIA agent named Philip Agee left the agency and offered his services to the Soviet KGB and Castro's Cuban intelligence. Among his other treasonous activities, Agee identified some of his former fellow agents, endangering their lives. Agee's words: "I approve KGB activities, communist activities in general."
Is there another Agee?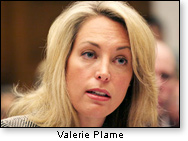 One is led to doubt that the motive for the plainly false NIE report was simply to bring down a president or to "protect" Valerie Plame. Is anyone inside the intelligence agencies who writes or formulates NIE reports actually so ignorant as not to know that one of the CIA's own (still anonymous) undercover agents had reported Iran's nuclear weapons program began in the eighties?
Iran now has enough enriched uranium for six nuclear bombs, according to the just released IAEA study.
Moreover, Peter Vincent Pry, a former CIA man and president of EMPact America — who is also a nuclear weapons expert — reminds us that Iran needs only one nuclear weapon to incapacitate and destroy the United States. As explained in this column (see
"American civilization wiped off the earth?" — Sept. 8, 2011)
an electronic magnetic pulse (EMP) can disable — wipe out — the national electric grid and other essential backups for the lives of over 300 million Americans.
It is hard to believe the people who contributed to an incorrect NIE report whose accuracy carried such huge life-and-death implications would do so to avenge petty political gripes or even to embarrass a president on a policy issue.
There is ample reason to suspect an Agee-like mole may have had some input or influence. Hopefully the congressional intelligence committees — whose hearings are mostly behind closed doors — are trying to sort this out.
Meanwhile, all this begs the question: Where are the rolling heads at Langley and elsewhere?
© Wes Vernon
---
The views expressed by RenewAmerica columnists are their own and do not necessarily reflect the position of RenewAmerica or its affiliates.
---