Wes Vernon
Hollywood's red stripes: still shining after 64 years

By
Wes Vernon
October 31, 2011
Hollywood's revolutionary left apparently is willing to shed its fig leaf of respectability to produce a movie glorifying a violent pro-communist terrorist group.
We are not talking here about some "on the cheap" Grade C movie filmed in someone's basement. The coming "mainstream" flick intends to paint the anti-American Weather Underground as an organization worthy of approval and support.
Big names
The film is to be produced by Robert Redford, whose Sundance Institute has received $5 million from the George Soros-funded open Society Institute. Leading actors reportedly considered for starring roles in the production include Susan Sarandon, Julie Christie, Nick Nolte, and Redford himself.
Mr. Soros's $5 million largesse was bestowed "for its documentary program to help raise awareness on human rights." (And we all know how to translate that from Marxist to English, don't we?) Aryeh Neier, a Soros mouthpiece, reportedly added, "Films can play a role in
inspiring action."
(Ah, yes. "Action." Didn't Sarandon cheer on the pro-communist Occupy Wall Street movement?) Such action, the Soros group hopes, will focus "on human rights, justice, accountability, and other open society issues."
The movie is to be based on the Neil Gordon novel
The Company You Keep.
Some background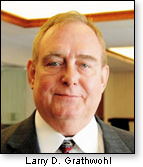 This latest in a long parade of Hate America propaganda attacks in the major media elicits indignation from Larry D. Grathwohl, defined by Weather Underground icon Mark Rudd as "the only known infiltrator ever exposed in the [Weather Underground] organization."
The issue
This column supports any citizen's right to the protections of speech (or its concomitant political activism) embodied in the First Amendment. That most assuredly also applies to the right of fact-checking citizens to speak out and blow the whistle on propaganda disguised as entertainment, an issue that distinguishes between the blatant propaganda blowhard (Michael Moore) and the "respectable" movie producer (Redford), who intersperses one with the other for the movie-goer whose political guard is down. You see, I'm sorry, but I grew up with the naïve notion that movies are for entertainment, not indoctrination.
In that respect, Grathwohl agreed to go undercover — not so much because of the wacky ideas of the Weather Underground activists, but because of "their propensity to violence" and because their "ultimate goals" were "to destroy the United States and the imposition of a totalitarian socialism."
Fiction as fact
Grathwohl finds it interesting that Neil Gordon's "fiction" includes remarkable similarities to the real life "bombings and other criminal acts committed by the Weather Underground, who together with the Black Liberation Army, robbed a Brinks truck in New Jersey, and a guard and two police officers were murdered."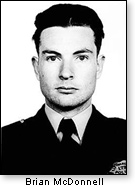 Let it never be forgotten — as the White House hopes it will be — that the Weather Underground's leading figures included the husband and wife terrorist team Bill Ayers and Bernadine Dohrn, who in more recent times launched Barak Obama's career.
Let it never be forgotten — notwithstanding ongoing corrupt media efforts to airbrush facts out of historical memory — that Dohrn, according to Ayers, was the person who placed a bomb at a San Francisco police station that resulted in the death of police sergeant Brian McDonnell, a husband and father of small children.
Let the above be forever recalled each and every time Ayers and Dohrn today — from their "respectable" academic perches — repeat the lie that the Weather Underground
never
killed or harmed anyone. Presumably we are also expected to overlook numerous other bombings by the group, including those at New York City police headquarters, the U.S. Capitol, and the Pentagon.
Undercover informant calls out Redford
Appearing last week here in Washington at a seminar sponsored by
America's Survival, Inc.,
Grathwohl said it appears "that Robert Redford is going to make a movie [on the Weather Underground] that not only downplays the acts of terrorism committed [by terrorists in the] group, but also makes them appear to be heroes and good Americans."
He then cited several examples of the movie's planned depiction of the Weather Underground and its acts of terrorism against life and property. "Somehow," he added, "terrorists and murderers are transformed into real Americans who stood for their beliefs...defending their country's ideals."
Don't confuse Redford with the facts?
Grathwohl has made several attempts to contact Robert Redford to share with him some information as to the real purposes and goals of the Weather Underground. As of this writing, the movie director prefers not to be bothered. Politicians have been known not to want to know facts related to unsavory (or criminal) happenings. That way, they acquire "plausible deniability."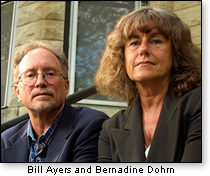 It would mess up a good storyline, for example, if Mr. Redford had to admit that he was credibly informed of the murder in San Francisco or that Bernadine Dohrn, in her first communication from the Weather Underground, boasted, "This is a declaration of war against the United States."
Pity the famed motion picture icon asked to explain what part of that threat he does not understand.
Heaven forbid that his tender ears would be on the receiving end of information imparted by a witness who "sat in meetings with many members of the Weather Underground (including Bill Ayers) and discussed plans to bomb places and buildings with the sole purpose of causing as much death and destruction as possible."
A "holocaust" in America?
Think "it can't happen here?" The Weather Underground's "peace" angels sat around casually discussing how — when the U.S. government is overthrown — about 100 million Americans would have to be sent to "re-education camps." After an envisioned several steps of weeding out multiple groups deemed sufficiently brainwashed, the question came down to a final estimated 25 million unreconstructed patriots.
At that point, educated people — some with PHDs who would fit in at your typical faculty lounge — casually talked about doing away with the holdout resisters. What? All 25 million? Well, we'll "work them to death," or "starve them to death." Whatever. Long live the "communist or socialist society" of Weather Underground fantasies! The only thing missing, apparently, was the suggestion of gas ovens. (Oh, but the Soviet system of starvation was so much easier to finesse. Gas ovens gave the Nazis such a beastly public relations black eye, you know!)
That is what those revolutionaries really think. These are people who today have helped populate academia (Ayers and Dohrn). If anything, they do not believe the Weather Underground, in its pursuit of violence, went "far enough" (as Ayers was quoted in the
New York Times
as saying).
George Soros, who has bestowed money on a movie producer who wants to glorify these violent America-haters, also publicly backs the Occupy Wall Street movement, whose violent anti-American antics and more extreme threats are smoothed over by a sympathetic media.
And here is the most frightening fact: People with these backgrounds launched the political career of the man who is now President of the United States.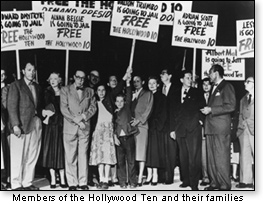 Congress should act
Grathwohl wound up his talk to ASI with a plea for congressional action to revive the House Internal Security Committee (originally named the House Committee on Un-American Activities).
That would be the ideal approach. This was the committee whose 1947 hearings 64 years ago this week (with follow-ups in later years) led to the exposure of the infamous "Hollywood Ten," whose directing and producing included movies that contained pro-Soviet messages aimed at an unsuspecting public. The committee confronted the ten witnesses with copies of their Communist Party membership cards. (The Communist Party, remember, advocated the violent overthrow of the U.S. government.)
So why doesn't the House — overwhelmingly elected because of popular anti-administration outrage — simply bring back the committee to deal with far more violent subversives glorified today?
Where are the Tea Party people on this issue? They sent a lot of House lawmakers to this 112th Congress. Perhaps those congressmen and women need to hear from Tea Party folks back home.
© Wes Vernon
---
The views expressed by RenewAmerica columnists are their own and do not necessarily reflect the position of RenewAmerica or its affiliates.
---