Wes Vernon
Martin Luther King's 2011 memorial stirs memories of 1968

By
Wes Vernon
September 19, 2011
The unveiling of Martin Luther King's memorial — now set for October 16 — brings to mind all the controversies surrounding his crusade, as well as the general political upheaval that made 1968 the pivotal turning point of the late — and perhaps the entire — 20th century.
This journalist stepped into the cauldron of political Washington February 1st of that year. The Tet offensive — seen as the turning point in the Vietnam War — had begun the previous day. Meaning I had to go to work before acquiring an office and before our family could move into our rented house and get the children enrolled in school.
This was make-or-break time. Never mind that Tet was a U.S. military victory. It was nonetheless a propaganda defeat. Perception again became reality. The Communist strike aimed at military and civilian command and control centers of South Vietnam and its allies (read United States). The idea — on the part of North Vietnam (with the backing of the Soviet Union and Red China) — was to spark a general uprising among the population so as to end the war in a single blow with a victory for the forces of darkness.
That enemy effort was an utter failure. But the American body count was piling up, and here at home, the street rioters — some of them taking their cues from this country's enemies, others with more than a mere dollop of naiveté — were hell-bent on breaking everything in sight to exacerbate the war-weary national mood.
This was a war that would bring down a president, as Lyndon Johnson told his staff that if he had lost the confidence of Uncle Walter (Cronkite), he'd lost America. But it wasn't just "Uncle Walter," television's "most trusted man in America." Radio's most listened-to commentator, Paul Harvey — who had long said we need to "drive it or park it" in Vietnam — finally concluded it was time to park it.
A racial divide
Then there were the race riots. Much of Washington appeared to be going up in smoke that could be seen for miles beyond the city, as the assassination of Martin Luther King sparked street violence. Rioting of course was national. One border state congressman told me some constituents feared for their lives out on the highway.
To what extent does the controversy that surrounds King to this very day transcend his historical role as a civil rights leader? Both President John F. Kennedy and his brother Robert, who was attorney general, warned King that at least two of his most trusted advisers, Stanley D. Levison and Jack "Hunter Pitts" O'Dell, were members of the Communist Party. Levison, according to the FBI, had written one of King's major speeches and had advised him on organization, administrative procedures, and tax matters. Cartha "Deke" DeLoach, FBI Director J. Edgar Hoover's right hand man, would later describe this whole story to me in a 1995 radio interview about his book
Hoover's FBI.
If memory serves, a picture of O'Dell at what amounted to a Communist gathering had circulated as early as 1955.
In early '68 when RFK was campaigning for President, Democrat primary rival Gene McCarthy accused him of having bugged King's hotel room. Kennedy blamed it on Hoover, whereupon the director — an ardent devotee of the CYA-style of management — produced a memo from Bobby specifically authorizing the FBI eavesdrop.
Here is the one thing that cannot be emphasized strongly enough: The FBI did eavesdrop on Martin Luther King
not
to dig up dirt on his illicit sex life — though the tapes revealed a theretofore hidden corner of his activity that was indeed salacious. Rather, the intent was to secure information on the extent to which the likes of Levison and O'Dell — members of a Soviet-funded organization — were influencing a crusader who was worshipped by millions of Americans of all races. That was relevant to the FBI's responsibilities.
What
is
King's legacy
When a man still so widely admired today that the government and the Dow Jones shut down for a day each year in his memory, what are we to make of the upcoming monument in his honor? Will the Oct. 16 unveiling be an occasion for acknowledging both the triumphs and the mistakes? Or — more likely — do we once again sanction sanitized history?
Yet another log has been tossed on that fire by Caroline Kennedy — daughter of John F. and Jackie Kennedy. In her book,
Jacqueline Kennedy: Historic Conversations on Life with John F. Kennedy
, Caroline writes her mother and father were fully aware of King's secret life and associations. She quotes Jackie as being thoroughly disgusted and referring to the civil rights leader as "such a phony." Later tapes would record King making fun of JFK's funeral.
Whatever one might say about the Kennedy brothers — John and Robert — they were among a rapidly vanishing group — the reliably anti-communist Democrat. (For more on this, see investigative reporter Cliff Kincaid's
"King, Kennedy, and Communism" — AIM Column, Sept. 16, 2011.
)
The liberal media, of course, are dealing with Caroline's book either by lying about it, sugar-coating it, or ignoring it.
Conservative media sources either fearfully join the "see no evil" cover-up;
or
"split the baby," granting that King led his people out of Jim Crow (good), but then led them into a condition of Marxist-style state dependency (bad);
or
lay out the facts so they can speak for themselves.
(Historian Alvin Felzenberg laments that in 1850, President Zachary Taylor died in office before he was able to complete a plan to bring enough states into the union to abolish slavery peacefully without a Civil War, with no heavy-handed "reconstruction" in reaction, and likely no Jim Crow in a counter-reaction that would supply talking points to agenda-driven crusaders of succeeding generations.)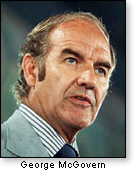 And the (rampaging) beat goes on
1968 was the year in which George McGovern would appear before the National Press Club in late August — as riots were tearing up cities coast to coast — and declare that calls for law and order were "empty-headed."
Only a few days later, the year of the riots bedeviled the Democratic National Convention in Chicago — ironically as Senator Abe Ribicoff was giving a nominating speech for McGovern, who had picked up the mantle of what was left of the campaign of the by-then-assassinated Robert Kennedy.
As the rioters raged outside the convention hall, inside at the podium Senator Ribicoff was criticizing the Chicago police who attempted to put down the riots in the interest of public safety, even if that very thought was deemed in some quarters as "empty-headed." Ribicoff's slam on the cops prompted a furious Chicago Mayor Richard J. Daley to stand up and shout ethnic slurs at the Connecticut senator.
Back to Washington
Before 1968 would end, the House Committee on Un-American Activities (soon to be renamed the House Committee on Internal Security), held hearings on the Chicago riots. The December public inquiry in Washington showed the committee to be as thoroughly professional and fact-oriented as I had long ago concluded in reading so many of its reports and hearing transcripts over the years.
America's enemies in the hearing room and those who apologized for them predictably vented their spleen, as the likes of David Dellinger and Rennie Davis shouted at the congressmen from the audience, most especially Chairman Richard Ichord (D-Mo.). Though the disrupters obviously hoped to incite the kind of violence that had marked the committee's hearing in San Francisco back in 1960, they were unable to pull it off. The Capitol Police were ready for them.
The committee would later issue a report blaming the Chicago riots on Communists and violent groups that had made little secret of their desire to overthrow the government.
In retrospect
In the decades that followed 1968, the Soviet threat would grow until finally brought to a merciful end in 1991. In the meantime, the House committee would be abolished by a head-in-the-sand post-Watergate Congress which (however) was unable to abolish facts that stubbornly did not cease to exist simply because they were ignored: We still had an enemy whose name was rarely uttered in public.
One president actually warned of "the inordinate fear of Communism." Another president saw nothing "inordinate" in identifying "the evil empire." Had we maintained a consistent focus on that fact, the Soviet Union might have ended years before it did.
1968 was indeed pivotal. But not for the better.
© Wes Vernon
---
The views expressed by RenewAmerica columnists are their own and do not necessarily reflect the position of RenewAmerica or its affiliates.
---