Wes Vernon
American civilization wiped off the earth? A thought as we approach 9/11

By
Wes Vernon
September 8, 2011
"America's mayor," Rudy Giuliani, told a National Press Club audience Tuesday that there had been about 40 attempted/planned attacks on America in the ten years since 9/11, and he assumed there will be more. He believes future attacks on America could come at us in a form and on a level we don't anticipate. That conjecture is prescient.
Congressman Roscoe Bartlett, one of the few scientists on Capitol Hill, sponsored legislation a few years ago that resulted in a special commission on how to cope with the possibility of an Electromagnetic Pulse attack (EMP).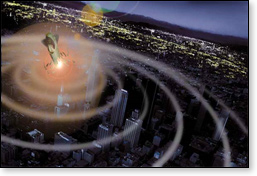 Electro what?
To review what this column expressed in 2009:
EMP — as deployed deliberately — is a means by which a terrorist with a single nuclear weapon would wipe out any city of his choice or the entire nation. All it takes is a nuclear bomb to explode high in the earth's atmosphere. The electronic pulse generated by the blast destroys
all
electronics in its line of sight. By itself, this would not kill any — or at least not more than a few — Americans immediately after the blast.
But instantaneously, we would be literally bombed back into the 18th Century, and catastrophe would set in within a few days. The power outage would last a year or more — likely longer than most food supplies will last.
Then what? Deaths would result on a scale far beyond normal — with the most vulnerable among us dying first — newborns and those adults requiring electronic medical devices. Within a short time, the devastation would affect everyone.
Banks and hospitals would cease operations; most transportation would grind to a halt; elevators would malfunction; commerce would cease.
Which enemies?
Congressman Bartlett has warned that China, Russia, North Korea, and Iran "are among the countries that by themselves are more likely through proliferation activities to contribute to an increasing number of [U.S.] adversaries who may soon have the technological capacity to carry out such an attack."
We have been warned, right?
None of this is new information. It is just not on the front burner of national attention. Obviously, it should be. On July 22, 2004 — the very day that the 9/11 commission released its report — the Commission to Assess the Threat to the United States from Electromagnetic Pulse Attack, in a unanimous finding, stated, "The current vulnerability of our critical infrastructures both invite and reward an [EMP] attack if not corrected." That, we might add, was the conclusion from nine of America's most respected experts in nuclear weapons and military and civilian infrastructure.
See no evil, hear no evil
As Congressman Bartlett observed, the full House approved a measure that would have taken steps toward hardening America's electrical grid. But the plan languished, he said, because lawmakers in the Senate "decided it was going to be too expensive."
"If it ends life as you know it, it can't be too expensive, can it? I'm having trouble understanding that logic," the Marylander argued.
Further, he lamented, "There's a general understanding that if it's too good to be true, it's probably not true, and EMP just seems too bad to be true, so therefore it's relegated to the fringes by which we don't want to talk about things because it's so improbable."
Legislation
Arizona Congressman Trent Franks, Mr. Bartlett's colleague on the House Armed Services Committee, introduced legislation to allow the Federal Energy Regulatory Commission to take steps to protect the country's bulk and defense-related power systems in the event of a security threat.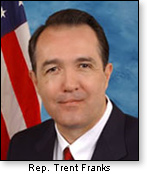 Representative Franks has also organized an EMP Caucus in Congress to focus on this unfortunately neglected issue.
Other factors
However, it is not only the military ambitions of our enemies that threaten us with an EMP attack. The dark side of Mother Nature can inflict mischief that transcends even earthquakes, hurricanes, and floods.
EMP is capable of striking from the sun. A report by the Traditional Values Coalition states that magnetic pulses from solar flares can fry microchips and disrupt any electronic devices. A flare disrupted primitive electronics such as telegraphs in 1859.
"One of the most serious solar flares took place in 1921," says the TVC report. At that time, it "disrupted communications in the U.S. An EMP from the sun in the 21st Century could be devastating and wipe out any system using electricity or microchips.
Which is why Mr. Bartlett has promoted H.R. 5026 — The Grid Act. He cites the National Academy of Sciences, which has stated that the consequences of inaction in this area are dire. If our grid is destroyed by EMP, the National Academics warn, it would cost us between $1 trillion and $2 trillion in damages and take ten years to recover. And that figure of course, doesn't include the horrendous consequences to the U.S. economy, to say nothing of the genocidal threat to our people.
Not only does the Senate drag its feet, there is also some bureaucratic inertia or slow-walking (i.e., the Department of Homeland Security and other agencies, according to a report from the Heritage Foundation).
Here's what's at stake
Earlier this year, the congressional EMP Caucus (that Mr. Franks set up) heard testimony from Dr. Peter Vincent Pry. The president of EMPact America urged every member of Congress to face up to the EMP crisis. Meeting the challenge head-on with effective policies, he told lawmakers, "may very well be the most important accomplishments of all your congressional careers — saving the lives of Americans and the existence of our civilization from the clear and present danger posed by a nuclear or natural electromagnetic pulse (EMP) event. An electromagnetic pulse is like a super-energetic radio wave that can damage and destroy electronic systems across vast regions, potentially across the entire continental United States."
Heritage list
The Heritage Foundation says priorities in dealing with EMP would include 1) building a comprehensive missile defense (the capacity to interdict nuclear-tipped missiles "is the most effective measure to guard against [an EMP attack]"; 2) creating a national plan to respond to space weather emergencies, with cooperation from government at the state and local level; 3) forging bipartisan consensus in Congress; and 4) establishing bilateral partnerships with other nations.
Those goals are easier to propose than to implement, and Americans should be in on the ground floor before the details are set in concrete. But — again — before we can get there, more Americans need to be aware of the problem and its implications. It needs to be in the forefront of national conversation.
It is appropriate that we discuss this issue on the eve of the 10th anniversary of 9/11. But as Mayor Giuliani said at Tuesday's luncheon — in a more general context — there is nothing inherently special about the 9/11 anniversary date itself. It's what we do to keep our guard up, as opposed to lulling ourselves into thinking we are safe now that we've survived ten years without another successful major attack.
In that spirit, more Americans need to be aware of the EMP threat. Spread the word.
© Wes Vernon
---
The views expressed by RenewAmerica columnists are their own and do not necessarily reflect the position of RenewAmerica or its affiliates.
---