Wes Vernon
Security checks for federal employees a joke (who slipped through?)

By
Wes Vernon
June 23, 2011
The fact that bad people are elected to office and then appoint other people with questionable backgrounds should not shock anyone observing the trends that have crept into our society.
Panetta 1, America 0
The day after Leon Panetta's nomination to be Secretary of Defense zipped through the Senate despite serious questions about his documented record of a cozy relationship with a publicly identified Communist, Washington awoke to news of a scandal that may have offered an explanation of that and other appointments by this White House.
It appears the entire system of vetting nominees for federal positions has all but collapsed, apparently from a slipshod attitude by the Obama administration on the issue of security and background checks of people who aspire to sensitive government jobs.
Under the headline "Top-secret clearance checks falsified," Wednesday's
Washington Times
reported that federal authorities responsible for granting security clearances to government employees and contractors are spending hundreds of thousands of dollars investigating the "investigators." (We put that in quotes because it appears the "investigators" have been doing very little investigating when it comes to vetting nominees or appointees or applicants for federal jobs or contracts.)
There are at least 170 confirmed falsifications of interviews or record checks, and more than 1,000 others cannot be verified, according to the findings of reporter Jim McElhatton.
Douglas Schonz, a national security researcher for the Rand Corp, who had conducted background checks at the Defense Department (which Mr. Panetta now will head), told McElhatton that background investigations formerly were the responsibility of retired FBI agents and police detectives (i.e., professionals who knew how to do the shoe-leather work require for the job). Now, he says, largely because of the increased volume of appointees requiring such clearances, many of the checks are outsourced.
"You have a huge push to get people in the door," he adds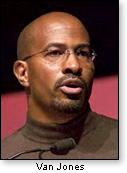 Not for the first time
Actually, a wakeup call on the failure of adequate vetting of government appointees occurred when Van Jones became President Obama's "green jobs" czar. It took a concentrated pounding night after night by Glenn Beck on his TV program to dislodge Mr. Jones — an admitted communist and 9/11 conspiracy petition signer — from his position.
Because a corrupt mainstream media chose to ignore the story, those who did not watch the Beck program nightly on
FOX News
did not know what the White House was talking about when the announcement was made about Mr. Jones' departure. It was weird. People who had never heard of Jones before the announcement was made (on a Saturday night during a Labor Day weekend) wondered what had caused all the fuss.
(Beck's departure from FOX at the end of this month to start his own company's online program in September was a result of his outing of Jones, in addition to other powerful cages he rattled in the past 2½ years. That in itself is a scandal — one of the gazillion stories this column hopes to spotlight "someday.")
Getting back to Panetta
If one is to connect some dots here, any investigation of how the background check process has broken down in the federal government should include a full report on how Jones landed his position with the White House.
And it should seek to answer the question: Did the lax or arguably nonexistent background checking process play a role in the fact that Leon Panetta's questionable links to Communist Hugh DeLacy (see this column June 13 and June 20) were totally unknown to the United States Senate when he was confirmed as CIA Director in 2009, and unknown until the very last minute when he was confirmed as Secretary of Defense this week?
As to why he was so easily confirmed to his new post when information did make its way to some Senate offices, the explanations this writer got were along the lines of the train was already going full bore, no way to stop it now, or as one senator told me, "There are so many questionable appointees in this administration" that he had to pick his fights or he would spend most of his time raising cane at the expense of getting anything done.
Why should we be surprised?
In the end, the good senator who threw up his hands at the Panetta confirmation was merely reflecting the helplessness that sinks in when an administration comes at us from so many directions with outrageous policies and appointments that keeping up with all of them appears all but hopeless.
Look around you
Let's get to the broader question: Why should we be surprised that a man like Obama is elected to the highest office in the land and then turns around and appoints people who reflect his anti-American mindset?
Many elements of the ultimate power centers of influence have gravitated to a culture whose message is America is a bad place; we have no right to our prosperity over the years; we stole everything; our faith in a Higher Power is outmoded; we should rely on Marxist domestic policy; socialism is good but we dare not say its name; kill private initiative; toss all Western Civilization aside and make way for an egalitarian diktat where everyone is equally miserable (except of course, the regime — its cronies and political lapdogs — the ruling class about which we have written in this space).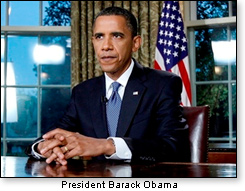 Surprise?
When that narrative is shoved in the public's face in the movies, on Broadway, in mainstream news media, TV entertainment, pop songs, schools, the ivy leagues — why should we be shocked, shocked that ultimately a portion of the population marinated in self-hatred propaganda should at some point be prepared to elect to the White House a man who doesn't share our respect for the Constitution and the principles on which this nation was founded?
That quite naturally leads us to the question of replacing the current White House occupant. Let's hope that 2012 is not our last chance. But it just may be.
© Wes Vernon
---
The views expressed by RenewAmerica columnists are their own and do not necessarily reflect the position of RenewAmerica or its affiliates.
---