Wes Vernon
The GOP: scared rabbits need not apply

By
Wes Vernon
May 26, 2011
Let's cut to the quick: The Democrats want to let Medicare go bankrupt. An accurate TV commercial would portray a Harry Reid lookalike (or Pelosi or Obama) pushing Grandma over the cliff.
That is exactly what Democrats are doing to the Republicans, with a Paul Ryan lookalike pushing the chair. The Democrats have no plan — repeat
no
plan — to save Medicare. Assuming their IQs register somewhere above single digits, they know very well that their lack of
any plan to deal with Medicare's looming bankruptcy means that in a few short years, there will be no money — repeat
no
money — to pay for you, your parents, or grandparents if you are on Medicare at that time —
no
money for your Medicare...none, zip, zilch, nada.
They are lying
No one has stated this more clearly than Senator Marco Rubio (R-Fla.), who hails from a state that is top-heavy with retirees.
"Medicare is going bankrupt. Anyone who says it is not is simply lying. And anyone who is in favor of doing nothing to deal with this fact is in favor of bankrupting it," warns the senator.
Or to put it another way, any cynical, winking political charlatan who does nothing is giving the green light to Harry Reid to lure Grandma into that wheelchair headed for the cliff. Demagogue their way through another election cycle: That's the Democrat plan to deal with a crisis.
Scared rabbits "to the rescue"?
But what are the Republicans doing? Surely this hands them a made-to-order issue to go on offense for 2012. No?
Let's put it this way: There's a reason why candidates of the Evil Party can always count on the Stupid Party to bail them out when they're in a jam.
If the Republicans hope to oust President Obama next year, they don't need too-clever-by-half trianglulators handing the Dems a delicious campaign commercial about "right-wing social engineering" — nor will they win with polished orators endlessly splitting hairs over how their version of whatevercare differs from Obamacare, perhaps by a difference in dotting Is and crossing Ts.
Nor — most importantly — do we need candidates who are clearly unsure of themselves and are not prepared to explain the Ryan plan for dealing with Medicare, thus opening themselves up as political targets of Democrats trotting out their favorite hobgoblins.
That is exactly what happened in New York when Republicans took a beating in a special congressional election.
The time for the fifties Ike RINO liberal-lite is long past. Either you favor saving the system by changing it or you don't, and thus you're on the side of bankruptcy. You won't get anywhere trying to ride the mealy-mouthed "moderate" elephant.
Real change this time
Under the Ryan Plan — named for its main architect, House Budget Chairman Paul Ryan (R-Wisc.) — current retirees or those 55 and older will see no change in their Medicare benefits.
For those 54 or younger, the Ryan
Path to Prosperity
program will offer new retirees personalized Medicare options from which to choose. The guaranteed benefits will be the same as those offered to members of Congress. They will be funded through Medicare, with annual cost-of-living adjustments after that. They will be built around one of the strongest cost controls ever devised — competition.
The very lack of competition — as Medicare is currently constructed — is the main reason health care costs have skyrocketed. Lack of competition gins up inflation throughout the system. (Question: Why did the GOP campaign committee allow itself and its candidate to be caught so flat-footed?)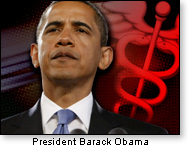 Democrat campaign strategy: Do nothing
The Democrats know this train wreck is coming down the road, and what are they doing about it? Nothing. Where is the Democrat House plan to save Medicare? Where is the Democrat Senate plan to save Medicare? For that matter, where is the Obama plan to save Medicare? Oh! On that last point, funny you should ask.
The Obama death panel
Tucked away in the Obamacare bill is a 15-member board to make decisions as to how much Medicare will pay. The 15 members are all appointed by the president with no confirmation or congressional review. Can you say
"death panel"?
Maybe — if the GOP has some fight in its stomach — we could see some commercials spotlighting this insider hush-hush board of demigods paying for multiple wheelchairs to run lots of Grandmas over the cliff.
© Wes Vernon
---
The views expressed by RenewAmerica columnists are their own and do not necessarily reflect the position of RenewAmerica or its affiliates.
---