Wes Vernon
Why Pakistan (would have?) betrayed us

By
Wes Vernon
May 9, 2011
First the good news: President Obama scored big by authorizing the Navy SEALs to kill Osama bin Laden.
The bad news: The anti-terror policy of President Bush — including enhanced interrogations — that led to the success of the operation has been scrapped by the Obama presidency.

Pakistan
The big question is not
whether
Pakistan was not to be trusted with advance information of the raid on Osama bin Laden's compound. The real question rather is
why
(more on that below).
Not born yesterday
Probably the most stupid thing the U.S. could have done in the takedown of Osama bin Laden would have been to notify our alleged friends in Islamabad, Pakistan, in advance, or sought their kind permission to go ahead with "Operation Geronimo."
Game: worse than "double"?
Every time one gets a fresh news dispatch in the aftermath of the bravery of the America Navy SEALs at the Abbottabad compound, the suspicion is reinforced that nuclear-armed Pakistan knew about or protected the bloodthirsty mass murderer whose diabolical attack resulted in the deaths of nearly 3,000 Americans nearly ten years ago.
Olli Heinonen, a former (recently for five years) deputy director general of the International Atomic Energy Agency (IAEA) has rhetorically asked how would anyone really know our alleged Pakistani "friends" would not help al-Qaeda or other terrorist groups gain access to sensitive nuclear materials such as highly enriched uranium or plutonium?
For years, U.S. intelligence has suspected (and not without reason) that jihadists had infiltrated Pakistan's Inter-Service Intelligence (ISI) and military.
Can this be unnoticed?
It strains credulity to believe that bin Laden could have lived in the compound so close to a Pakistani military base without some influential Pakistanis' knowledge. I mean, let's be serious here. The world's most wanted man lived there for 5 years with 9 kids, 3 wives, a grown son, a courier, the courier's brother, and a female doctor — according to the
New York Times
— all housed a stone's throw from a Pakistani military base. And no one took notice?
Senator James Inhofe, a senior member of both the Foreign Relations and Armed Services committees says common sense would strongly indicate otherwise.
They're mad because we're mad? Tough beans!
Pakistan's military chief tells us in effect that we'd better stop hitting his fist with our face. Any future raid without his government's permission would be viewed as a violation of Pakistan's sovereignty and imperil the "allies'" military relations, General Ashfaq Kayani warns.
Oh, sure. And by that logic, FDR and Churchill should have warned the collaborationist French Vichy government that the Allied powers would soon be launching the 1944 D-Day invasion of Normandy, ultimately to drive the Wehrmacht back to Berlin for "unconditional surrender."
Question: But why?
Why would Pakistan just as soon stab us in the back as to look at us? For several years, foreign affairs experts have warned of Pakistan's chicanery.
"Between 2002 and 2008, $6.6 billion in American aid has been given to Pakistan, and yet only $500 million or just seven percent has reached the target beneficiaries," according to the American Foreign Policy Council (AFPC).
Speaking at a recent lecture in New York City, AFPC Fellow Jeff M. Smith said of America's Hobson's choice: "Confront Pakistan forcefully and risk some of the Afghan war efforts — or continue playing like a friend and let Islamabad gradually undermine the war effort in Afghanistan."
The explanation as to "why Pakistan will betray us," as Smith prophesied
prior
to the raid, is largely wrapped up in a series of ethnic rivalries that defy any attempts to put them aside for the greater good. This gets us back to the years-long hostility between Pakistan and India.
Pakistan is located geographically between its bitter rival India on one side and Islamist hotbed Afghanistan on the other.
Pakistan is fearful of Indian influence in Afghanistan. As Smith puts it, the paranoia is such that the Pakistanis believe that "[a]round every corner in Kabul [Afghanistan's capital], Pakistanis see Indian agents, and behind every Afghan initiative, a nefarious Indian plot."
Nonetheless
There are those in Congress whose understandable response is to strike back by cutting off all aid to Pakistan.
Michael O'Hanlon of the Brookings Institution believes that deals with Pakistan "will only be possible if Islamabad clamps down in general on terror groups operating on its soil" and "also if the United States and its allies prevail in Afghanistan," and that we should "force Islamabad into making a major, defining choice about whether it is willing to do its share in such a possible bargain."
Even a U.S. president who bows to foreign potentates understands that with a re-election campaign coming up, he does not need a reprise of Jimmy Carter's "Desert One" fiasco, the failed effort in 1980 to save the hostages in Iran.
It might be added that President Obama has enough of a political hot potato on his hands, given that his attorney general is engaged in an outrageous witch-hunt to punish CIA agents who did their jobs and authorized or engaged in "enhanced interrogation" techniques that helped enable the success in Abbottabad May 1. (And don't insult our intelligence by saying Eric Holder was freelancing without presidential permission. Feed that to the birds.)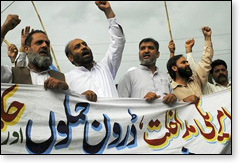 Needed: a trustworthy Pakistan
The Pakistani general who said we had better trust his government with advance knowledge next time our Navy SEALs venture into his country was obviously talking for home consumption, not for the edification of Americans who lost family members on September 11. Their only offense was showing up for work that day, and thereby contributing to America's economy — and also advancing the well-being of their loved ones and fellow Americans.
The border politics of India and Afghanistan may be the
reason
Pakistan cannot be a trusted ally. It hardly qualifies as an
excuse.
Nor will it likely impress Americans who dare to assert our right to protect our best interests, even if it means reconsidering any additions to those billions in American tax dollars that have fed the Pakistani government.
As for the crowds in the Pakistani street protesting our outrage at evidence their leaders may have been complicit in shielding the world's most wanted man — they can scream their lungs out, and are hereby cordially invited to crush rock — with their bare hands.
Similar — though less intensive — sentiments go from this "native American" (born in the USA) to the American Indian who took umbrage at naming the SEALs' victory "Operation Geronimo." Some folks need a hobby to replace the "political correctness" of their sacred right to be eternally offended. They say that kite-flying is good therapy.
© Wes Vernon
---
The views expressed by RenewAmerica columnists are their own and do not necessarily reflect the position of RenewAmerica or its affiliates.
---