Wes Vernon
Gang of Six: Munich again?

Also: Ayn Rand and Mary Surratt — as viewed on the 21st century screen; Bill Rusher (RIP)

By
Wes Vernon
April 25, 2011
There is ample reason to be skeptical that any meaningful solution to the debt crisis will result from the Senate's so-called "Gang of Six."
First of all, the history of so-called gangs (of whatever) "solving" anything has ended up with conservative common sense taking its customary back seat. Taking precedence have been proposals or programs that put heaviest emphasis on liberal conventional wisdom, with crumbs and fig leaves representing so-called "concessions" from that same left.
Can't we all just get along?
Secondly, the "gang" promises to blend the best ideas of the Republicans — as detailed in the budget-cutting agenda framed by Rep. Paul Ryan (R-Wisc.) — and Democrats — as speechified by President Obama.
In other words, although House Budget Chairman Ryan's proposal is on the table with specifics, President Obama's is not. All he has put on the table is a speech to teenagers whose instinct is to cheer no matter what comes out of the mouth of
the chosen one.
He wouldn't dare make his simplistic class-hatred speech before normal adults.
In that rant, President Obama indicated he is willing to scrap his official 2012 budget (already widely disregarded as a joke) and replace it with unspecified budget "cuts" and eliminating — altogether now — "tax cuts for the rich."
The "Gang of Six" consists of Senators Richard Durbin (D-Ill.), Kent Conrad (D-N.D.), Mark Warner (D-Va.), Tom Coburn (R-Okla.), Mike Crapo (R-Ida.), and Saxbe Chambliss (R-Ga.).
"Munich"?
Senator Coburn, whose reputation as an "ultra-conservative" can do much damage if he were to endorse milquetoast, weak tea concessions, has said he thinks "we'll come up with a bipartisan agreement that people can swallow." Better measure those words carefully, Senator. In Tea-Party America, "people" are more likely to choke on the kinds of "compromises" offered in yesteryears.
But the major reason for skepticism that the "gang" will end up with anything acceptable to Middle America is the very presence of Senator Dick Durbin on the panel. He is the second-ranking Democrat in the Senate's majority. If 100% of the Senate had been up for re-election last fall, he would now likely be Senate Minority Leader, possibly a tiny minority at that. No high-ranking counterpart Republican is a "gang" member, with all due respect for the well-meaning Republicans who are there. The other two Dems are generally reasonable men, but in this ultra-high-stakes maneuvering, it is suspected they will jump to the Durbin whip.
Moreover, not a single ounce of conciliation in the Rodney King mode of "Can't we all just get along?" exists with Senator Durbin. It simply is not in his DNA. He has lived off government pay all his adult life. The man doesn't know anything about meeting a payroll other than that fueled by government printing presses. Of the real world, he's as inexperienced as Obama without the teleprompter.

Already a longtime beltway conservative friend has expressed to me his concern that in the end, this will be a thinly-disguised surrender. Durbin will insist with an iron fist on getting everything he wants other than window dressing.
This will be a "Munich" surrender, my well-informed veteran of the Washington wars insists — seeing Coburn as Chamberlain and Durbin as Hitler.
This column — though not optimistic — is content to await the unveiling of the gang's finished product.
"Pray for the Gang of Six," former Senator Alan Simpson said following President Obama's soak-the-rich speech. Given the Durbin ingredient, pray for the gang's "failure."
The cinema
It is very seldom that this writer takes in the movies. Sitting through two of them in one weekend sets an all-time record.
Ayn Rand on the screen
Many conservatives have little or no use for the Ayn Rand legend. Cite dozens of examples: her personal life; a tyrannical style with her cult-like followers (the very antithesis of the freedom/rugged individualism she preached); her comment in a thick Russian accent to the late William F. Buckley (a devout Catholic) that "You're too intelligent to believe in God."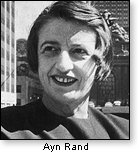 Buckley would later say of Rand that where she was right she was not original, and where she was original, she was not right.
All that (and more) aside, the woman's intelligence — combined with her having lived under the Communist yoke in the early Soviet Union — led her to see with total clarity the pure common sense of allowing the free markets to work. Man's native intelligence and desire to create, she believed, would benefit society at large — all of us.
Unleash the free markets, and expect wonders. The major barrier to those goals, according to the Randian economic gospel, was the destructive force of government, whose natural instinct is to dominate, and discourage such individual initiative.
In the 2011 movie
Atlas Shrugged,
all of those factors come into play. The 1957 book's heroine Dagny Taggart (Taylor Schilling) is the brilliant sister of a man (Matthew Marsden) who runs a railroad into the ground while living off his late father's fortune. (Note — the movie advances the timeline for the drama to 2016.)
Dagny strikes a deal with metals magnate Henry Reardon (Grant Bowler) and oil exec (Graham Beckel) to rebuild the rickety rail line.
The leading bad guy is perennial Washington lobbyist Michael Mouch (Michael Lerner), who through his years of "insider" connections becomes boss of a jackboot-like government agency where he sets about the task of bringing down the Taggart/Reardon high-speed train.
There are ironies here: The movie posits a successful privately-funded high-speed train (250 MPH) that assumes that our real-life government back in the fifties had not conspired to subsidize highways and tax railroads — thereby destroying the latter, and producing the likes of Amtrak and Conrail, and also leaving the very idea of "high-speed" trains mainly to the public sector, unlikely to become reality by 2016. But this is fiction, right? So we won't be picky, picky, picky. The thread of the story is very credible, and that's what counts.
Without giving away too much of the story (we strongly recommend seeing the show, and don't intend to spoil your fun), suffice it to say that Mouch deals with special interest plotters, and by the end of Part 1, the result is not pretty. For details, see the movie. It's not every day that motion pictures portray smart, hard-working entrepreneurs as the good folks and government bureaucrats as the black hats.
Mary Surratt
On Saturday, April 16, 2011–146 years and one day after the assassination of Abraham Lincoln — a meal at a Chinese restaurant in downtown Washington presented an opportunity to soak up a little history. At the entrance to the Wok and Roll on H Street, there is a plaque defining the building as a landmark — formerly the boarding house owned by Mary Surratt, an industrious widow of the Civil War era, a devout Catholic, and a strong Confederate supporter who had grown up in a Maryland slave-owning family.
That boarding house was alleged to have been where several friends of John Wilkes Booth, including Surratt's son, had stayed and plotted to abduct President Lincoln. It was the "abduction" that ended in Lincoln's assassination at Ford's Theatre.
Though the purpose of visiting the onetime Surratt boarding house in 2011 was primarily to commune with the historical setting inside that preserved building, the Chinese fare was of such quality that as we subsequently entered the movie theatre right around the corner, the popcorn stand could be bypassed before viewing
The Conspirator
.
Trial: a mockery
Let's cut to the quick: Mary Surratt (Robin Wright) — whether she was guilty or innocent of personal participation in plotting the killing (a question still debated to this day) — was railroaded by a consummate kangaroo court.
In the (historically accurate in substance) movie version of the "trial," Union war hero Frederick Aikin (James McAvoy) is assigned to defend Surratt, a responsibility which he carries out with aplomb. However, the skids were greased, and Surratt goes to the gallows as her conspirator son John (definitely guilty) cools his heels in Canada. The coward would later return to the U.S. and go free due to the inept postwar "justice" that almost seemed hell-bent on letting the guilty son go free while punishing his mother whose guilt was in doubt.
One note: Moviegoers can be forgiven if they detect in
The Conspirator
a bit of producer Robert Redford's Hollywood yadda-yadda in crafting this cinema narrative. It may seem that the quintessential Holly insider was on his soap box parroting the Malibu/Beverly Hills line suggesting a parallel between Surratt's plight and today's Gitmo terrorist prisoners.
Well, apparently not. Fred L. Borch, an Army military historian and an advisor to the production of "The Conspirator," says the script was actually written 18 years ago while Bill Clinton was in the White House. So if Redford was attempting to link the story to more recent times, he may have had something else in mind.
In this writer's view, a better linkage would have been to the Rosenberg case. If that plainly treasonous couple could get a civilian trial as they did in the 1950s, Mary Surratt should have had one in the 1860s. Enjoy the show anyway, however you interpret it.
Here's hoping Robin Wright gets an Oscar for a stellar performance as Mary Surratt.
Bill Rusher
Conservatives lost one of the movement's founding fathers in the April 16 death of William Rusher. A soldier of the 20th century's most pivotal political battles who served as
National Review
publisher and helped found the Young Americans for Freedom and the New York Conservative Party, he was at the center of the Goldwater Campaign and the Reagan Revolution.
Bill Rusher, a lawyer and prolific author/columnist, blew the whistle in the very early nineties on behind-the-scenes discussions in Special Prosecutor Lawrence Walsh's office to try to send then-former President Ronald Reagan to prison in the Iran-Contra witch-hunt. The information in Rusher's column sparked a national outrage, arguably a factor in the ultra-short life of that blunderbuss idea.
Rusher was a sharp debater — on and off television. One recalls his encounter with liberal columnist Jack Anderson — a Drew Pearson acolyte who (of course) ended up second best.
© Wes Vernon
---
The views expressed by RenewAmerica columnists are their own and do not necessarily reflect the position of RenewAmerica or its affiliates.
---