Wes Vernon
Oklahoma City bomber threatened within prison walls?

Dares not name "third terrorist" (new FBI files just released)

By
Wes Vernon
April 14, 2011
Terry Nichols, serving life without parole in the supermax prison ADX Florence in Colorado for his part in the Oklahoma City bombing (1995), says "John Doe 2" — a mysterious accomplice in that terrorist act — does exist. Nichols has offered "not so subtle hints" of foreign complicity in the terror attack.
Meanwhile, Hussain al-Hussaini — identified by multiple witnesses as "John Doe 2" in the murderous attack that killed 171 innocent people — is due for a hearing April 26 in the Boston area, where he has been jailed on unrelated mayhem charges.
The connections?
Former TV reporter Jayna Davis has presented evidence linking Nichols to Ramzi Yousef, whom she describes as "the world's most prolific and diabolical bomb maker." The journalist/author has written that Terry Nichols took frequent forays to the Philippines where he purportedly met with members of Abu Sayvaf, "a South Pacific spin-chapter of al-Qaeda."
Davis's shoeleather work was outlined in some detail in her book
The Third Terrorist.
She identifies the book's title character as Al-Hussaini (the other two being the imprisoned Nichols and the since executed Timothy McVeigh.)
Inside pressure?
According to recently declassified FBI reports, which Davis has shared with this column, Nichols has said — in separate 2005 interviews with the FBI and with Rep. Dana Rohrabacher (R-Calif.) — that although the Middle Eastern-looking "John Doe 2" does exist, he won't identify him by name for fear of retaliation against his family.
The source of Nichols' fear?
Many of the names in the FBI documents, released under the Freedom of Information Act (FOIA), are redacted. Nonetheless, as it happens, another inmate at ADX Florence is the above-referenced Ramzi Yousef.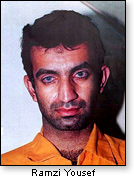 Nichols complained to Congressman Rohrabacher that prison officials tried to intimidate him by parading him past the jail cell of a "certain" inmate. It is not unreasonable to assume that inmate was Yousef.
A stranger landing from Mars could perhaps be excused for asking — given the abundance of maximum security prisons in the U.S. — why it was necessary to incarcerate Nichols and Yousef in the same one — considering the credible information of their collaborative history in the Oklahoma City terrorism. (Nichols labels that particular allegation as "baloney," but the evidence in
The Third Terrorist
is devastating.)
Highlights of FBI report
In the just-released FBI documents, Nichols, when asked for comment, said that the theory advanced in
The Third Terrorist
regarding Al-Hussaini as being John Doe 2 "could be correct."
Not once, not twice, but several times in the interviews, Nichols discussed foreign involvement in the bombing plot. Asked to specify his reasons for that belief, Nichols asked the FBI agent assigned to monitor his interview with the congressman to leave the room.
The interview then was interrupted as FBI officials and Congressman Rohrabacher's staff people conferred on the inmate's request. The upshot of this was that the FBI said it "would have to terminate the interview if [the agent] was not allowed to return to the interview room."
Resuming
Continuing the interview, "Nichols stated that Timothy McVeigh mentioned 'Middle Eastern people' (no further information) several times." Also, "Nichols believed there was an 'Arab connection' to the Oklahoma City bombing."
Nichols said McVeigh had "talked to Muslims" before the attack, though he did not witness those discussions — in part because McVeigh had a tendency to "compartmentalize" his contacts in this iniquitous venture. Nichols also was of the opinion that the FBI/DOJ (Dept. of Justice) files had been "cleansed or purged."
The "mystery" persists
In an interview with this column, investigative reporter Jayna Davis expressed concern about the heavy redactions in the FBI release and also the fact that the interview with Nichols conducted by Rohrabacher consumed more than two hours but was summed up in only three pages, and therefore was suspect of being less than complete.
Davis recalled that during her years-long probe, when she was interviewed by the FBI in this case, "I had proof there were major omissions from what I told the FBI because whenever there was critical information — and there [was] an ongoing trial — they're careful to redact any information that would trigger it to be turned over for a discovery to a defense team."
"In the Oklahoma City bombing," Davis continued, "I named a specific individual who had ties to the Palestinian Liberation Organization, according to the federal court record. That was redacted from my statement."
When one views the FBI report now made public in April 2011, with its scant three pages of notes and "at least five to six distinct references to Timothy McVeigh, to the words 'Middle Eastern,' 'Arab terrorism,' and 'Muslim,' [it] tells me that all Nichols talked about [was] a Middle Eastern operation in Oklahoma City," opines Davis. Meanwhile, "[Nichols] was hands-off with personal involvement because he's next door to the guy [Yousef] who would slit his throat or make sure it is slit. He's not going to say anything about his personal direct knowledge or direct collaboration with Middle Eastern terrorists. He's going to save his own skin. He's got a survival instinct."
BTW, Nichols' own court-appointed attorney never showed up for the prison interview, leaving Davis to speculate that the government refused to pay for it because it was "an expensive trip." (Irony: This was while the government could be blasé about spending in the trillions.)
Cover-ups on several fronts
Under normal circumstances, all of this would be front-page news. The media would be pounding on every relevant door to get some answers. Years ago, Jayna Davis tried, and the owners of her TV station backed her to the hilt. When the
New York Times
purchased the station, however, she was stopped in her tracks. (Surprise!) That says something about media corruption.
But what about government corruption? Why did Nichols not trust the FBI? In this particular case, why should anybody? Twenty-two witnesses had linked Timothy McVey with Hussain Al-Hussaini, and the FBI authorities did not even try to interview Al-Hussaini. They did find the time and manpower to traipse down every blind alley they could find, seemingly willing to stop just short of going house-to-house and drag out multiple hapless "suspects" who fit their pre-determined profile that the suspect must not look or talk like he's from the Middle East.
If the FBI were doing its job, its agents would be all over the local authorities in Quincy, Massachusetts, demanding that Al-Hussaini not be released from the lock-up on charges stemming from an alleged beer-bottle brawl March 9. Instead of generating federal curiosity, my own inquiries to FBI headquarters here in Washington last month met a dead-end on an unresponsive voice-mail machine (see our column
March 24
&
March 28
).
With the newly-released (albeit incomplete) information now made public, what's stopping the feds from — finally! — questioning the Third Terrorist? Exactly what? Who? Why?
© Wes Vernon
---
The views expressed by RenewAmerica columnists are their own and do not necessarily reflect the position of RenewAmerica or its affiliates.
---