Wes Vernon
Conservative vs. conservative: a fair fight, don't you think?

Also: John Boehner: super-hero

By
Wes Vernon
April 11, 2011
What would "Silent Cal" do? In his time, debt in the billions would have been considered beyond the scope of sanity; forget trillions. So how would Calvin Coolidge have assessed the budget deal just agreed to by 21st century Republican House Speaker John Boehner? Let's explore that.
Calvin Coolidge: original supply-sider
Calvin Coolidge was one of the 20th century's best presidents, exceeded only by Ronald Reagan. When you examine his tax policies and philosophy, it is small wonder that the first thing Reagan did upon entering the White House was to display Coolidge's picture in the Cabinet Room. The Gipper believed his predecessor (60 years removed) was vastly under-estimated.
Garland S. Tucker III is of that same opinion. His perceptive history in
The High Tide of American Conservatism: Davis, Coolidge and the 1924 election
takes us to the drama of the last presidential election in which both major party candidates were conservative.
That doesn't begin to make up for all the campaigns where it was liberal vs. liberal (FDR vs. Hoover, Willkie, and Dewey; Truman vs. Dewey; Adlai vs. Ike — well you get the idea). Nonetheless, we can only dream of another conservative vs. conservative contest.
Actions vs. words
Though Walter Lippmann defined President Coolidge as a man of "masterful inaction," Silent Cal's policies made him the first of three supply-side 20th century presidents — the other two being John F. Kennedy and Mr. Reagan.
All three implemented low-tax policies that engendered the three most prosperous eras of the century. That was no accident. (Some would be quick to note that within a year after Coolidge left office, the stock market crashed, ushering in the Great Depression. But that was related to unwise actions by the Fed and other factors, exacerbated by President Herbert Hoover's tax hike policies, followed by Franklin Roosevelt who doubled down on the foolishness. But that is for another column — or 2-or-3-or 4 or more. Don't get me started.)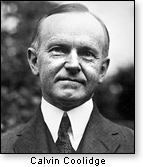 The Twenties roared
As the late columnist Robert Novak (quoted by Tucker) put it, "The Coolidge boom was built not on stock speculation, but on his tax cuts."
Tucker tells us that "Coolidge's most trusted advisor became Treasury Secretary Andrew Mellon, with whom he had developed and implemented the economic framework for the great economic boom of the 1920s."
Coolidge inherited Mellon from his predecessor Warren Harding, who died in office. The president also inherited Commerce Secretary Herbert Hoover, of whom Mr. Coolidge would say, "That man has given me nothing but advice, and all of it bad."
Speaking of Harding, President Coolidge moved swiftly to clean up the mess related to the scandals that marred the short Harding presidency. People went to jail or left office in disgrace because Mr. Coolidge ordered investigations without fear or favor.
"For an America that was experiencing postwar disillusionment, and a bewildering modern secularism, Coolidge offered faith in the mythic America of honesty, hard work, thrift, and religion," according to Tucker. Early 20th century journalistic icon William Allen White concluded Coolidge was in fact "a political genius."
The most perfect gentleman
The Democrat whom President Coolidge defeated in 1924 was John W. Davis, a distinguished public servant who had served as a U.S. Congressman, Solicitor General, and U.S. Ambassador to the UK.
Davis was the last presidential candidate of the conservative Jeffersonian wing of the Democrat Party. His conservative outlook would lead Woodrow Wilson to bestow upon Davis the sneering back-handed compliment, "He's a fine man. If you want to stand still, he is just the man to nominate." Davis had served under Wilson. That was not Davis's fault. Some of our best public servants have been appointed by our lesser presidents, and Wilson was arguably not only the worst, but obnoxiously sanctimonious about it.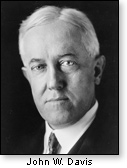 The High Tide of American Conservatism
defines Davis as "one of those rare men who seemed without exception to have gained the trust, respect, and love of his associates....an easygoing graciousness, and unquestioned integrity."
But Mr. Davis's candidacy was doomed: 1 — President Coolidge had gained the respect and admiration of his fellow Americans. 2 — The Democrat Party was badly split, with its left flank taking on a Third Party ticket of liberal Wisconsin Republican Robert M. (Fightin' Bob) LaFollette and liberal Montana Democrat Burton K. Wheeler.
(That ticket had its own noteworthy historical notes: Lafollette's son Robert, Jr., followed his dad's footsteps to the Senate, but ultimately was defeated in the 1946 GOP primary by World War II Marine vet Joseph McCarthy. Wheeler in his later Senate years became quite conservative. He was super-energetic in an enlightening conversation this writer had with him when he was in his nineties.)
1924: Starboard candidates
Here are samples of utterances by the two 1924 major party candidates:
1 — "Human rights and rights of property are not different or antagonistic, but parts of one and the same thing going to make up the bundle of rights which consume American liberty."
2 — "The wise and correct course to follow in taxation and all other economic legislation is not to destroy those who have already secured success, but to create conditions under which every one will have a better chance to be successful."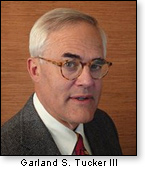 The first is Davis; the second, Coolidge.
Tucker writes, "In matters of government spending, it was very difficult to distinguish Davis from Coolidge. Davis advocated reduction of the 'heavy and excessive' level of government spending and the burden of taxation. He dutifully opposed the Mellon plan, as prescribed in the Democratic platform, but his proposed across-the-board tax reductions were in no way incompatible with Mellon's."
Fast forward — ummmm — some decades
So there I was, a small kid on the streets of New York City, when an adult relative introduced me to a very distinguished-looking gentleman and his wife who were out for a Sunday stroll.
As the man and his wife walked on after a cordial conversation, I was told "There he goes. He ran for President of the United States, and he can walk down the street and [almost] no one recognizes him."
John W. Davis, I learned, was a "lawyer's lawyer" whose firm helped my father begin his own law career. I was informed that my Grandfather and Grandmother Vernon were Utah delegates to the 1924 Democratic National Convention in New York's Madison Square Garden that ran for 11 days and 103 ballots before nominating Davis as its standard bearer. That uproarious, out-of-control convention was yet another reason his run was a trainwreck.
Interesting to learn, but it didn't matter. Had I been around, I still would have voted for Coolidge — one of the best — the original supply-sider.
Economics updated for 2011
Billions anyone? How about trillions? Of course, Silent Cal could not imagine that kind of debt in his day. But let us suppose he were to return and become a quick study on World War II, the Cold War, Korea, Vietnam, Watergate, the Reagan Revolution, 9/11, the War on Terror.
Being a man of few words, he would have cautioned his modern-day Republicans on Capitol Hill this past week: "Stand your ground. But keep your eye on the big picture."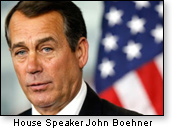 With that in mind, it's reasonable to believe Calvin Coolidge would have approved of the negotiating skills of House Speaker John Boehner.
I'm a real fan of Michele Bachmann, the Minnesota congresswoman who does not share my view — and that of many of her fellow Tea Partiers — that Mr. Boehner got the best deal he could. Fine, let's have that discussion. But let's not take our eye off the huge tasks ahead — the debt ceiling, the 2012 budget, the Paul Ryan blueprint.
Boehner: Super-hero
We can reasonably surmise that President Coolidge today would give John Boehner a rating of "Well done." He would have noticed that the Speaker — in the room with the President and the Senate Majority Leader — would have been on the wrong end of "2 against 1."
Cal — being "silent" — would not have said that. Being very principled but practical, he would have just understood it.
On the other hand, this column — appearing on a family website — will not attempt to fathom the would-be reaction John W. Davis (even the gentleman that he was) would have regarding the spending and taxing agenda of his party's negotiators — Barack Obama and Harry Reid.
© Wes Vernon
---
The views expressed by RenewAmerica columnists are their own and do not necessarily reflect the position of RenewAmerica or its affiliates.
---