Wes Vernon
Obama's ultimate aim in Libya: a world military/police force?

By
Wes Vernon
April 4, 2011
There is a high risk — very close to a dead certainty — that no matter what happens in Libya, the results will be bad for the United States. In the run-up to his 2012 re-election bid, why would President Obama go against such odds?
If Col. Gadhafi stays, his hand will be strengthened and he will be so hell-bent on revenge that he will cause us more headaches and he will take the victory as carte blanche to continue the mass murder rampage against his own people. That recalls the old adage that if you're going to shoot the king, you had better not miss. Declaring repeatedly from the White House that Gadhafi "must go" and then offering no strategy to accomplish that goal is a recipe for the "paper tiger" syndrome, a circumstance not lost on America's enemies.
But what if Gadhafi is ousted? In that event, our problems could quickly multiply. The coalition aiming to replace him consists of some of the world's worst thugs — our sworn enemies. In Libya (as with Egypt and other Mideast trouble-spots), the rebels are infiltrated, likely to pave the way for the empowerment of al-Qaeda, Hezbollah, Hamas, and the Muslim Brotherhood.
We are not talking here about people with whom we have polite disagreements. We are talking about vicious jihadists who want to kill Americans — any Americans.
Some of them fought against our troops in Iraq and Afghanistan. Why would a president order our brave men and women in uniform to save the hide of such thuggery? There must be some unspoken reason for that. What could it be?
The "post-American" president?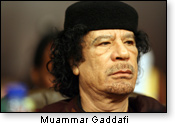 To hear administration leaders tell, one would almost think that once the evil Col. Gadhafi is gone, that will end or minimize our problems in Libya. Sending Americans to do battle on the presumption that this is a simple good-guys vs. bad-guys battle seems incredibly naïve. Either that or Mr. Obama knows what he is doing and does not view the advancement of Islamic jihadist groups as a bad thing. Pamela Geller, author of
The Post-American Presidency,
told this writer on Friday that the latter explanation is more likely.
That is plausible — but even if so, there is perhaps something else motivating this White House. There has to be another goal.
Then there are the public and Congress
The very fact that the president's statements and actions have led to confusion amongst the public at large and "Who's on first?" cartoons and jokes in the media is — in and of itself — dangerous in the message of weakness it sends to the world. Even a president who bows to foreign potentates might be concerned about that. So what is he thinking?
Deny the money?
Here is but one example of the political buzzsaw Mr. Obama faces unless and until he convinces the American people and Congress that involvement in Libya is in America's best interest:
In the House, the highly-respected veteran Congressman Roscoe Bartlett, Chairman of the Land and Sea Forces Subcommittee of House Armed Services, has introduced the
Protect America from U.S. Military Expenses in Libya Act of 2011.
As the Maryland Republican explains it, "The bill requires the president to identify for Americans his priorities for how to pay for the costs for this war in Libya without increasing our $14 trillion National Debt or by raising taxes."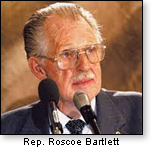 Charging that Mr. Obama "has involved the United States in an unconstitutional and illegal war in Libya," Bartlett said the president "didn't seek or obtain authorization by the Congress before" ordering the military action. The lawmaker also expressed concern that America's military would be spread too thin, and added, "I hope everyone agrees with me that the costs incurred by America's military in Libya should not be borne by taxpayers or degrade the capability of our armed forces, especially considering the ongoing operations by our military deployed in Afghanistan and Iraq."
Again, the president and his advisers knew these unconstitutional actions would cause an uproar on Capitol Hill. So again, why did they go ahead anyway?
The learned professor speaks
In 2007, then-candidate Obama intoned that "The president does not have the power under the Constitution to unilaterally authorize a military attack in a situation that does not involve an actual imminent threat to the nation."
Senator Rand Paul (R-Ky.) — a member of the Senate Homeland Security Committee — says he agrees with former constitutional law professor Obama of an earlier time. That is why the senator has introduced a sense of the Senate resolution that aims to put the U.S. Senate on record affirming Congress as the body with constitutional authority in matters of war.
Compared to Bush
George W. Bush lined up over 40 nations behind the U.S. before going into Iraq. Moreover, he did go to Congress and got the go-ahead before launching the attack to get Saddam Hussein, a far greater threat than Gadhafi. Obama, who gave short shrift to that coalition, now celebrates his own coalition of a grand total of 15 nations, and — on the fly — he talks to 18 out of the 535 members of Congress.
Polls indicate a lack of popular support for U.S. involvement in Libya. If the president won't go to Congress and seek official backing, the question arises: Is there something he is trying to hide?
What exactly does Obama have in mind?
Stanley Kurtz, a Hudson Institute scholar, tells
National Review Online
that Obama "has had a longstanding interest in multilateral efforts to combat war crimes and genocide." The theory is that — with Gadhafi having murdered his own people and threatened to go "house-to-house" to seek out and kill opponents — this would be a golden opportunity for this White House to advance the principle of going to war for purely humanitarian reasons.
My comment: Very well, then, will we go to war against Saudi Arabia, Bahrain, or Yemen? Where do we stop? And who's to say some rogue state won't someday convince "world opinion" that such police authority should be unleashed against the United States, even (maybe especially) if future U.S. action were taken to protect Americans?
And what about Iran? At least there, a case could be made that if we don't stop that Islamofascist state's nuclear buildup, in a few years its rockets will be heading for the U.S.
Ah, but now we're talking about pre-emptive warfare in the interest of protecting Americans in the United States. And the "post-American presidency" will have none of that. We're talking here of a world army under a world authority (possibly a slippery slope road to a world government for which the super-internationalists for decades have had an intense longing).
Gadhafi's nuke program was terminated thanks to the Bush administration. By contrast, toxic Islamist Iran plows ahead with its nuclear ambitions, threatening a world conflagration.
But Gadhafi's Libya may present a "test case" for Obama's apparent desire to facilitate an international army. The president's National Security Council director, Samantha Power, reportedly has been seeking a means to "solidify the principle of responsibility to protect international law."
Why the hush-hush?
You're not hearing much about all this. And one reason could very well be that, as Kurtz believes, "he [Obama] cannot afford to specify ideological motivations he knows the public won't buy."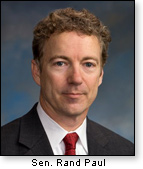 Here again is a reminder as to why the Founding Fathers wanted Congress — "the people's house," as Senator Paul calls it — to be in on the ground floor when America goes to war "and decide whether this war is in our national interests."
Or as
Investor's Business Daily
editorialized, "If the left's 'responsibility to protect' ideology is to become official U.S. policy, it should be debated openly at first."
(
Note:
The man dubbed the "third terrorist" in the Oklahoma City bombing — see this column
March 24
&
March 28 —
remained in jail — last we checked — in Dedham, Mass. He's accused of assault and mayhem. If convicted on those charges alone, he could serve about 25 years. If federal authorities do their job, a mere 25 years could be the least of his worries)
© Wes Vernon
---
The views expressed by RenewAmerica columnists are their own and do not necessarily reflect the position of RenewAmerica or its affiliates.
---