Wes Vernon
Exclusive: Will Congress (at last, officially) solve the mystery of 'the third terrorist' in Oklahoma City?

By
Wes Vernon
March 28, 2011
The chairman of the House Subcommittee on Oversight and Investigations may soon hold new hearings on the credible allegations that a third man — this one from the Middle East — collaborated with Timothy McVeigh and Terry Nichols in the 1995 Oklahoma City bombing.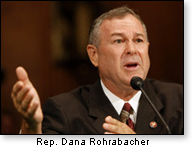 In a phone interview with this writer, Committee Chairman Dana Rohrabacher (R-Calif.) said that two weeks ago he met with Hussain Al-Hussaini — an Iraqi native alleged to have had a significant role in the bombing. The meeting took place at the site of a corrections facility in Dedham, Massachusetts, where Mr. Al-Hussaini has been held by authorities on charges stemming from a beer bottle brawl.
The man dubbed "The Third Terrorist" (
see our report March 24, 2011
) has been in jail awaiting a court appearance scheduled for Monday. He was arrested earlier this month on charges of assaulting a man at a homeless shelter in Quincy, Mass.
Disappear again?
This column has expressed concern that allowing Al-Hussaini out of jail (on bail or otherwise) could make him a flight risk. Recall that after he had failed in two trials to clear himself of complicity in the Oklahoma City bombing, he vanished. Until the recent beer bottle brawl, his whereabouts were generally known only to a few.
But Congressman Rohrabacher does not believe the Iraqi soldier is likely to disappear again. He says Al-Hussaini has fathered a child by a woman with whom he has been living, and thus appears to have settled in the area.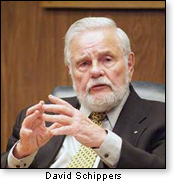 "He'll be gone," opines David Schippers, the Chicago lawyer who represents Jayna Davis, who has been on the story as a TV reporter in Oklahoma City. "The minute they let him go, he'll disappear." Davis herself agrees.
Rohrabacher says Al-Hussaini has been in the Boston area for some time. In fact, the congressman revealed to us that — acting on a tip — he had previously ("about three years ago") traveled to Boston's metro area and tried to interview Al-Hussaini at a "YMCA or some homeless shelter."
Rohrabacher says he was unable at that time to secure the cooperation of the people in charge at the former Iraqi soldier's then-living quarters. They would not disclose where Al-Hussaini was and even refused to take a message. They explained they would not compromise the "rights of our clients," according to the veteran California representative.
Dereliction of duty?
Following Al-Hussaini's arrest in the March 9 beer bottle brawl, the FBI issued a statement saying al-Hussaini had been "thoroughly investigated" and was found "to not have any role whatsoever" in the attack on the Murrah Federal Building.
Oh, really?
That claim is beyond befuddling. According to Rohrabacher, Al-Hussaini himself told him just two weeks ago (as he did years ago under oath in two trials where he failed to clear himself of the terrorist allegations) that "they [the feds] never questioned him on it [the bombing]."
"They are lying. The FBI is not telling us the truth," Mr. Rohrabacher told me. "For whatever reason, they did not thoroughly investigate this potential [accomplice]." He speculated perhaps there was "something more that they know at the top level," or perhaps there's an "embarrassment" that they "know it's possible that Hussain Al-Hussaini is John Doe 2." Or "it's possible that they're just being lazy."
Note: In the early hours after the '95 bombing, national TV showed pictures of John Doe 1 (McVeigh) and John Doe 2 (allegedly Al-Hussaini). But John Doe 2's picture quickly disappeared shortly thereafter.
Here we go again?
"I'm like a bulldog," Congressman Rohrabacher assures us. "I sink my teeth into something, I'm going to see it through."
This is not the first time members of Congress have focused on mysterious McVey/Nichols collaborator(s) in the monstrous terrorist strike that killed 171 people (including children — born and unborn) in Oklahoma City.
Former reporter Jayna Davis, who wrote about her investigations of the case in her book
The Third Terrorist
, recalls — in a statement to this column — that Congress — in the past — "marched in lockstep with DOJ's [Dept. of Justice's] stiff-arm tactics."
In 2002, she tells me, Senator Arlen Specter and Congressman Dan Burton embarked on what she describes as a "superficial congressional investigation" that failed to address "the FBI's shameless refusal to interview [twenty-two] witnesses and the man they collectively identified as John Doe 2."
Despite disappointment with that congressional inquiry, Davis notes that it yielded a "bombshell" in "a leaked copy of an FBI confidential letter, dated November 5, 2003." That memo, says Davis, "impudently conceded that federal agents never questioned Hussain Al-Hussaini."
But that was then?
As for his own (later) inquiry in 2006, Chairman Rohrabacher says the "Republican [congressional] leadership" at the time "did not back my efforts." Moreover, the Republicans then lost control of Congress and at that point investigative efforts lost what little momentum they had.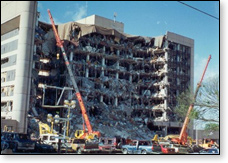 On the record and without excuse
In our last report, we discussed how this column — over a period of several days last week — tried in vain to get some answers from the FBI and the Department of Justice. They did not respond to our inquiries as to how, when, and where the Bureau had "thoroughly investigated" Al-Hussaini and "found [him] to not have any role whatsoever" in the Murrah Building bombing.
Reporter Davis, in her statement to us, reacts as follows:
"The DOJ and FBI in Washington, D.C., have not addressed your inquiry because the bureau cannot answer one fundamental question: "Where was Hussain Al-Hussaini the morning of April 19, 1995?" when 171 innocents were killed. "And why — after 16 years — did the FBI suddenly issue an on-the-record statement absolving the Iraqi soldier of any involvement in the attack?"
"My short answer," the intrepid TV journalist continues," is that the bureau is "on the record and without excuse."
The former on-air investigator for KFOR-TV says after initially discussing her findings with federal agents, "their zest for our information evaporated when the third terrorist, John Doe 2, inexplicably vanished from the Bureau's radar screen."
And there is more
Among the high-profile findings by Davis which she says the FBI ignored:
— Exposure of "an Arab terrorist cell" operating in the city where the unprecedented attack occurred.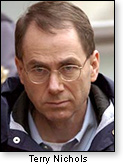 — A witness statement "implicating a cadre of Iraqi soldiers aiding and abetting Timothy McVeigh and Terry Nichols during various stages of the bombing plot."
— The fact that the FBI did (finally) accept "the twenty-two affidavits — because FBI Special Agent Dan Vogel, to his credit, dared to take receipt of the evidence" — but despite the veteran agent's keen determination to follow through and talk to the witnesses, "the documents were passed up the chain of command and simply vanished." To this day they are "missing."
Yet another dot?
In a late 2006 report about his own aborted investigation in the case, (then and now once again) Chairman Dana Rohrabacher stated, "More alarming is the discovery of a published list of unindicted co-conspirators from the first World Trade Center bombing [February 1993] that includes the name of Samir Khahil." A man by the same name is identified in the same report as "a Palestinian landlord" (an ex-con previously imprisoned for insurance fraud) who "owned properties throughout the [Oklahoma City] area" and who hired "a group of Iraqis" (of whom Al-Hussaini was one) to do "odd jobs."
Question: Are these two Samir Khahils actually one and the same? Congressman Rohrabacher can't say for certain because DOJ at that time said that to pursue the lead would be "too burdensome."
If a Justice Department in the administration of George W. Bush would not cooperate on this, how much help can be expected of a DOJ with Eric Holder as President Obama's Attorney General?
Rohrabacher is still miffed at that brush-off and says he intends to revive the issue now that the House panel is once again under his chairmanship.
A rap sheet
By the time you read this, we may know whether Al-Hussaini has been released from jail pending a trial in the beer bottle attack. The question actually at issue in Quincy District Court is whether his probation on a charge of open and gross lewdness should be revoked because of the alleged beer bottle assault.
Consider that the Assistant DA there has cited the man's failure to show up three times for court hearings on a drug charge. Added to that is his long rap sheet in at least three states. The current charge — for which he has been in jail this month — is "assault with a dangerous weapon."
But above all are the unresolved questions about the Oklahoma City bombing case in which Mr. Al-Hussaini failed to clear his name in two courts. This column remains convinced that his potential as a flight risk should not be discarded.
Note —
There were other theories as to culprits in the Oklahoma City bombing, including a white supremacist/bank robber cult. That theory actually
was
"thoroughly investigated" by the FBI and — according to a book by Jon Hersley, the former lead investigator for the Bureau's Oklahoma Bomb Task Force — was debunked. Under oath in court, the FBI testified that those alleged conspirators (the white supremacists) "have provable alibis and have been officially cleared of suspicion by the Bureau."
Note 2
— This contrasts with the sudden seat-of-the-pants "clearance" this month of Al-Hussaini, which appears to have been issued in haste, perhaps at the push of a panic button.
We need to know
why
the feds were willing to chase down the blind-alley leads, while ignoring and refusing to follow up on the more credible allegations in the "Third Terrorist" case, backed by multiple witnesses.
As we said in our last visit, somewhere, someone — possibly a household name or maybe a powerful back-room manipulator — is likely sweating this out — afraid of being exposed.
For what? And why?
© Wes Vernon
---
The views expressed by RenewAmerica columnists are their own and do not necessarily reflect the position of RenewAmerica or its affiliates.
---