Wes Vernon
Obamacare one year later: creeping "death panels" and other sneak attacks

By
Wes Vernon
March 21, 2011
As Obamacare marks its first anniversary, signs of changes in the insurance and healthcare industries are gradually becoming apparent — even though the worst and most intrusive moves will not kick in until 2014 — well
after
the next presidential election.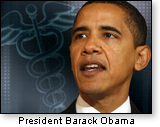 Win or lose, the 2012 campaign will be a grind for Mr. Obama. He will be stuck with the task of saying this turning-point law does not say what it says. If he loses, and Congress is in Republican hands, the victors will have to start again from scratch and unsnarl the mess jammed down the throats of a disapproving public on March 21, 2010 — another day that "will live in infamy."
Double-counting
A prime sample of this mess is a double-counting gimmick that no less a figure than Health and Human Services Secretary Kathleen Sebelius admitted to in congressional testimony this month. Both before and after passage of the bill that plainly calls for increased spending in the multiple billions, the administration and its allies have persisted in claiming it will "reduce the deficit."
"What's the $500 billion [planned] for?" Rep. John Shimkus (R-Ill.) asked the secretary. "Are you using it to [extend the life of] Medicare, or are you using it for health reform?"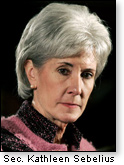 "Both," replied Ms. Sebelius, thus verifying before the entire world that Obamacare is engaging in the kind of accounting that landed Bernie Madoff in the hoosegow. Even by the standards more or less expected of the politically disingenuous, that one is a stretch.
Prelude to creeping "death panels"?
One of the consequences of new mandates in the legislation is that insurance companies are fearful (not without reason) that their companies' profits will dwindle. That in turn has sent them scurrying to diversify by acquiring new lines of business — those that are less regulated than providing health insurance. (The real reason for this pressure on the insurance companies is the administration hopes eventually to run them out of business so the government can take over. That's the dirty little non-secret secret.)
But Ana Gupte, an analyst with Sanford and Bernstein & Co., is quoted as saying that while the new acquisitions will not deter the industry from continuing to focus on its "core business," the new ventures will help the insurance companies acquire "more tools to control medical costs while potentially increasing earnings."
The doctor/patient relationship compromised?
Humana insurance, for example, has been purchasing or partnering with firms that facilitate "dipping its hand directly into patient care, gaining more control over doctors," according to a report in Sunday's
Washington Post.
The company's strategy officer, Paul Kusserow, says its newly-acquired entity Concentra "will give Humana a workforce of physician gatekeepers controlling access to costly services."
"The ultimate goal," Kusserow adds, "is going to be to teach these folks at Concentra to deal with risk" by making doctors responsible for the cost and quality of health care.
One can guess to what extent the former takes a higher priority than the latter, or vice versa. Mr. Kusserow cannot be faulted for looking out for his company's bottom line. He surely understands customers will flee the service if they sense the quality is suffering. But if doctors are under pressure to cut corners on some patients — depending on age or severity of the affliction — could the results over time resemble those promulgated by a de facto "death panel"?
Again, consider this: Insurance companies are seeking partners that can assist in their ability to "control doctors" so as to enable savings. They are making such moves because of new federal law. They won't publicly blame the government for initiating that process. God forbid they point the finger at Madame Secretary, when Ms. Sebelius has threatened them with retaliation if they dare to blame Obamacare for anything they are compelled to do as a result of that very same administration initiative.
By this chain reaction — plainly anticipated by the administration and others behind the new law — the clear implication is government interference (albeit indirect) with the doctor/patient relationship that goes far beyond anything insurance companies themselves may have initiated in the past.
New York Times weighs in
It's not as if this is the first indication of the "death panel" concern since the bill passed a year ago.
On December 25, 2010, during a time when most Americans were in the midst of their holiday celebratory activities and less likely to be focused on the news of the day, the
New York Times
(not exactly a mouthpiece for the "right-wing conspiracy") ran a story headlined
Obama Returns to End-of-Life Plan That Caused a Stir.
Noting that before the bill's passage, Democrats had dropped the "end-of-life" plan, the story adds, "But the Obama administration will achieve the same goal by regulation, starting Jan. 1." As veteran NYT reporter Robert Pear wrote, the new Medicare rule "will pay doctors who advise patients on options for end-of-life care, which may include directives to forgo aggressive life-sustaining treatment."
What is to be done
All of this spotlights one more reason why — for as long as it takes — Obamacare's obliteration from the statutes must be the Number One urgency in the public square.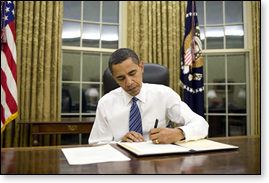 Unfortunately, as long as Mr. Obama is in the Oval office and his allies control the Senate, that won't happen right away. But the effort must be made again and again and again, if for no other reason than to keep the issue squarely on the front burner where it belongs.
That is being done by House approval of legislation to repeal this monstrosity, along with such ancillary measures as the Rehberg and King amendments to mandate that every last penny of funding for Obamacare be denied.
There are also multiple congressional hearings — planned or underway — uncovering the need for other legislation to advance the repeal effort, and replace it with a common-sense privately based health care plan.
Hopefully by 2012, the American people will be ready to change the political dynamic in Washington so that full repeal will also pass the Senate and be signed by a new president. Until then, the message of last November remains: Keep pushing.
© Wes Vernon
---
The views expressed by RenewAmerica columnists are their own and do not necessarily reflect the position of RenewAmerica or its affiliates.
---