Wes Vernon
Future bumper-sticker: Who lost the Middle East?

(Next: Who lost America?)

By
Wes Vernon
February 14, 2011
The overwhelming majority of Muslims in Egypt favor the death penalty for those who leave the Muslim religion.
This, you see, is in line with Muslim custom — or Sharia law — that also says it's okay for husbands or fathers to impose an "honor killing" (or stoning) on a woman who has been raped. That supposedly cleanses the dishonor the woman brought on the family. And by the way, she must have no fewer than 4 male witnesses to vouch for her charge of rape.
The "religion of peace" also is working — covertly and in some cases in broad daylight — to impose Sharia law on the entire world
Shariah Law controls the private as well as public life of the woman.
Such lovely edicts (and suicide bombings) reflect Radical Islam's agenda for the world, including the United States. Eyewitnesses (Hirsi Ali, and Nonie Darwish); experts (Frank Gaffney, Robert Spencer, and Steve Emerson); and writers (Tony Blankley and the late Paul Weyrich) have reported on this for years.
But the politically correct police have come down hard to discredit these and others who have cited the glaring wake-up calls.
Now with the uncertainty in Egypt and signs of its spreading to other countries in that part of the world, we are coming face-to-face with the prospect that Western Civilization will be brought under the boot of this ideology of death operating under the cover of "religion." Even if a secular government does emerge, it will be in imminent danger of overthrow a la Iran — 1979.
Been here before
In the 1950s, Capitol Hill investigations raised the cry of
Who lost China?
Fools and America-haters in high places in government and media had sold us out with the assurance that the Chinese Communists were merely "simple agrarian reformers," that we just can't stop them and we should not try.
Today, fools and America-haters in government and the media are back at the same stands as those of their ideological predecessors — singing the same old siren song with its updated version: the Muslim Brotherhood is "a force for moderation" — that we just can't stop them, and we should not try.
Recall the comment of Director of National Intelligence James Clapper that the Muslim Brotherhood was "largely secular." Such Marx Brothers-style ignorance would be funny were it not so dangerous.
It can't happen here?
It is not certain how everything will shake out in Egypt, let alone when or whether all of Western Civilization will ultimately crumble under the onslaught of this behemoth culture of death that demands nothing short of world domination. Concern and preventive-action are amply justified.
At least one escapee from the violent clutches of Radical Islam figures that in twenty years, there will be enough Muslim voters in the U.S. and Canada to elect a President or Prime Minister by themselves.
"Rest assured," writes Nonie Darwish, "they will do so."
The author (born in Cairo and raised in Egypt and Gaza before arriving in the U.S. in 1978), further cites Dearborn, Michigan, and Brampton, Ontario, as two communities in North America where Muslims have gained enough influence (if not "taken over") to call the shots on policy issues. (One YouTube presentation shows thugs assaulting camera crews attempting to ask Islam exhibitors about literature at a Dearborn fair.)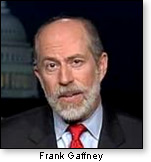 Know your enemy
Frank Gaffney, President of the Center for Security Policy, flatly states that "the Muslim Brotherhood is our enemy."
That is spelled out by the Brotherhood (or
Ikhwan
in Arabic) itself. An MB "mission statement" reads as follows:
"The Ikhwan must understand that their work in America is a kind of grand Jihad in eliminating and destroying the Western Civilization from within the miserable house by the hands of the believers so that it is eliminated and God's religion is made victorious over all other religions." Cited as a "success" in this manifesto is infiltrating "sectors of the Government."
There are numerous reports that radical Islamists have wormed their way into the FBI, the CIA, the State Department, the Department of Homeland Security, and the White House. Those are just samples, according to "Mrs. Fred" (wife of WMAL-Washington host Fred Grandy). She has engaged in many months of research and consultations with terrorism experts.
Europe's awakening
Our friends in Europe — who spent much of the Bush years chastising the U.S. for "cowboy diplomacy" and our failure to understand "nuanced" diplomacy — now have realized that (Duh!) the Islamists are slowly taking over their own countries. British Prime Minister David Cameron has signaled a tougher stance on groups promoting Islamist extremism. French President Nicholas Sarkozy and German Chancellor Angela Merkel have sounded similar warnings. "Multiculturalism," Merkel declared, has been a failure.

Warned long ago
In Cameron's case, he would surely be aware of the fact that one of his illustrious predecessors saw all this coming decades ago. In his 1899 book
The River War,
future Prime Minister Winston Churchill wrote, "How dreadful are the curses which Mohammedanism lays on its votaries! [T]he fanatical frenzy...is as dangerous as hydrophobia in a dog."
And this: "No stronger retrograde force exists in the world" that raises "fearless warriors at every turn," and unless curbed, "the civilization of modern Europe might fall, as fell the civilization of ancient Rome."
"Birds of a feather?"
German scholar Matthias Kuentzel, in his book
Jihad and Jew-hatred: Islamism, Nazism and the Roots of 9/11,"
writes that Islamism's rise was inspired by the rise of Fascism and Nazism, and that it was established as a mass movement by the Muslim Brotherhood, which stands in relation to al Qaeda as the Bolsheviks to Communism. A similar coalition today involves Radical Islam and the Hate America Left.

The Soros factor
Those who have followed these columns over the years will not be surprised to learn that George Soros is involved in all this. Soros wants to bring down America and its capitalist system — except as it benefits him and his like-minded "one-worlder" cronies. That leaves out the rest of us.
Investigative
WorldNetDaily
journalist Aaron Klein reports the left-wing moneybags has led a "crisis management group," the Economic Development Fund, which "has long petitioned the Egyptian government to normalize ties with the Muslim Brotherhood," which Klein reminds us is "the main opposition in Egypt." With that wind to its back, the Muslim Brotherhood cannot be discounted as the ultimate victor (possibly in a "second wave" revolution) in Egypt.
The International Crisis Group (ISG) of which Soros is a board member, has leaned on the just-departed Mubarak government to "pave the way for the regularization of the Muslim Brothers' participation in political life."
That same old song again?
If that has a familiar ring to anyone acquainted with the history of "political participation" by enemies of freedom, that is code language for "Let them in on the process — maybe a coalition government" — so that once they're voted in, they can take over and then they rule, with no more free elections — the strategy the Communists deployed in Eastern Europe Post World War II.
Also on the ISG board has been Mohamed "Blind as a Bat" El Baradei, best remembered as a weapons "inspector" who somehow never could see any sign of nuclear weapons potential in Iran. El Baradei has been deeply involved with the Muslim Brotherhood and its deadly Palestinian offshoot Hamas. The latter was cited a few years ago by the late investigative journalist Ralph de Toledano as the greatest terrorist threat to the U.S.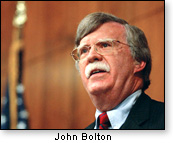 Looking ahead
Former UN Ambassador John Bolton told an interviewer Saturday that while the protesters in Egypt got what they wanted, "Mubarak is gone....it's not at all clear what unites the demonstrators" — adding, "we're in a very fluid period, and it's in that kind of uncertainty that a well-organized, tightly-knit, disciplined organization, like the extremist Muslim Brotherhood, could take advantage of the situation. So I worry very much about that....I'm sure the real democrats in Egypt are worried about it. If they're not, they should be."
What you can do
All the more reason why many Americans will phone the office of Rep. Pete King (202-225-7896) and urge him (politely but explicitly) not to bow to pressure to call off his Homeland Security Committee's investigation into Islamofascism on our soil. Better we confront this now, rather than wait for the spilled milk of
Who lost the Middle East?
© Wes Vernon
---
The views expressed by RenewAmerica columnists are their own and do not necessarily reflect the position of RenewAmerica or its affiliates.
---