Wes Vernon
Profiling makes sense (if it can save lives)

By
Wes Vernon
January 24, 2011
How many American lives are to be sacrificed on the holy altar of "political correctness?" Hundreds more? Thousands? Millions?
Whole new agencies have been created (thus contributing to the size of an already ballooning federal workforce) — all supposedly in the interest of preventing any further 9/11-style mass murders. Why then do we not call the enemy — Islamofascism — by its name?
The new Congress is filled with principled citizen legislators who rode into office on the wave of a grassroots determination to "take our country back." While the breaking point of that outrage was our deep indebtedness piled on the backs of our children and grandchildren, there was also considerable popular chagrin at how "political correctness" was compromising our security.
Our government — whose primary responsibility is to protect us from enemies foreign and domestic — was and is looking the other way and repeatedly refusing outright to name the enemy, lest it offend someone. (The gulf between the people and some of their leaders regarding plans for a mosque at Ground Zero is a case in point.)
Profiling?
No one but an idiot would argue that profiling should be the
only
standard by which we identify enemies or potential enemies. But to say we should go to the opposite extreme of assuming the enemy is anybody, everybody, and nobody in particular (and could be your grandmother from Laramie as easily as a 22-year old male newbie from the Middle East) is nothing short of madness.
History held over our heads
The politically-correct speech police in our midst will wave off any suggestion for effective, professionally-practiced "profiling." In so doing, they cite the World War II experience when about 110,000 Japanese Americans were forced to leave their homes and placed in internment camps.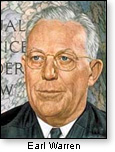 In this column's opinion, that was an over-reaction on the part of such leaders of the time as President Franklin D. Roosevelt and California Attorney General (later U.S. Supreme Court Chief Justice) Earl Warren. Ironically, these alleged pillars of liberal approbation made their move against the advice of FBI Director J. Edgar Hoover, to this day a perennially demonized target of the same liberal establishment. Hoover agreed there was subversion, but believed incarcerating that many people was unnecessary. The old bulldog G-man was right....Buuuut!
FDR & Warren had a point
Michelle Malkin, New York Times bestselling author, has investigated that entire episode in depth. Though, in my judgment, her bottom-line conclusion (that the internment was justified) is wrong, there is no denying Ms. Malkin's copious credible evidence that "profiling" then was in fact justified. It's just that I believe using a metaphoric scalpel instead of a sledgehammer would have netted far fewer prisoners, but would have been far more effective in the end.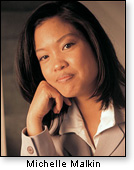 Malkin, in her 2004 book
In Defense of Internment,
documents that long before the Pearl Harbor attack, "Japanese imperialists had been planting the seeds of ethnic ultranationalism throughout the mainland U.S. and Hawaii."
Ms. Malkin, daughter of Philippine immigrants, explains in her chapter
Sympathizers and Subversives
that "In the late 1930s, a network of innocuous-sounding Japanese patriotic associations called
kais,
Japanese-language newspapers, Japanese schools, religious institutions, cultural exchange programs, and businesses supported Japan's campaign of military aggression in China and elsewhere. The organizations infused members with the martial spirit of Yamamoto Damashi [Japanese spirit] linking soul and country."
Other facts
General George Patton — stationed in Oahu in 1937 — was so troubled by potential fifth-column activity on the island that he formulated a plan to take 128 ethnic Japanese community leaders hostage in case the U.S. went to war with Imperial Japan. For that information, we are indebted to
USS Arizona
historian Michael Slackman.
Stubborn facts pile up
While the internment camps were no country clubs, the treatment meted out to detainees was humane. Charges that the facilities were analogous to Hitler's concentration camps were a lie. Initially, the evacuees were told they could leave and go anywhere in the 44 states that were not in identified military areas. Since many of them were removed to the camps because they had lived near those military bases, they in reality had no other place to go. So most of them chose to stay in the camps.
Contrary to Mr. Magoo-style allegations in and out of Congress, the Malkin volume carefully documents "that Japan in fact had established an extensive espionage network within the United States... [mostly] in Hawaii and on the West Coast, before and after the Pearl Harbor attack."
The big lie of racism
One of the little-known facts in the whole case of World War II internment is that almost half of the residents of the internment camps were of European ancestry, mostly Germany and Italy, which were allied with Japan. There is no hard evidence that racism was a factor among those deciding who went to the internment camps and who did not.
Under authority of the Alien Enemies Act of 1798, the U.S. government detained and interned over 11,000 Germans and German Americans at the start of World War II. In some cases, families were separated.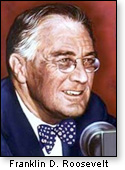 Also prior to the outbreak of war with the Axis powers, about 600,000 Italians who were residents of the U.S. — many for years without acquiring American citizenship — were termed "enemy aliens." In early 1942, under President Roosevelt's order, many thousands of U.S. residents of German and Italian ancestry were detained and/or interned during the war.
History: lying by omission?
The widespread impression advanced by the media (and left with today's school children) is that racial prejudice was involved and that Japanese-Americans were the only ones interned. Ah, but most Germans and Italians are Caucasian. That means the race card doesn't work here, does it?
Let's see, how do we perpetuate the narrative that only bigoted Americans could have cooked up a scheme to stash people away into camps just because they "don't look like us?" How do we sell that? Got it! We'll just ignore the Germans and Italians that were interned — as if they didn't exist. They're non-persons because we pay no attention to them. Just focus on the Japanese. That'll pull the heartstrings of American guilt.
Of course, there is no "smoking gun" evidence that is a factor in the widespread attention paid
only
to the Japanese internment in World War II. Such propaganda need not have been a conspiracy hatched in someone's basement. Overwhelmingly, it's just the knee-jerk mindset in some large newsrooms, as well through much of academia. It just happens, like night follows day. It doesn't have to be a plot.
As to our 21st century situation...
In our last visit, we mentioned the upcoming congressional hearings by the King committee in the House dealing with Islamofascism in the U.S. and its threat to us right here on our own soil. Already, the coalition of Radical Islam and the Hate America Left are citing the WWII Japanese internment as a lesson that we should not single out for closer investigation suspected terrorists who fit the profile of our terrorist enemies.
Congressman Peter King may want to consider that — contrary to the entreaties of frightened chickens in the politically correct precincts — perhaps America should consider profiling as
one
(albeit only one) element in detecting today's terrorist threat — whether at airports or in other terrorist-related investigations.
Michelle Malkin writes that ethnic profiling "is far from an infallible aid, but if law enforcement officials were permitted to use only foolproof techniques, they would be left with no tools to fight terrorism at all."
And that's what they have today — no effective tools at all. Considering the clown tactics of body searches at airline boarding gates, one has to hope that at some point, common-sense profiling (along with other investigative options) will be accepted — at least behind the scenes, even if necessary to call it by some nonsense euphemism.
This much is certain. If we are to prevail in the life and death struggle in which we find ourselves, America will get nowhere unless 1 — we will name the enemy, and 2 — we will not let insults to our motives deter us from facing down that same enemy, even if 50 years hence (assuming there is still a country here by then), some Monday morning quarterbacks try to rewrite history from the comfort of their ivory towers by deeming us as having been "racist bigots."
© Wes Vernon
---
The views expressed by RenewAmerica columnists are their own and do not necessarily reflect the position of RenewAmerica or its affiliates.
---