Wes Vernon
Obama's politburo -- advice from the backrooms at the White House

Also: O'Donnell in Delaware; Gore and eco-terrorism

By
Wes Vernon
September 20, 2010
"It is getting increasingly difficult to distinguish between the agenda of the Democratic Party, and the agenda of the Communist Party."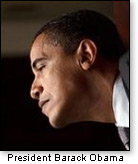 That analysis came from property rights advocate Henry Lamb —
before
the Obama administration took over at 1600 Pennsylvania Avenue. Writing in
Canada Free Press
on October 8, 2007, Mr. Lamb cited the drive by influential members of the Communist Party USA to get out the vote for Barack Obama, citing the advocacy of "universal single-payer health care" as a major reason.
And, as night follows day...
So why should we be surprised that so many communists and radical socialists surround the first American president who doesn't like Americans? Why should that shock anyone, considering that the president's parents were communists/Marxists?
No surprise there. What is lacking in many quarters is an examination of some of the worst influences at the White House.
That task has been undertaken (in spades) by Aaron Klein and Brenda J. Elliott in
The Manchurian President: Barack Obama's Ties to Communists, Socialists, and other Anti-American Extremists.
The most well-known example (after the fact) was the president's green jobs czar
Van Jones
. At midnight during Labor Day weekend in 2009, the White House made the brief announcement that Jones was leaving.
Who? There are lots of Joneses in the phone book. But unless you had been following Glenn Beck on Fox or the writings of Trevor Loudon or Cliff Kincaid, you would not have heard of Van Jones. Why is that? A familiar story: the establishment media did not see fit to inform us, just for starters, that —
...Jones was founder of the communist revolutionary group, acronym STORM...worked with known communist leaders... said he had spent 10 years "with a lot of those guys I met in jail trying to be a revolutionary"...described his "environmental activism" as "really a means to fight for racial and class justice"...wrote a 97-page treatise supporting "a commitment to the fundamental ideas of Marxism-Leninism"...keynoted the founding of the Maoist, terrorist-supporting group Not in Our Name, founded by a revolutionary Marxist...signed a statement demanding an investigation into allegations the Bush Administration "deliberately allowed 9/11 to happen, perhaps as a pretext for war."
It was the last (petition-signing) activity that finally generated enough heat (again, no thanks to the mainstream media) that the White House felt constrained to ease Jones out the door.
David Axelrod
is Senior Advisor to the president. Like Obama, Mr. Axelrod has a pro-communist family background.
His mother, Myril Axelrod, wrote for the left-leaning
PM
New York newspaper. Though not officially a communist publication, several Marxists and Communist Party members worked there.
New Yorkers of that era, including this writer, remember it as second only to the official Communist
Daily Worker
in its espousal of the Communist Party line. Small wonder. Eugene Lyons' book
The Red Decade
reported that among the
PM
employees were a former editor of the Daily Worker, a former staff cartoonist for the Worker, a former editor of
The Communist,
and the leader of the Communist Youth League.
The book quotes writer Trevor Loudon in November 2008 as having authored
The Paid Soviet Agent Behind Axelrod and Obama,
wherein he showed that David Axelrod "once worked for a man who was an identified member of the Communist Party USA, a registered agent of the Soviet Union" and "paid disseminator of Soviet propaganda." At issue was the late Chicago lawyer
David Simon Carter (1923-2004),
who was "a key Chicago political fixer who helped elect communist-linked politicians."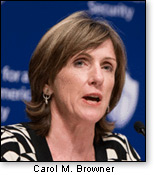 Carol M. Browner,
White House Energy/Climate czar, was a member of the Commission for a Sustainable World Society (SWS) at Socialist International (SI).
SI's organizing document cites capitalism as the cause of "devastating crises," "mass unemployment," "imperialist expansion," and "colonial exploitation worldwide." It argues "the developed world must reduce consumption and commit to binding punitive limits on greenhouse gas emissions."
Browner was listed as one of 14 leaders of SWS, which calls for "global governance" and says the rich countries must shrink their economies to address climate change. (Something to think about the next time you hear Al Gore bloviating for counter-measures to "global warming.")
Again, according to Loudon, SI has the backing of the communist parties of Laos, Cuba, and China. "In many ways," according to the New Zealand blogger, "SI has replaced the old Communist International as a key driver for socialist change."
John Holdren
is Barack Obama's "science" czar. Among all the president's appointees, he is — according to authors Klein and Elliott, "perhaps most frightening to contemplate."
In the name of "science," Holdren would "surrender [our] sovereignty" to "a comprehensive Planetary Regime that would control the world's resources, direct global redistribution of wealth, oversee the
"de-
development" of the West, control a World Army and taxation regime, and enforce world population limits." (Italics added)
The U.S., as Holdren sees it, is "the meanest of wealthy countries." He has written a justification of compulsory abortion for American women, advocated a drastic reduction of the American standard of living (and people wonder why this column has defined Obama as the first American president who doesn't like Americans?), and "has left the door open to trying global warming 'deniers' for crimes against humanity."
"Free and open scientific inquiry?" Under this guy? Forget it.
Cass Sunstein,
President Obama's regulatory czar, openly promotes a socialist "bill of rights," supports the abolition of marriage as a legal institution, and advocates a "New Deal Fairness Doctrine" to regulate the news media.
As the authors of
The Manchurian President
inform us, "Sunstein not only argues for bringing socialism to the United States, he even lends support to communism."
An example of the latter point, a quote from the man: "It is even possible that desirable redistribution [of wealth] is more likely to occur through climate change policy than otherwise, or to be accomplished through climate policy than through direct foreign aid." (Next time you hear some alarmist yammering about "global warming," you have good reason to question his motives.)
The above are only samples of the kind of people influencing the 44th president. Given his own background — which we have detailed many times in this space — it is reasonable to assume he picked these advisers knowing they were soul-mates.
Media has cow in fear of strong woman O'Donnell
Quick! Run for the hills! A strong woman has (gasp!) upset "The Ruling Class!" (
See this column 8/16/10 & 8/23/10.)
Christine O'Donnell beat all the odds and defeated the classic anointed RINO Mike Castle in Delaware's Republican Senate primary.
When an outspoken conservative woman dares to raise her head out of the political foxhole and defy the holy dictum of the Ruling Class that only "sensible moderate (read liberal) Republicans" are allowed to seek office, out come the long knives.
She is guilty of having problems that are totally foreign to the Ruling Class. She has had problems with the IRS (no one can identify with that problem these days, right?) and was behind in paying her bills (no person alive can identify with that, right?) And worst of all, she attended a college that was not an Ivy League school! Media verdict: Off with her head! (By contrast, nothing but thundering media silence re backgrounds of Obama's politburo — above.)
Please go to
ChristineOdonnell2010.com
and contribute whatever you can afford. Christine O'Donnell needs and deserves your support.
Media re Discovery Channel terrorist — shhhhhhhh!
Earlier this month, not far from where I live, an eco-terrorist James Jay Lee took and threatened to kill hostages at the Discovery Channel. He was shot dead by police.
Lee's environmental manifesto (loving lions, giraffes, tigers, apes, ants, and sharks but hating "disgusting [human] babies") reportedly was inspired by Al Gore's documentary on "global warming."
Ever since then, the 24/7 media has pounded Gore demanding he take responsibility for setting off this crazed would-be killer. They have given the former vice-president no peace. Every TV newscast led with Gore's picture next to Lee's and — Oh, wait! The media didn't play it that way. They buried the Gore angle with incidental mention and then "moved on."
All those who think the Ruling Class media would have buried that angle if the terrorist had been a follower of, say — Glenn Beck — raise your hand! I just want to take your picture and place it in the post office, for you are obviously in need of help.
© Wes Vernon
---
The views expressed by RenewAmerica columnists are their own and do not necessarily reflect the position of RenewAmerica or its affiliates.
---