Wes Vernon
GOP in 2010 -- "in the bag"? Don't believe it

Ruling Class tells McCain: Get back where you belong

By
Wes Vernon
August 30, 2010
Even if the Republicans do well in House races this fall, many good policy moves that result can be undone in the Senate. That means we need to send the very top-tier "Damn the torpedoes" candidates to "the world's most deliberative body," especially now that the Ruling Class is reminding Senator John McCain that he no longer needs to worry about those pesky Arizona voters.
First we need to dispense with the bland assumption that the House will be a GOP blowout.
Overconfidence?
White House Press Secretary Robert Gibbs openly acknowledges a good possibility the Republicans could take back control of the House in November.
Ah, yes — the chattering class
Not long thereafter, all of a sudden — as if some evil genius behind the scenes had been pulling the strings — out come these speculations in print, on TV, and radio, where the pundits (including some for whom I have considerable respect) declare (in essence) the following:
The president takes long vacations in an ever-more dangerous world, fights for the exact opposite of what the public wants (the more unpopular, the better). Then, with a confusing doublespeak, he tosses a political grenade into the caldron that is the 9/11 mosque controversy. All this creates new problems for his party in the 2010 midterms, as our "post-partisan" president is off to play golf.
2 plus 2 = 5
Concludes much of the punditry: 1) The Dems are so demoralized by Obama's and the Pelosi/Reid national approval ratings that come November the Republicans will win the House of Representatives in a cakewalk. And 2) President Obama himself is resigned to being a one-term president, will "quit while he's ahead" and bow out in 2012 — satisfied that he's "done it all" in a mere four years, and knows he can't be re-elected.
Now, back to earth
Well, maybe. These assumptions encourage Republicans and their conservative base. So we can relax and lower our guard, knowing that nothing but good tidings await us at the polls in 2010 and 2012. Uh-huh. And chickens have lips.
It would be nice to believe with certainty that all of this pre-election confidence is
not
induced by some kind of head-fake.
But we can't
The problem is reality. This column, wary of such overconfidence, has elected to refrain from premature celebrations. Now, a seasoned conservative Republican pol offers astute observations on all that.
Former House majority Leader Tom DeLay notes that the Democrats still have in place the Chicago-style machine that swept them to a spectacular victory in 2008. It is the most efficient political organization he's ever seen.
Indeed, I had not heard that SEIU had called off its strong-arm organizing — or that ACORN (under whatever name) has dispensed with its ballot-box fraud schemes — or that leftists in the Southwest have stopped registering non-citizens (legal and non-legal) to vote; or that the "New" Black Panther Party has vowed to cease and desist from polling place intimidation.
So what to do
Moreover,
i
f Republicans do make big gains in November, will they be strong enough to start rolling back the Obama gang's job-destroying damage to the economy and its suicidal foreign policies? We need to send to Washington principled candidates who will not forget why they were sent there.
Not every candidate with the "Republican" label has the backbone and/or the political capital to go on the offensive and take the necessary steps to right the wrongs wrought by the first American president who doesn't like Americans.
The
two
houses of Capitol Hill
Wild predictions of a 90-seat gain in the House can make a 30-seat gain look puny on election night. So let's be careful about the proverbial counting of unhatched chickens.
We will need to haul out some heavy artillery in the Senate — or send in the "A" Team to the Senate where many good initiatives will survive or get the ax.
Most predictions are that whatever happens in the House, the odds are against Republicans re-taking the Senate. To do so would require them to win 16 of the 18 seats that are "in play"-a statistical improbability.
All the more reason that an effective Senate Republican minority would require that every genuine conservative seeking the office succeeds at the ballot box.
What we're up against
The Ruling Class is already swooping down on Senator John McCain (R-Arizona) to lure the "maverick" back to the "moderate" fold, now that he has won his primary race against proven conservative J.D. Hayworth.
In the
Washington Post
— a leading Ruling Class bible — David S. Broder — a venerable icon of the Ruling Class's Media Division — has penned a column
Calling the real McCain.
The piece is loaded with so many code words that one can translate the multiple clichés in his sleep. Here is our translation:
OK, John, brilliant acting role you put on for the campaign. We know you had to do your "Arizona values" routine for those rubes in flyover country. Poor guy — having to play to those simpletons who cling to God and guns. Don't forget after you breeze to final victory in November, it will time to get back on our Ruling Class ranch where you belong. Besides, you're well into your seventies, so hey! — even without our death panels (only for the little people) — you can probably figure this is your last term anyway. So now you can thumb your nose at the hicks who sent you here, and just be yourself again.
The conservative list
Senator Jim DeMint (R-S.C.) heads
Senate Conservatives Fund,
a worthy organization dedicated to the task electing senators who will more than offset McCain (if the latter follows the thinly-disguised orders of the Ruling Class) and others of that ilk.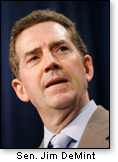 Every single one of the Senate candidates DeMint has backed is worthy of your support. Here are just some of them:
Florida.
A 39-year old Cuban American, Marco Rubio's quixotic bid for the Senate ended up scaring Governor Charlie Crist — a content-free RINO (Republican in Name Only) — out of the GOP primary race and into an independent candidacy. In this 3-way contest, Rubio, a former Florida House speaker and an unusually charismatic and principled conservative advocate — has the making of a future national statesman.
Pat Toomey — Pennsylvania.
Like Rubio, Patrick Toomey scared his GOP opponent out of the GOP. But the five-term RINO Senator Arlen Specter took refuge with the Democrats only to be rejected in that party's primary. Toomey, a former congressman, sports a 97 percent voting record from the American Conservative Union (ACU). His opponent Joe Sestak is even farther to the left that Specter.
Kentucky
— Rand Paul is a candidate of steady principle who defeated the GOP establishment favorite in the primary. He proudly asserts his Tea Party backing.
Nevada
— Sharron Angle, a feisty and principled woman, has proven her mettle during her time as a leading state assemblywoman. When the Nevada Supreme Court struck down a state constitutional requirement that raising taxes required a two-thirds majority, Angle — using her own funds — fought back until the court ruling was reversed and the offending judges were out of work. Oh — BTW — she's running against Harry Reid. So the Ruling Class has a big bull's-eye on her back.
Utah
— Mike Lee has the background, the conservative values, and the smarts to be an outstanding U.S. Senator. To win his party's nomination, he helped oust an incumbent senator of his own party and won the primary despite a dirty tricks campaign against him. (See this column "
Templegate
" — June 14, 2010.)
Colorado
— Ken Buck won his primary race in a classic battle against an "establishment" RINO. Actively sought and won the Tea Party support.
(
Senate Conservatives Fund — P.O. Box 131568, Houston, Texas 77219-9959)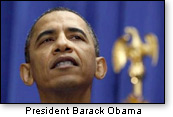 In conclusion
The message for November 2010 is best summed up this way: Don't believe all the up-in-the-air assertions that these midterms are "in the bag" for conservatives or Republicans. Obama's sliding numbers notwithstanding, the Dems have not lost their knack for doing "whatever it takes," legal or otherwise. Those who doubt that tend to be the same voices who assured us that the president would never get his Obamacare bill passed in 2010.
© Wes Vernon
---
The views expressed by RenewAmerica columnists are their own and do not necessarily reflect the position of RenewAmerica or its affiliates.
---