Wes Vernon
The spy swap: not so fast

By
Wes Vernon
July 15, 2010
Seasoned intelligence veterans are bewildered by the speed with which the U.S. agreed to exchange our 10 accused Russian spies in this country for 4 spies imprisoned in Russia who supposedly worked for the West.
'Make nice' diplomacy?
It would be comforting to believe that the "Ozzie and Harriett" Russians posing as Middle Americans just like you and me were klutzes who got a taste of American life and fell down on their assignment, perhaps because some of them were beginning to enjoy the advantages of life in the Land of the Free.
While PTA meetings beat the threat of the Gulag any day, facts emerging in a "shutting the barn door after the horse is out" fashion indicate the spies were into the kind of mischief expected of — well, spies. We may never know the whole story, because President Obama apparently is willing to move mountains to keep his relationship with the somewhat devious Russian government on an even course.
If you think you've seen that movie (or have read that history book) before, recall that Franklin Roosevelt's number 1 priority at Yalta was to prevent the slightest grimace from crossing Stalin's face.
Reality check
As is often the case, once we get past the media "spies next door" fascination, troubling pieces to this present puzzle are starting to fall into place. As stated above, the very first suspicion arises from the sheer speed with which the movie-like Vienna swap was carried out. It is as if both the Obama and Putin/Medvedev regimes had collaborated on something bigger that they wanted to hide from us.
As usual, none of that was explored in the mainstream media. Thus for adult insight, we must turn to a foreign think tank and the few analysts here who are doing the job all the media should be (but are not) doing.
From overseas
"[F]ar from uncovering a band of bumbling agents ineptly run by aging Cold Warriors, the FBI has stumbled upon a lightweight and portable network — not destroyed by these arrests at all — of young, connected, tech-savvy, affluent
Russians ... in Silicon Valley and Silicon Alley (as tech startups in Brooklyn are called) enthusiastically involved in Skolkovo, Russia's new Silicon Valley [and President Medvedev's 'pet project']," according to a report from
USAK
, a leading Ankara-based Turkish think tank.
More than a pin-up
Anna Chapman — portrayed by the tabloids as a New York City party girl with a Victoria's Secret body (Vice President Biden joked on
Leno
that "It wasn't my idea to send her back") was of interest for more serious reasons, according to this study.
By starting her own online business "and hanging out at the right events," says USAK, "she acquired influential ties to tech start-ups in venture-capital circles in the United States and Russia."
Beyond that, the report notes, "she was Facebook friends with Ilya Ponomaryov," a former official "of the ill-fated Yukos [a Russian oil company that recently went bankrupt] and a former adviser to Russia's telecommunications minister, who is currently chairman of the Russian Duma's Information Technology and Communications Subcommittee and on the Skolkovo Foundation."
She was also linked to several others in the Russian business/government world. Another "friend" of Anna Chapman's Facebook friends was Michael McFaul, director for Russian and Eurasian affairs at the White House National Security Council.
The woman was born Anna Kushchenko. Her father was employed in the Russian embassy in Nairobi, Kenya. Her ex-husband identifies Chapman's father as "a senior KGB official," though Wikipedia says that is unsubstantiated.
Chapman, it seems, arrived in the U.S. after working in investment banking in London "and was quickly able to find her way to friends and friends of friends of influence in the tech world." For awhile, she enjoyed dual Russian and British citizenship. The Brits revoked her citizenship of that country on Tuesday of this week, says Wikipedia.
Information closer to home
Among the investigative national security reporters that you can almost count on your fingers is Bill Gertz of the
Washington Times.
He quotes "[c]urrent and former national security officials critical of the speedy exchange with Moscow" as also saying that "trading the 10 spies for four Russians less than two weeks after their arrest also limited U.S. counterspies from learning more important details of Russian espionage and influence operations."
The newspaper report adds that the rush to get the spies out of U.S. captivity "removed the prospect of a public trial revealing embarrassing facts about Russian influence operations like the targeting of a key Democratic Party financier close to Secretary of State Hillary Rodham Clinton."
That apparently would be Alan Patricof, director of the venture capital firm Gravecroft, a donor to Democrat candidates including Mrs. Clinton when she was a New York senator.
Patricof has acknowledged that he had met with one of the spies, Cynthia Murphy (aka Lydia Guryev), who had been urged by the SVR to develop connections with policy-makers (including one current cabinet official — whose name was redacted in an FBI report) who could "skew policies in favor of Moscow."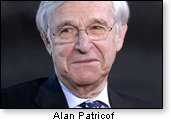 The SVR messaged to Murphy/Guryev that Patricof was "clean [meaning free from intelligence connections]." The Moscow spymasters added, "Of course, he is a very interesting target."
Space doesn't allow us to go into more detail about the findings that are steadily emerging now that the spies are unable to talk to U.S. authorities. There is more. Likely, what we know now is the mere proverbial "tip of the iceberg."
What the experts tell us
The people whose background validates their authority in these matters are frustrated by the Obama administration's haste in letting the Russian spies out of our grasp.
Rep. Pete Hoekstra, Ranking Republican on House Intelligence, laments, "We will get no additional insights from them."
Michelle Van Cleave — former national counter-intelligence executive, a senior counterspy policy-making post — tells Gertz, "We have to do a damage assessment. We lost all that. We lost a clear window into Russian espionage."
Kenneth deGraffenreid, Ms. Van Cleave's former deputy, expresses fear that we "will pay a price" for the inept manner in which this was handled.
"What was the rush?" Van Cleave rhetorically asks.
The apparent answer: As is the case with every bow and kow-tow, the "rush" is that nothing — but nothing — takes precedence over the perceived "wisdom" with which our president pursues a course in the tight wire balancing, back-stabbing dark alleys of world politics that is to be equated with community-organizing in a Chicago neighborhood.
That is one of the more charitable conclusions.
© Wes Vernon
---
The views expressed by RenewAmerica columnists are their own and do not necessarily reflect the position of RenewAmerica or its affiliates.
---