Wes Vernon
Helen Thomas: good riddance

By
Wes Vernon
June 17, 2010
(Templegate update: Background
here
. One Tim Stewart — longtime staffer for Sen. Bennett — boasts of a key role in an illegal flier that skewed the Utah Senate race. Says he did the bidding of an unnamed "mastermind." Bridgewater returns Stewart campaign donations. Details
here
.)
The recent departure of Helen Thomas from the White House press corps struck a blow in favor of good journalism that has taken a battering in recent years partly because of this grand dame of Washington scribes.
For those who have been on another planet, Thomas was fired as a Hearst columnist for saying the Jews of Israel should "get the hell out of Palestine" and go back to Germany, Poland, and the U.S.
The issue
Journalists make their living covering day-after-day, year-after-year the most emotional, gut-wrenching, bitterly-fought political battles of our time. Journalists are also human. Any one of them who tries to tell you he or she has absolutely
no
opinions is either a liar or a moron.
The acid test is whether a journalist is able to make every effort to treat stories in a fair, impartial manner — straight down the middle — or at least appear to shed personal opinion at the door, so to speak.
This in no way applies to
opinion
journalists who are paid to opine and pontificate. They are pundits.
The Helen Thomas cult
So when a journalist spends years covering the White House for a major wire service (UPI) and peppers the president or his press secretary with "When did you stop beating your wife" questions, that is a line that has been crossed in spades.
Mind you, adversarial questions are not only OK, they are essential. In fact, one could make the case they should be asked more often at White House briefings, regardless of who occupies the highest office in the land at any given time.
Example
Here is one instance to illustrate how the Helen Thomas style veered from the above formula:
"Mr. President, why do you refuse to respect the wall between church and state? And you know that the mixing of religion and government for centuries has led to slaughter. I mean, the very fact that our country has stood in good stead by having the separation — why do you break it down?"
Now it is thoroughly legitimate for a journalist to ask for comment on the ACLU
claim
that — by promoting his faith-based initiative — President Bush breached the "wall" separating church and state. It is quite another thing when the reporter herself assumes the role of advocate for the ACLU side of the story. That calls into question respect for another "wall" — between a reporter and prosecutor.
Adversarial questioning: Good journalism.
Prosecutorial questioning: Not only a no-no, but certain to "break down" the wall between the biased advocate with an axe to grind and the reporter doing the job of getting the story for a public simply hungering for information.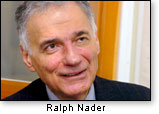 Nader to the Thomas rescue squad
Ralph Nader — the decades-long "consumer advocate" — has weighed in on the Thomas controversy. Not surprisingly, in a recent interview, he sided with much of the Washington media who seem to view the octogenarian Thomas as capable to walking on water.
She "should be reinstated," says Nader, noting that Thomas had apologized. Oh! I see. Then Senator George Allen should not have been hounded out of office by the liberal media long after apologizing for using the word Macaca to describe someone, right?... Right?... Hello? Newshounds? ... Anybody home?
Mr. Nader goes on to bewail that Helen Thomas's exit was troubling because she was "a pioneer" who "set a standard," and was merely "asking the tough questions on the minds of most Americans that the weak-kneed White House press corps would never ask."
OK, no more "weak knees"
Let us assume that Mr. Nader — a perennial candidate for President who has been running every four years because he doesn't think even today's Democrats are radical enough — actually wins someday because by then our nation will have become so fractured that we have more viable candidates on the ballot than France had in the post-World War II years. Try this for a White House briefing:
"Mr. President, why don't you tell us how much money your 'consumer' organizations took from trial lawyers? After all, you were 'Mr. Disclosure' when it came to bashing corporate officials or conservative — sometimes even liberal — politicians. Why are you keeping the American people in the dark about a cozy relationship you had with members of the tort bar who grew fat thanks your well-publicized consumer crusades? And don't look at me that way, Mr. President. I'm just asking questions my weak-kneed colleagues here never ask. Isn't that what you wanted?"
Or try this:
"Mr. President, are you serving tofu and seaweed at state dinners? That's all they're allowed to eat at your White House, isn't it? After all, your affiliated organizations have condemned every food and drink imaginable — be it American, Chinese, Italian, French — or whatever. And when you were off to the rescue of supposedly abused consumers, why didn't you stop hiring first-rate lawyers and fourth-rate scientists? Don't you think that smacked of headline-grabbing? Can't you see that, Mr. President?"
The above loaded questions encompass extremely controversial charges leveled against Nader for years by his critics.
Suppose a reporter questioning a President Nader were to adopt the charges as his or her own. The same "weak-kneed White House press corps" that smiles benignly when Helen Thomas accuses the Bush administration of deliberately targeting civilians in Iraq would smear such a hapless anti-Nader colleague out on his/her ear — consigned by the "club" to perpetual disgrace. (Come to think of it, a conservative questioner who grew a little too frisky was in fact run out of the White House, with Thomas participating in the lynch mob. See our link referenced below.)
A press corps cleansed?
Both during her long stint as a "straight reporter" with UPI and later as an opinion columnist for Hearst, Helen Thomas asked "questions" that in reality were political speeches. Anyone desiring a more "in-depth" look at the Thomas style is invited to peruse a 16-month-old article by this writer (
"Helen Thomas: Symbol of Media Decline" — Accuracy in Media AIM Report, February 13, 2009).
The "trick" — if you want to call it that — was best summed up by Howard Kurtz of the
Washington Post.
He writes that the professional journalist asks a tough question (without taking sides) that is phrased in such a way as to make it impossible for the person being questioned to dodge it with a meaningless response. Putting on the prosecutorial air, on the other hand, will give the politician a perfect opening to make the inquiring journalist the issue — as often was the result of Thomas's inquiries.
White House briefings are better with her front-row seat vacated or occupied by someone interested in getting facts as opposed to mounting the soap box.
© Wes Vernon
---
The views expressed by RenewAmerica columnists are their own and do not necessarily reflect the position of RenewAmerica or its affiliates.
---