Wes Vernon
The midnight knock on the door: coming to America?

By
Wes Vernon
May 10, 2010
Two events of the past week serve as warnings to Americans: jealously guard your freedom of speech — it is your right under the first Amendment. Some government is of course necessary. But never forget it is the nature of government to want to curb the right of dissent.
There is reason for concern that some future calamity will be used as a springboard-like excuse to stifle legitimate and free political discourse. Related to that is the protection that dissenting conservative media outlets offer in the way of a buffer against just such abuse.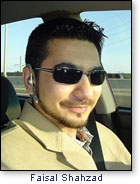 Closing in?
The first event concerned the failed Times Square bomber. The second was a move by the Federal Communications Commission to take one big giant step toward control of the Internet.
The New York bombing attempt
Pakistanian-born Faisal Shahzad, who tried (and failed) to set off a bomb in Times Square that could have killed hundreds, reportedly has Taliban connections in his native land. His terror trail has led authorities to suspect that militants in Pakistan have focused on targets in the U.S. and other Western countries.
As was the case with previous attacks motivated by Radical Islam, President Obama has taken care not to let the words "Islam," "radical Islam," "Islamist," or "Islamofascism" escape his lips. Again, our leaders' knee-jerk reaction is to tip-toe around naming our enemies.
Bloomberg — the "Not Giuliani"
Such politically-correct eyewash was the order of the day with New York City's mayor Michael Bloomberg — whose Enemy No. 1 is...salt — which the mayor wants to reduce or possibly eliminate from New Yorkers' diets. To him, salt is the dreaded enemy. As for naming Islamist terrorists? — well, that's another matter.
Media lapdog Katie Couric, in an interview with the mayor, coaxed him into speculating that the terrorist might have been "maybe a mentally deranged person" who "doesn't like the health care bill." So the mayor's priorities are 1) salt and 2) someone who doesn't like Obamacare who obviously could be "mentally deranged."
But when it was revealed that Faisal Shahzad was an Islamist, His Honor — the nanny-like salt-conqueror — rushed out with a statement that "we will not tolerate any bias or backlash against Pakistani or Muslim New Yorkers."
And of course, if the Times Square would-be bomber had turned out to be a conservative Obamacare opponent, the salt commissar would have run over anyone between him and a TV camera to proclaim that he would "not tolerate any bias or backlash against New Yorkers who don't like Obama's health care bill." Yeah, right.
History repeats?
The liberal media have a long history of trying to goad left-wing politicians into damning conservatives as ticking time-bombs ready to unleash violence on the public any day now. Here's what happened when the mainstream media outlets reported on
the
murder of the 20th century:
November 22, 1963 (the day that President John F. Kennedy was assassinated), was one of America's darkest and most tragic moments in history.
Much of the establishment media for hours tried to stir up wolfpack hysteria with breathless proclamations that the president's assassin
must
be a right-winger. After all, Dallas — the scene of the crime — was a hotbed of conservatism where wealthy oilmen were backing those causes. The Dallas congressman was a conservative Republican. What more proof did one need? This
had
to be a "right-wing plot."
But after a few hours, it was revealed that the assassin Lee Harvey Oswald was a member of the Fair Play for Cuba Committee, a Castro Communist front. The excitability of the TV anchormen leveled off to a calm transparent disappointment.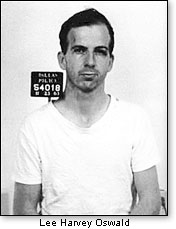 Even then, contortions worthy of a twisted pretzel blurred or played down Oswald's connection to a worldwide movement that had waged a Cold War with us for nearly two decades, and controlled a third of the world. This was the "no enemies on the left" mentality writ large. What we heard was a line that morphed into a miasma of "We all did it" (collective guilt), or the president was killed by "hate" — the vague catch-all whose implication was that of course, the real haters were on the right. Unfounded and self-evidently untrue accusations were tossed around, quoted widely (by clear implication and uncontradicted by the media) that if you opposed JFK politically, you were somehow responsible for his murder.
(Actually, for all his pluses and minuses, John Kennedy was viscerally anti-Communist — arguably the best Democrat president since Grover Cleveland — and every Democrat in the White House since then makes him — in retrospect — look better.)
In those days, recall there was virtually no conservative voice in the mass media to sass back the act alike/do alike/think alike mentality that prevailed on the airwaves (especially on television) and in the major print outlets. No talk radio, no Fox News, no Internet. You could say the media worldview was one-sided enough to have morphed into a U.S. Pravda with little effort. The likes of Fulton Lewis and Paul Harvey (both radio) and the
Wall Street Journal
editorial page (while welcome) were eclipsed by the larger voices of the mighty left.
But in 2010 we have something at least approaching a better (if imperfect) balance, so we can all live happily ever after, right? Umm, not really.
Not for long?
There are signs of concerted efforts to silence the conservative voices that now have disrupted and impudently challenged the once-mighty leftward media near-monopoly. No longer are the "Big Three" able to say with confidence "That's the way it is" with no fear of asterisks or contradiction.
The Obama administration's plans to use a variation of the so-called Fairness Doctrine to shut up those who dare to dissent from establishmentarian consensus have been documented in this space and elsewhere. The leftists long for the return of an era when they could demonize Middle Americans of a conservative outlook without being parodied by a Rush Limbaugh, for example.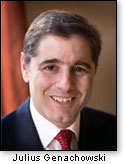 And last week, President Obama's Federal Communications Commission (FCC) chairman Julius Genachowski announced in effect that he will attempt an end run around a court ruling limiting his authority over the web.
Just a few weeks ago, a federal appeals court ruled the FCC has no authority to regulate the Internet. So Chairman Julius ("Julius Caesar of the Internet" as WSJ editorialized) "reclassified" the Internet so as to facilitate a power grab at one of the newest and most independent of all news and information outlets.
Here is the bottom-line problem
From the sixties Kennedy assassination to today's Islamist-inspired terror attacks, the establishment media have shown a remarkable proclivity to soft-pedal or excuse our enemies, while demonizing conservative Americans or portraying Middle America as
the
enemy. (Today's target would be the Tea Party protests.)
Had it not been shown that Lee Harvey Oswald had Communist connections in 1963, or if he had not been nabbed quickly, it is not far-fetched that in the hysteria whipped up at the time, conservative leaders would have been rounded up on the basis of no evidence whatever — just suspicion.
Today, the "new media" constitute the main impediment to a sustained official government crackdown on conservative dissent. Every would-be tyrant is hell-bent on control of the media as a key element in acquiring or maintaining power. That is why it is essential that an ever-alert America resist such efforts at every turn.
© Wes Vernon
---
The views expressed by RenewAmerica columnists are their own and do not necessarily reflect the position of RenewAmerica or its affiliates.
---