Wes Vernon
Violence: the Democrats' Reichstag fire

Also...Washington talkmeister: Yes, Obamacare can be repealed (Socialized Medicine, Part 15)

By
Wes Vernon
March 29, 2010
Fake anger and indignation are the oldest weapons in the Marxist arsenal. And the Marxists now running the Washington show are following the "Reichstag fire" strategy: Seize on a momentary outrage — magnify it, blame it on the enemy even in the absence of evidence, and use it as a distraction from what you yourself are doing.
Adolf Hitler used that ploy in the early days of his regime when a man-caused fire spread through the Reichstag building that housed Germany's parliament. A lone Dutch insurrectionist was found inside the building, and that was used to conflate the arson to a massive conspiratorial plot by Hitler's enemies to overthrow the government. Thus did Hitler "rally the troops" and consolidate his power.
And always remember — as the Obama-Reid-Pelosi cabal and its fellow oppressives strive mightily to erase from our historical memories — that the real name of Hitler's Nazi party was the National
Socialist
German Workers Party.
Reichstag 2010
87 years later, the Marxist Democrats on Capitol Hill used secrecy, backroom deals, bribery, deceit, and other tactics of Chicago-style thuggery to eke out — by the slimmest of margins — passage of legislation to take over one sixth of the American economy and use the heavy hand of buttinski government to dictate the relationship between you and your doctor.
Supposedly in reaction, some windows were broken in district offices of congressmen who voted for the bill, along with some threatening phone calls and the destruction of a propane connection to a lawmaker's gas grille. Additionally there was the lying unverified report of a racial slur hurled at a black member of Congress. Right away (after closed door strategy meetings), Congressional Democrats — smear buckets in hand — pounced in unison to blame all opponents of their Hitlerian health initiative and demanding that they take responsibility for the violence.
In other words, change the subject and ignore the outrage on the part of millions of Americans distressed by the big-government takeover — including scores of thousands who peacefully assembled on the Capitol Grounds to express their alarm at the arrogance of the elected representatives who ignore their constituents. Just jam Obamacare down our throats and holler the equivalent of "Help! Stop hitting my fist with your face!"
It's happened here
The Reichstag Fire strategy has a long history on these shores. Smaller examples have included the Muslim student complaining of anti-Muslim violence, only to be caught on video setting up the so-called "violence" herself; and the student of "protected" victimhood who had hung a noose in a campus library to spur an outpouring of speeches and demonstrations.
Enter another "Plante rant"
Christopher Plante on
The Chris Plante Show
(WMAL) here in Washington rhetorically drove head-on into Capitol Hill's fake anger when some brainwashed scripted puppets of the left called his show with their talking points of the day. Here is a sample of the priceless "Plante rant."

"They slime and they slander and they malign. This is part of an orchestrated campaign...to keep people at home. And you know why they're freaked out — and this is an expression of the fact that they are totally freaked out. Their rhetoric is just...it's Hugo Chavez rhetoric — it's just — I'm sorry — your Republican members of the House 'are aiding and abetting terrorism'
(a charge uttered by House Democrat Whip James Clyburn).
What terrorism, you hack — you sickening — and you know it's 'Well, people need to be responsible on talk radio.' ON talk radio? You're a member of Congress — you're a senior member of Congress — and you're accusing your fellow (congressmen) of aiding and abetting terrorism because of peaceful protest?

"How many arrests were there, Congressman? How many police officers were injured? How many windows were smashed upon Capitol Hill buildings? How many? How many? Tell them about this terrorism that you're so concerned about, you pathetic hack. Y'know — "why this situation is overheated" — why is this situation overheated? That's why it's overheated, because of what the congressman said right there. They're so freaked out because Middle America is waking up and they
[the congressional left]
mean to shut us up. They mean to make us sit back down, get back on the couch, and their strategy for doing that — and that's what this is — their strategy for doing that is to slime everyone at these protests with tar — with a broad brush saying you're all terrorists.

"Now they're aiding and abetting terrorists? So obviously Tea Party people are terrorists that the Republicans are 'aiding and abetting.' So now they're calling Middle America terrorists. Nancy Pelosi saying out there, with the swastikas and stuff.... Again, that's Lyndon LaRouche
[a Democrat] —
except one sign that I saw at a rally — one picture of a swastika with a circle and red slash through it — saying no national socialism. That was not an endorsement of Nazism. That was a suggestion that you're the new version of that, Nanny Pelosi.

"And you can agree or disagree with that, but if you're going to go after these people, then let's compare them with liberal protests, which the news media will not do. And they're going to show the peaceful protests of tens of thousands of Americans on the West Front of the Capitol, and then show you the video or that audio I just played of police coming in on horseback to clear out liberals who are smashing the place up? Of course not — of course they're not. The hypocrisy of the news media is staggering."
An interview with Chris Plante — nothing short of repeal
In an e-mail interview with this column, my question to Chris Plante was: Even if the Republicans win big-time in the 2010 congressional elections, how can they achieve outright repeal of the health "care" bill if President Obama is still in the White House to veto the rollback? Overriding a veto is extremely difficult.
Plante:
"When the Republicans take control of Congress in January of 2011, they will be in a position to use the purse strings to slow the implementation of the myriad of bad ideas, tax increases, creation of new government bureaucracies, etcetera. Fortunately though, most of the larger really bad ideas are back-loaded and not set to kick in until 2014 and beyond. So the old 'slow roll' will be required until we get a Republican president in there in January of 2013. In the meantime, it's important to continue to highlight the flaws, failings, and corruption hiding in order to raise public awareness. This bill is so full of horrors that it ought to be a great political tool for the Republicans for years to come. It's a near perfect representation of everything that is wrong with Democrat politics. Use that. Every day."
Question:
OK, but the Dems are betting that even if Obama fails to gain a second term, by January 2013 (when his current term ends), the law will be three years old. At that point, will it be so embedded in our system as to become another "third rail" entitlement that no politician dares to reverse?
Plante:
"Republicans need to emphasize the cost and the fiscal responsibility in the context of the debt and deficit. A new Fox News poll is out today [Thursday] showing that 79% of Americans now believe that the economy could collapse. A truthful and straightforward approach ought to appeal to the majority of Americans. If it doesn't — if we have become an entitlement society — then we're in deep."
So that's the challenge
Americans are outraged and in no mood to throw up their hands and give up. They are "mad as hell" and not about to take it anymore. The challenge is to maintain that outrage day in and day out until this giant step toward wiping out our freedoms is rolled back — completely and forever.
No one should be fooled by this 2700-word intentionally-confusing political bomb tossed at us by these "hacks" afflicted with a jackboot compulsion. Senator Mitch McConnell's campaign challenge is apt: "Repeal and replace."
For the Marxists, this is a "Play it again, Sam" moment. First, bait the "suckers" with candy-coated garbage. Then once they're inside your lair, slam the door shut behind them. Soon, they'll be hooked. From then on, they'll demand more at every election, as their prison becomes the hell-bent angst not unlike that of a drug addict suddenly and forcibly deprived of his addiction. They're counting on a replay of that old script. Or so the oppressives hope. This time, Americans won't be sedated.
QuickNotes: 1
— Alleged "conservative" columnist
Kathleen Parker
took time off from her usual routine of bashing other conservatives long enough to turn to something constructive: she proves — chapter and verse —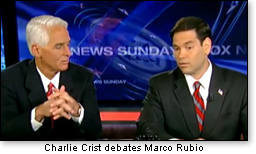 that the health "care" bill, coupled with Obama's worthless "executive order," will facilitate abortions at community health centers — thanks to the cave-in by Rep. Bart "30 Pieces of Silver" Stupak.
2
— The debate on Fox News Sunday between former Fla. State House Speaker Marco Rubio and Fla. RINO Gov. Charlie Crist was a classic showdown between principled conservatism (Rubio) and fair-weather conservatism (Crist). They're running in the U.S. Senate primary in their state. (See
marcorubionews.com.
) The Crist/McCain/Graham "reach across the aisle" style would gain more currency if the "reach out" were a two-way street...i.e., if liberal Dems reciprocated by "reaching out" to pass a basic conservative initiative. Take away Joe Lieberman on national security, and you're left with a "fat chance" that will ever happen.
3
— Outside the Washington area, Chris Plante can be heard at the WMAL website 9 am-noon EST — Mon-Fri.
© Wes Vernon
---
The views expressed by RenewAmerica columnists are their own and do not necessarily reflect the position of RenewAmerica or its affiliates.
---