Wes Vernon
The health care "blabfest": fact vs. fiction

Socialized Medicine -- Part 10

By
Wes Vernon
March 1, 2010
So President Obama invited the Republicans to drop by for a friendly chat on health care. Forget that jobs (Vice President Biden's "three-letter word") continue to bleed. The president has a more important problem to solve — salvaging his wounded ego in the face of a public that has the gall to reject his top priority.
Though many conservatives had warned the new spelling for the word
summit
was
s-e-t-u-p
, it turned out the trap the White House had set for the "stupid party" blew up in the president's face.
Hello, editor? Get me rewrite
Oooops! Something went wrong here. His human props were not following Mr. Obama's carefully crafted script. As Michael Gerson wrote in the
Washington Post
(the voice of Washington's liberal establishment): "The Democrats' Health-Care ambush failed."
Or — for what it's worth — even MSNBC (the unofficial Obama propaganda ministry) admitted to all 13 of its viewers
before
the Blair House summit — that "Only 32 percent of Americans say Congress should move soon to pass a comprehensive bill, embodied in the House and Senate Democratic legislation and Obama's new plan."
The talk clock
What is significant about this "bloviating blabfest" (as one reporter called it) is that the Democrats came out second best despite the fact that their Republican counterparts were denied anything remotely approaching "equal time."
Democrats (including President Obama) spoke for 233 minutes, or nearly 4 hours. Republicans talked for 110 minutes, or 1 hour and 50 minutes. President Obama spoke for 119 minutes, or 1 hour and 59 minutes.
So the president alone (not counting Pelosi, Reid, et al) spoke longer than all the Republicans combined. Stalin, Castro, and Chavez have also proven themselves masterful at hogging the speechifying clock. Mr. Obama modestly explained that his own time didn't count in that total because "I'm the President."
Of course, Your Excellency. But let us explore facts which are impervious to rank.
Reality check — where to begin?
1 — House Republican Leader John Boehner noted that "for the first time in 30 years [the bill] allows the taxpayer funding for abortion." Speaker Nancy Pelosi said that is not true.
Fact: The president's "new" health care plan would still levy a new "abortion premium" and would in fact use government money to pay for elective abortions. The bill that passed the Senate contains no prohibition against abortion coverage.
Everyone
participating in the "allocation accounts" (created through accounting gimmicks and offered by the government-run "Exchange" in Harry Reid's 2074-page bill) must pay a monthly abortion premium. Under the president's proposal, insurance companies are directed to assess the cost of elective abortion coverage, and charge a minimum of $1 per enrollee each month.
The plan does allow a state to opt out of this section and prohibit insurance coverage of abortion. But there is nothing to stop tax dollars from one state from funding elective abortions in other states.
2 — Rep. Xavier Beccera — a Democrat from California — came out second-best in his vain attempt to discredit the fact-based arguments of his Wisconsin colleague, Rep. Paul Ryan, a Republican.
Here is what Mr. Beccera said: "The Congressional Budget Office [CBO], the referee — not political parties — the referee — said that these [Democrat] bills reduce the deficit in the succeeding years after the first ten years by over a trillion dollars."
Fact: As opposed to what Mr. Beccera claims the CBO said — let us turn to what the CBO in fact actually did say: "A detailed year-by-year projection for years beyond 2019, like those that the CBO prepares for a 10-year budget window, would not be meaningful because the uncertainties involved are simply too great." (So said CBO Director Doug Elmendorf in a letter to Senate Majority Leader Harry Reid dated 12/19/09.)
Thank you, Joe
3 — Vice President Joe Biden — the Obama administration's unofficial court jester — stumbled into the truth when he said "We're in trouble" if we don't reduce health care costs.
FACT: Said the Centers for Medicare and Medicaid Services, "This bill would increase [Health Expenditures] by an estimated total of $222 billion."
We have been told endlessly by the Pelosi-Reid crowd that health care costs will go out of sight if we don't pass Obamacare without bothering to examine the pesky details. Among the pesky details: Health care costs will go up — not down — under Obamacare.
Again, Vice President Biden: "Unless we bend that cost curve, we're in trouble." Couldn't have said it better myself.
Obama vs. Obama
4 — Here we have a raging debate between President Obama and — himself. Did one or both of them forget to bring along the teleprompter?
President Obama: "What the Congressional Budget Office is saying is...yes, I'm paying 10% to 13% more because instead of buying an apple, I'm buying an orange."
President Obama: "It's not factually accurate.... the Congressional Budget Office says the costs for families for the same kind of coverage that they're currently receiving would go down 14 percent to 20 percent."
Sen. Lamar Alexander (R-Tenn.): "The Congressional Budget Office report says that premiums will rise in the individual market as a result of the Senate bill."
President Obama: "No, no, no...And this is an example of where we've got to get our facts straight."
Sen. Alexander: "That's my point."
Pres. Obama: "Well exactly, so let me...respond to what you just said, Lamar, because it's not factually accurate. Here's what the Congressional Budget Office says: 'The costs for families for the same type of coverage that they are currently receiving would go down 14 percent to 20 percent.'"
Now again — turning to the actual statement of the CBO — minus words that are put in its mouth by either of the two President Obamas: "Average premiums per policy in the nongroup market would be roughly $5,800 for single polices and $15,200 for family policies under the proposal, compared with $5,500 for single policies and $13,100 under current law." The change of 10 percent to 13 percent in the average premium per person is summarized above.
The San Francisco definition of "unacceptable"
5 — When the Republicans reiterated their plea to unsnarl the 2075-page monstrosity by scrapping it and starting all over on a blank sheet of paper, House Speaker Nancy Pelosi pleaded the following:
"[In]action and incrementalism are simply unacceptable."
Outside of your Haight-Ashbury constituents, "unacceptable" to whom, Madame Speaker?
FACT: CNN Poll 2/24/20...73 percent of Americans say "lawmakers should work on an entirely new bill" or "stop all work."
And this from the same poll: 79 percent of
independents
want Congress to "start work on a new bill or "stop all work."
6 — Again Speaker Pelosi: "And I want to say, because Medicare was mentioned, unless we pass this legislation, we cannot keep our promises on Medicare."
FACT: From the 2/22/10
Washington Post
(liberalism's last word): "President Obama made it clear Monday morning that he intends to make a final push for a comprehensive overhaul of the nation's health care plan that largely embraces the approach already taken by the U.S. Senate."
ANOTHER FACT: The Senate bill could "reduce access to care or diminish quality of care" (CBO letter to Senator Reid 12/19/09).
YET ANOTHER FACT: The Senate bill cuts $466.7 billion from Medicare. (Source: Senate Finance minority Staff Review — Joint Committee on Taxation, and CBO Cost Estimates — 12/19/09.
7 — Ladeeeeeeees, and gentlemen! Another great health care debate. In this corner, House Majority Leader Harry Reid. In that corner, Senator Harry Mason Reid — the senator from Nevada — running about 10 points behind his prospective opponents in this year's re-election bid!
Senator Reid: "No one has talked about reconciliation" (the process whereby health care can be rammed through the Senate with just 51 votes instead of 60).
FACT: Senator Harry Mason Reid: "We're going to have that done in the next 60 days." Quoted under the headline "Reid said Democrats would use the reconciliation process." (
The Hill's Briefing Blog
-2/20/10)
8 — FACT: If you have the patience to comb through the Senate health care bill, you will find that measure would create no fewer than 159 boards, bureaucracies, and programs to administer and carry out its provisions. That serves as the framework for President Obama's proposal.
COMMENT: Not bad for a bill that supposedly "will not lead to a government takeover of your health care."
The verdict is in
Herewith some observations on the "Heath Care Summit" by commentators not known for their rightward leanings:
Gloria Borger (CNN): "They [the Republicans] did a very good job."
Chuck Todd (MSNBC): "Republicans were seen 10 times more prepared for this summit than the Democrats were."
Dan Gerstein (Democrat consultant): "The Republican tone was just right: a respectful, substantive disagreement."
Taking it straight to "the top"
President Obama said he wanted to hold the Blair House summit to "listen" to what the Republicans had to say. But he ended up listening to himself. His bull-headed intention to plow forward to jam the bill down the throats of the American people — despite their deep-seated concerns — shows he couldn't care what anyone thinks.
In that respect, the president is following the recipe for action as laid out by one of his idols — left-wing radical Saul Alinsky — who said when the other side gains the upper hand, step on the accelerator (though he might have changed that wording today in light of Toyota's problems).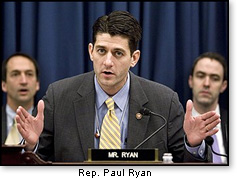 Final note
One of the stars at the summit was Congressman Paul Ryan (referenced above). He was fully armed with facts and figures and left the Democrats sputtering.
Small wonder that Chris Wallace on
Fox News Sunday
introduced Ryan as the one person Obama "didn't want to mess with."
Wallace had also interviewed Senator Robert Menendez, whose grasp of the health care facts was weaker than his grasp of Democrat health care talking points. The New Jersey Democrat invoked what I call "the motormouth strategy" whereby the interviewee attempts to filibuster until the interviewer doesn't have time to ask any follow-up questions. Wallace would have none of it, talking over the Menendez filibuster to get his questions in and also allowing Senator John Kyle, an Arizona Republican, to reply.
© Wes Vernon
---
The views expressed by RenewAmerica columnists are their own and do not necessarily reflect the position of RenewAmerica or its affiliates.
---