Wes Vernon
The Rino factor in 2010

Rinos' place (or lack thereof) in the GOP Revival

By
Wes Vernon
January 18, 2010
"We have been chastened," a Republican congressional leader solemnly told this column. After the humiliating defeats of 2006 and 2008, one would hope so.

This is the year of the expected blowback against our Marxist president and the Pelosi-Reid Congress. Normally one would look for the Republican Party to scoop up the electoral benefits come November.
While our two-party system gives us an alternative to whatever "bums" we want to throw out, the assumption is that a populist uprising — as symbolized in the Tea Party movement — would necessarily give the alternative party a comfortable (if always hard-fought) return to responsible governance.
Bumps in the road?
In this election cycle, however, some complications threaten that standard script. A prime example is the following circulated on the web:
"We need a third party...State's Rights Party — composed of the constitutionalist party
[sic],
libertarians, tea party members, real Republicans (none of the rinos)...and patriotic Democrats."
The above construct (however well-intended) is — for the most part — nothing more than a carbon copy of the coalition that has held the Republican Party (however uneasily) together in good times and bad. The most conspicuous exception is exclusion of the Rinos (Republicans in name only).
Which begs the question: To what extent have the Rinos contributed to the GOP's success, and conversely to its failures?
Problems? Scapegoats?
The Republican Party's problems are many and varied. But this would be an ideal time to review the Rino record and ponder its niche in the party's "big tent."
The starting gate?
Rinos like to trace their heritage to President Theodore Roosevelt.
Conservapedia
— a most reliable web-source of information — says that metaphorically, there were 15 TRs — and that conservatives admire 10 of them and liberals admire 10, with some overlap. Moreover, though Teddy Roosevelt did start to move left during his last two years in office, his more liberal side was small beer by today's standards. Also as historian Alvin Felzenberg notes to this column, President Theodore Roosevelt implemented no new entitlements.
President Obama likes to claim the drive for government-run health care started with Teddy Roosevelt's presidency. Wrong. As president, TR made no move in that direction. Only
after
he was out of the White House and made a third-party run for president did he include universal health care a focused goal. His "Bull Moose" platform of 1912 — though quite radical for its time — did not reflect his earlier actual Republican presidency. Moreover, even later, as an "elder statesman," Teddy moved right again.
The real starting gate
The relevant origins of the GOP's Rino movement (though of course, the term was not used at the time as it is today by its conservative critics) can more credibly be traced to the party's 1940 nomination of Wendell Willkie — opposing Democrat President Franklin Roosevelt's (successful) bid for an unprecedented third term.
At that time, Republicans — running like scared rabbits from their role as the opposition party — presented themselves as pale carbon copies of the New Deal. That was followed by the twice-failed Rino presidential bids of Tom Dewey and finally the success of a war hero, Dwight Eisenhower.
The Rino presidency
President Eisenhower very early in his White House tenure made some considerable concessions to the party's conservatives — led by Senate Majority Leader Robert A. Taft. When Taft died just five months into the new administration, Ike turned left and never looked back.
He had a Republican majority in 1953. Under that eight-year "modern Republican" leadership, the GOP lost 14 Senate seats and 60 seats in the House. GOP governors in that same time period took a dive from 25 to 16, a loss of 9.
Conservative resurgence (in slow motion)
As Ronald Reagan was about to enter the White House in 1981 — as the first conservative Republican president since Calvin Coolidge — he remarked that Barry Goldwater had actually won the 1964 race, but that "it just took us 16 years to count the votes." Goldwater, of course, had been swamped by Lyndon Johnson, who kept the White House for the Democrats largely on the strength of public emotion over the assassination of John F. Kennedy — also with the help of an hysterically liberal media, which in those days went largely uncontradicted.
Then there was Richard Nixon (who gave conservatives the rhetoric while giving the liberals the action, and gave both Watergate); and a hapless Gerald Ford (who gave substantive offense to conservatives while offending liberals only in that he was a nominal Republican and not a Democrat). Those 8 years paved the way for Jimmy Carter (whose Democrat presidency gave offense to almost everybody).
The "big tent"
One of Ronald Reagan's successes was an ability to marginalize the "moderate Republicans" while at the same time making them feel welcome in the GOP under his leadership. That was a political achievement of herculean proportions. And it was accomplished by Reagan's outward charm that masked a steely inner determination to follow his agenda's path, making window-dressing compromises only as necessary to advance his goals: a robust economy, a strong defense, and (not widely realized at the time) the downfall of the Soviet Union — i.e., "We win; they lose."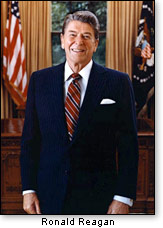 Subversion within the ranks
In order to follow this path he'd set for himself, Reagan had to fight off liberal Republican pressure both within the party and within his own White House.
Again and again, some of his closest staff — the Bakers, the Darmans, the Deavers, and other allies of the George H.W. Bush "moderate" wing of the party — tried to divert the president's attention from his policies and to trick him into deviating from his clearly-enunciated directives. Most of the time, the Gipper dodged the bullet while at the same time rebuffing conservative pressure to fire the disloyal lions at the gate. He saw his staffers as competent — as they say — to "keep the trains running on time." On policy matters, he politely listened, and then followed his own counsel.
As Steven F. Hayward writes in
The Age of Reagan — Volume 2
, Reagan knew he would have to "negotiate on two fronts — with the Democrats in Congress and with the faction in his own administration that favored a tax increase."
The late Robert B. Carleson — Governor and President Reagan's welfare reformer — writes in his
Government
is
the Problem:
"Ronald Reagan was a success as president, in spite of Baker, Darman, et al. They showed their true colors when, in early 1989, after running a winning George H.W. Bush campaign based on Reagan values, they cleaned house of loyal Reagan appointees much more efficiently than had Carter when he succeeded Ford and would Clinton when he succeeded Bush." (Bear that in mind when some Rino whines that it is the conservatives in the party who are "exclusionary.")
A familiar pattern
As has often happened in national and state-level elections, Rino leadership ushered in out-and-out liberal dominance in the regime of Bill Clinton followed by George W. Bush — whose conservatism (tax cuts and judicial appointees) mixed with liberal initiatives (spending, immigration, and a government prescription drug program) turned off the party's base. And here we are today with an outright Marxist in the White House — a President Obama who is about as responsive to public will on his agenda (state-run health "care," higher taxes) as Vladimir Lenin was on everything.
A state sample
During the nineties, we saw a prime state-level example of how the Rino agenda can be pure poison for the GOP.
Christine Todd Whitman — during her 7 years as governor of New Jersey — almost single-handedly destroyed the Republican Party in that state.
This was accomplished by sowing discord within the party as she carried on a personal vendetta against GOP conservatives. (For details, see this column — in another venue — "
The Record of Moderate Republicans
," Jan, 26, 2005, and "
GOP Moderates: Lost in a Sea of Contradictions
," Jan. 31, 2005.
)
Only in the recent election has the party in New Jersey begun to make a comeback with Christopher Christie's November election as governor, albeit with a Democrat legislature. When Whitman was first elected in 1993, the Republicans had veto-proof majorities in both houses (puzzling history when you hear commentators pronouncing the Garden State as "hopelessly blue"). By the time she left, the Democrats were back.
In 2004, after she was given her walking papers as federal EPA Administrator, Whitman wrote the Rino-cheering conservative-bashing book
It's my Party Too.
Given her stewardship in New Jersey, her governance merited the more appropriate title
It's my Party, And Don't You Forget it.
Back to the question at hand
On the eve of what appears — as of now — to be a Democrat disaster in the making in 2010, is the Republican Party in shape to fill the void? Has it truly been "chastened?" And if so, will the Rinos muddy the waters and dilute the message as they have done in the past?
Herewith some modestly proposed benchmarks:
Republicans should be willing to accept help whenever and wherever they can get it. They should not be in the business of kicking people out of their ranks.
That does not mean there are no basic understandings of a worldview. Ronald Reagan used to say he was prepared to forge alliances with those who are with him on 80 percent of the major issues. Michael Steele — current head of the Republican national Committee has laid out a 70 percent agreement score — lower than which there is reason for some to consider whether or not the GOP is for them. And here we are talking for those who aspire to elective office,
not
to rank and file voters.
Let there be no mistake: This is America's conservative party. As such, Republicans should welcome all coalitions, with that fundamental understanding. The party cannot convey its message if liberals within its ranks weaken it by trying to tear down the leadership and take over.
In her book, Governor Whitman lectures, "It's time for Republican centrists to become radical moderates... even if it makes some waves in the party." Sure. Just what the GOP needs right now. Intra-party gut-fighting because "moderates" don't believe Republicans are close enough to the Obama agenda.
As for a third party?
In a perfect world, yes. In this world, not likely.
The history of third parties is one of failure. Teddy Roosevelt came closest to success, and what Americans ended up with in his effort was Woodrow Wilson — arguably one of the worst presidents in history. Moreover, the Democrat and Republican parties have collaborated to wire the election laws so that forging a credible third-party challenge ranges from prohibitively expensive, to marginalization, to total disaster.
Colin Hanna — President of Let Freedom Ring — suggests that the tea party movement preserve its "purity" from the wheeling and dealing of down and dirty elective politics, while leaving itself the option of endorsing or not endorsing a candidate of either party on a case-by-case basis. This would better enable the tea partiers to hold candidates and public officials accountable. Their voices are being heard. The liberals who trash them are doing so because they are afraid of the grassroots power. Otherwise they wouldn't give them the publicity.
Hanna's advice may or may not be followed. Right now, there's a justified feeling of popular rebellion in the air. Almost anything can happen. Two things are certain. The tea party movement will be a powerful force whether or not it seeks or achieves ballot status. The second certainty is that the Republican Party's Rino politicians will have to understand they are in America's conservative party at the sufferance of the party's conservative base, and will have to conduct themselves accordingly. No internal Whitmanesque disruptions. If the party's conservative voters don't hold them accountable, the tea partiers will.
© Wes Vernon
---
The views expressed by RenewAmerica columnists are their own and do not necessarily reflect the position of RenewAmerica or its affiliates.
---