Wes Vernon
Obama media bible for Americans: Thou shalt not name thine enemy

Also: Congressional rush to put Americans in "health care" chains

By
Wes Vernon
November 9, 2009
The media are playing the role of Mr. Magoo again.
Once more, an act of supreme violence occurs on our soil and the self-censoring media — led by the man in the White House — go wandering around Mr. Magoo-style, bending themselves into pretzels to avoid calling an act of Islamofascism — well, an act of Islamofascism.
Don't utter (gasp!) the obvious!
At Ft. Hood, Texas, Major Nidal Malik Hasan opened fire on a brigade of engineers preparing for deployment to Afghanistan after Christmas.
Witnesses tell us that Major Hasan — a Muslim — uttered the slogan "Allahu Akbar [God is great]" as he fired on his fellow military people. Authorities say they are "trying to discern a motive." The media — fully informed on Hasan's background — focused on — gee, how are we going to prevent people from arriving at the obvious connection between a widespread interpretation of the Koran as encouraging violence (in clear terms) and violence committed by a Muslim in the name of Allah?
Our baby-man president warns that we should not "jump to conclusions." Given Mr. Obama's contortions of avoidance of the very term "Islamofascism," one could imagine his issuing that same caution if the Prophet Muhammad returned to earth and shouted the threat "Death to America" from a podium at Lafayette Square across the street from the White House.
Incredible insensitivity
After news of the shooting was reported, President Obama appeared at one of his pre-scripted photo-ops and for a full two minutes avoided the horrors of Ft. Hood as the nation watched the death toll mount to more than a dozen dead bodies.
Instead of immediately offering sympathy and compassion and words of reassurance, the president went into unrelated light-hearted banter and a shout-out at a Tribal Nations Conference hosted by the Bureau of Indian Affairs.
If anything smacked of tone-deaf disconnected indifference, this is it.
Warning signals?
Major Hasan had previously compared suicide bombers who kill innocent civilians in the name of Allah to the noble soldiers in combat who fall on hand grenades to save fellow soldiers. By the same logic, he added, suicide bombers are helping Muslims kill enemy soldiers.
Major Hasan — on the day before the shooting — showed up at a convenience store dressed head to toe in Muslim garb and complaining he did not want to go to Afghanistan and be involved in killing "fellow Muslims."
Major Hasan — a psychiatrist — had hired a lawyer to try to get him out of the military. The military rejected his effort, noting that you and I — the American taxpayers — had just paid a half million dollars for his education through medical school and psychiatric training.
Major Hasan had received a "poor performance" rating from his superiors when he counseled wounded troops at Walter Reed Medical Center. WMAL/Wasington talkshow host Chris Plante — whose background and talents include those of a real journalist — broke the story that, while in that capacity, the budding terrorist psychiatrist was proselytizing patients to convert to Islam.
Syndicated columnist Charles Krauthammer — himself a psychiatrist — said on Fox News that Hasan's behavior (attempted recruitment) is forbidden and highly unprofessional.
Taken down by (shame!) a woman
Major Hasan was finally taken down by a gutsy woman of slight build — no doubt humiliating the murdering coward that he should be felled by someone his belief-system categorizes an beneath inferiority.
Police Sergeant Kimberly Munley saw Hasan going after a victim he had already wounded and she shouted at him — "Over here!" — whereupon he charged her. She took him down, but not before he shot her. She is badly wounded but still alive, Sergeant Munley no doubt will live to testify against the terrorist and hopefully send him to the electric chair after he gets "justice" — a quality that eluded his victims.
Mainstream media — frightened lapdogs
If the old-line media had the exclusive lock on public information — as they did before talk-radio, the internet, cable TV, and cable radio — we would probably think poor Major Hasan was a victim of "post-traumatic stress disorder" because George W. Bush — out of office for nine months — pushed the poor man beyond his endurance, or that Hasan was a victim because years ago he had to wait five minutes for his bottle. But in any event, the "Hate America" crowd would find a way to dig up the old chestnut that "We all did it."
Thanks to Chris Plante and Charles Krauthammer and others like them, the truth and more balanced reporting are making their way into our reservoir of knowledge. A Muslim called in on Plante's show and complained that the host needed "to be educated" — whereupon Plante responded that the caller needed to "call in and say, "My God, I'm sorry that another practitioner of the 'religion of peace' committed yet another act of hideous mass murder."
The infiltrators — military
Pentagon statistics show 3,409 Muslims in the active-duty military as of April 2008. But since military personnel don't have to indicate their religions, officials estimate the number may be as high as 10,000 above that figure.
As soon as the Ft. Hood shootings were reported, a spokesman for the Council on American Islamic Relations (CAIR) got his face on television and told Americans in so many words — You didn't see what you saw. He further lamented that his group bore the heavy burden of trying to persuade his audience not to connect a whole series of jihad-style killings on America's soil to Islam.
The Army has gone out of its way to recruit more Muslims since the wars in Iraq and Afghanistan. Now they may confront the difficult question of whether that path is wise. "So, what's wrong with the policy?" many will ask. After all, Japanese-Americans and German-Americans fought heroically for us in World War II.
Yes, but that did not go to the sticky question of one's religion. If one adheres to any belief-system (religious or otherwise) that is widely interpreted as condoning the murder of fellow soldiers, why would we feel at ease taking that person into the Army? Major Hasan had become an Islamic extremist. That made him an enemy combatant in the War on Terror.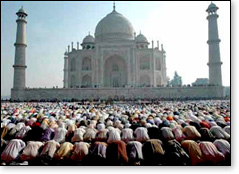 So how are we to distinguish between those Muslims who are enemies of this country and those who are not? We are told that only about 2% of the world's Muslim population is violence-prone.
The World Almanac
for 1997 pegged the world Muslim population at 1.1 billion in 1997 and growing at a rate of 2.9% a year.
Even if we assume a low-ball estimate of 1.2 billion in 2009, 2 percent of that is 24 million. That still leaves a lot of violent jihadists on the loose around the world. Criminals, of course, come from many different backgrounds. But most other beliefs are not interpreted as countenancing or even encouraging murder of "infidels."
So what to do? Normally, we would not even think of tolerating an enemy combatant in the midst of a military that is supposed to defend us.
Complicating the matter even further is that a jihadist need not be under direct orders from the likes of Osama bin Laden or some other foreign potentate or nation. Indeed, a jihad attack can come from a lone "true believer." If he is motivated by hatred for this country based on how he interprets the Koran, he is as much an enemy combatant as the 19 hijackers of 9/11.
If I had my way, Hasan would be given a quick military trial (since he is military and not a civilian, he should be made answerable to military justice). And if found guilty — the death penalty. The squealing of CAIR be damned.
This is not a problem welcomed by any entity not wishing to cross the boundaries of "political correctness." But our military men and women are already laying their lives on the line preparing to meet the enemy on the battlefield. They have a right not be murdered in cold blood by their own fellow soldiers.
Infiltrators — civilian
Susan Freis Falknor of the Blue Ridge Forum gives a concise summary of the findings of security expert Frank Gaffney, as well as authors P. David Gabatz and Paul Sperry who wrote
Muslim Mafia: inside the Secret Underworld That's Conspiring to Islamize America.
CAIR presents itself as a group whose only interest is in seeing to it that the Muslim community in America is treated fairly. However, "the FBI says that far from being a benign nonprofit, CAIR is a front group for Hamas terrorists and the Radical Muslim Brotherhood in America." Further, the Justice Department "has blacklisted CAIR as an unindicted co-conspirator in the largest terror finance case in U.S. history, the Holy Land Foundation trial. It ended in convictions on all counts."
A congressional probe?
Senator Joe Lieberman — an independent Democrat from Connecticut — intends to conduct an investigation of the Ft. Hood shooting. Let us hope the senator — already in hot water with his Democrat colleagues because he won't goose-step to the party line on other issues — is fully prepared for the smear bucket brigade that awaits him if he pursues this.
There have been precious few congressional inquiries into radical Islam in the United States. Such an inquiry is long overdue. The Ft. Hood shooting is by no means an isolated incident. There have been others — a plot to kill soldiers at Ft. Dix and a case where one Islamic radical violently attacked a fellow soldier, for example. The Ft. Hood massacre apparently is the most violent military jihadist act on U.S. soil since 9/11.
If Senator Lieberman — who heads the Homeland Security Committee — wants to take this on, we should wish him luck fending off those who would silence him. Perhaps, for example, he will want to follow up on a report by blogger Doug Ross, who reports that Major Hasan — based on current media reports — "was a participant in a Homeland Security Policy Institute's transition task force last year. This think tank has no official link to the White House. Nonetheless, it has drafted policy recommendations for the incoming Obama administration."
Oh, and "this just in." The
London Telegraph
reports that Major Hasan worshipped at the same mosque led by a radical imam said to have been a spiritual adviser to three of the hijackers who attacked America on Sept. 11, 2001. You've got to love the Brit press. They connect dots, unlike the Mr. Magoos on this side of the pond.
They're here
Author Paul Sperry spoke with a senior Fairfax County (Virginia) police department detective who said, "There [are] only three degrees of separation between international terrorism and what happens in Fairfax County. Our society here is totally infiltrated by the bad guys."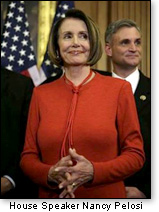 Commissar Pelosi lowers the boom on Americans
(Socialized Medicine — Part 8)
Meanwhile, the Ft. Hood shootings had the side effect of kicking off the front pages the emphatic protests of Americans who did not want the heavy hand of government bureaucrats to come between them and their health care providers.
With only two votes to spare, Madame Speaker rammed through the nearly 2000-page "colossal pile of junk" (Phyllis Schlafly's term). Voting yes were 219 Democrats and 1 Republican. Voting no were 176 Republicans and 39 Democrats.
This is — as Congresswoman Michelle Bachmann (R-Minn.) pointed out — the "crown jewel" of socialism coming to America.
At the last minute, they put some teeth in provisions barring any federal funding of abortions. Be assured that by the time the "pile of [frightening] junk" gets through the fuddle factory in the Senate and then into a conference committee behind closed doors, that provision will mysteriously disappear.
The measure gives medical amnesty to illegal aliens (thus validating Congressman Joe Wilson's outburst of "You lie" when President Obama insisted otherwise); requires a new insurance czar to enlist "appropriate entities" like Planned Parenthood and ACORN to "outreach" (with the velvet fist?) to "specific vulnerable populations." Those are just for starters, but we're running out of space.
One can logically concur in the
Wall Street Journal'
s label "The Worst Bill Ever" applied to this statist edict.
Oh — and those much-ridiculed, supposedly non-existent "death panels?" WSJ puts it this way:
"As Congress's balance sheet drowns in trillions of dollars in new obligations, the political system will have no choice but to make cost-minded decisions about which treatments patients are allowed to receive....Once health care is nationalized, or mostly nationalized, medical rationing is inevitable — especially for the innovative high-cost technologies and drugs that are the future of medicine."
Translation: Good-bye, Grandma and Grandpa. We just can't afford you anymore. Tell me with a straight face that's not the "death panel" of which Sarah Palin warned and for which she received unshirted hell.
© Wes Vernon
---
The views expressed by RenewAmerica columnists are their own and do not necessarily reflect the position of RenewAmerica or its affiliates.
---