Wes Vernon
Capitol Hill -- trading one threat to America for another, but ending up with both?

By
Wes Vernon
September 28, 2009
Will the politically radioactive "Cap and Trade" and "Health Care" bills be rammed through and take effect without a full stand-alone up, or down vote by your elected legislators whom you send to Washington to represent you? It is not beyond the realm of possibility.
Secret Washington plots against America proliferate at a pace that challenges one's ability to keep track of them. Here's the latest:
President Obama apparently realizes that his "Cap and Trade" bill (see this column "
The Death to America Act
"
—
6/29/09) is in deep, deep trouble, possibly dead on Capitol Hill. If you think I exaggerate, please read the column just referenced, and recall that this legislation if enacted would cost American families thousands of dollars. Yes, emphatically including Americans who make well under the president's $250,000 — his solemnly promised demarcation where those with lower earnings would see no tax increase. (What's more, administration officials admit this among themselves — confident that you would never know until it's a done deal. More on this below.)
Meanwhile, his other top priority — the so-called "health care" bill — is not doing all that well either. Senate Majority Leader Harry Reid has been told by his Democrat colleagues in "the world's most deliberative body" that "You don't want this vote, Harry. I'm not making threats or promises, but you don't want this vote."
And Christopher Horner — Senior Fellow at the Competitive Enterprise Institute — adds that these same worried senators have told the White House, "You can have my vote on Health Care or you can have my vote on [Cap and Trade], but you can't expect me to walk that plank twice. Make your call."
So where does that leave us?
The Capitol Hill spotlight at the moment is on Health Care, and some believe the White House may be ready to throw Cap and Tax — the Death to America Act — under the bus, in order to focus on the opportunity to take control of your health care decisions, including rationing for seniors who have been deemed to have ended their "useful lives."
The assumption of this column is that our readers would not be so foolish as to assume we should take some kind of "half a loaf" comfort in the fact that the gang in charge is willing to give up the plot to dominate our lives on one issue so as to ease the path toward ordering us around us in another way. Either scheme would pick our pockets and advance government's ability to put us more squarely under a Marxist/socialist thumb. Obama and company intend to have both.
Behind the scenes
Phil Kerpen — a director at Americans for Prosperity — believes White House climate czar Carol Browner, with presidential approval, stands ready to prod the Environmental Protection Agency (EPA) into sweeping the Death to America act's major provisions into what would amount to executive orders without the approval of Congress.
Oh, but surely that would cause a national uproar, wouldn't it? Yes, it would, but this administration has shown itself willing to ride out popular outrage if the end result is advancing its ambitions for a Marxist America. His numbers are plummeting, but Obama and his acolytes are not without tricks up their sleeves, hoping to turn the public around in time for Obama's re-election drive in 2012.
The dubious court decision
The EPA — in its never-ending grab for power — has already scored a victory in a 2007 Supreme Court decision. In that case, the EPA was given the green light to use the 1970 Clean Air Act to justify a proposed 18,000 pages of greenhouse gas regulation. Years before that decision, when Browner was EPA Director in the Clinton Administration, her general counsel drafted a memo arguing that the agency in fact possessed such powers.
In her current position — as an unaccountable "czar" — Browner can be expected to use that court ruling eventually to "regulate everything that moves," according to Kerpen, including every form of transportation, plus lawnmowers, tractors, forklifts, etc. — and some things that don't move: buildings "over 100,000 square feet," plus smaller carbon emitters such as restaurants, schools, and hospitals with gas burners in their kitchens. Bingo! By then, it's not a stretch to project that virtually the entire Death to America Act can be swept into a de facto executive order with no input from Congress, possibly to the relief of those senators who are thinking, "You don't want to have this vote, Harry."
Let us not forget that between her stint as EPA Director and her White House czarship, Browner was a member of the Socialist International Commission for a Sustainable World Society. The key word in that title is "socialist." There is nothing sustainable about its goals, unless you're talking about sustained universal misery.
Bingo! The Bama gets both
Meanwhile, the big fight continues in the Halls of Congress over health care. Obama will continue to twist arms, and if unable to persuade enough lawmakers to "go along," well, there's always the Continuing Resolution. The CR is the method whereby Congress, unable to pass all or some of its spending bills on time, rolls them into one piece of legislation that keeps the government departments operating at the levels of the just-concluded fiscal year until such time as the current year's bills can be pushed through Congress and signed by the president.
It is also a vehicle by which, theoretically, the backers of the monstrous "health care" bill can include it as part of the CR. They can then dare the opponents to "allow a shutdown of the government," including the withholding of Grandma's Social Security check.
Voila! The president gets both Health Care
and
Cap and Tax — the latter by government fiat, the former by arm-twisting or through CR. And the lawmakers who did not want to be caught dead voting for both get their desired cover.
If a conservative Republican tried to pull that off, the media would brand him a sneaky dictator. Let a Marxist socialist try it, and wow! — isn't he a genius?
They admit it
It is now a matter of record: The folks in the Obama administration know the true cost of Cap and Tax and how it will murder your family budget. They have acknowledged as much among themselves. They just don't want you to know about it.
Thanks to the investigative prowess of CEI's Chris Horner, that information is now available to the world.
Horner, by the way — is the author of
The Politically Incorrect Guide to Global Warming
and
Red Hot Lies: How Global Warming Alarmists Use Threats, Fraud, and Deception to Keep You Misinformed.
His research has led him to uncover yet more scheming on the part of the perpetrators of what is arguably the greatest hoax of the present era.
It was like pulling eye-teeth, but Horner found that among themselves (when the children aren't listening?), the bureaucrats and policy mavens at Obama's Treasury Department figure Cap and Trade will cost Americans $300 billion annually — a burden on the back of every family.
The consequences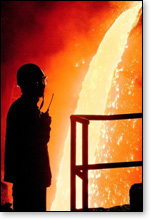 In an interview with this column, Horner says the administration privately admits "what economists — left and right — have have said — that it is a non-transparent energy tax."
Horner says it "would indeed cause great harm to our manufacturing industry, singling out steel, cement, glass, paper, and ceramics as well. Those jobs would leave the country as would industry to countries not subject to our stringent environmental laws."
Permanent recession
Beyond that, the administration officials acknowledge, the Death to America Act (my description, not theirs) would double the cost of environmental laws on the books today, shaving a whole percentage point off the GDP — the Gross Domestic Product. Or as Horner points out, that is "akin to institutionalizing recession barring some major economic growth which is unforeseen at this point."
Wrenching truth from bureaucrats
Ferreting out the documents from the Treasury Department put Horner's persistence to the ultimate test:
First they were released, on a Friday afternoon between 5 and 6 PM, after much of Washington and many of the reporters have vanished for the weekend — a cutesy game that has become legendary for politicians who want to keep the news as hidden as possible.
But the information was so scant and devoid of substance that it drew some public attention for what it did not say — and the question was: What are they hiding? Pivotal portions were blacked out (redacted)...etc. So the next Friday afternoon, Treasury released more information — unredacted, but still incomplete. "We have to decide whether to sue to conduct a more thorough search," Horner told me.
'Transparency'? Forget it.
"I believe the administration was playing games here," Horner alleges. "They're doing the opposite of being transparent, and desperately trying to shield — in violation of the law — highly embarrassing [to them] and politically damaging documents.... And that may be just the tip of the iceberg."
Only "sensitive" or "national security" issues are permitted for redaction, according to most interpretations of the Freedom of Information Act (FOIA), which Horner and CEI invoked in order to secure the documents.
And for all that cover-up
And by the way," Horner adds in our interview, "no one says the bill under any scenario [or] set of assumptions would have a detectable
climate
impact — Okay? But now we know the administration sees a massive
economic
impact. The Senate has seen House members backtrack."
That in itself is huge. As it was, the bill barely squeaked through the House by an ultra-slim margin. It doesn't take much buyer's remorse than that to kill the measure if it ever makes it back to the House floor for a second vote after Senate-House negotiators have ironed out differences. And as senators have indicated to majority leader Reid, they don't want to touch it. Too hot to handle even with the Democrats' 60-40 majority.
Horner continues: "They then saw the unredacted version of these documents...revealing the administration sees even more harm than they were first willing to admit — that this was the equivalent of the total corporate income tax — and other embarrassing and damning internal admissions they won't say publicly."
This bill is in so much hot water in both Houses, it looks as if Obama will be highly tempted to get his socialist Czar Browner to sweep it past the people's elected legislators and into an EPA edict. That would be the Obama style. Such is the way dictatorships rule.
© Wes Vernon
---
The views expressed by RenewAmerica columnists are their own and do not necessarily reflect the position of RenewAmerica or its affiliates.
---