Wes Vernon
Reading Jimmy Carter's mind--the great knower of all things

By
Wes Vernon
September 21, 2009
Know all ye who enter these hallowed halls on the Coney Island Boardwalk: You are about to receive a gift of the prescience, insight, and knowledge of the great Georgia peanut farmer.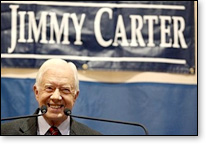 Years ago in the Orient, Jimmy the Carter was bestowed with the power to cloud men's minds so they would believe him — except when his lips were moving or when he communicated in any other way.
I just got back from a quick flight to the Orient. I went to the source of that Carteresque magic power and said, "I want some of that," just for a few days. Long enough so that if the Great Knower of All Things uses his advanced perception to tell the world what goes on in someone else's mind, we could return the favor and determine with absolute certainty what goes on in Mr. Carter's mind.
I hereby share in the former president's ability to read men's and women's inner thoughts. They dare not hide from me their deep, dark, secret motives — for I have been commissioned to read their minds, and to track down all evil-doers who
dare
to contradict the great, all powerful Pooh-bah when he tells them what they think. (Thunder and lightning, please!)
The dawning of 21st century "revelation"
The magic powers of the Great Carter emerged in this century six days after President Obama said in his speech to a joint session of the United States Congress that his health care plan (amazingly so new that it had not yet been written) would never ever include or encourage covering such taxpayer funded care to illegal aliens. (Wink, wink.)
There and then, Congressman Joe Wilson of South Carolina shouted out, "You lie!"
Silence! The Great Poo-bah speaks
For six long days, all the villagers awaited the final verdict from on high. What would the greatest mind-reader say about this?
Finally, the ultimate judgment was revealed:
Said Jimmy the Great Carter: "Those kind of things [sic: grammar] are not just casual outcomes of a sincere debate on whether we should have a national program on health care." (Nothing as straightforward as that. Oh, no!)
At this point, one can hear a pin drop in The Temple of the All-powerful World Knower of All Things: You see, "It's deeper than that."
"I think it's based on racism. There is an inherent feeling among many in this country that an African-American should not be president."
Never mind that those who actually
know
the normally soft-spoken Congressman Wilson — as opposed to Mr. Carter, who had not even met the man — firmly believe his outburst (though disrespectful and for which he apologized to the White House) was in no way motivated by racism.
But that cuts no ice with the Great Pooh-bah. Never mind that he did not know Wilson — and probably had never heard of him until that fateful night on Capitol Hill. He hath read Wilson's mind — and behold — through his magic powers — decreed that Wilson's shout-out was motivated by sheer bigotry.
By extension — Gitmo
Since the Great Pooh-bah shared with us mortals the instant results of his great insight, surely it would be fitting that we here examine his own inner thoughts and share the findings with readers of this column.
A few years ago, Mr. Carter — aware of the likelihood that the words of a former American president would reach the far corners of the earth — declared on foreign soil (Birmingham, England) that he was "embarrassed" because we kept terrorists locked up in Guantanamo prison.
Now this was not a sincere expression of dissent on a foreign policy issue or even sincere "embarrassment." Oh, no! It ran "deeper than that."
I think it was based on a deep-seated loathing for this country and a secret desire to turn terrorists loose so they can wreak more damage on the United States.
Preposterous, you say? Silence! (More thunder and lightning) Dare not argue with me. The same mysterious forces in the Orient have endowed me with the rare power to read men's minds and enunciate final verdicts.
Oh, but Mr. Carter went on to say that he was sure that what has happened at Guantanamo Bay "does not represent the will of the American people." So now, the Great Mind-Reader has again given his verdict on what you and I are thinking. (Pay no attention to that man behind the curtain. He's only reminding you that members of Congress and foreign ministries who scathingly criticized us for holding terrorists at Gitmo are not falling all over themselves, pleading with us to send the terrorists to
their
own districts, states, or countries).
By extension — helping the enemies of a pro-American leader
It was President Jimmy Carter whose administration abandoned support for the Shah of Iran, thus paving the way for the takeover of that country by a hate-filled Islamist terrorist regime that soon took American hostages for 444 days.
My magic powers inform me that in doing this, Jimmy Carter was not moved by a sincere concern for "human rights," or foreign policy attuned to this country's best interests. Oh, no! "It's deeper than that."
In reading the mind of the Great Pooh-bah, I declare that in those days he cared not that the terrorists in Tehran would develop their own atomic bomb and someday enter into a deal with the likes of the (later-installed) communist dictator Hugo Chavez in Venezuela, thus raising the specter of nuclear missiles in the USA's Latin American backyard. In fact he hoped such an event would put us in our place. Again, don't argue with me. I've read his mind, and I know.
By extension — helping an anti-American tyrant
In 2004, Chavez was in hot water with his people. Venezuelans were beginning to see his grab for more power as a threat to them.
So they went to the polls and voted on whether to keep or remove Mr. Chavez from the seat of power. Jimmy Carter was sent to Venezuela to "monitor" the results. But all he and one other "monitor" did was to view sample polls that had no relation to the final result. Chavez was declared the winner. Soon there emerged solid evidence of massive fraud. Add to that the fact that pre-election polls showed the communist dictator losing by lopsided 2-to-1 margins and you have the probability that — in the manner of communist tyrants reluctant to give up power — Chavez stole the election.
Silence please, while I go into a séance.
My mysteriously-endowed mind-reading powers tell me the former president skipped out on his duty not because he really thought his job was done or — as he claimed — because he wanted to get home in time to celebrate his wife's birthday. Oh, no! "It's deeper than that."
He wanted to keep Chavez in power. "Human rights violations" — the old crusade of his earlier (failed) presidency — merited U.S. censure only when committed by pro-American heads of state — not when communist dictators were the guilty ones. What was going on in Carter's mind was a deep desire to see another communist tyrant rule — so as to curb America's "arrogance."
By extension — elsewhere on the anti-American tyrant front
Jimmy Carter was sent by President Bill Clinton to North Korea ostensibly to persuade that Stalinist outpost to give up on its nuclear ambitions. After he left, Kim Jong Il started up his nuke-building again.
This was by no means merely yet another in the long parade of Carter failures. Oh, no. "It's deeper than that."
He
wanted
that mission to fail because (again) he hoped the little tin-pot Communist dictator would keep America in its place by threatening nuclear blackmail. How dare Americans kick the All-Knowing One out of the White House, lured by the charm of a movie actor. Outrageous. This'll teach them.
Hey, don't give me that open-jawed look. I'm just reporting on the results of my argument-proof powers.
By extension — backstage with the Soviets
And who can forget that when Ronald Reagan was leading in the polls in the 1980 race, President Carter sent Armand Hammer (the Soviet-loving industrialist) to the Soviet embassy to ask that the Moscow headquarters of the worldwide Communist conspiracy boost his re-election campaign by managing Jewish emigration and other potential vote-getting issues to boost his campaign. In return, it was relayed that "Carter won't forget that service if he is re-elected."
Given all that Carter had done for the Soviets during his one term in office, his options for helping them in a second term had narrowed somewhat. Keys to the White House, maybe? Come to think of it, my mind-reading prowess says that's one possibility that he contemplated.
Or how about the ex-president's own visit to the Soviet embassy in 1984 — as President Reagan was working to bring down the Soviet government? It was then that he sought to assure the ambassador that the world — including most emphatically the Soviet Union — would be better off with someone else in the White House. The implication was that this was an election year and not to worry. Help was on the way. (Wink, wink.)
As I read the Great Pooh-bah's mind, this was not motivated by a real apprehension that the world would blow up unless we gave the Soviets everything they wanted. Oh, no! "It's deeper than that."
It was his intent to encourage the Soviets to take action on the world scene that would make Reagan look bad just before the American voters went to the polls.
Castro too
In line with his bowing to one blood-thirsty dictator after another, obviously the former "human rights" president just had to stop by Cuba and pay a courtesy call on Fidel Castro, who for decades had locked up, tortured, and/or killed those who had dared to dissent from his Stalinist rule.
Not just because Carter regretted the U.S. trade embargo. Oh, no! "It's deeper than that." He wanted to lend respectability to Castro.
By extension — Israel
Finally, we come to Mr. Carter's book
Palestine: Peace, not Apartheid.
In promoting the book, the failed chief of state offers such pearls of wisdom as that Israel had perpetuated "even worse instances of apartness or apartheid, than we witnessed even in South Africa."
Mr. Carter said his purpose in writing the book was to "stimulate a debate which has not existed in this country." Ah! But my judgmental Carteresque all-knowing powers tell me his motives are different, just as those same mind-reading abilities enabled him to judge what secrets lurk deep down in the minds of others. Peace in the Middle East was not his concern here. No, "It's deeper than that." Those powers tell me the man wrote the book for a fundamental reason: He hates Jews.
Summing it up
Too bad about Jimmy's shameful attitudes. But it's not about honest dissent. In muted whispers, we must say, "It's deeper than that." Magic powers lead us to conclude Carter wants America brought to its knees as punishment for rejecting his incumbent presidency. As Florence King wrote in
National Review,
we all thought Carter's nail-pounding for Habitat for Humanity was aimed purely at housing the poor until we remembered that he is a carpenter "with the initials J.C."
Though much of the above was written with tongue firmly planted in cheek, it is not offered without a serious intent to gauge Carter's rightful place in history — one which is recognized by the American people — a four-year bad dream which pits the Georgia peanut farmer in a tough race with James Buchanan (of 150 years ago) for the title of Worst President in History. Buchanan is faulted for blunderbuss underhandedness that greatly contributed to the Civil War.
Buchanan indeed makes for tough competition for designation as the very worst. But I just want you to know, Jimmy. I'm rooting for you all the way.
© Wes Vernon
---
The views expressed by RenewAmerica columnists are their own and do not necessarily reflect the position of RenewAmerica or its affiliates.
---