Wes Vernon
Mexico's war on the United States

By
Wes Vernon
September 14, 2009
It's bad enough that terrorist-collaborating communists are taking over much of Latin America. Bad enough that their Venezuelan ringleader, Hugo Chavez, confers with Iran's nuclear bomb-making dictator. And bad enough that this alliance has led to the prospect that Iranian missiles may end up south of our border (pointed guess where?), while our own Marxist president apologizes metaphorically for hitting their fists with our chin.
All of that is horrific enough. But largely ignored is the fact that our next-door neighbor, Mexico, is carrying on an undeclared war on these United States.
The invasion plan
Mexico's "centralized socialism" having led to "widespread disparities in income" (to say nothing of the widespread chaos to which that ultimately leads), "It is therefore the goal of Mexican authorities to export to the United States the foot soldiers of potential revolution to preserve their society's culture of corruption and privilege," writes Mark Levin in his hot-off-the-shelves best-seller
Liberty and Tyranny."
Meanwhile, as Mexico dumps the impoverished victims of its socialism and corruption over our borders, we pay in multiple ways. Not the least of these is cited in a Manhattan Institute study declaring: "Mexican adolescents are imprisoned at rates approximately 80 percent greater than immigrant adolescents generally."
Then of course, there is the fact that our emergency rooms in border areas have shut down because of the overload of illegals crowding to their facilities to get free care of a quality denied them in their home country.
That is a sticking point in President Obama's effort to jam socialized medicine down our throats. And while the "You lie!" outburst of Rep. Joe Wilson over this very issue during the president's speech to a joint session of Congress was disrespectful, it was honest. The congressman was right on target. They (Obama, Reid & Pelosi) do want to facilitate milking the American taxpayer to care for the Mexican "foot soldiers." After all, they see the invaders as future Democrat voters. That is the whole point of their going over to the other side in this "silent" war. Again, quoting Levin: "The poor and uneducated enhance the Statist's electoral and welfare-state constituency."
Culture and skills
Even more fundamental to the invasion baggage that comes with Mexico's war on the United States are the matters of language and culture.
Here, the sincere "bleeding hearts" (as opposed to the Obama/Reid/Pelosi combine) are fighting past wars.
Liberty and Tyranny
puts it this way:
"It is normal and healthy for ethnic groups to celebrate their diverse heritages — Columbus Day, St. Patrick's Day, etc. — and they have since the nation's founding. Most large cities have a Chinatown, Little Italy, and Germantown. In many of these old ethnic neighborhoods, the 'old language' is still spoken, especially among the older generations. But neither the heritage nor home language of the individual has ever competed with the American culture for dominance [as is happening today]."
Therein lies the crux of the difference between those waves of immigrants and the current tsunami of Mexican "foot soldiers," many of whom are exploited by their own government and some U.S. employers who hire them for dirt-poor wages in return for not turning them in to the authorities. The thick heads who yammer about "nativism" either willfully ignore these facts, or welcome this takeover for short-term political/monetary gains, or for longer term destruction of a country whose culture and legacy they (secretly or openly) despise.
Read here the words of Steven Malanga of the Manhattan Institute who describes the first big immigration wave of 100 years ago which attracted "Jewish tailors and seamstresses who helped create New York's garment industry, Italian stonemasons and bricklayers who helped build some of our greatest buildings, German merchants, shopkeepers and artisans — all [of whom] brought important skills with them that fit easily into the American economy."
One might add that some of these earlier immigrants joined the already hefty push to expand our frontiers westward, and established farms and businesses, including those that helped feed a growing nation. What we could use today are more immigrants with the skills that can contribute to our seemingly endless advances in the high-tech industries.
All of these above were and are a far cry from the "foot soldiers" whose nation dumps them on our ground with the express purpose of bringing us down.
Language
You think language concern is "nativist bigotry?" Here Mark Levin cites the words of St. Augustine:
"When men cannot communicate their thoughts to each other simply because of difference of language, all the similarity of their common human nature is of no avail to unite them in fellowship."
Or as Alexis de Tocqueville said, "Language is perhaps the strongest, perhaps most enduring link which unites man."
The deliberate plot
Levin's book has spent months on the New York Times best-seller list — at Number 1 for twelve weeks, Number 2 for six. And his chapter on Mexico's undeclared war on the U.S. (
On Immigration)
is one of the reasons for the book's success.
Many of the problems he cites have been publicized before — but never as succinctly focused on the meaning of the big picture. By encouraging what Levin calls "foot soldiers" (i.e., illegal aliens) to crash our borders, Mexico aims — as some of its revolutionaries have said — to take back the southwest U.S. "block by block." (Pat Buchanan, in his own writings, quotes a Mexican signatory to the treaty ending the U.S. war with Mexico in 1848 as threatening exactly that.)
They don't mince words
It's not as if this is some big secret conspiracy. The Mexican government is openly promoting the idea of
"extraterritorial nationalism"
Ernesto Zedillo — when he was President of Mexico — declared that "I have affirmed that the Mexican nation extends beyond the territory enclosed by its borders [the southwestern United States] and that Mexican migrants are an important — a very important part of it." (Levin got the quote from the website of the President of the Mexican Republic — 7/23/97)
Think that is a shoot-from-the-hip ranting of a hothead president who doesn't speak at all for his people?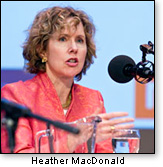 Get a load of the 2002 Zogby poll showing that 58 percent of the Mexican people agree with this statement: "The territory of the United States southwest rightfully belongs to Mexico."
In the fall 2005 issue of
City Journal,
Heather MacDonald writes, "Mexican leaders have...tasked their nation's U.S. consulates with spreading Mexican culture into American schools and communities."
The 47 Mexican consulates in the United States thus are advising their citizens on ways to sneak across our borders and avoid getting caught by our border patrols and other U.S. law enforcement. They seek out the lawyers who work with U.S.-hating agitprop groups to assist Zedillo's "foot soldiers" effectively to attain privileges reserved for U.S. citizens and
legal
immigrant residents of this country.
A shooting war?
In one recent 10-year period alone, over 200 military incursions were conducted by the Mexican army into the U.S. border states of Arizona, California, and Texas.
Mexico's law enforcement is shot through with corruption. Drug cartels are the de facto governments of some jurisdictions, including the border town of Nuevo Laredo. The current president of Mexico is the "center-right" Felipe Calderon, who defeated the radical Marxist Andres Manuel Felipe Obrador by less than half a percentage point. Had the latter won, violence on the border likely would have increased and possibly evolved into an accelerated shootout with U.S. authorities. Calderon — though less confrontational with the U.S. than his immediate predecessors — is not about to calm things down very much. The
Reconquista
(takeover of the southwest U.S.) has a life of its own.
With a little help from their friends
It is not only the hack politicians and street thugs who want to erase our borders with Mexico. They have the enthusiastic backing of powerful forces.
Open borders advocates include such figures as George Soros, the multi-billionaire who — as the de facto head of the Democrat party — uses his money in pursuit of his ultimate aim: a rewriting of the Constitution by 2020.
Dr. Robert Pastor, who has chaired the Council on Foreign Relations Task Force on North America, advocates wiping out the borders between the U.S., Mexico, and Canada, and has urged the U.S. to stop defending its border and assent to letting Mexico's economy grow faster than the U.S. These are but two symbols of the fact that the
Reconquista is
getting some help from sources on this side of the border that possess no small amount of clout.
The enemy agenda
Here is the agenda of the National Council of La Raza, whose longtime CEO, Raul Yzaguirre, reportedly has said, "U.S. English is to Hispanics as the Ku Klux Klan is to blacks" (no small number of the millions of English-speaking blacks would find that offensive):
(1) Ethnic and racial preferences in the workplace and higher ed; (2) Open borders for all illegal aliens; (3) Aliens to attend college at cut-rate tuitions reserved for in-state legal residents; (4) Taxpayer-funded health care for all illegals; (5) No cut in taxpayer services for illegal aliens; (6) Voting rights for illegal aliens; (7) No federal law empowering local and state police to enforce federal immigration laws; (8) Oppose the Criminal Alien Removal Act (self-explanatory); and (9) Oppose requiring drivers license and photo ID applicants to be able to verify they are legal residents of the U.S.
The Levin agenda
Mark Levin — among those always-to-be-honored patriot foot soldiers from the peaceful, honorable, and pro-American Reagan Revolution — outlines the top items of an agenda for combating Mexico's war on America (he doesn't flat-out call it that; this column deems it appropriate):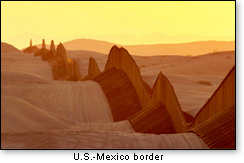 (1) Securing the borders to prevent illegal aliens (and criminals and terrorists) from crossing them; (2) Enforcing immigration laws; (3) Deporting newly-apprehended illegal aliens; (4) Deporting aliens who overstay their visas; (5) Denying "sanctuary cities" (that protect invaders) from receiving federal funds for aiding and abetting lawlessness; (6) Promoting English and assimilation in all U.S. institutions — not bilingualism or "multiculturalism." (7) Controlling immigration so as to allow for workable assimilation. (8) Denial of most social services to illegal aliens; (9) Repelling Mexico's interference in U.S. internal affairs; and (10) Elimination of birthright migration and chain migration "which put the alien's desires before society's well-being."
A parting shot
This column would add one more: 11 — Fundraising to secure dollars for the express purpose of sustaining a long-term ad campaign to inform the public about Mexico's war on the United States (calling it by that name), what the stakes are, exactly who is fighting for America in that war, and who is aiding the enemy.
Oh, yes — our own combatants should prepare themselves for a smear campaign. But is America worth it, or isn't it? "Damn the torpedoes, full speed ahead!"
© Wes Vernon
---
The views expressed by RenewAmerica columnists are their own and do not necessarily reflect the position of RenewAmerica or its affiliates.
---