Wes Vernon
Robert D. Novak: insider and rebel -- and a Washington legend

By
Wes Vernon
August 24, 2009
Robert Novak's most appropriate epitaph would be that he succeeded because he was true to himself. He was an insider's insider who was not swallowed up by the conventional wisdoms of Washington insiders. Though he himself was very much a part of the national media, he was openly scornful of their infamous herd instinct.
And Novak (who died last week at age 78) came out on top of his profession because — in addition to hard work and persistent shoe-leather investigative reporting — he had the one thing that mattered most: the respect of movers and shakers, statesmen and activists, liberals and conservatives, Democrats and Republicans.
They respected him — some may have feared him — because they knew he was someone whom they could trust even if they disagreed with his politics. He protected his sources. Occasionally they did not reciprocate — as when Richard Armitage of the State Department — likely with Secretary Colin Powell's approval — left the columnist to hang out and dry by not publicly affirming that he — Armitage — was the person who tipped Novak as to CIA bureaucrat Valerie Plame's identity in the silly, fake "scandal" that bore her name. Meanwhile, Plame's backers were taking shots at Novak when he had promised the special prosecutor he would be silent on the case. So for months he couldn't answer his attackers.
The arrival...
Novak did not come to Washington in the fifties as a conservative. Nor was he a conservative when he teamed with Rowland Evans in the sixties to launch the soon to be widely read and quoted
Evans and Novak
column — which continued under Novak's solo byline after Evans retired in the nineties.
"The Prince of Darkness" — as he was affectionately known — ultimately became a very outspoken conservative after his inside reporting, firsthand experiences, extensive reading, and participation in TV panel discussions persuaded him in that direction. It was a gradual conversion — anything but a sudden flip-flop. In fact, if he had actually taken political positions for professional gain in this town, he likely would have remained a slightly left-tilting centrist.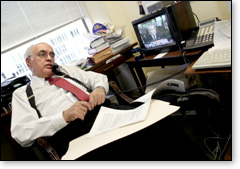 Even after he became a conservative, Novak's open mind would lead him to re-evaluate his position on specific political or historical personalities.
In my interview with him in June of 2007, he expressed some skepticism over Senator Joe McCarthy's fifties anti-communist investigations. But after reading M. Stanton Evans' thoroughly documented
Blacklisted by History,
which vindicated the Wisconsin senator, Novak wrote a glowing and detailed review in the
Weekly Standard
, and acknowledged he'd changed his opinion.
Hard work — plus disinterested colleagues
"I'm always amazed," the longtime columnist told me when well into his seventies, "I'll come up with things that other people don't like. They won't write it, they're not interested.... I just think there are a lot of stories in this town [that aren't reported] because journalists aren't interested. They don't want to write the story. We have more reporters on the Hill. They're smarter, more sophisticated, and yet there are stories that just go uncovered on Capitol Hill. It's a good thing for me, because I get a lot of stories nobody else writes."
Why?
Bob Novak encountered one such example early-on. It dealt with communist spies and infiltrators. The media's aversion to that area piqued his curiosity, leading him to study the phenomenon and conclude the mainstream press was ill serving the public by ignoring it.
Barely three weeks in Washington in the late fifties as an AP reporter, Novak scored a scoop when he interviewed the staff director of the Senate Internal Security Subcommittee about that panel's investigation into communist infiltration of a Michigan local of the United Auto Workers. Next day, one of his older colleagues told him that "we don't ever write anything [about that committee] except what happens in open hearing." Why? "Because nothing they do deserves it."
That of course was pack journalism gone mad, or a "self-censorship cartel," as Novak saw it.
Creeping Latin communism — then and now
And so Robert Novak ultimately teamed with Rowland Evans (who died in 2001) and for years, the
Evans and Novak
column scooped others by investigating the stories the herd wouldn't touch.
Now
His journalistic curiosity and focused pursuit led him to a huge scandal of communist spying in the nation's capitol. He nailed a spy network involving a close associate of a former communist dictator who had ascended to power in Latin America by posing as a moderate and then taking a sharp left turn and imposing the jackboot on the necks of the people. Sound familiar? Today, we have several of those south of the border.
Then
The failure of another communist would-be tyrant to pull off the same stunt back in the seventies led Novak to a communist plot to undermine the U.S. resistance to Latin American communism.
Chile's military had ousted that nation's Soviet-collaborating president, Salvador Allende.
Orlando Letelier — a high-ranking member in Allende's cabinet — fled to the U.S., where he was welcomed as a fellow at the Institute for Policy Studies. To call the IPR "liberal" or "progressive" is highly generous. The 1987 book
Covert Cadre
exposed the think tank's "Soviet bloc agents in so many of its programs," and also activists who had "penetrated our Congress, church bureaucracies, the press, and the public policy community in Washington."
Letelier was killed as his automobile was demolished in 1976 by a car bomb near Washington's Embassy Row. Police traced the crime to the secret police of the new Chilean government.
However, Letelier's papers survived. Through one of the many sources cultivated over the years, those documents fell into Novak's hands.
The
Evans & Novak
column exposed evidence from those papers that Letelier was hip-deep in Soviet-style intrigue that included ongoing exchanges of correspondence with spies, secret agendas from Communist countries, and plots to deceive members of Congress (you know "how liberals are," as Letelier put it). The major focus of the conspiracy was to get Congress and the bureaucracy to reinstate the Marxist regime in Chile.
The Washington Post
— which carried the column — moved heaven and earth to counter-act the column's findings. Its editors spiked a second (follow-up)
Evans-Novak
column on the scandal. For details, you should read Novak's memoirs
Prince of Darkness.
Anyone —
anyone —
who wants to know how things really work in Washington would do well to consult that page-turner.
That the Evans & Novak column (and later the Novak column) was carried in the Washington Post for decades despite this and other disputes with its liberal editors refects the respect in which Robert D. Novak was held — despite the unpopularity of his political views in the rarified atmosphere that prevails in many quarters in Washington.
The CNN shows
Novak's television career added to his reputation and newspaper following and took him to super-celebrity status. The sheer impact of TV will do that.
He had previously appeared as a questioner on Sunday shows such as
Meet the Press
and
Face the Nation.
But that exposure was expanded when he joined
The McLaughlin Group
on NBC, when CNN made him its token conservative, and later when he created his own
Capitol Gang
on CNN.
On these shows, he took stands he rarely discussed in his column — on abortion, gun control, traditional marriage, etc. One could see his positions veering rightward on most issues.
In fact, just as Bob Novak's strong anti-communism had already taken hold, so too had his willingness to blow the whistle on pack journalism.
The line in the sand
The columnist/commentator in the very early seventies submitted a paper "The New Journalism" at a closed-door conference in Chicago and in rural Ohio. If any declaration separated him from the pack, this was it:
"The press corps has been ideologized into a part of the liberal establishment," he wrote. "More and more, the members of the Washington press corps share in total the worldview taken by the dominant liberals who control the Democratic Party."
And as for enforcement —
"But beyond this, the young journalist who violates [the liberal line] can scarcely expect a rapid rise up the ladder of advancement," Novak declared.
That was a major break from the "cartel." He later wrote "the liberal establishment — including my journalistic colleagues — never forgave me."
But — and here's bottom line: His liberal sources did not dry up — any more than his conservative sources did. Again...the issue was respect. He had that until the day he died.
The religious experience
Bob Novak became a committed Roman Catholic late in life. Here he had a real religious experience. So much so that when he was diagnosed a year ago as having a brain tumor, he wrote in his last regular column that his faith left him unafraid of what was in store for his future. That malady took his life last week at age 78.
One thing that nudged him toward the church, he wrote, was that a student at Syracuse University — a secular college where he had spoken — made a comment at a general lunch table discussion in 1996. I cannot do justice to this amazing and beautiful story without quoting directly from Novak's memoirs:
"What happened next may be distorted in my memory and shaped by the religious mysteries that I see entwined in this episode. Without mentioning the cross, I was impelled to ask the woman a question that normally I would not consider posing. Was she a Catholic? I thought she answered yes and then asked me whether I was one. 'No,' I replied, "but my wife and I have been going to mass every Sunday for about four years.' 'Do you plan to join the church?' she asked. I answered: 'No, not at the present time.'

"Then the young woman looked at me and said evenly: 'Mr. Novak, life is short, but eternity is forever."
As indicated, there were other factors at work in Novak's conversion at age 67, but he became convinced that Higher Powers were speaking to him through this young student.
In 2005, as he was writing his book, he asked his staff to find and identify the student. In a phone conversation, she said she did not remember the conversation, that she was Russian Orthodox Christian — not Catholic, and added, "I do wear a small gold cross. I don't think I'm the one you're looking for. Although I can't help but think that I may have made such a comment."
The woman then e-mailed Novak a picture of herself with her husband and infant son. "It was she!" he wrote.
Inspiring religious experiences have happened to people of many denominations — where spirituality is taken seriously. They are surely among life's earthly mysteries.
Washington without Novak?
I've missed Bob Novak since his columns and his newsletters (the latter were still headlined
Evans and Novak
) stopped months ago because of his brain tumor.
One has to believe that today he would be picking up inside tips leading to columns pinpointing all the maneuvering at the Obama White House that led to people getting e-mails they didn't request.
Or columns getting to the inside of the citizen uprising throughout the land over Obamacare, and how these people will have to think seriously of better coordinating nationally or they will be overrun by the White House/ACORN complex.
Or the inside story on the give and take between the White House, the AMA, and the insurance companies.
Or the turf battles between cabinet secretaries who had to be confirmed by the Senate and the White House "Czars" who did not.
I'm going to miss (as I already do) Bob Novak's biannual off-the-record gatherings where he encouraged me to let loose with tough questions for the leaders from Congress, the White House, and the agencies who would show up to give us inside information.
There are a lot of things that will happen behind closed doors in the years and decades ahead that will vitally affect this nation and our well-being, but we won't know about them because Bob Novak won't be here to dig out the story for us.
I miss his cordiality and good cheer as when he generously gave me 90 minutes to interview him two years ago on his memoirs.
This column offers deepest condolences to his devoted wife Geraldine (the love of his life) and their family....RIP.
© Wes Vernon
---
The views expressed by RenewAmerica columnists are their own and do not necessarily reflect the position of RenewAmerica or its affiliates.
---