Wes Vernon
Socialized medicine--Part 5: There is hope yet, Americans not enthralled with Obamacare

By
Wes Vernon
June 22, 2009
President Obama should drop the disingenuous line that his plan to put America under the thumb of government-run health care won't interfere with your own health care plan. It's not true, and the American people are beginning to see through it.
He wants you to believe that setting up a government insurance option will "keep the insurance companies honest."
Americans are asking who keeps the government honest. Or more to point, how do we know that making the government both a "competitor" and the ultimate regulator is not a surefire way (if not a deliberate scheme) to put the government in the ultimate driver's seat — running the entire health care system?
Some of Obama's fellow liberals have openly said that's what they intend. At least they're honest. Others in his camp wink and tell the socialist ideologues to cool it — that they will get what they want. Just give them time to lull the booboise into thinking a government plan is not the Trojan horse to knock private sector insurers out of business so that we can have a "single-payer" system. They want to run America's 1300 health insurance companies out of business. If you watched Glenn Beck on
Fox News
the other night, you saw clips of them saying exactly that.
"Single payer" sounds so nice and warm and fuzzy, doesn't it? How about "single-regulator?", "single dictator?", "single judge" as to whose life is worth saving?, or "single decider" — not as to
whether
health care will be rationed, but
how
to apply it without arousing the anger of the great unwashed until it's a done deal?
Mr. President, level with the people
So we have a big problem that rears its head before we can even enter the metaphoric room for a national conversation on the issue of health care reform: The president of the United States is not leveling with us. He is not a stupid man. He knows very well that when you create a government-entity to "compete" with private insurers, it takes no brain surgery to conclude that as long as government is both player and referee, the government is in a heads-I-win/tails-you-lose situation. End result: a government health care monopoly.
The "46 million" uninsured
It is time also for some perspective and some honesty about the monotonously repeated alarmist claim that "46 million Americans are without health insurance," another claim cited by supporters of government-run health care. The indispensible National Center for Policy Analysis has cited some figures that set the record straight on that — another necessity before we can have that "national conversation," Mr. President.
The Census Bureau itself, in a report issued last August, shows 9.7 million or about 21 percent of the "46 million" were not U.S. citizens. We don't know how many of them were illegal aliens, since the Census Bureau doesn't ask. We do know that hospital emergency rooms are overburdened with a continuous flood of illegals. Whatever you think of providing health care to people who are here unlawfully in the first place, referring to them as "Americans without health insurance" is a flat-out lie.
Among the uninsured are 17 million in households where annual income exceeds $50,000. And 7 million of those without coverage have incomes exceeding $75,000.
Many of the uninsured are young and healthy — 40% between the ages of 18 and 34, and at this point in their lives choose to put their dollars elsewhere.
Subtract non-citizens and those who can afford their own insurance but choose not to purchase it, and the number of uninsured falls dramatically — according to Dr. David Gratzer in his book
The Cure: How Capitalism Can Save Health Care
(reviewed by this column
Feb. 26, 2007
).
Overlooked also in the carelessly bandied about "46 million" is that the uninsured are not always the same people and many are uninsured for a relatively short time.
Ooops! Problems right out of the gate
A draft health care proposal crafted by Senator Max Baucus's Senate Finance Committee was effectively shot down this past week when the non-partisan Congressional Budget office (CBO) reported that the measure — if enacted — would increase the federal deficit by $1.6 trillion over the next decade, while not really dealing with more than a fraction of the people who actually are uninsured.
So Senator Baucus sent his staff people back to the drawing boards.
Pelosi shoots the messenger
House Speaker Nancy Pelosi expressed frustration that the CBO always presents "a worst case scenario" and "never a best case." Either Madam Speaker wants the CBO to cook the books for the "right answer" or she remains on another planet. Actually, the CBO is often quite conservative in its estimates. This happens not because the CBO is slipshod in its calculations, but because members of Congress have shown a tendency to load down legislation with extra political goodies — either in the original lawmaking process or in year-to-year appropriations bills.
Kennedycare
Senator Ted Kennedy's (D-Mass.) Health, Education, Labor and Pensions Committee has been working on a proposal which also has some problems that were exposed to the light of day by Betsy McCaughey — chairman of the Committee to Reduce Infection Deaths. McCaughey — you may recall — did a devastatingly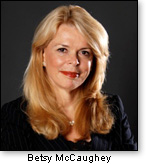 thorough study of "Hillarycare" back in 1994 — arguably even more effective than the Harry and Louise commercials of that year.
This year, she writes that the Kennedy plan "will push Americans into stingy insurance plans with tight HMO-style controls." It exempts members of Congress (who have what is arguably the best health insurance plan in the world, with a wide selection of options not offered to you or me), and also exempts federal employees whose health coverage is also not shabby. McCaughey's point is that if Congress is going to prescribe a health plan that supposedly is good enough for us plebians, it should be good enough for those whom we hire to serve us in government.
Under the Kennedy plan, you and I would be ordered to submit to Big Brother in Washington proof that we are enrolled in a "qualified" insurance program. Failure to do so will prompt Big Brother to track us down and impose a fine.
A "qualified" plan is one with "managed care" controls that — as McCaughey puts it — would "manage your access to costly services such as visits to specialists and diagnostic tests." That is the velvet fist language for saying, "You're the problem. Care for you is too expensive. Guess you'll just have to live with the pain or die and get out of the way."
Which leads to the question: Okay, then what
should
we do? There are credible alternatives.
The Ryan plan
As Congressman Paul Ryan (R-Wisc.) said on
Fox News Sunday
, "Having the government compete against the private sector is kind of like my seven-year-old daughter's lemonade stand competing against McDonalds."
But Ryan — a rising star in the GOP, does not just "talk the talk." He is prepared to "walk the walk." I am indebted to the Wisconsin Public Research Institute (WPRI) for details:
Ryan argues that "Providing every American with a tax-free voucher specifically for the purchase of health insurance not only levels the playing field, but puts consumers in the position to make the health care choices that make sense to them."
The Midwest lawmaker's Roadmap plan allows every American except those eligible for Medicare or military health care the option to receive a $2500 refundable tax credit for individuals and $5000 for families. The individual or family could apply the tax credit either to the purchase of an employer-sponsored plan or to another option that suits the individual/family. Employers who continue to provide health coverage can continue to claim contributions as a business expense deduction.
Ryan would retain the itemized 7.5% deduction for medical expenses for those who do not claim the new health care tax credit described above.
In a ground-breaking departure from the status quo, the congressman would also allow individuals to utilize the refundable tax credit toward the purchase of health insurance in any state. This is probably the most controversial part of the Ryan bill. His own state of Wisconsin has insurance regulations that are more favorable than most, and as one business leader in the state has said, "Health plans sold in Wisconsin but regulated in other states is not in the best interests of Wisconsin businesses and consumers." Obviously, a lot of disentanglement would have to take place there involving regulations that have taken root over the years in all 50 states. Nonetheless, the idea is at least worth considering.
Heritage outline
The Heritage Foundation has laid down six principles in a broad outline of an ideal "patient-centered, consumer-driven" health reform: (1) individual consumers as key decision-makers; (2) individual ownership; (3) individual choice; (4) wide range of available choices; (5) price transparency; and (6) regular opportunities to make coverage choices.
More to come
There are other plans that are being kicked around in the "national conversation." They range from the proposal by Rep. John Conyers (D-Mich.) to cut the pretense and impose a government-run "single payer" system, to former House Speaker Newt Gingrich's "21st Century Intelligent Healthcare Solution to a 300 million payer system."
There are more health care plans out there than space allows us to examine here. Assuredly, there will be ample to time to review the major ideas in alternative approaches.
The ABC White House medicine show
This column is written as ABC-TV/Obama is preparing to do an hour-long "town hall" broadcast on the health care issue directly from the White House. Charles Gibson will do his nightly news broadcast also from the executive mansion. The Republican national Committee asked for and was refused equal time or an opportunity to participate in the big show.
We don't know whether ABC is trying to make up to the president for the campaign TV debate last year in which its reporters dared to do their jobs and ask uncomfortably (for Obama) tough questions about Bill Ayers — his terrorist friend — and also about the capital gains tax.
It will not matter if the ABC news reporters fire probing questions during the big health care broadcast this week. Just the fact that the program is run right out of the White House puts a thumb on the scale in favor of Obamacare — one side of the argument.
An outrage? Of course. But — ho hum. As long as the mainstream media has served as a White House echo chamber anyway, what's the big deal? Might as well haul a branch of its propaganda ministry into its de facto headquarters.
© Wes Vernon
---
The views expressed by RenewAmerica columnists are their own and do not necessarily reflect the position of RenewAmerica or its affiliates.
---