Wes Vernon
The Senate sitcoms: Al Franken doing what liberals do best--stealing elections

Senate Dems: Double standards for Illinois and Minnesota Senate seats; Princess Caroline?

By
Wes Vernon
January 12, 2009
In Springfield, Illinois, the state House of Representatives voted to impeach Governor Rod Blagojevich for trying to corrupt the electoral process. Illinois and Chicago-style politics had been the butt of jokes for decades, but the House members decided their governor had become an embarrassing cartoon caricature of their state.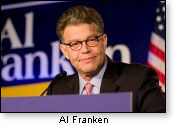 Hey! What else is new? It's as if the legislators were saying they were shocked! shocked! shocked! that their governor tried to sell a Senate seat vacated by Chicago-politics alumnus Barack Obama. So another liberal rides roughshod over the will of the people. This is news? All these years, Illinois has taken the biggest rap for a corrupt politics. Some would say this is unfair. Just two states away in Minnesota — a state that likes to think of itself as the poster child for pure goody-two-shoes elections — Al Franken is stealing the voters blind.
Moral of the story
We need to understand the thread that runs through all of this:
When liberals dishonor the system of free elections (whether by selling Senate seats, stealing elections, or taking illegal campaign contributions from foreign sources), to them, it isn't dishonest. You see, it's all done in the interest of a higher and nobler cause: fighting off anyone who stands in their way. They really believe they're doing the right thing. That mentality prevailed during the Clinton years, for example.
Just as Governor Blagojevich says the lawmakers are trying to throw him out of office simply because he was trying to save families from being thrown out of their homes, so too does Mark Ritchie (Minnesota Secretary of State with ties to the ACORN crowd) see himself as the knight in shining armor whose sacred duty is to swing the Senate election there, because his candidate Al Franken (D) will vote the liberal line — the enlightened approach, you see. Those silly misinformed voters who wanted to retain Senator Norm Coleman (R) just don't know what's good for them.

The liberal assumption of some sort of divine right to rule — regardless of voter wishes — is in line with the admonition of Soviet supporter Roger Baldwin — the early 20th Century founder of the American Civil Liberties Union (ACLU — today a big player in the liberal coalition). Mr. Baldwin said that "no champion of the socialist society could fail to see that some suppression was necessary to achieve it," and further ("regretfully," of course) there is "the necessity of dictatorship while the job of organizing society on a socialist basis is being done." Care to guess who decides when (if ever) the great unwashed are allowed to have their say in government?
The Minnesota story
This column warned (see "
The Invisible Government
," Dec. 15) of Mark Ritchie — whose 2006 campaign was bankrolled by a front organization for radical multi-billionaire George Soros. The fact that Ritchie is now Secretary of the State in Minnesota (and thus in charge of the recount there) should be a wake-up call to those who take seriously the slogan "Count every vote." The ends-justify-the means crowd interprets that to mean count
some
votes twice, just for good measure. Some strange things have been happening in the ballot-count of the close contest between Coleman, the then-incumbent senator and former mayor of St. Paul, and Al Franken, the "comedian." (That's his day job — "comedian" — even though the only time he's funny is when the man thinks he's being serious.)
Robbery in broad daylight
For starters, more than 25 precincts ended up with more votes being counted than were actually cast. One member of the Ritchie's Democrat-dominated Canvassing Board allowed as how some ballots were in fact counted twice, but said that's just too bad — nothing can be done about it. Thus they admit they have been counting fraudulent votes. And their only response is "Too bad"?
When unexplained discrepancies favored the "comedian," the canvassers made their own joke of the electoral process by shrugging their shoulders and saying who are they to straighten out this poor math? And besides it's not their fault if local election officials can't count their change.
Absentee ballots? When they came from the Franken-leaning counties, they were accepted in the recount. Those coming from the Coleman-favoring counties — well, their re-examination had not been completed. Too bad.
In one instance, a vote was taken away from Coleman because it had been cast on a ballot intended for the primary. This arbitrary decision was made official, despite Ritchie's previous declaration (via his own office's 2008 Recount Guide) that "a ballot vote must not be rejected for a technicality if it is possible to decide what the voter intended, even though the voter may have made a mistake or the ballot is damaged."
Ritchie's comment: "Too bad, it breaks my heart." Uh-huh. Anyone have a crying towel for that man?
These are examples found in the string of stories of lost ballots, double-counted ballots, some questionable ballots counted, others not — "coincidentally," every judgment call made by Ritchie's board favored Franken.
Ritchie at one time let the cat out of the bag. In a mid-December session (and of course when Coleman was still the incumbent senator) the Soros-connected secretary of state made the motion that a disputed ballot "be allocated to Senator Franken." Oooops, he corrected himself: "Candidate Franken."
The farce finally reached the point where Ritchie's board said Franken, who was trailing by over 700 votes election night, now was ahead by 225. That is not the official certification. Coleman intends to pursue the matter in the courts.
Senate Dems — Harry Reid tied in knots
Back to Illinois: After Governor Blago was caught on tape vowing to sell the Illinois Senate vacancy to the highest bidder, Senate Democrats initially (and ostentatiously) suggested that the Obama seat be filled by a special election.
Then — oooooops! What if the Illinois voters don't like Blago's monkey business and in their disgust vote to fill that seat with (gasp!) a Republican? No telling what Illinois' silly misinformed voters will do. They don't always know what's good for them. Hmm, are we seeing a pattern here? Shades of the Baldwin mantra of the "necessary dictatorship."

So Blago decided to take attention away from his plight by appointing Roland Burris to the Senate seat. But since Blago is tainted, Senate Majority Leader Harry Reid made a big show of eschewing the governor's obviously "tainted" appointee. Then, Reid appeared to do a retreat (a situation that remains a bit murky as of this writing). Blago's sleaze notwithstanding, as long as he was governor, he was legally entitled to make the appointment. And so maybe it would not look good to reject what would be the Senate's only black person. This column knows of no one in Washington who does not believe pressure from the Obama camp to get this mess off the front pages played a role here.
Hurry! Hurry! Seat Franken
Ah! But no such
To be or not to be
hesitancy plagues Senate Democrats with regard to the Minnesota seat. New York Senator Chuck Schumer declares it is "clear that Al Franken won the election." "Clear," of course, to Mr. Schumer's objective, detached, non-partisan (not!) eyes. Minnesota's other senator, Amy Klobuchar, like a good soldier, adds — in so many words — Please send Franken now to help me with the crushing workload of representing Minnesota in the U.S. Senate. I can't possibly do it all by my lonesome while Coleman continues his fight. I need the comedian to lighten my load.
So the line being pushed is to make Franken a "provisional" senator. That is not a very clever twist on the old wisdom that "a bird in the hand is worth two in the bush." Or to quote Wes Pruden in his
Washington Times
column, "Once he's seated among equals, a bum is difficult to throw out."
Republicans — many of whom appear resigned to letting Obama and the Democrat majority on the Hill get their way on most things — have awakened from their slumber on this issue. They promise an all-out fight if the Democrats try to seat Franken, who (arguably unlike Burris) is
not
entitled to be seated.
Another puzzlement

It's not as if the people of Minnesota are in love with Franken — whose real constituency is the Soros hate-America machine and the glitterati of Hollywood who bankrolled his campaign. One recent poll shows the Minnesotans whom the comedian would presume to represent in the Senate are not amused. His approval rating is a whopping 34%. That's a 15-16% dive since election night. That he racked up enough votes to make the race competitive or easy to change by stealing a vote here and a vote there defies explanation. The man is not a pleasant human being.
For example, he made a big public scene a few years ago when he accosted Sean Hannity in the lobby of a broadcast studio, yelling insults and following the talkshow host down the hall when he attempted to turn the other cheek. The cause of his outburst? Franken disagreed with Hannity's well-known political conservatism.
What lies ahead
The courts are loathe to decide an election when the authorities have declared a tally. But the law is the law. And if the judiciary has any integrity, it will not shirk its duty to make a thorough examination to determine whether the law was followed in this case. That is why judges are given lifetime appointments — to interpret the law in a fair and impartial manner. If they can't do that, why are we paying their salaries?
As for Coleman, he needs to take an unrelenting stand — not just to save his own position in the Senate for another six years, but to make an example of this kind of theft and hopefully send a message that stealing elections will no longer be tolerated. Americans are entitled to — at the very least — an honest vote count.
Mary Landrieu stole her first election to the Senate from Louisiana in 1996. In Washington State, Governor Christine Gregoire ultimately won a disputed 2004 election rife with monkey business strikingly similar to what's been happening in this year's Minnesota Senate contest. And then Al gore tried to steal the 2000 presidential election. Democrats are lying about that to this day.
The liberal media, of course, will paste Coleman with the "sore loser" label. But without honest elections, we become the proverbial banana republic.
A New York state of mess
Then there is this postscript to the Senate sitcoms:
1 — Sarah Palin, a middle class hockey mom from Wasilla, Alaska, served as a successful mayor of the town and then as Governor of the state, where she stood up to special interests and won 80-90 percent approval ratings in the process. The media hate her because — in running for Vice President — she appealed to the Republican Party's conservative base. Only liberal Democrat women, you see, are to be given credit for "Hear me roar." Got that? Though Palin sported more executive experience than the man who is now president-elect, liberal media people are still attacking her more than two months after the election.
2 — Caroline Kennedy Schlossberg lives on Park Avenue in New York City, and knows almost nothing about the state of New York beyond Upper East Side Manhattan. Judging by her interviews which — by one count — were laced with 301 "you know(s)," her accomplishments are that she has a famous name, having been born the daughter of a president, and she has been involved with all the right "in" charities. She has been involved in charity balls where the Park Avenue elite meet, drink, eat, and congratulate each other on how good they are. What's left "trickles down" to the advertised beneficiaries. The media love Princess Caroline. She knows all "the right people," and they have done little to hide their enthusiasm for getting her into the Senate to fill the vacancy created by Hillary Clinton's appointment as Secretary of State.
Whether or not she gets the nod for the appointment from New York's Governor David Paterson by the time you read this, we thought the double standard between Palin and Schlossberg worth noting. There are royalties and then there are "commoners."
© Wes Vernon
---
The views expressed by RenewAmerica columnists are their own and do not necessarily reflect the position of RenewAmerica or its affiliates.
---