Wes Vernon
Bringing down America--China: friend of terrorists, America's enemy

By
Wes Vernon
December 1, 2008

As U.S. counter-intelligence chases down terrorists and fights in the courts and in the halls of Congress to listen in on terrorists' telephoned plots and also keep the al-Qaeda's murderous brethren locked up at Guantanamo Bay, our weapons and government facilities are crawling with spies doing dirty work against us on behalf of the largest nation in the world. Bottom line: Communist China is fattening us up for the ultimate kill.
We dare not forget that Islamofascism and Chinese Communism are both threatening to bring us down. In fact, they have worked hand-in-hand. It is not just for the money that China has supplied Iran with critical materials aimed at helping that country with its military buildup (see below).
Years in the making
The Chinese effort to bring America to its knees (with help inside the USA) did not occur overnight. It has had three major components — economic, military, and espionage.
Economic
Communist China — or the People's Republic of China (PRC) — is to be a prime beneficiary of the bailout money our Congress is strewing around with little sense of direction. With no savings, America continues to run a huge trade deficit. We owe China big-time — billions — trillions, depending on what yardstick you use. At the very least, China holds nearly $500 billion in U.S. Treasury bills.
China is not the creditor nation with the biggest financial gun to America's head. (That distinction belongs to oil-producing Middle East nations who hate our guts.) But China is arguably the fastest growing and most powerful. In fact, China hopes to replace the Soviets as our main super-power enemy, and ultimately bring about our demise.
So when Treasury Secretary Henry Paulson has to go out and raise billions for bailouts, where will he go? China is likely his first stop. Which, given our already hefty indebtedness to China, decreases our once proud independence and consigns us further to the status of servitude — something like the 17-year-old kid who asks for extra cash and the keys to the car. At some point, China may decide it is no longer in its interest to shovel out more money to the U.S.
Speaking of Paulson
In his best-seller
The Failure Factory, Washington Times
national security reporter Bill Gertz fingers Treasury Secretary Paulson's own Chinese connections.
The author cites "business power brokers, like...Paulson, who as a high executive of the international investment bank Goldman Sachs, made hundreds of millions of dollars in profits in China during the early 2000s, yet was placed in charge of most U.S. policies toward China with little regard for the dangerous conflict of interest."
Military
Backed by facts and figures, Gertz argues that "China, a nuclear-armed Communist dictatorship, despite its market-oriented reforms, poses the most serious threat to future U.S. security in Asia and around the world.... China is working covertly to weaken the United States by backing America's enemies, including Iran, Syria and North Korea, and working together with states such as Russia to realign the international balance of power. The ultimate goal is to ensure that China, not the United States, is the world's sole superpower."
President Clinton in the nineties succumbed to pressure from campaign contributors and granted Hughes Aircraft and Martin Marietta waivers to launch U.S. satellites from Chinese rockets. The move was described at the time by former Defense Secretary Casper Weinberger as "Tammany Hall politics played out in terms of global strategy." Whatever the motive, Mr. Clinton was giving added encouragement to an already "soft-on-China" policy that has permeated the "whistling-past-the-graveyard" mentality of a federal bureaucracy that insists China is a non-communist benign power.
Let it not be forgotten that China's Peoples' Liberation Army (PLP) regards the U.S. as "the main enemy."
Espionage
Our government's self-deception about China's intentions toward the U.S. is a sorry saga that has lasted years — administration-to-administration. Gertz says it applies to bureaucrats in both the intelligence community and the government policy-making offices. All of this, the author writes, because of "a false liberal assumption that conservative Americans pose a greater danger to U.S. security than the Communists in Beijing."

In his epic volume
China,
the late Constantine Menges, a veteran security expert who served at the White House and the CIA in the Reagan administration, reminds us of the most dramatic apparent Chinese espionage during the nineties — that of Wen Ho Lee, an employee of the Los Alamos National Laboratory. Lee had removed files containing — as the FBI described it — "the complete nuclear weapons design capability of Los Alamos at that time...50 years of weapons development [which] in the wrong hands [could] change the global strategic balance," and would enable the possessor "to design the only objects that could result in the defeat of America's conventional forces."
Dr. Lee had made three visits to high Chinese government officials during that period. He got off with a lighter charge because the Attorney General testified the government feared it might have to reveal secrets in order to make the case in court for espionage.
Congress investigates
The Wen Ho Lee case was but one of many. A bipartisan congressional committee in the 105th Congress concluded the PRC had stolen classified information on thermonuclear warheads — including every such warhead in the U.S. ballistic missile arsenal; classified information on the neutron bomb; and information that enabled the PRC to develop the next generation of thermonuclear weapons.
And that was just for starters. The
Cox Report
(so named after its chairman, then-Rep. Christopher Cox — R. Calif.) carried a forward by Weinberger who wrote that what the 374-page volume had uncovered "regarding the PRC is the most serious breach of security since Julius and Ethel Rosenberg [in the forties and fifties] betrayed our secrets to the Soviet Union." (Irony: the Rosenberg espionage case was also focused on Los Alamos. In a half century, lessons apparently were not learned.)
The roots of the problem

The current book
The Failure Factory
alleges that misrepresentations of the China threat come from what Gertz calls "the panda huggers" in government who admire the Chinese government; lobbyists, including former government officials such as Henry Kissinger, whose consulting firm is hip deep in Chinese business and sees nothing wrong with assisting a foreign government; and business power-brokers such as Paulson.
A secret report
The government, in an attempt to determine why Red Chinese apologia had the upper hand in foreign policy and intelligence decisions, produced an internal
mea culpa
of sorts in the form of a secret report — kept under wraps because God forbid that the government admit its own errors in public.
Gertz managed to get his hands on the document, which stated that intelligence analysts had missed more than a dozen Chinese military developments over a period of nearly ten years, including developing a new long-range missile, building a new warship equipped with technology the Chinese stole from the U.S., deployment of a new attack submarine; deployment of air-to-ground missiles and more accurate warheads, development of surface-to-surface missiles for targeting U.S. aircraft carrier battle groups, and importation of advanced weaponry, including Russian subs, warships, and fighter-bombers.
A new Armand Hammer?
Henry Paulson has been dubbed by some conservatives as "China's man in the Bush cabinet." In fact, former Pentagon official Frank Gaffney has written that "Henry Paulson has been Communist China's Armand Hammer." (Hammer, recall, was a Western capitalist and willing Soviet financial adviser and agent of influence in Washington.) In the Clinton administration, the architect of that regime's appeasement policy toward China was none other than Sandy Berger, White House national security adviser.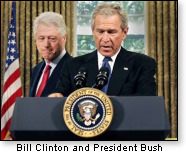 As to the future?
Both Bill Clinton and George W. Bush came into office having excoriated their respective predecessors for being far too cozy with the Communist Chinese government. By the time their White House tenures were at an end, the "panda huggers" were in charge. As Inauguration Day looms — whither Barack Obama? Unlike the others, he does not even have a record of overtly anti-Communist Chinese rhetoric that he would have to bury were he to follow suit.
© Wes Vernon
---
The views expressed by RenewAmerica columnists are their own and do not necessarily reflect the position of RenewAmerica or its affiliates.
---