Wes Vernon
Looking ahead: of thugs and heroes

By
Wes Vernon
November 10, 2008
A wise and longtime conservative leader told me the day after the election that "we will have to start over" but that — in terms of the silver lining — "this time [unlike thirty years ago] we [the modern conservative movement] will not have to start from scratch." That is because unlike 1978, we have in place a vast network of organizations, publications, mailing lists, and a good system of coordination.

The test
The bare knuckles of the Clinton White House will be back in the form of Rahm Emanuel, former senior advisor in the Clinton White House, now the designated White House chief of staff for soon-to-be President Obama.
Obama's smooth-as-silk voice beckons to those "whose votes I have not won" to come together with him because "I will need your help."
Make nice now
It is good form to cooperate with a new president and give him a political "honeymoon." And this column wishes the best for Barack Obama as a person, as well as his attractive family. His announced policies, however, amount not to promises as much as threats.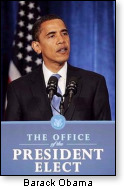 Barack Obama is well educated and intelligent. That does not make him right. Though outnumbered, some 56 million voters believed precisely that on November 4th. Many of them, when hectored to "give him a chance," are entitled to give him the same "chance" that his partisans so kindly offered George W. Bush when he took office in 2001. It's just that we're not temperamentally capable of matching the magnanimity of the Clinton White House staffers when they trashed the White House on their way out the door in January, 2001, leaving obscene messages behind and disabling much of the equipment.
Tough guy take charge
The olive branch offered by President-elect is weighted down with thorns — as shown by his selection of his fellow Chicago pol, Emanuel.
Here is a guy variously described as "attack dog," "thug," "political gangster" — and that's likely from the more charitable.
Remember all the use of secret police tactics by the Clinton White House to get even with its critics? You can bet they wore the Emanuel imprint — at least in terms of considerable input.
Having sat next to the man at a Washington luncheon, I concluded his body language alone tells you all you want to know about him. You would never know that at one time in his life, he was a ballet dancer.
Dead! Dead! Dead!
Even in victory, Rahm Emanuel has displayed charity to his foes in a manner that forever branded him as a sore winner
.
One would hate to be around him when he loses.
As a chief fundraiser for Bill Clinton's successful 1992 campaign, Emanuel startled some at a celebratory dinner by grabbing a steak knife — listing the names of those who he believed had betrayed him — and yelling "Dead! Dead! Dead!" after plunging the knife into the table after each name he called out. One witness called it "like something out of
The Godfather."
According to the (London)
Times Newspapers,
he once sent a rotting fish to a pollster who had crossed him, warning him never to mess with him again.
Even visiting foreign dignitaries felt the slash of Rahm Emanuel's brusque manner. At the height of the Monica Lewinsky scandal, President Clinton and Britain's Prime Minister Tony Blair were about to make a joint appearance. On the way, Emanuel cautioned Blair, "This is important. Don't f — it up."
Chicago's infamous brand of politics will be back at the White House. Please don't talk to me about giving the new kid on the block the benefit of good will. In this selection, he has sent us all the "good will" messages we need.
Policies
The results of the election — both for the White House and Capitol Hill — do not cleanse the threatened 25 percent cut in defense spending while uniformed Americans are putting their lives on the line; the abandoning of Iraq to Al Qaeda; calling for our troops to be "re-deployed" to a country where the Democrats themselves say our enemies are not there; raising corporate taxes and then whining when jobs disappear to overseas locations; implementing tax policies that have proven again and again to be failures in other countries; nationalizing oil companies or refineries (as some in Congress have threatened); appointing to the Supreme Court judges who would trash the Constitution by legislating from the bench; or telling us that the solution to our energy crisis is to inflate our tires.
Heroes
The two heroes of the GOP campaign in 2008 were Sarah Palin and "Joe the plumber."
Trashing Joe
Samuel Joseph Wurzelbacher was playing with his kid on his front lawn when Barack Obama buttonholed him for support. Joe the Plumber responded that he had qualms about plans to buy his own plumbing business because of the effect Senator Obama's tax plan would have on that dream.
For daring to ask the question, Joe was hit by reporters with an investigation that would make an FBI probe look puny. They tried to trash this private citizen any way they could. You will notice that the same mainstream media did not do a dime's worth of investigation of Obama's backer Bill Ayers, a self-admitted violent terrorist.
Joe reportedly has since considered running for Congress at some point. This column hopes he makes it there. He will be sorely needed if this upcoming Congress does half of what its leaders and Obama say they want to do.
Trashing Sarah
Had it not been for Governor Sarah Palin, the McCain campaign would likely have lost by 20 percentage points instead of about 7. She injected excitement into the campaign overnight and brought most of the base home to the Republican ticket.
That apparently is precisely why some McCain campaign people are smearing her through anonymous unsubstantiated leaks that have been discredited (i.e., she did
not
say Africa is a country rather than a continent. She did
not
answer the door wrapped in a bath towel. She was
not
unaware that the three countries in NAFTA were the U.S., Canada, and Mexico)
It is outrageous that reporters (mainly Carl Cameron of Fox who should know better) are repeating that trash passed along by "moderates" who apparently want to derail any ideas Governor Palin may have about running for President in 2012. Cowards — whose pride is in politely losing to Democrats like good "moderate" sports — go after any conservative who shows signs of promise.
This kind of garbage comes out of the mouths of midgets who want to deflect blame for the loss away from themselves.
Anonymous
information
is the staple of good journalism. Anonymous
cheap shots
are another matter.

The outlook
I've already got my
Palin for President in 2012
bumper sticker. But the question is whether this crowd taking over in January will stifle opposition to the point the GOP nomination won't be worth having by then.
Consider the Stalinist doctrine on talk radio (see this column "
Talk show hosts energized
" — also this week); the gerrymandering of congressional and state legislative districts in 2010; the laws on the books (such as the "auto-fraudo" law enacted in the Clinton years); the activities of Mr. Obama's friends at ACORN — all of which call the integrity of the secret ballot into question; and the efforts to put some 20 million illegal aliens (and likely future Democrat voters) on a path to citizenship. Add all that up, and over time you have a recipe for the one-party state.
Again, good luck to the new president, and we can always hope for the best without necessarily expecting it. His policy ideas leave little room for optimism not just for the upcoming four years, but as far as the eye can see.
I fervently hope I'm wrong.
© Wes Vernon
---
The views expressed by RenewAmerica columnists are their own and do not necessarily reflect the position of RenewAmerica or its affiliates.
---