Stone Washington
The Twitter files – Elon Musk's takeover, and the exposé of big tech censorship

By
Stone Washington
February 2, 2023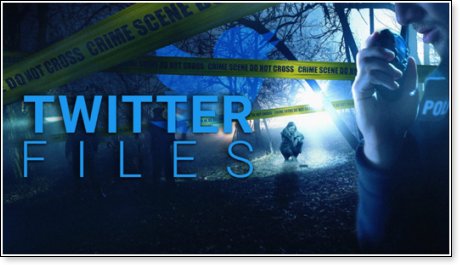 "The 'Twitter Files' tell an incredible story from inside one of the world's largest and most influential social media platforms. It is a Frankensteinian tale of a human-built mechanism grown out the control of its designers"
~Matt Taibbi, author and journalist
Why Elon Musk's Acquisition of Twitter Restores Equal Treatment Online
Elon Musk's triumphal acquisition of the social media platform Twitter has been a resounding victory for Free Speech and fairness online. This article picks up from my previous piece on the deal over Twitter, as Musk underwent a back-and-forth struggle with the Board of Twitter over the original terms of the $44 billion deal to purchase the social media company. The acquisition was initiated on April 14, 2022, which sparked a firestorm of controversy from critics when it was disclosed that Musk's primary intent was to liberate the company from its dominance by the political Left. Like many, Musk was incensed with how Twitter executives directed the implementation of restrictive algorithms to censor content from conservative users, both notable and less known. Musk sought to expose and put an end to the practice of "shadow banning", where conservative user accounts were obscured or outright suspended for promoting content that threatened the platform's veiled political interests or the views of Democrat politicians in good graces with the platform. The Dictionary.com definition of shadow banning is: "The practice used in online moderation that consists of preventing a user's content from being seen by others – either partially or totally – without the user being notified or aware of it."
Musk's acquisition of the platform was gradual, first taking root at the start of 2022 when he had begun buying shares in the company. By April, he owned 9.1% of Twitter, cementing his status as the company's largest shareholder. Around this time, Twitter offered him the opportunity to join the Board of Directors, which Musk initially accepted and then declined. Musk's intent to purchase the entire company manifested weeks later in his unsolicited offer to fully purchase Twitter at a proposed price. The company eventually accepted the offer of $44 billion by April 25th, with the understanding that Musk had bold objectives to restore a forum of Free Speech provided to all users on platform, regardless of political viewpoints. He also pledged to unveil open-source algorithms, public polls, and combat rampant spam ("bot") accounts.
Elon Musk's proposed efforts to acquire Twitter greatly alarmed many in corporate media and various Progressive activists, worried that they would lose their foothold of programmatic manipulation over unaware users via social media. After much outside backlash, Musk eventually sought to terminate the deal after alleging that Twitter had failed to disclose the true number of its spam bot accounts. Musk refused to believe that Twitter's value as a company was worth its purported amount of $44 billion, and thus, the company needed to disclose the actual number of spam bot accounts in order to reveal its official net worth. Countering Musk's accusations of breaching the original agreement, Twitter filed a lawsuit against him in a Delaware court, with a trial that was initially scheduled for the week of October 17th. During the time Musk was conducting his own analysis of Twitter user data papers and logs of information, he surprisingly reversed course and decided to purchase Twitter for $44 billion, in accordance to the original deal on October 27th.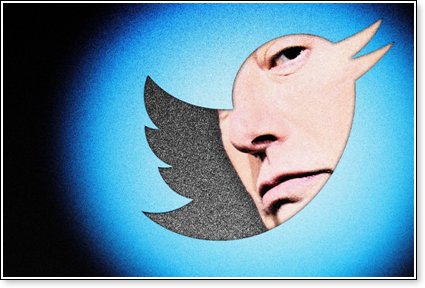 Pulling Back the Curtains on Twitter's Treachery
Since day one as CEO of Twitter, Elon Musk has been hard at work to clean up the social media platform's shadowy corruption. He kept true to his pledge to turn Twitter into a bastion of Free Speech where all views were tolerated by restoring the accounts of many notable conservatives, nationalists, and influencers who were unjustly shadow-banned. Almost immediately prior to Musk's acquisition, the accounts of notable conservatives like Donald Trump Jr., Kari Lake, Rep. Lauren Boebert (R-CO), Mark Levin, and Tucker Carlson had received scores of new followers. Many accounts that were unjustly shadow-banned or suppressed under the old management saw surges in thousands of new followers once their accounts were officially restored. Even formerly suspended accounts like Roger Stone's, were fully restored and received thousands of new followers that nearly doubled his original amount.
In his efforts to undue Twitter's years of content suppression, Musk has employed the aid of Bari Weiss, who formerly worked for the New York Times and is currently the owner of a new media company called The Free Press, and Matt Tiabbi, formerly of Rolling Stone magazine and is now exclusively at Substack. These individuals are the primary orchestrators behind the release of the infamous "Twitter Files", the chain of internal emails that were exchanged between the previous owners of the social media company and various government officials and private actors. With Weiss handling the document dump, it was made official that Twitter executives actively engaged in a host of shadow-banning and suppression tactics on targeted users accounts. This phenomenon can no longer be debunked as merely a "myth" or "conspiracy theory". Even more shocking was the fact that Twitter also engaged in coordinated efforts with government intelligence agencies like the FBI to target unsuspecting users deemed to be a threat or inconvenience to Deep State interests.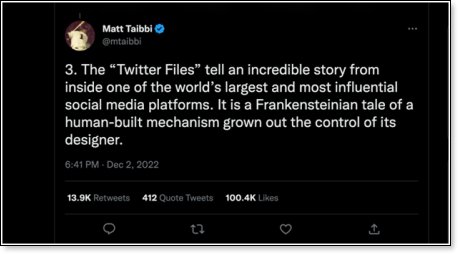 As internal emails show, Twitter's blacklist contained a collection of accounts that were suppressed by restrictive algorithms. This includes: a "Search Blacklist" which obscured certain accounts or tweets from being detected by searching the web, a "Trends Blacklist," which prevented tweets from ever becoming popular or "trending", and a "Do Not Amplify" setting, which suppressed tweets from amassing the level of interaction they would originally have. The following information will highlight some of the most revealing disclosures from the Twitter files, released in batches by Taibbi and Weiss. What is disclosed by the files seem to add support to one undeniable conclusion that is fueling the public's distrust toward social media: Big Tech companies actively colluded with governmental agencies to distort the truth, withhold disparaging news about Joe Biden amid a national election, and methodically suppressed the content of various conservative influencers. And despite the sheer gravity and monumental importance behind many of these file dumps of Twitter communications, nearly every main-stream media outlet has opted to not cover it on air or in digital print. This includes CNN, NBC, MSNBC, Washington Post and CBS, resulting in a "bias of omission" by liberal networks to shield Big Tech from public accountability.
Twitter's Hidden Blacklists
Elon Musk's disclosed files revealed early on that Twitter has been engaged in an aggressive campaign of shadow-banning of targeted users. In what was labeled as "Twitter Files Part Two", Bari Weiss revealed in a tweet on December 8th 2022 that the social media organization constructed hidden blacklists to punish users that it disfavored from behind the scenes. Bari states, "A new [Twitter Files] investigation reveals that teams of Twitter employees build blacklists, prevent disfavored tweets from trending, and actively limit the visibility of entire accounts or even trending topics — all in secret, without informing users." The term shadow banning was replaced by Twitter executives with the more harmless phrase "visibility filtering", perhaps as a means of cloaking their sabotage or attempting to purify its use. Weiss continues in a separate December 8th Tweet by stating that, "'VF' refers to Twitter's control over user visibility. It used VF to block searches of individual users; to limit the scope of a particular tweet's discoverability; to block select users' posts from ever appearing on the "trending" page; and from inclusion in hashtag searches."
In essence, Twitter utilized various background coding and programmatic commands to secretly censor the Free Speech of its users seeking to share public messages to their followers on an open platform. Prominent users affected by this included, Dan Bongino, Charlie Kirk, and Dr. Jay Bhattacharya of Stanford, all who saw a clear decline in the visibility of their Tweets. This is a clear and blatant violation of the First Amendment Freedom of Speech. It also engages in viewpoint discrimination by segregating users into categories invisible to everyone but those in control of the social media company. As stated earlier, these categories were the "Search Blacklist", the "Trends Blacklist" and the "Do not Amplify" setting, that disabled regular functions on Twitter that enable users to promote their messages, while imprisoning users into an invisible prison online, unbeknownst to some of the users and their followers.
Colluding with Government Agencies
Another major reveal in the Twitter Files was that among Big Tech, Twitter actively colluded with FBI agents and Biden Administration officials to censor its users. Within the thousands of files released, Musk shows that FBI leadership and the top brass at Twitter met consistently to devise ways to shut down political speech via promoted content that threatened their interests. This confirmed many of the suspicions of such activity brewing below the surface of the 2020 election, where Twitter deliberately withheld the Hunter Biden laptop scandal from being released across its website until after election day. Twitter files revealed how FBI agents grilled executives at Twitter to do more to censor users over what they deemed to be "state propaganda". This is made evident in a series of emails provided by Matt Taibbi. The FBI was spotlighted as not merely "negotiating" with Twitter leadership on the censoring of political dissidents, but using a coercive approach to extract information from the social media company about their suppressive tactics used against targeted individuals. This conversation primarily took place between San Francisco FBI agent Elvis Chan, who represented the Foreign Influence Task Force that handles cyber-security threats.
In the July 2020 email exchange, Chan observed in a disappointed fashion that Twitter, represented by the company's trust and safety chief Yoel Roth, "had not observed much recent activity from official propaganda actors on your platform". Chan referenced the state media actors as "propaganda actors" (i.e., those conservative/right-of-center media personalities). Chan subsequently demanded further information about how Twitter censored "bad actors" on its platform, seeking quantitative and qualitative metrics on the volume of user activity, tactics used to differentiate "propaganda" from foreign state actors, and so forth. Roth responded with discomfort at the agency demanding written responses to such aggressive questioning, which were likened to what a congressional committee (not an unelected intel agency) would pose. This exchange confirmed the fears of many skeptical about a supposedly independent intelligence agency (in reality hyper-partisan) that has enlisted the resources of a private social media company to silence political speech that it deems a threat to national security.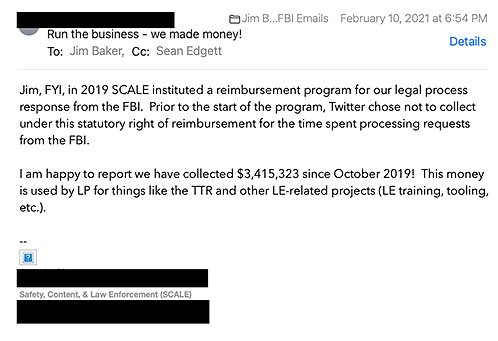 A excerpt from one of the internal email exchanges between Twitter's legal counsel and FBI officials, revealing that the social media company profited from the suppression of the Hunter Biden laptop story.
What seemed to be missing from the Twitter Files was any justification by FBI officials for their collusion with Big Tech and why certain users of a particular political persuasion were subjugated without forewarning and punished in absence of any proper application of the online rules. The First Amendment certainly does not permit a government entity to enlist the support of a private corporation to silence political speech that it disagrees with or finds unacceptable. The Twitter Files exposed this as an egregious violation of the Constitution. In the 1971 case of Coolidge v. New Hampshire, the Supreme Court established the law of agency which precludes government entities, like the FBI, from being able to subcontract a private organization, like Twitter, to act at its behest in the way that an agent would work on behalf of a principal. The Files also revealed that FBI agents unjustly granted special Top Secret security clearances to Twitter employees when enlisting their service.
Conclusion – Twitter's Coverup of Hunter Biden's Laptop Treason
The unexpected release of thousands of pages of internal discussions, meetings, and activities by elite tech executives at Twitter engaging with government actors has confirmed the suspicions of many regarding the company's online tyranny. With Elon Musk's revolutionary takeover, the former leadership at Twitter has been caught red-handed in an extensive campaign to unfairly exploit political views that it and its FBI supervisors deemed to be dangerous, suppress the outreach of the users responsible for promoting such content through a host of invisible algorithms, and even go so far as to remove such individuals temporarily or permanently ban them from the platform. When it came to removal, many high-profile users pointed out the hypocrisy for how Twitter's unfair treatment was not grounded in its own corporate policies for governing online engagement. At many times, Twitter employees did not even attempt to justify their decision to suspend or block account use, opting only to send an automated message to the affected individual about their removal.
This clandestine suppression amounts to nothing short of First Amendment impingement, seeing a private corporation extract the online liberties from individuals to express their personal views among their followers, free of any unjust intrusion from Big Tech overseers operating behind the scenes. Musk, Tiabbi, and Weiss' ongoing release of internal documents underscores the severe lack of transparency and strong need for accountability from the former executives of Twitter, who engaged in illegally collusive tactics with FBI officials to target, suppress, and ban innocent Americans. Their only "crime" was in voicing their own opinions, containing information that was deemed to be a threat to the freedom stomping whims of the Deep State intelligence officials at the FBI.
Twitter also pandered to the Biden Administration in suppressing the release of the scandalous Hunter Biden laptop story, which amounted to an illegal act of election tampering, as 79% of polled Americans believed that a truthful coverage of this story prior to the election would have resulted in the reelection of Donald Trump for the 2020 Presidential Election. The Biden campaign was exposed to be involved in the targeted censorship of users though one of several shadow-banning algorithms which prevented certain Tweets from trending, suppressed search results for affected users, and prevented Tweets from garnering the amount of user engagement as it normally would. At Biden's behest, Twitter erased links and blocked any reporting on the Biden laptop controversy from being disseminated by direct messaging on its platform. This resulted in various news platforms, like the NY Post, being blocked for spreading information about this story. And various outlets have confirmed that the FBI was in possession of Hunter Biden's compromised laptop since December 2019, yet refused to warn Twitter employees until October 2020.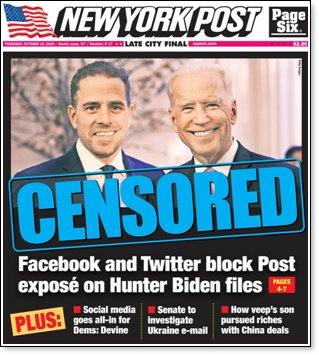 This entire corrupt ordeal warrants immediate investigation by the Republican-led House of Representatives, which, as Speaker Kevin McCarthy has indicated, will be a top priority for House Oversight and Accountability Committee Chairman James Comer. Many Americans who are paying attention to the disturbing details behind this unraveling scandal. With Elon Musk's ongoing crusade against Twitter, many are demanding answers and accountability on why a rogue social media company was allowed to engage in unlawful treacherous acts of shadow-banning and government collusion. With the truth out, it's time to officially hold Twitter accountable and enact proper punishment for violations to the Constitution and federal statutes that have shielded the social media giant for far too long.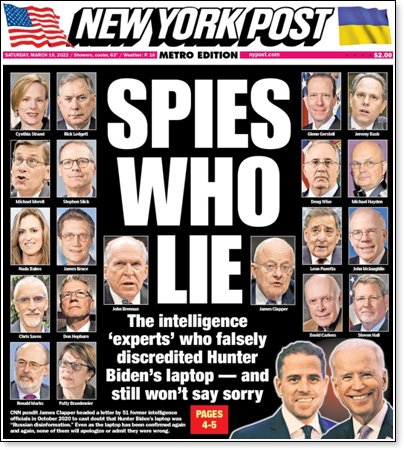 © Stone Washington
---
The views expressed by RenewAmerica columnists are their own and do not necessarily reflect the position of RenewAmerica or its affiliates.
---