Stone Washington
President Trump: Year 4

By
Stone Washington
January 2, 2021
In the face of great challenges this year, Americans showed incredible grit, strength tenacity, and resolve, and together we achieved truly historic victories like nobody ever thought possible to defeat the china virus. we launched the largest mobilization since World War II. We transformed our factories to build tens of thousands of ventilators and millions and millions of masks virtually overnight; nobody thought it could be done. We ignored the experts who demanded open borders and we shut down travel from China and Europe to protect our citizens and we built the wall. We pioneered groundbreaking new therapies and treatments, and we saved millions of American lives over and over again. We were told it would be impossible to deliver a vaccine by the end of the year all of the experts said absolutely unthinkable; Trump is exaggerating, it can't happen. And we did it long before the end of the year."
President Donald Trump, New Year's Eve 2020 address
Assessing America's triumphs and shortfalls in 2020
As the year of 2020 comes to a close, it is appropriate to reflect upon all of the major political triumphs that the United States has made under the 4th year of the Trump administration. In doing so, I continue my end of the yearly series covering the many incredible accomplishments that have been gained under the historic Trump presidency. Tragically, 2020 will be known as the 'Year of the Covid-19 Virus', having been purposely launched by the Globalists and Deep State through their proxy China to kill the American economy, which was at record level highs, by killing the world economy. Health "gurus" like Dr. Anthony Fauci and various CDC representatives spewed lies and hysteria regarding the severity of the virus, public schools vital to K-12 education shut down, draconian lockdowns imposed by liberal mayors and Governors that persist to this day, and resulting jobless claims because of the lockdowns and economic instability.
The stock market has been on a roller-coaster of historic highs from optimism in overcoming the virus and historic lows from financial loss over national scare of the virus. And all of the while the nation was brought to its knees over scare of the Communist Chinese produced virus and unprecedented nation-wide riots spread across major cities in America in anger over the death of George Floyd by a White police officer in Minneapolis Minnesota. These ubiquitous riots were spurred by an anti-police crusade and Socialist anarchy campaign headed by George Soros funded groups like Black Lives Matter and Antifa.
Despite all of the torrent of terror in 2020, there were many notable triumphs under the fourth year of the Trump Presidency. This article provides a strong list that contains many of President Trump's first-term achievements. Despite the coronavirus pandemic, there have been many historic and notable gains made by the hard-work and tireless efforts of the Trump Administration in 2020.
Timeline of the Trump's Fourth Year
January
Avenging American soldiers—On January 3, President Trump in conjunction with his Defense Secretary Mark Esper, Secretary of State Mike Pompeo, Vice President Mike Pence, and chairman of the joint chief of staff Mike Miley ordered the drone strike of General Qasem Soleimani. Soleimani was regarded as the second most powerful individual in the Iranian government, a major facilitator of ISIS, and an extremely dangerous threat to American militaristic interests in the Middle East, having killed over 600 American troops and officials through deadly IEDs (improvised explosive device).
Safeguarding prayer in public schools—On January 16th, both the Department of Justice and the Department of Education delivered guidance on constitutionally protected prayer and religious expression allowed in American public elementary and middle schools. This joint guidance ensures that prayer in schools are constitutionally protected and safe from legal opposition.
Rejecting abortion in healthcare protections—The Department of Health and Human Services allowed a waiver to be processed that excludes abortion from Texas's Medicaid family planning program.
Becoming a voice for the voiceless—Donald Trump became the first sitting president to speak at the annual March for Life event in Washington D.C. In the speech, President Trump emphasized that every child is a gift from God and stood firm to defend the sanctity and worth of every life born.
Banning travel from China—President Trump took proactive measures to ban all travel to and from China on January 31st, just as the United States received its first few cases of coronavirus. This wise move prevented millions of Americans from contracting Covid-19 during the earliest spread of the disease. Joe Biden still hasn't apologized for calling Trump's great decision "hysterical xenophobia".
February
Upholding International Religious Freedom—Donald Trump became the first commander-in-chief to appoint a full-time employee to the role of Special Adviser to the President on International Religious Freedom. As a subsidiary of the State Department, this role had remained unstaffed for 22 years and serves as a safeguard for deterring religious suppression, while promoting religious freedom around the world. Secretary Pompeo shortly afterwards unveiled the International Religious Freedom Alliance to also protect religious minorities from persecution.
State of the Union—During the early spread of coronavirus, President Trump boldly delivered his third State of the Union address before the United States. In it, President Trump provided triumphal reminder of the many profound successes for America during his first three years in office. Trump's speech was so powerful that it caused Speaker of the House Nancy Pelosi's inner disdain for his America First policies to get the better of her, leading to Pelosi angrily ripping a copy of the speech in half on live television, just as Trump concluded.
Impeachment Acquittal—President Trump officially becomes acquitted of the erroneous charges of obstruction of Congress and abuse of power brought against him for impeachment after a Senate vote of 52-48 of not-guilty for Article I and 53-47 for Article II.
Unemployment rate at record lows—The national unemployment rate remained at a low-point of 3.5%. The nation sustained the lowest unemployment rate for Blacks, Hispanics, Asians and women during this month.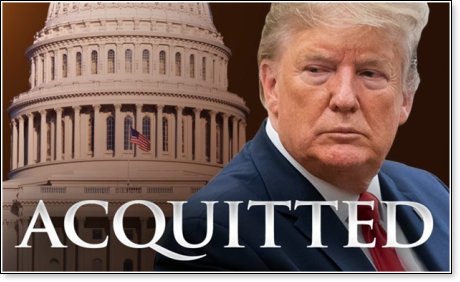 March
National Emergency—President Trump declared a national state of emergency on the first of March, as new cases arose and the coronavirus continued to spread.
Coronavirus task-force—President Trump forms his "expert" task force of health officials and provided his own televised platform of reassurance to the public to keep from panicking over Covid-19.
National Emergency—President Trump ensured the nation's best interests when he declared a state of National Emergency on March 13th, taking extreme precautions to combat the novel coronavirus in the U.S. President Trump mobilized federal resources to equip healthcare providers nation-wide with materials used to remedy Covid-19 cases such as ventilators, hospital beds, respirators and various drugs used to treat symptoms.
April
Enabling the National Guard—President Trump enabled the use of the National Guard for states seeking to distribute supplies to patients and front-line workers at a more rapid pace in responding to Covid-19. This measure also sought to better provide economic restoration.
White House Communications—Kayleigh McEnany was appointed to replace Stephanie Grisham as White House Press Secretary on April 7th. McEnany is a vocal Trump supporter who previously served as the national spokesperson for the Republican National Committee.
Terminating relations with the WHO— President Trump put an end to funding the World Health Organization (WHO), after repeated criticisms from Trump and U.S. lawmakers toward the WHO for their incompetence to address the spread of the virus. WHO officials also repeatedly covered up China's fault in producing and spreading the coronavirus.
Lifting coronavirus restrictions—Trump announced on April 16th that states were allowed to lift coronavirus restrictions by May 1st. Many of these often overtly harsh and excessively unconstitutional state-imposed restrictions were the primary reasons for the nation-wide economic recession. A day later, President Trump urged his supporters to protest these unlawful lockdown orders, calling on states to repeal these social distancing restrictions.
Preventing the spread of Covid-19—the Trump Administration halted all travel to the United States in order to protect the nation from further spreading the virus.
Stimulus aid for struggling businesses— President Donald Trump signed a $484 billion coronavirus relief bill into law on April 24th. The bill poured new money for small businesses and hospitals suffering under lock-down measures, while further funding Covid-19 testing.
May
Honoring America's contributions to World War II—Both President Trump and First Lady Trump joined a host of WWII veterans at the World War II Memorial to honor the 75th Anniversary of V-E Day.
Promoting a curative drug to combat the virus—Trump and a host of brave doctors were harshly criticized by the Mockingbird mainstream media after it was announced that Trump had been taking hydroxychloroquine and that this anti-malaria drug was a proven success to treat Covid-19 shortly after infection.
Standing against Big Tech Tyranny—On May 28, federal agencies were granted the ability to hold social media companies liable for violating user free speech rights. This, after an executive order was made to target the legal protections of Section 230, guarding social media companies under Communications and Decency Act.
Launching an American rocket into space— President Trump oversaw the historic launch of the SpaceX Falcon 9 rocket, that took place at the Kennedy Space Center in Cape Canaveral Florida on May 30. This launch marked the first new manned U.S. spacecraft in approximately 40 years, following the Space Shuttle launched in 1981.
Safeguarding legal immigration to prevent infections— Trump issued an order to prevent further spread of the coronavirus by allowing border enforcement officials to use CDC's Title 42, removing border crossers out of detainment in the United States. This marked the first time that a CDC rule had been utilized to limit migration.
June
Standing in solidarity with houses of worship—On June 1, Donald Trump took a special visit and photo in front of St. John's Episcopal church, in opposition to violent protesters in the area who had attempted to burn down the building, the night before. Trump issued a rebuke of the violent wave of protests griping the nation following the death of George Floyd.
Historic job gains shatter expectations—White House officials celebrated the largest single month gain of new jobs during the month of June, as a record 4.8 million jobs were added, amounting to 7.5 million jobs gained during the past two months.
Return to the campaign trail—The Trump campaign holds its first rally in Tulsa Oklahoma, since the beginning of the pandemic. The date and location of the rally on July 20 was in part made to honor the emancipation of Black slaves on the annual Juneteenth celebration.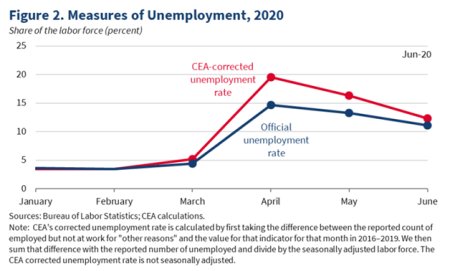 July
USMCA—The United States–Mexico–Canada Agreement (USMCA) officially took effect on July 1st, replacing the failed NAFTA trade agreement.
Made in America Week—The Trump Administration launches the first "Made in America Week", showcasing many of the most iconic products produced in the United States.
Mighty Mount Rushmore address— On July 3, President Trump delivered a patriotic speech at Mount Rushmore to reign in the Fourth of July. Trump would subsequently deliver a special "Salute to America" speech on Independence Day in Washington, D.C., which was followed by additional celebratory events to honor America's 244th birthday.
Preserving Hong Kong autonomy—On July 14, President Trump signed into law the Hong Kong Autonomy Act, imposing sanctions on organizations that undermine Hong Kong's autonomy as a sovereign nation.
Lowering the costs of prescription drugs—In absence of Congressional action, Trump issued four executive orders lowering prices on prescription drugs.
Higher than expected job gains—For the third month in a row, new jobs continued to be created at a rate greater than expected, with 1.8 million new jobs added during the month of July.
August
Coronavirus relief—Early in the month, Donald Trump signed a much needed executive order and memoranda that restored coronavirus relief payments for unemployed Americans at $400 per week.
Peace to the Middle East—President Trump made history in brokering a peace deal between the nation of Israel and the United Arab Emirates, marking the first such deal between Israel and a Muslim Arab nation.
2020 RNC Convention—Donald Trump officially accepts the Republican Party nomination for the 2020 presidential election on August 27, during an RNC convention event hosted at the South Lawn of the White House.
Unemployment rates drop—Unemployment rates in 41 states continue to drop during the month of August. The national rate continued to drop 1.8%, remaining at 8.5%.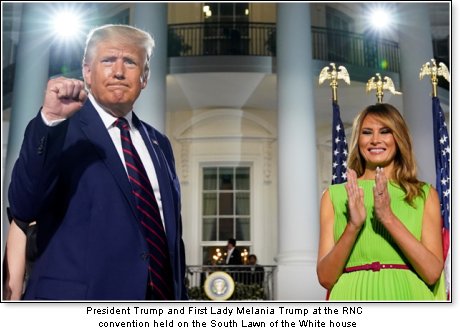 September 2020
Restoring peace to America and the Middle East, post 911—Trump attended the 19th anniversary of the 911 terrorist attacks, where he spoke at the Flight 93 National Memorial. Later that day, he brokered a peace deal between Bahrain and Israel, striking the second such deal between Israel and an Arab-Muslim nation in less than one month. Subsequently, Trump would officially ratify the Abraham Accords treaty between the three nations.
Honoring National Guard troops—President Trump participated in a ceremony where he honored the brave work of National Guard in California, for their efforts to quell wildfires in the state in 2020.
Addressing the United Nations—From a virtual platform Donald Trump delivered a speech to address the United Nations General Assembly during the 75th anniversary of the UN founding.
The Platinum Plan—Trump announced at a forum that if re-elected, he would donate the greatest amount of money to institutions that lend money to Black owned businesses.
Noble Prize nominations—A group of Australian law professors nominate President Trump to receive the Noble Peace Prize for the third time in 2020.
First Presidential Debate—Donald Trump and Joe Biden square off in the first presidential debate for the 2020 election, moderated by Fox News host Chris Wallace. Trump was praised by many to have won the debate, despite having to constantly defend himself against both Biden and Wallace who constantly took the former VP's side.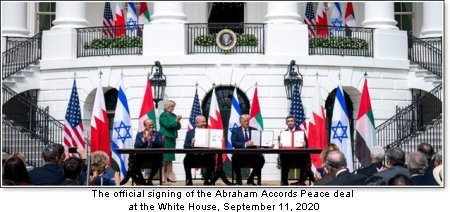 October 2020
Overcoming Covid-19—After multiple White House officials and First Family members, including President Trump, contracted the coronavirus in the month of October, the president went into quarantine and experienced a series of revolutionary drug treatments to become healed of Covid-19. Trump would return to the White House on the evening of October 5.
Blexit Rally—Candace Owens' new group "Blexit" (Black exit from the Democrat Party) is invited to a rally at the South Lawn of the White House where President Trump delivers a speech urging Black Americans to abandon the Democrat Party.
Final Presidential Debate—Donald Trump participates in the second and final presidential debate against Joe Biden at Belmont University on October 22nd. In addition to a more fair-minded moderator, Trump gave an outstanding performance which displayed an aggressive and more controlled attack against Biden's failed 47-year career in politics.
Expansion of Israeli Peace Deal—Sudan becomes the third Arab-Muslim country to establish peace with the nation of Israel, just within the past three months.
New Supreme Court Justice—President Trump oversees the swearing in of Amy Coney Barrett as an Associate Justice of the Supreme Court, administered by Justice Clarence Thomas on the South Lawn of the White House on October 26th. Barrett would take her final judicial oath the next day before Chief Justice John Roberts in the Supreme Court building.
Unemployment declines—The national unemployment rate slipped by 1% to 6.9% during the month of October, as more Americans return to work despite the pandemic.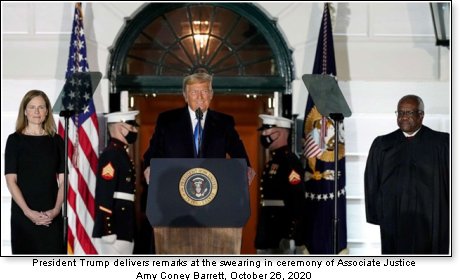 November 2020
Presidential Rally blitz—Donald Trump participates in five different campaign rallies in a row, visiting two different cities in Michigan, Pennsylvania, North Carolina, and Wisconsin.
Refusal to accept a fraudulent election—Following the controversial results of the Presidential election with numerous cited cases of voter fraud and law-breaking, President Trump and his officials refused to acknowledge a Biden victory, with Secretary of State Mike Pompeo ensuring that there will be a "smooth transition to a second Trump administration".
Pardoning General Flynn— President Trump officially pardons former National Security Adivsor Michael Flynn, who was unfairly and severely targeted in the corrupt Mueller investigation since 2017. Documents revealed that Flynn was innocent all along and had been entrapped to become a target of FBI investigation by Obama officials during a closed-door January 4th, 2016 meeting.
December 2020
Exposing election fraud—President Trump gave an important 46-minute speech that clearly laid out many of the most controversial and undeniable instances of voter fraud and ballot tampering to manipulate the results of the 2020 election for Joe Biden's benefit. The Trump Legal Team has also been hard at work file lawsuits that challenge the fraudulent results of the 2020 election, featuring witness testimonies, video imagery, and thousands of affidavits that point to widespread voter fraud across 6 swing states. Multiple states challenge election results—On December 9th, the Texas Attorney General Ken Paxton, with the backing of 18 states, filed an amicus brief with the U.S. Supreme Court calling on the justices to block four states — Pennsylvania, Michigan, Wisconsin, and Georgia — from casting electoral votes for President-elect Joe Biden, after citing instances of state officials and judges violating election laws before, during and after the November 3rd Election.
Vaccine in record time—The Pfizer coronavirus vaccine was approved in a record 9 months under Trump's Operation Warp Speed. Upon FDA approval, it marked the quickest rollout of a vaccine in history.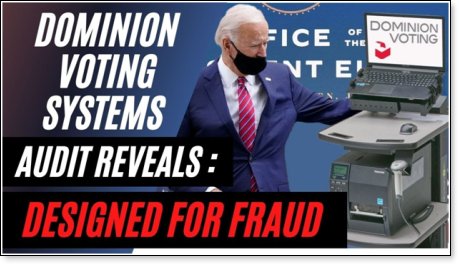 Israeli Peace deal grows—Morocco becomes the fourth Arab state to sign onto the peace deal with Israel since August.
Honoring the 100th anniversary of women's suffrage movement—President Trump signed a bill that created an outdoor federal monument in Washington, D.C., honoring the women's suffrage movement and the many activists who guaranteed women the right to vote such as, Susan B Anthony, Sojourner Truth, and Elizabeth Cady Stanton.
Stimulus checks—Against his best wishes for Americans struggling under the pandemic, President Trump singed the controversial $900 billion stimulus package on December 27th in order to avert government shutdown. But Trump heavily criticized the failings of the bill and urged Congress to increase the stimulus checks for Americans from $600 to $2,000 per person, while removing the wasteful billions in aid to foreign countries.
Concluding 2020
In conclusion, despite the orchestrated coronavirus bio-attack launched by the Deep State and Globalist traitors together with their Communist Chinese allies and unprecedented wave of voter fraud to distort the true results of the Nov. 3rd election, Year 2020 was one filled with many great and notable triumphs for the United States. Examining these victories for the nation is imperative for every patriot proud of America First values, especially when the propaganda mainstream press spends zero time providing any credit to the successes of the Trump presidency. We the People must be eternally vigilant and not be fooled by the constant mainstream pessimism spewed from the mouths of liberal pundits and lawmakers, profiting from media coverage promoting a false portrayal of the severity of Covid-19 or lies pertaining to the presidential election being "fair" and "honest". This article provides many powerful reasons for why Americans should be grateful for the blessings of 2020, despite the many attacks upon the world and the nation, and issues a renewed hope that President Trump's amazing fourth year in office will not be his last.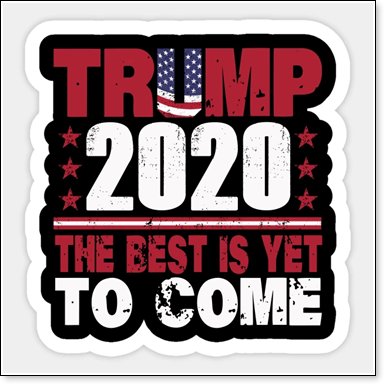 © Stone Washington
---
The views expressed by RenewAmerica columnists are their own and do not necessarily reflect the position of RenewAmerica or its affiliates.
---