Stone Washington
Shattering the Political Matrix: Kanye's "Woke" Prophecy for Blacks, Part I

By
Stone Washington
October 30, 2018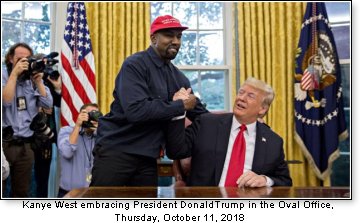 "If he [Donald Trump] don't look good, we don't look good. This is our President! He has to be the freshest, the flyest, the flyest planes, the best factories. And we have to make our core be empowered. We have to bring jobs into America, because our best export is entertainment and ideas. But when we make everything in China and not America, then we're cheating on our country, and we're putting people in positions to have to do illegal things to end up in the cheapest factory ever – the prison system."
~Kanye West
Background to the legendary Kanye-Trump summit
On Thursday October 11th, the White House hosted perhaps the most eccentric and fascinating meeting of the entire year, featuring an Oval Office discussion between rapper Kanye West, retired running-back Jim Brown, and President Donald Trump. The impromptu meeting was hosted as a way for President Trump to speak with two prominent Black figures concerning the descending plight of poor Black communities in major U.S cities like Chicago, which over the past two years faced the most deadly rise in
shooting-related deaths
, with a total of 2,467 people shot in 2018 alone.
On the basis of criminal justice reform, President Trump tapped Kanye for his personal perspective on inner-city crime, due to West being raised by a single mother in the rough streets of Chicago, understanding all too well the harmful repercussions of living in decrepit ghettos cursed with rampant Black-on-Black crime, making Chicago one of the most dangerous cities in the nation. One of Kanye's primary points of meeting with the President was to discuss the negative aspects of stop-and-frisk by police, which Trump discussed in a
speech
earlier in the week, celebrating the 125th anniversary of the International Association of Chiefs of Police.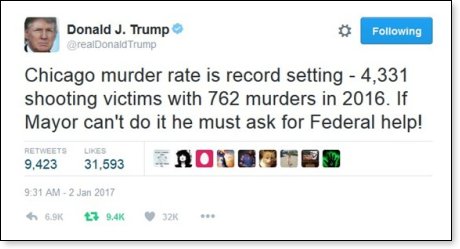 But the meeting went far beyond the topics of criminal justice reform and crime, as Kanye West used the opportunity to deliver from his soul a powerful, passionate,
political soliloquy
embracing President Trump's America First agenda. In his improvisatory monologue derivative of the jazz classics, West offered a revelatory position on a number of issues spanning from: encouraging American companies to invest all resources in the U.S, the importance of having a father or strong male-figure in the household, curbing crime in downtrodden inner-city communities, and even introducing a futuristic sustainable prototype plane,
iPlane1
, to replace the President's traditional Air Force One.
Perhaps the most powerful moment of the speech came when Kanye emphasized his reasons for donning the bright-red "Make America Great Again" hat, stating that the hat gave him power as a symbol of justice, similar to the bright red cape donned by West's favorite superhero, Superman. With over a dozen cameras capturing the incident, Kanye's powerful revelations completely shocked everyone in attendance and beyond, leaving even President Trump mostly speechless. Kanye's brave support for conservative ideals and furtherance of Trump's America First agenda symbolized how even a Black celebrity, a category of people who are unwaveringly shackled to the Democrat Party, can break the chains of plantation-based servitude of the Left and align with the opposing Republican Party of Abraham Lincoln that ironically 153 years ago in 1865 freed their Black forefathers from the ignominious bonds of chattel slavery in America under the Thirteenth Amendment.
Kanye's speech is reminiscent of
The Matrix
movie series, where Neo, the protagonist of the story, broke through a lifetime of artificial barriers: lies, brainwash, and conditioning that had enslaved the minds of billions of people living their everyday lives in a computerized dream, while only a select group managed to escape to reality. In the reality, man-made machines became self-aware through artificial intelligence and subjugated most of civilization in incubators, harnessing human essence as batteries to power their own mechanical society, while deceiving humanity by plugging their consciousness to a computerized World that simulated a peaceful existence.
In this White House visit, Kanye aligned himself with President Trump in bravely shattering through the political matrix imposed by the Groupthink mantra of the Democrat Party. West broke the conditioning that enslaves the minds of the 94% of Black Americans who consistently vote Democrat, exposing the mental slavery that Blacks and other minority groups are expected to vote only for the Left through the promise of costly welfare incentives and lies that the history of the Republican Party is tied to Jim Crow slavery, when in reality, Jim Crow slavery and segregation was preserved by Democratic Congressmen at the objection of a host of Republican abolitionists. In reference to
The Matrix
, conservative figures like Kanye West and Candace Owens symbolize a "woke" movement of Black Americans becoming "red-pilled"; meaning that they embrace a chainless political reality contrary to the conditioned brainwash imposed on them by the Left. Reminiscent of when Neo decisively took the red pill from his mentor, Morpheus, to break away from the mental, physical, and spiritual constraints of the Matrix. This essay will examine the entirety of Kanye West's political awakening, while revealing the greater implications that this message holds in potentially swaying millions of Blacks to abandon the Democrat Party.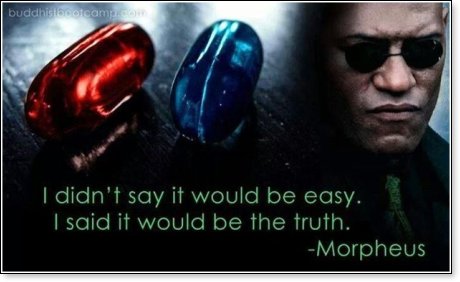 Kanye West's Matrix-shattering speech
KANYE WEST: "Here we have Larry Hoover's lawyer with us today and it's a prisoner that we're focused on. He has six life sentences and they have him next to the Unibomber doing 23 and 1 ... Really? The reason why they imprisoned him [Larry Hoover] is because he started doing positive for the community. He started showing that he actually had power, that he wasn't just one of a monolithic voice, but he could wrap people around. So, there's theories that there's infinite amounts of universe, and there's alternate universe, so it's very important for me to get Hoover out, because in an alternate universe, I am him. And I have to go and get him free because he was doing positive inside of Chicago, just like how I'm moving back to Chicago and it's not just about, you know, getting on stage and being an entertainer, and having a monolithic voice that's forced to be a specific party."
"
You know, people expect that if you're Black you
have
to be Democrat. I have conversations that basically said that welfare is the reason why a lot of Black people end up being Democrat. They say – you know first of all, it's a limit to amount of jobs, so the fathers lose the job and they say, 'We'll give you more money for having more kids in your home.' And then we got rid of the mental health institutes in the 80s and the 90s and the prison rates just shot up. And now you have Chiraq, what people call Chiraq, which actually, our murder rate is going down by 20 per cent every year. I just talked to the superintendent, met with Michael Sacks, that's Ron's right hand man. So, I think it's the bravery that helps you beat this game called life. You know they tried to scare me to not wear this hat, my own friends, but this hat, it gives me power in a way."
"You know, my dad and my mom separated, so I didn't have a lot of male energy in my home. And also, I'm married now into a family that, you know, not a lot of male energy going on; it's beautiful though. You know, it's something about, I love Hillary, I love everyone, right; but the campaign, "I'm With Her" just didn't make me feel as a guy that didn't get to see my dad all the time, like a guy that could play catch with his son. It was something about when I put this hat on, it made me feel like Superman. You made us Superman, that's my favorite superhero, and you made a Superman cape for me."
"Also, as a guy that looks up to you, looks up to Ralph Lauren, looks up to American industry guys. Non-political, no bullshit [looks at media members] – put the beep on it, however you want to do it, five seconds delay – and just goes in and gets it done. Right now, you gave me the heart to go to Adidas. When I went in, in 2015, we were a $14 billion company losing $2 billion a year. Now, we have a $38 billion market cap. It's called "The Yeezy Effect." And went and I said, "You have to bring manufacturing on-shore. Not even on-shore, into the core. It's not about the borders. The core of Adidas, and Chicago, is the core of middle America, and we have to make middle America strong."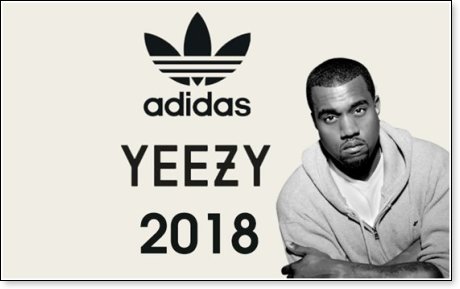 "So, I had the balls, because I have enough balls to put on this hat. I mean, this Adidas thing made me a billionaire. And I could have lost $200 million walking away from that deal. But even with that, I knew it was more important for me to take the chance of walking away from that deal, than to have no fathers in Chicago, with no homes. And when we do have prison reformation; it's habilitation not rehabilitation, because they didn't have the abilities in the first place. We never had anyone who taught us, they didn't teach us. So, it's more important than any specific deal, that we bring jobs into America. And that we provide a transition with mental health and the
AmeriCan
education curriculum that Jim has worked on. Larry Hoover also has a curriculum that he's worked on. We have Montessori curriculums that we worked on.
WeWorks
has beautiful curriculum. The Waldorf establishment has a curriculum. We have meditation."
"There's a lot of things affecting our mental health that makes us do crazy things, that puts us back into that trap door called the 13th Amendment. I did say, 'abolish,' with the hat on, because why would you keep something around that's a trap door? If you're building a floor, the Constitution is the base of our industry, of our country, of our company. Would you build a trap door that, if you mess up and accidentally something happens, you fall and you end up next to the Unibomber?"
You gotta remove all that trapdoor out of the relationship. The four gentleman that wrote the 13th Amendment, and I think the way the universe works is perfect, we don't have 13 floors, do we? You know, the four gentleman that wrote the 13th amendment didn't look like the people they were amending. Also, at that point, it was illegal for blacks to read, or African Americans to read. So, that meant if you actually read the Amendment, you'd get locked up! And turned into a slave. Again, so what I think is, we don't need sentences, we need pardons. We need to talk to people."
"I was diagnosed with bipolar disorder. I was connected with a neuropsychologist that works with the athletes in the NBA and NFL. He looked at my brain, it's equal on three parts. I'm gonna go ahead, drop some bombs for you. 98 percentile IQ test, I had a 75 percentile of all human beings when it was counting eight numbers backwards, so I'm gonna work on that one. The other ones, 98 percent, Tesla, Freud. So, he said that I actually wasn't bipolar, I had sleep deprivation, which could cause dementia 10-20 years from now, where I wouldn't even remember my son's name. So, all this power that I've got, and I'm taking my son to the Sox game and all that, I wouldn't be able to remember his name from a misdiagnosis. What we need is, we can empower the pharmaceuticals and make more money. That's one thing, I've never stepped into a situation where I didn't make people more money. So, we can empower pharmaceuticals, we can empower our industries, we can empower our factories, we can bring, not only Adidas on shore, we could bring Foxconn and set up a factory in, I think, Minnesota [corrected by Trump that it's Wisconsin]."
"Yeah, Wisconsin. They have 4,000 jobs, people making 53,000 a year. And one of the things we gotta set is, Ford to have the highest designs. The dopest cars. The most amazing. I don't really say, "dope," I don't say negative words and try to flip 'em. We just say positive, lovely, divine, universal words. So, the flyest, freshest, most amazing car. And what we start with, is – I brought a GIF with me right here. [Scrolls through iPhone to show Trump.] This right here is the iPlane 1. It's a hydrogen powered airplane, and this is what our president should be flying in. We're gonna have Apple, an American company, work on this plane."
DONALD TRUMP: "We'll get rid of Airforce One. Can we get rid of Airforce One?"
"What I need Saturday Night Live to improve on, or what I need the liberals to improve on is, if he don't look good [pointing to Trump], we don't look good. This is our President! He has to be the freshest, the flyest, the flyest planes, the best factories. And we have to make our core be empowered. We have to bring jobs into America, because our best export is entertainment and ideas. But when we make everything in China and not America, then we're cheating on our country, and we're putting people in positions to have to do illegal things to end up in the cheapest factory ever: the prison system."
DONALD TRUMP: "I'll tell you what, that was pretty impressive folks. You know, I hate to say this Jim, you wanna say something? What do you do after that?"
JIM BROWN: "If he doesn't look good, we don't look good."
DONALD TRUMP: "Great right? Isn't that a great statement? It's so true, as a country, so true. I've never seen Jim Brown impressed before. He was impressed. That statement was amazing."
KANYE WEST: "It was from the soul. I just channeled it."
Epilogue: Unshackling Blacks from the Liberal Matrix
In the opening portion of his soliloquy, Kanye West truly speaks from the soul of a politically "woke" Black man, tortured by a difficult past of indoctrination as a drone for the Democrat Party and Hollywood. Kanye brilliantly exposed the unspoken truth for the mindset imposed upon Black Democrats, that the Party dictates constant loyalty through welfare socialism and government dependency. A major proponent of the Left controlling Black families occurs when the Father figure abandons the household, which according to
Fathers.com
, "57.6% of black children, 31.2% of Hispanic children, and 20.7% of white children are living absent their biological fathers."
For the low-income father who remains in the family, there is a limit to the amount of jobs available, causing many fathers to lose their job and open way for the government to offer greater welfare benefits, especially if there are multiple kids in the household. This welfare trap was most notorious under the Obama Administration when
over 43 million people were dependent upon food stamps
, now a major reversal under President Trump, who
created law
that requires government dependents to work. Kanye struck a chord with the millions of Americans that grew up in households without a father or father figure, explaining how Trump's MAGA hat and patriotic campaign image represented a renewed sense of American pride that celebrates the traditional elements of making families wholesome while creating millions of new jobs for Middle America.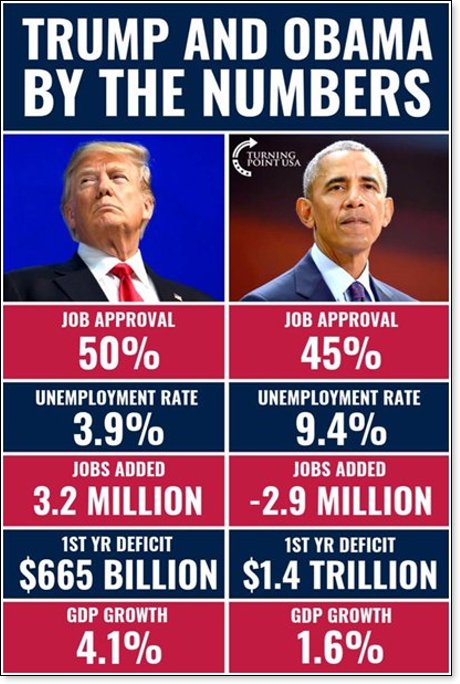 Kanye also did an excellent job in highlighting the importance of American companies investing all of their resources in the U.S instead of cheating on our economy by outsourcing jobs to foreign countries. West used Chicago, the center of Middle America, as an example for a city which contains sprawling business investments and opportunity for economic success that American organizations should be a part of, instead of outsourcing resources to nations directly competing with American production, like China and Vietnam. Kanye has a keen eye for taking advantage of business potential, similar in some ways to President Trump, and spoke on how through the "Yeezy Effect" turned the declining $14 billion revenue for Adidas, which was losing $2 billion a year, into a $38 billion market cap. West did well in mentioning a greater need to improve mental health institutions in the U.S, and championed Jim Brown's AmeriCan education curriculum as being a key facet in enabling alternative methods of learning to help troubled children reach their academic potential as an alternative to dropping out of school, embracing a life of crime, and entering the prison system that ensnares so many in America's slums and ghettos.
*The content of this article is based in part on the White House transcript entitled,
"Remarks by President Trump in Meeting with Kanye West and Jim Brown."
Part II to come soon.
© Stone Washington
---
The views expressed by RenewAmerica columnists are their own and do not necessarily reflect the position of RenewAmerica or its affiliates.
---