Stone Washington
Justice Gorsuch and the preservation of originalism

By
Stone Washington
April 22, 2017
"Judges should be in the business of declaring what the law is using the traditional tools of interpretation, rather than pronouncing the law as they might wish it to be in light of their own political views."
~Neil M. Gorsuch, Associate Justice
"Originalism is sort of a subspecies of textualism. Textualism means you are governed by the text. That's the only thing that is relevant to your decision, not whether the outcome is desirable, not whether legislative history says this or that. But the text of the statute."
~Antonin Scalia, Former Associate Justice
On Monday April 10, 2017 amid a beautiful sunny day overlooking the majestic Rose Garden of the White House, former federal Judge: Neil M. Gorsuch took the judicial oath for his nomination as Associate Justice for the Supreme Court of the United States. Presiding over the oath was Associate Justice Anthony Kennedy, whom Gorsuch clerked for in the past and considers a close mentor, and President Donald J. Trump, who nominated Gorsuch for the court in January 2017. Gorsuch was chosen by Trump to succeed the late Antonin Scalia, who was a former Associate Justice on the court and proud defender of the Constitution through an Originalist/Textualist approach toward court decisions – a philosophy championed by many conservative jurists across America including my father,
Professor Ellis Washington
. Two hours prior to the Rose Garden ceremony, Chief Justice Roberts delivered a separate oath to Gorsuch in a private session within the Supreme Court, given to all federal officials in order to establish their loyalty toward defending the Constitution.
I, (name), do solemnly swear (or affirm) that I will administer justice without respect to persons, and do equal right to the poor and to the rich, and that I will faithfully and impartially discharge and perform all the duties incumbent upon me as (office) under the Constitution and laws of the United States. [So help me God].
The monumental event was attended by all 8 other Justices of the Supreme Court, along with various conservative activists and Maureen McCarthy, the widow of Justice Scalia. In a
brief speech
before those in attendance, President Trump spoke on the widely-held belief in Washington, that the most important job performed by a President of the United States goes toward appointing a Justice to the Supreme Court. Trump voiced how historic and significant this day was for the History of the Court and emphasized how difficult it was for him to accomplish the nomination within his first 100 days in Office. This article seeks to highlight the profound significance toward this amazing judicial victory for America achieved by the Trump Administration's nomination of Justice Gorsuch, while constructing a cross-analysis between the judicial history of Gorsuch and his relation to the legacy of Originalism left by Antonin Scalia in the Court.
Background to Justice Gorsuch
Neil McGill Gorsuch was born on August 29, 1967, in Denver, Colorado. Born as the oldest child to the two accomplished lawyers, David Gorsuch and Anne Gorsuch Burford, who would later be appointed by President Ronald Reagan to be the first female Administrator of the Environmental Protection Agency (EPA) in 1981. Despite this great honor, Anne resigned under vicious political pressure from radical environmentalists after roughly 2 years into the job upon refusing to turn over subpoenaed documents. It was also around this time that she divorced her husband, David, creating a deep divide in the Gorsuch family. Despite this turbulent period in his life, Gorsuch adapted well to his new Washington D.C. culture, where he attended a Jesuit school called Georgetown Preparatory School in Bethesda Maryland and would become class President during his senior year. After graduating in 1985, Gorsuch would attend Columbia University in New York, where he unveiled his conservative views as a student writer for the
Columbia Daily Spectator
and co-founder of
The Federalist Paper.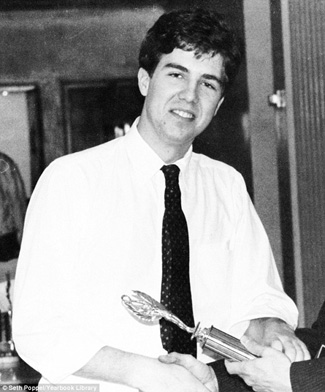 Neil Gorsuch receiving an award in high school
Gorsuch graduated Phi Beta Kappa from Columbia in 1988. He then attended Harvard Law School where he graduated cum laude in 1991 with a Juris Doctorate degree. According to a
Boston Globe article
, Gorsuch is remembered by many of his colleagues for being a conservative who stood out on "a campus full of ardent liberals" at Harvard. Interestingly, former President Barack Obama was one of Gorsuch's classmates at Harvard Law, shortly after my Father, Professor Ellis Washington, attended Harvard graduate school at the same time Obama was at Harvard. Gorsuch would then move on to receive a Doctor of Philosophy degree in law from Oxford in 2004, surrounding research on assisted suicide and euthanasia. While at Oxford, Gorsuch met and married his wife Louise, an Englishwoman and champion equestrienne on Oxford's riding team.
Neil Gorsuch in 1988 Columbia yearbook
Legal Experience
Neil Gorsuch first embarked on his legal journey clerking for Judge David B. Sentelle, a federal Judge of the United States Court of Appeals for the District of Columbia Circuit Court, from 1991-92. Gorsuch then spent another year of clerkship with two Supreme Court Associate Justices: Anthony M. Kennedy, whom would deliver the judicial oath to his former pupil Gorsuch on becoming a Justice himself, and the retired Associate Justice Byron R. White, from 1993-94. In 1995, Gorsuch joined the emergent D.C. law firm of Kellogg, Huber, Hansen, Todd, Evans & Figel. The firm specialized in complex litigation across a wide range of fields, including antitrust, telecommunications and securities fraud. After winning his first trial as lead attorney, a jury member told Gorsuch his skills were like that of the famous defense attorney Perry Mason.
Gorusch would move on to become an associate in the Washington, D.C., law firm from 1995–97 and a partner from 1998 to 2005. From 2005-2006, Gorsuch served as Principal Deputy to the Associate Attorney General, Robert McCallum, at the United States Department of Justice during President George W. Bush's second term in Office. It was then in July 2006, that Gorsuch was confirmed, without any opposition from Democrats or Republicans, to the U.S. Court of Appeals for the Tenth Circuit, in Denver Colorado, upon the position being vacated by Judge David M. Ebel. To add to this distinguished honor, The American Bar Association's Standing Committee on the Federal Judiciary unanimously rated Gorsuch "well qualified" in 2006.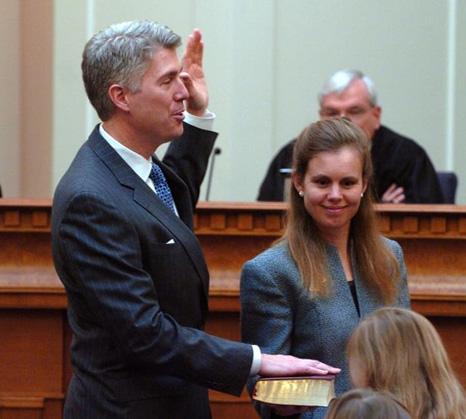 Gorsuch being unanimously confirmed for the Tenth Circuit Court in Denver Colorado
Judicial philosophy
As a federal Judge, Gorsuch has distinguished himself over the years as an Originalist, a strict constructionist and Textualist, adhering his legal decision-making to be based off the literal written intent of the Constitutional Framers. Rarely, if ever, has Gorsuch based a legal decision off anything not pertaining to the written interpretation of the United States Constitution, instead obediently applying the rule of law in modern day as it would have been understood during the founding of America since the 1780s onward.
Gorsuch is known to be a stern defender of religious freedom in America, and sided with Hobby Lobby, in the famous
Hobby Lobby Stores v. Sebelius
(Mar 25, 2014) case involving the craft store's battle against the government imposed mandated contraception coverage of Obamacare. Gorsuch wrote a concurrence when the
en banc
Circuit Court found Obamacare's imposing contraceptive mandate on private businesses violated the 1993 Religious Freedom Restoration Act. Gorsuch's concurrence and the case's ruling was upheld by a narrow 5–4 Supreme Court decision in
Burwell v. Hobby Lobby Stores, Inc.
(June 30, 2014). A notable religious freedom quote emphasized by Gorsuch in the past is stated thusly, "The law doesn't just apply to protect popular religious beliefs: it does perhaps its most important work in protecting unpopular religious beliefs, vindicating this nation's long-held aspiration to serve as a refuge of religious tolerance."
Gorsuch has been a notable opponent of the dormant Commerce Clause, inferred from Article 1 of the Constitution, which allows state laws to be declared unconstitutional by the federal government if they too greatly burden interstate commerce. In a 2013 case, Gorsuch joined a unanimous judicial panel deciding that federal courts could not hear a challenge to Colorado's internet sales tax, a ruling that would be reversed by a unanimous Supreme Court decision in the case:
Direct Marketing Ass'n v. Brohl
(2015). In 2016, the Tenth Circuit panel rejected the challenger's dormant commerce clause claim, with Gorsuch writing a concurrence to the Court's decision. In 2012, Gorsuch was involved with a notable criminal law case,
United States of America v. Miguel Games-Perez
, involving a felon owning a gun in a jurisdiction where the court held that gun ownership by felons is deemed illegal even though the felon was unaware of his criminal denotation. Gorsuch concurred with the opinion and further wrote:
"The only statutory element separating innocent (even constitutionally protected) gun possession from criminal conduct in §§ 922(g) and 924(a) is a prior felony conviction. So the presumption that the government must prove mens rea (Latin for guilty mind) here applies with full force."
Scalia's Philosophy and Gorsuch's ascension to the Supreme Court
Neil Gorsuch's possible nomination to the Supreme Court first gained prominence back in September of 2016, when then-Presidential candidate Donald Trump placed Gorsuch's name on a
list
of 21 prominent jurists/political figures across America to fill the vacancy of the late Justice Antonin Scalia following the conclusion of the 2016 Presidential Election in November. After Trump won the election in a landslide and took office in January 2017, a conservative group of unnamed Trump advisers bumped Gorsuch up to a shorter list of eight possible candidates on the list who they said were the leading contenders to be nominated to fill the vacancy in the Court. The 49-year-old Gorsuch would be officially nominated by President Trump to the Supreme Court on January 31st 2017, making him the youngest nominee to the Supreme Court since the famous 1991 nomination of Clarence Thomas (who was 43) to the Court.
Judge Gorsuch being nominated to the Supreme Court by President Donald Trump
Despite the American Bar Association again giving Gorsuch a "Highly qualified" rating for his qualification toward the Supreme Court, there remained a deep partisan divide between Democrats and Republicans in Congress over the nomination. On April 3, the Senate Judiciary committee approved his nomination with a party-line vote of 11–9. On April 6, 2017, persistent Senate Democrats filibustered Gorsuch's confirmation vote by the majority Republicans in the Senate, to which the Republicans invoked the bold
"nuclear option"
, allowing a filibuster of a Supreme Court nominee to be broken by a simple majority vote of 51 instead of 60. Gorsuch would officially become the 113th Justice of the Court, and be sworn in on Monday April 10th by Chief Justice John Roberts and Associate Justice Anthony Kennedy in the Rose Garden of the White House presided over by President Trump and a small crowd including all 8 Justices.
Gorsuch has a laudable judicial background and has made many major legal decisions as a federal Judge that have proven him a worthy successor to the late Justice Antonin Scalia. Like Scalia famously was, Gorsuch is a proud proponent of Originalism or Textualism, the idea that Constitutional statutes should be interpreted literally, without changing decisions based on the legislative history and underlying purpose of the law. On the subject of Originalism, Gorsuch once stated in a
speech
to Case Western,
"Judges should strive to apply the law as it is, focusing backward, not forward, and looking to text, structure, and history to decide what a reasonable reader at the time of the events in question would have understood the law to be – not to decide cases based on their own moral convictions or the policy consequences they believe might serve society best."
In conclusion, Justice Gorsuch is already
breaking the mold
of traditional jurists by asking 22 questions on his first day in the Court, Monday April 17th, while participating heavily in the first cases facing his first days as an Associate Justice. Paying homage to my recent
article
honoring the legacy of the late Judge Robert Bork, Gorsuch's legal philosophy not only qualifies him to succeed Scalia, but also allows him to pass the "Bork test" with flying colors, through his boldness toward fulfilling his obligation as a fearless Textualist jurist. Like Bork, Gorsuch is unafraid to express his political views and does not hesitate in exposing the cronyism of the political Left toward their mission of promoting judicial revisionism in America's courts. Gorsuch has repeatedly criticized liberal jurists for refusing to base legal decisions off the written text of the Constitution, instead they are encouraged by legislators to pass various left-leaning political agendas from the bench. We must therefore honor the sacred texts of the Constitution in abiding by the original intent of the Constitutional Framers, and remember the wise words of Justice Gorsuch toward holding the Left accountable for their intrusion of the law in their mixing of governmental powers between the Legislature and Judiciary. On this point Gorsuch wrote:
"American liberals have become addicted to the courtroom, relying on judges and lawyers rather than elected leaders and the ballot box, as the primary means of effecting their social agenda on everything from gay marriage to assisted suicide to the use of vouchers for private-school education."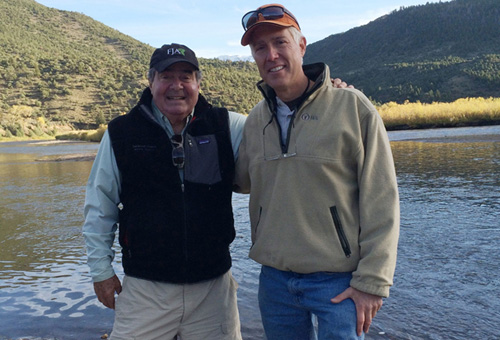 Gorsuch and Scalia on a fishing trip at the Colorado River (October 2014)
Sources:
Ott, Tim. "Neil Gorsuch."
Biography.com
. A&E Networks Television, 07 Apr. 2017. Web. 21 Apr. 2017.
"Neil Gorsuch."
Wikipedia
. Wikimedia Foundation, 18 Apr. 2017. Web. 21 Apr. 2017.
O'Keefe, Ed, and Robert Barnes. "Senate Confirms Neil Gorsuch to Supreme Court."
The Washington Post
. WP Company, 07 Apr. 2017. Web. 21 Apr. 2017.
© Stone Washington
---
The views expressed by RenewAmerica columnists are their own and do not necessarily reflect the position of RenewAmerica or its affiliates.
---