Stone Washington
Trump's triumphant transition

By
Stone Washington
February 6, 2017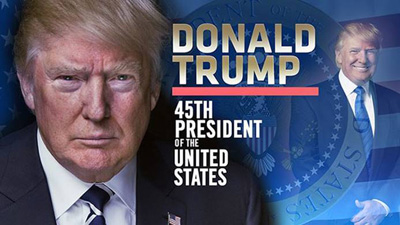 "We stand at the birth of a new millennium, ready to unlock the mysteries of space, to free the earth from the miseries of disease, and to harness the energies, industries and technologies of tomorrow. A new national pride will stir ourselves, lift our sights and heal our divisions. It's time to remember that old wisdom our soldiers will never forget, that whether we are black or brown or white, we all bleed the same red blood of patriots."
~ Donald J. Trump, 45th President of the United States
Prologue to the 2016 Presidential Election
On Friday, January 20th, 2017, on a cloudy winter day in Washington D.C, Donald J. Trump and Michael R. Pence were sworn in as the 45th President and 48th Vice President of the United States of America at exactly 12:00 noon on the steps of the U.S Capital. With possibly over a million onlookers and supporters gathered in the Mall in Washington, D.C. and millions watching on TV world-wide, the swearing-in ceremony of President Trump and Vice-President Pence was truly a momentous period in American History. Donald Trump
announced
the beginning of his power-house campaign on June 16th 2015 and ran a powerful drive against 16 other highly qualified Republican candidates, leading first place in the polls through the entire Primary election.
Donald Trump would fundamentally transform the nature of the 13 Republican Presidential debates into exciting and engaging spectacles where Trump's innovative initiatives to vastly repair America's troubled condition stood triumphant in the face of his many seasoned (but conventional) political adversaries on stage. On May 4th 2016, following a major Primary victory in the state of Indiana, Donald Trump would move on to defeat his final remaining Republican opponents in the race – Senator Ted Cruz (R-TX) and Ohio Governor John Kasich – to become the presumptive GOP nominee. On May 26th Trump officially became the Republican nominee for President, holding the honor of amassing the
greatest number
of Primary votes in GOP history.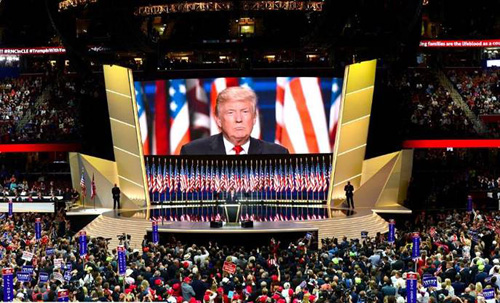 Donald Trump speaking at the Republican National Convention (July 21st 2016)
On July 15th, 2016, GOP nominee Donald J. Trump announced Indiana Governor Mike Pence to be his running mate for Vice President, just in-time for the two to be recognized as the distinguished stars of the 2016 Republican National Convention held from July 18-21. In July and August, Trump geared up for the General Election against the Democrat Nominee, 'Crooked' Hillary Clinton, hiring and promoting many new campaign staff members including, Kellyanne Conway as Campaign Manager and Steve Bannon as Campaign Chief Executive. In the fall, Donald Trump would face Hillary Clinton on National stage in three fiery Presidential debates, while running-mate Mike Pence combated with Governor Tim Kaine in a single contested debate.
On November 9th at around 2:40 am, alongside his family and campaign staff, Donald Trump gave a resounding victory speech in New York after being announced to have won over the required 270 electoral college votes, thanking all of his staffers and voters who loyally stood behind him from beginning to end. Hence forth, Donald Trump and Mike Pence held the honor of being established as the President-Elect and Vice President-Elect preparing to transition into the White House in just two months. This article seeks to pay homage to many of the prime events that culminated into the making of Donald Trump's ascension to the Presidency in the midst of perhaps one of the most contentious and politically factious periods in U.S Election History. On Wednesday November 9th 2016, President Trump and team had won the many arduous election battles, but thus began the grand war as Commander-in-chief to reclaim American greatness.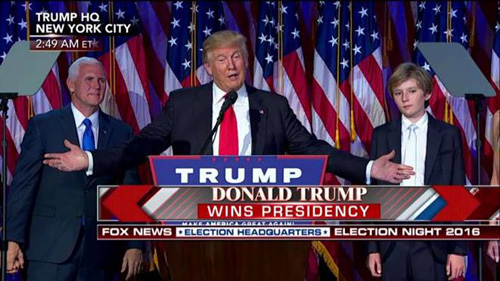 President-Elect Donald Trump and campaign team giving 1st speech after winning the Election (November 9th, 2016)
USA 'Thank You' 2016 Tour
Following the monumental events of the 2016 Election, President-Elect Donald Trump and his campaign team announced the launch of the "USA Thank You 2016 Tour," where Trump would host multiple celebratory rallies to express his gratitude toward many of the pivotal swing-states he won during the Election. The President-Elect gained several key swing states that helped him seize the presidency, as well as Alabama – a Republican state – where Trump amassed large crowds and early support from Alabama's Sen. Jeff Sessions, the first U.S Senator ever to endorse Trump who is now poised to become the next United States Attorney General in Trump's Cabinet.
The victory tour winded around many industrial rust-belt cities in key northern states, such as Cincinnati Ohio and Grand Rapids Michigan, that voted Republican in the election where many coal miners and displaced factory workers happily casted their ballots for Trump on the promise that he would restore America's many abandoned factories (especially emphasized in his dynamic
jobs plan speech
in Monnessan, Pennslyvania) and put mistreated blue-collar Americans back to work. President-Elect Trump also toured many sunbelt cities in pivotal southern states, visiting places like Orlando Florida and Mobile Alabama, the location of one of Trump's first campaign rallies which he held back on August 21st 2015. In his final rally in Mobile Alabama, Trump spoke "This is our last rally, our last stop," Trump said. "This is where it all began. I just want to thank the people of Alabama and start by wishing you a very Merry Christmas." The President-Elect's message was refreshingly reminiscent of overcoming the many hardships of the past in the Election while looking forward to building a better and brighter future for all Americans. Following the events of the thank-you tour, the Electoral College formally elected Donald Trump and Mike Pence on Monday, December 19th 2016.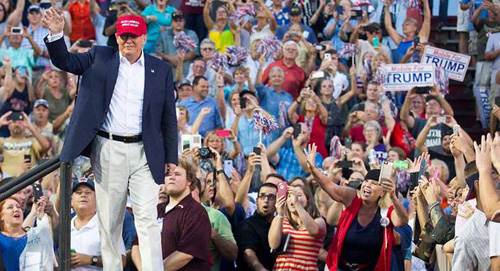 Donald Trump at his final thank-you rally in Mobile Alabama (December 17, 2016)
Trump's Great Inauguration = My Greatest Birthday Gift
On Friday January 20th 2017, I and millions of people across America, along with millions across the World would witness History in the making as Donald J. Trump and Michael R. Pence are officially sworn in as the new President and Vice President of the United States. This ceremonial day was especially significant for myself as I was blessed to have my 20th Birthday coincide with the Inauguration. Uniquely enough, I share the same birthdays with Kellyanne Conway and Nikki Haley, while close to Jared Kushner's (born on January 10th 1981, exactly 10 days prior to Ronald Reagan's 1st Inauguration), in Trump's cabinet. Record crowds of individuals attended the Inauguration, with, according to Trump, appeared to
be over a million people
packing Washington D.C, despite what false images have circulated throughout mainstream media outlets like CNN, purposefully showing blank patches of ground to make it look like Trump's crowd was lacking. Upon his Inauguration, Donald Trump became the first person to ever be elected President without any prior military or governmental experience; a true political outsider and a man of the people, by the people, and for the people. President Trump also holds the distinction as the oldest and wealthiest individual to ascend to the Presidency. Vice President Mike Pence holds the distinction of being the first sitting Governor to be elected as Vice President since Spiro Agnew under Richard Nixon in 1968.
Missouri Senator Roy Blunt launched the Inauguration ceremonies at around 11:40 am with welcoming remarks about the peaceful transition of power in America. Within the inner circle of the stage were many famous Senators, Congressman, activists, and former Presidents including: Barack and Michelle Obama, George W. and Laura Bush, Jimmy and Roslyn Carter, Bill and Hillary Clinton, and more. Also in close attendance were President Trump's loyal family members – including wife, Melania Trump, daughter, Ivanka Trump and her husband Jared Kushner, Eric Trump, Donald Jr. Trump, Tiffany Trump, Barron Trump and other family members. At approximately 11:54 a.m., Associate Justice of the Supreme Court Clarence Thomas swore in Michael Richard Pence as the 48th Vice President of the United States upon his personal Bible and the cherished Ronald Reagan Bible.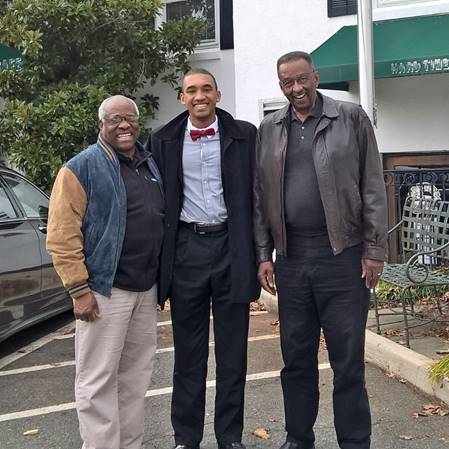 Justice Thomas, myself, and Dr. Walter Williams (Professor George Mason U.) having lunch together at the Hard Times Café in Fairfax Virginia, December 13th 2016
Justice Thomas has been an inspirational intellectual mentor to my father, Professor Ellis Washington, for over three decades and has recently become a mentor of mine upon me meeting with the Justice and his friend Dr. Walter Williams (whom I had known at my former school of George Mason University) in Fairfax, Virginia for lunch in December 2016. I was especially excited to see Justice Thomas become the
1st Black American to ever administer the oath of Office
. Following an excellent performance of "America the Beautiful" by the Mormon Choir, at 12:00 noon, Donald John J. Trump was officially sworn in as the 45th President of the United States of the America by Chief Justice John Roberts upon the Bible his mother gifted him and the historic Lincoln Bible. After the swearing-in ceremony, the Marine Band performed "Hail to the Chief" and President Trump received the traditional 21-gun salute in honor of his emergent Presidency.
Donald Trump being sworn in as the 45th President of the United States (with wife Melania Trump holding Lincoln and his mother's Bible)
President Donald Trump then delivered his historic (and succinct) 16-minute inaugural address of 1,433 words, the shortest inaugural address since Jimmy Carter's in 1977. Trump's address was inspired by the famous examples of Ronald Reagan and John F. Kennedy in times past. The speech channeled the creative energies that fueled the victory of President Trump's triumphant campaign, driving forward his foremost platform of making America great again. While President Trump respectfully paid homage to the many former Presidents in attendance, he devoted the essence of his speech in honor of we the American people. Trump intoned,
"The establishment protected itself, but not the citizens of our country. Their victories have not been your victories. Their triumphs have not been your triumphs. And while they celebrated in our nation's capital, there was little to celebrate for struggling families all across our land.

(APPLAUSE)

That all changes starting right here and right now because this moment is your moment, it belongs to you."

President Trump designated January 20th 2017 as the day that the American people become the rulers of the nation once again, as intended by the Founding Fathers bestowing upon the American people the power of the vote, to shape the country as they deemed fit. President Trump then exposed many of the devastations and downfalls currently facing the American people underneath our modern-day Republic, that has only festered under the failed leadership and gross neglect of Washington D.C insiders and special interests,
"But for too many of our citizens, a different reality exists: mothers and children trapped in poverty in our inner cities; rusted out factories scattered like tombstones across the landscape of our nation; an education system flush with cash, but which leaves our young and beautiful students deprived of all knowledge; and the crime and the gangs and the drugs that have stolen too many lives and robbed our country of so much unrealized potential.

This American carnage stops right here and stops right now."

President Trump pays homage to many of his chief campaign promises, such as, rebuilding America's porous southern border, eliminating America's 800 trillion-dollar trade deficit through renegotiating failed trade deals to benefit the American economy, rebuilding America's depleted military while obliterating radical Islamic Terror groups tearing apart the Middle East, and more. Trump spoke,
"From this day forward, a new vision will govern our land. From this day forward, it's going to be only America first, America first.

(APPLAUSE)

Every decision on trade, on taxes, on immigration, on foreign affairs will be made to benefit American workers and American families. We must protect our borders from the ravages of other countries making our products, stealing our companies and destroying our jobs."

Trump ends his powerful and transcendent speech with a crescendo of American truth and unity toward repairing the nation's many shortfalls while mending the many wounds inflicted on the nation from the nasty election cycle. Trump emphasizes that we will usher in a new American dream by the people and for the people empowered by God's holy hand. President Trump concludes,
"We stand at the birth of a new millennium, ready to unlock the mysteries of space, to free the earth from the miseries of disease, and to harness the energies, industries and technologies of tomorrow. A new national pride will stir ourselves, lift our sights and heal our divisions. It's time to remember that old wisdom our soldiers will never forget, that whether we are black or brown or white, we all bleed the same red blood of patriots."

Epilogue to President Trump's Transition
In conclusion, Donald J. Trump becoming the 45th President of the United States is the start to the greatest blessing the U.S has experienced since the prosperous
Reagan Revolution
– which gave U.S. the longest period of economic growth in a non-war period (1982-2007). Truly, America has not witnessed such an exceptionally capable President like Donald Trump who is fueled and driven by the unstoppable patriotic desires of the millions of American people who elected him. Trump's Presidency will reinstate the eternal credo of America First Nationalism, first laid down by the Founding Fathers and later embodied by President Reagan, who envisioned America to be a "shining city upon a hill."
Donald Trump's powerful cabinet is built of a team of some of the most accomplished people in country, such as: Rex Tillerson as Secretary of State, Jeff Sessions as Attorney General, Elaine Chao as Secretary of Transportation, Betsy DeVos as Secretary of Education, Dr. Ben Carson as Secretary of Housing and Urban Development, Rep. Tom Price as Secretary of Health and Human Services, General James Mattis as Secretary of Defense, General John Kelly as Secretary of Homeland Security, Steve Mnuchin as Secretary of the Treasury, Rep. Ryan Zinke as Secretary of the Interior, among many other highly qualified individuals.
Unfortunately, two weeks into his presidency the majority of President Trump's Cabinet members have to be approved (while enduring heavy Democrat opposition), facing major delaying tactics from the Left due to the Democrat minority in the Senate purposefully slow-walking confirmations and sending the process into a tedious state of
gridlock
.
President Donald Trump's Cabinet
Despite the minor impediment of Senate Democrats, President Trump's Administration is pushing full steam ahead with resounding success and I am confident that all of his agency heads will be confirmed by the Senate. President Trump has already terminated the TPP (transpacific partnership), approved the building of a wall along the southern border, protected immigration security by barring the migration of individuals from seven Middle Eastern countries with radical Islamic ties, and introduced a new Supreme Court nominee to fill the late Justice Scalia's vacancy, among many other things. With the close assistance of his inner-circle: Reince Priebus as Chief of Staff, Kellyanne Conway as Counselor, Jared Kushner as Senior Advisor, Steve Bannon as Counselor, and Vice President Pence, President Trump has truly crafted a power-house administration of seasoned and accomplished political prodigies that will undoubtedly usher America into a new era of prosperity, excellence and greatness for the benefit of all Americans. God bless the historic Transition of the Trump Administration and God bless America.
Indeed, the wise words of Trump are apropos here for U.S. and the world –
"It's time to remember that old wisdom our soldiers will never forget, that whether we are black or brown or white, we all bleed the same red blood of patriots."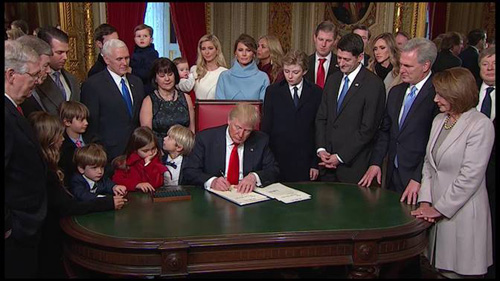 President Donald Trump and company signing his 1st Executive order, January 20th, 2017
References:
1. "Releases – GreatAgain."
GreatAgain
. N.p., n.d. Web. 06 Feb. 2017.
2. Blake, Aaron. "Donald Trump's Full Inauguration Speech Transcript, Annotated."
The Washington Post
. WP Company, 20 Jan. 2017. Web. 06 Feb. 2017.
© Stone Washington
---
The views expressed by RenewAmerica columnists are their own and do not necessarily reflect the position of RenewAmerica or its affiliates.
---