Stone Washington
Albert Camus: merciless murderer and the stranger to life

By
Stone Washington
July 10, 2015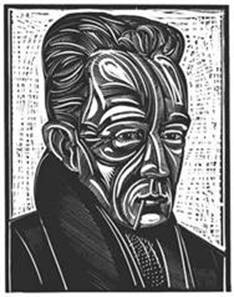 Since we're all going to die, it's obvious that when and how don't matter.

And my lawyer, rolling up one of his sleeves, said with finality, "Here we have a perfect reflection of this entire trial: everything is true and nothing is true!"

~ Meursault (the Stranger)
About the Author
Albert Camus (1913-1960) was born in Modivi, Algeria, fought against the Nazis during World War II as a member of the French Resistance. Was called "the conscience of his era": wrote about life's meaningless along with humanity's often existential and futile quest for happiness and justice. Camus wrote several classic novels in his classic dark, brooding, introspective style, including,
the Plague
(1947),
The Myth of Sisyphus
(1942),
the Rebel
(1951), and perhaps his most celebrated novel,
The Stranger
(1942). He received a Nobel Peace prize for literature in 1957.
Summary
The story begins with Meursault, an unambitious office clerk in Algiers (Northern Africa) receives a telegram from home indicating that his mother has passed away. He asks his employer if he could leave, which he reluctantly allows. When he arrives to his mother's place in Marengo the Warden blames Meursault that he should have stood by his mother's side and scolds him on his absence. Meursault then chats with the door keeper who smokes, and after a while Meursault falls asleep. As he awakes Meursault runs into his mother's old friends who give him the impression that they will be watching him during the funeral. The funeral eventually passes with Meursault remembering little of it. Later he meets Marie Cardona, a former typist at his office. The two swim, watch a movie together, and return to his apartment to make love. The next day Meursault spends gazing out his window watching people. Upon returning to work the next day he runs into his neighbors, the old ornery widower Salamono and the pimp Raymond Sintes who invites him over for dinner.
Raymond hands are bruised from a former fist fight he had with the Arab whom is the brother of his former girlfriend. He seeks to punish her again even at the dinner table. Slapping Meursault across the shoulder he asks if he would ever be willing to help him out, to which Meursault agrees simply because Raymond is so fixated on an alliance. The next week Meursault spends with Marie who asks if he loves her to whom he replies probably not, as he states there is no meaning to that question. The next day Marie hears a terrible sound coming from Raymond's room and asks Meursault to call the police, to which he refuses pronouncing how he doesn't like cops. When the police eventually arrive Raymond asks Meursault to be his witness for the police, and to explain how the Arab girl betrayed him.
Later at a seaside cottage belonging to a friend of Raymond, Meursault is told by Raymond to keep an eye out for the brother of the girl he beat up, who may be following them. Soon Marie asks to Meursault to marry him and he tells her that he will if she wants him to, but mentions that he doesn't love her and how he will marry any girl that asks him. At his office Meursault is offered a position in a new branch in Paris, to which he replies in his typical apathetic manner how he doesn't care one way or the other. His boss accuses him of having no ambition. Later after a relaxing time at the beach, Meursault, Raymond, and Marie encounter the brother of Raymond's former girlfriend and another Arab, which soon breaks out into a brawl with the Arab slashing at Raymond with a knife, before he and Meursault can have the chance to attack. After seeing a doctor to attend to his wounds, Raymond and Meursault go off on a stroll to the beach on Raymond's request and again encounter the two Arabs provoking Raymond to question Meursault if he should shoot the Arab who injured him? Raymond tells him only if the Arab draws his knife again, and takes possession of his revolver for him. To Meursault the world feels to be at a standstill as the four men face each other. Meursault contemplates how "one might shoot, or not shoot-and it would all amount to the same thing." Suddenly the Arab vanishes and Raymond and Meursault return to the cottage.
The next day besides the beach, Meursault is disoriented by the hot weather and attempts to escape the sun's rays and bright light when unexpectedly he runs into the two Arabs. The bright sunshine glares off of Meursault's eyes which make him nervous and tighten his grip around his revolver. He is blinded by the glare of the Arab's knife causing him to panic and fire his gun, blasting straight through the Arab's body. Meursault feels as though he has destroyed the "equilibrium of the day" and fires four more shots into the Arab's motionless body, "like four loud knocks at the door of his undoing."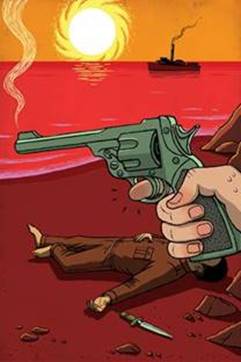 Soon Meursault is sent to jail for his actions. It is revealed that Meursault displayed a great callousness during his mother's funeral, to which he replied how his fatigue that day disallowed him from taking an active interest in the proceedings. During his interrogation, the Examining Magistrate suggests that Meursault repents and to put his life into the hands of the Lord, but he refuses on the premise that he doesn't believe in God. The Magistrate believes that he has the most hardened soul out of anyone he has ever encountered. In prison Marie is unable to visit him and Meursault passes the time by sleeping and recounting his past, unaware that he has been talking to himself.
At his trial Meursault is surprised by the large number of people in attendance causing him to have the impression of an outsider. In the crowd he picks out many of his friends and relatives, even strange people from his neighborhood. When the doorkeeper from his mother's apartment delivers his statement on Meursaults behavior during the vigil for his mother, a wave of indignation sweeps through the courtroom, and for the first time Meursault understands that he is "guilty" of something other than his crime. Through recounting the past actions that the defendant took following the death of his mother, he accuses Meursault of carrying on with the funeral as if he was already a criminal at heart. Meursault examines how the Prosecutor attempts to prove that his crime was premeditated; also admitting how what he says is plausible.
The prosecutor accuses Meursault of not only murdering the Arab but of being "morally guilty" of his mother's death. When Meursault attempts to clarify how he killed the Arab in confusion of the sun blocking his vision, he understands that this is nonsensical and is sent away. During his last time in the courtroom, he is sentenced by the French people to the guillotine. Meursault, filled with the nihilistic emotions of pessimism believes that life isn't worth much to begin with and that everyone must face death eventually.
The next day the Prosecutor Champlain tries to convince Meursault to repent of his wicked ways, to prepare himself for the afterlife by turning his heart toward the justice of God, causing Meursault to lose his temper and rebuke the man claiming that his death is inevitable. Meursault thinks of his mother and lays his heart bare "to the tender indifference of the universe." He tells himself these last words of dark encouragement as he awaits execution,
"It was as if that great rush of anger had washed me clean, emptied me of hope, and, gazing up at the dark sky spangled with its signs and stars, for the first time, the first, I laid my heart open to the benign indifference of the universe. To feel it so like myself, indeed, so brotherly, made me realize that I'd been happy, and that I was happy still. For all to be accomplished, for me to feel less lonely, all that remained to hope was that on the day of my execution there should be a huge crowd of spectators and that they should greet me with howls of execution."
Camus' Counsel for Today
The Stranger
holds many similarities to major news events in modern day America. Albert Camus wrote the story from the eyes of the criminal Meursault, a loner, amoral, passive man who is depicted to be either a pagan sensualist, or a rebel nonconformist in society (as Judge and University of Chicago Law School Senior Lecturer Richard A. Posner states in his celebrated book
Law and Literature
), hence the title,
The Stranger
. There are many people like Meursault, cold, indifferent people; Strangers living within America. One such man is terrorist and confederate sympathizer Dylann Roof, the culprit of the tragic
Charleston South Carolina Church shooting
, which took the lives of nine innocents. Like Meursault, Roof is a social outcast who dropped out of school with no job or license and spent his time using drugs and promoting his delusional, racist hate mongering about how "blacks are taking over the world." Both men view the world as meaningless and are driven by unconscious acts of nihilistic violence, such as when Meursault shot the Arab in cold blood for no viable reason, and why Dylann Roof targeted a random Black Church in South Carolina just to kill Blacks. Neither men contemplated the gravity of their crimes and killed their targets without a moment's hesitation, feeling no remorse for their wicked deeds.
Despite his crime, Meursault is moreover convicted of his heartless nature and detachment from French society, including his lack of sympathy for his mother's passing and his repeated denial of Christian values. This brings about another element in
the Stranger
relating to American society specifically within the Black community who view police officers as strangers to the community, despite their duty to keep the peace. After the death of Trayvon Martin, Ferguson Missouri death of Michael Brown, and death of Freddie Gray by the hands of a police officer gaining heated news coverage, most Black Americans now view the law enforcement community with venial abhorrence similar that which an American citizen should portray toward the encroaching threat of Islamic terrorism. Why must those who seek our protection, the men and women putting their lives on the line for our safety be shunned and in some cases killed, i.e. the slaughter of the two
New York police officers
, simply because these police tried to do their job of fighting crime and protecting citizens, (in the case of Michael Brown the officer shot the criminal in self-defense as it is revealed that the large man charged at him like a bull after he robbed a store).
Black Americans must not riot on the street seeking "justice" against the police who risk their lives maintaining justice daily. Wanton destruction on innocent people's businesses, burning cars, and pillaging through one's own neighborhood is both futile and illogical. As Meursault lived a meaningless life as an outsider and unambitous clog in the vast machinery of progress, likewise many in the Black community must not allow ourselves to deify common thugs and outcasts committing unjustifiable acts of violence as a substitute for fulfilling some misguided, perverted sense of justice (recall their nihilistic chants: "No Justice, No Peace!). Do otherwise you become a pathetic paradox like Meursault – pursuing the very threat to innocents we preach against while spewing words of hate crime toward fellow Americans (e.g., law enforcement, police, etc...) For I believe the true Strangers in America are not the police, but these criminals with perverted agendas who threaten the safety and wellbeing of innocent citizens.
I view the true Strangers as not just common thugs who have no sense of morality, but even more sinister are the elected Progressive Socialist bureaucrats on both sides of the political aisle who are trusted to preserve the Constitution and secure justice amongst American citizens, but instead break their oath in office and perpetuate the continual self-destruction and degradation of the community. Just look to every troubled city in the U.S. is almost
always run by Democrats
, and in the case of
Baltimore Maryland
Black Democrats since 1967 continually leaves the city seething in its own ruination and Black pathology. We must not allow these Strangers to pull American's strings from the shadows. We must rise as a people and stand for our God blessed country that has survived for 239 years as of this past Independence Day 2015, overcoming revolution, civil war, and countless troubles that have warped other nations beyond repair... Yet we still stand strong. By faith in our future, our Judeo Christian traditions and our sacred Republic, we must never give in to our evil demons, or submit to the dastardly Strangers seeking day and night to deconstruct and destroy this once great nation of the United States of America.
*N.B.: This essay is based in part on a synopsis of Camus'
The Stranger
contained in Dr. W. John Campbell,
Book of Great Books: A Guide to 100 World Classics
(Fall River, 2000), pp. 768-776. Richard A. Posner.
Law and Literature
, (Harvard University Press, 2002), pp. 40-48.
© Stone Washington
---
The views expressed by RenewAmerica columnists are their own and do not necessarily reflect the position of RenewAmerica or its affiliates.
---