Victor Sharpe
Rashida Tlaib's own dual loyalties

By
Victor Sharpe
August 22, 2019
"Rep. Tlaib, when will you be doing what you were elected to do about the dire situation in your district instead of endlessly demonizing the embattled Jewish state?"
The Muslim Congresswoman who is supposed to represent Michigan's 13th congressional district, which includes the western half of Detroit, along with several of its western suburbs and much of the Downriver area and is considered one of the highest crime ridden districts in the U.S.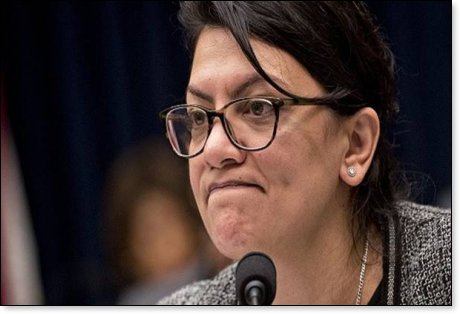 Rashida Tlaib, the Democrat Congresswoman from Michigan, is not only a visceral hater of both Jews and Christians, but a political ally of the supporters of terrorists who call themselves Palestinians. Meanwhile our befouled mainstream media remains deafeningly silent to her obscene and never-ending prevarications and misrepresentations.
Tlaib seems anxious only to spend her time in Congress insulting Israel while glorifying Islam, but not attending to the needs of her American constituents. Her obsessive bigotry against President Trump and Israeli Prime Minister, Benjamin Netanyahu, and her interminable support of so-called 'Palestine' along with her snide remarks against U.S. policies suggest that she herself is guilty of divided loyalties. Indeed one wonders if Tlaib's wish to bash Israel actually is what keeps the voters of Michigan awake at night? And is her anti-Semitism now also the accepted new face of the Democrat party? Sadly I fear the answer is yes.
The highly respected journalist, Daniel Greenfield, revealed a particularly outrageous and alarming fact about Rashida Tlaib in his blog "At The Point" on Frontpage.com.
Recently Tlaib, when not spewing lies about Israel, met with Abbas Hamideh, a so-called Palestinian activist who gleefully took the opportunity to vilify the beleaguered Jewish state while predictably adding that "Israel doesn't have a right to exist." Earlier Hamideh had also appeared with Tlaib during her swearing in ceremony in Detroit.
Like Tlaib, Hamideh is an Islamist who views the world through the prism of Islamic supremacy. He was once caught on camera lamenting the death of Samir Kuntar, the Muslim Lebanese terrorist and child killer. Who was Samir Kuntar and what atrocity did he commit, which so thrilled the unspeakable Hamideh and, alas, gave macabre glee to so many Muslim Arabs?
Let me quote from that other equally respected journalist, Andrew MacCarthy, who was referring to the Muslim Arab terrorists who relentlessly come with infernal lust to kill Israeli men, women and children. In this case Kuntar, the ruthless ringleader of a Muslim terrorist gang from Lebanon, crossed the maritime border into northern Israel and attacked the home of a young family in the seaside town of Nahariya, first killing the father, Danny, in front of his young daughter, Einat.
This is from MacCarthy's National Review Online article titled, "Why They Celebrate Murdering Children."
"The Muslim terrorists broke into their home and while Smadar hid with her daughter, Yael, in the dark, suffocating, crawl space, the terrorists grabbed Danny and Einat and marched them down to a nearby beach. There, one of them shot Danny in front of his four year old daughter Einat so that his death would be the last sight she'd ever see.

"Then the ruthless ringleader, Lebanese-born Samir Kuntar, used the butt of his rifle to bash in the four-year-old's skull against a rock. Hours later, upon finally being "rescued" from the crawl space, two-year-old Yael was dead – accidentally smothered by her petrified mother in the effort to keep her quiet as the jihadists searched for more Jews to kill
."
Samir Kuntar was later awarded the highest military honor by the ruthless Syrian dictator Hafez al-Assad who himself slaughtered thousands of fellow Arabs during his unspeakable reign. Now his son, Bashar, repeats the horrors upon fellow Arabs on an even greater scale; a fact so endemic in Arab and Muslim territories, especially the one they call 'Palestine.'
Abbas Hamideh and that other evil anti-Semite, Louis Farrakhan, are those with whom Rashida Tlaib has no problem consorting with. As the old saying goes: "You shall know them by the company they keep."
Tlaib and the Somali Muslim member of Congress, Ilhan Omar, were justifiably barred from entering Israel because their sole intent was to foment violence and hatred. Now they continue preaching falsehoods against Israel while allying themselves with the most venomous organizations that they can find who inhabit the infernal depths of anti-Semitic hatred.
One such is Miftah whose leader is the notorious Hanan Ashwari who, though nominally a Christian Arab, nevertheless always seeks to outdo her Muslim cronies in demonizing Israel. For her it is perhaps an insurance policy against being persecuted by the Muslims for her Christian origins.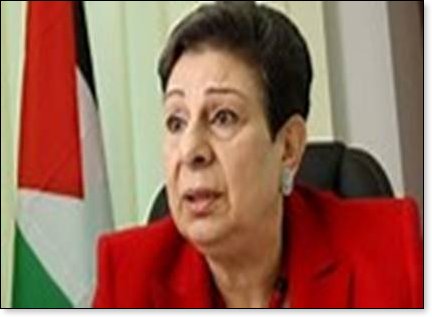 Hanan Ashrawi's Miftah publishes neo-Nazi material
Ashwari, whose face bears an uncanny resemblance to that of a camel, has managed to retain her place within the gang running the PA by controlling Miftah – the very organization that was organizing the hate filled trip by Tlaib and Omar to Israel,
Every country, with even a rudimentary level of self-respect, bar from their borders non-citizens who publicly despise and seek to destroy it. America does. The United Kingdom has barred more than 100 people from entering their borders, including twenty Americans. Barack Hussein Obama, when president, equally barred an Israeli politician from entering America whose views he disliked. All self-respecting countries have such bans. So it is normal for Israel to also bar those who wish her ill.
Israel finally passed legislation a few years ago barring from her borders those who advocate the virulently anti-Jewish "BDS" – Boycott, Divestiture, and Sanctions movement against Israel. It was long overdue for Israel to keep such people out,
As for Rep. Tlaib, the question must be asked
. When will you be doing what you were elected to do about the dire situation in your district instead of endlessly demonizing the embattled Jewish state?
Rashida Tlaib and Ilhan Omar, in befouling Congress by their presence, should not be representing America. And they sure as goodness have no business setting foot in Israel.
Victor Sharpe is a prolific writer and author of several published books including the acclaimed four volume
Politicide
which exposes the history of Islamic threats to Judeo-Christian civilization.
© Victor Sharpe
---
The views expressed by RenewAmerica columnists are their own and do not necessarily reflect the position of RenewAmerica or its affiliates.
---