Hassan Nurullah
Who dares call it murder

By
Hassan Nurullah
June 9, 2013
Just over a month ago, the nation celebrated the rescue of Amanda Berry, Gina DeJesus, and Michelle Knight. These three young women endured a decade long captivity at the hands of a bestial man who mercilessly raped, beat, starved and humiliated them at his leasure.
Thankfully, this dispicable man will soon be made to suffer his own forced imprisonment as he pays for the indignities heaped upon his victims. Yesterday the reprobate was
indicted on over 300 counts
of rape, kidnapping and assault.
Interestingly enough, he is also being charged with two counts of aggravated murder. These charges stem from the criminal having beaten one of the girls who was with child so severely he forced her to miscarry. The man is being held accountable for the murders of his own unborn children.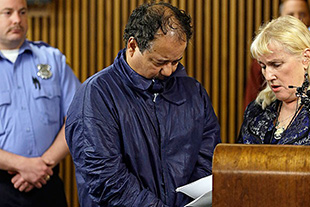 As most things do, after reading the charges this man now faces I was reminded of the Words of God in the Holy Bible, Exodus 21:
22 ¶If men strive, and hurt a woman with child, so that her fruit depart from her, and yet no mischief follow: he shall be surely punished, according as the woman's husband will lay upon him; and he shall pay as the judges determine.
"No mischief," if the child is delivered prematurely due to the harm that came to the mother, but the child is born alive and healthy – then the culprits are only accountable for the assault on the woman.
23 And if any mischief follow, then thou shalt give life for life,
If the child dies, it is the same penalty for murder meted out for a full-grown person – death – a life for a life. That God in the Holy Bible considers the unborn persons is obvious to anyone who has studied His Word. It ascribes personal attributes to the unborn Psalm 51:5, it uses personal pronouns when speaking of children in the womb and it assures us that God knows us personally whilst still in your mother's body, Jeremiah 1:5.
However, this truth is best exemplified by the advent of our Lord into the world:
"¶Now the birth of Jesus Christ was on this wise: When as his mother Mary was espoused to Joseph, before they came together, she was found with child of the Holy Ghost.

Then Joseph her husband, being a just man, and not willing to make her a publick example, was minded to put her away privily.

But while he thought on these things, behold, the angel of the Lord appeared unto him in a dream, saying, Joseph, thou son of David, fear not to take unto thee Mary thy wife: for that which is conceived in her is of the Holy Ghost.

And she shall bring forth a son, and thou shalt call his name JESUS: for he shall save his people from their sins." Matthew 1:18-22
If this tableau were played out in contemporary America, His mother would likely be counseled to terminate her inconvenient pregnancy discovered not long before her impending nuptials and Joseph ridiculed for standing for it. But it is clear that God is declaring Jesus is a child, a person at His very conception.
So it would seem the Cuyahoga County grand jury responsible for bringing charges against the allegedly murderous Cleveland kidnapper have taken a page out of the Holy Scriptures – perhaps unwittingly, but nevertheless...
What is most passing strange in my eyes though, is how it is murder when caused by an outside force – yet a question of "Women's health" when the mother decides to do away with her child for convenience sake. It is not "Mischief" if the mother decides infanticide is more desirable than motherhood; it is "Choice."
How wretched we must look to God these days in our society. Is it any wonder why so many of our children have turned to the barbarous behavior we see evidence of daily? Our nation subconsciously tells them constantly their existence is a matter of choice, subject to a mother's caprice, rather than a blessing from God bestowed on a loving husband and wife.
All too often in today's society children are not the result of God's order regarding marriage but the result of a degenerate culture that has changed the beauty of sexual relations between committed, wedded husbands and wives to a recreational activity free of spiritual and temporal meaning beyond self gratification.
This is the sort of nation we have become. We have a President who asked
God to bless Planned Parenthood
, one of the leading enablers of Biblical "Mischief" on demand, responsible for the deaths of hundreds of thousands of children each year. And a media that turns a
blind eye
towards the horrors perpetrated by a murderous doctor whose actions would cast a pall across a woman's beloved right to choose death for her children in the womb.
All this while shedding tears for the victims of Sandy Hook, followed by base affectation, proposing useless laws they claim are designed to protect the innocent. Draconian empty laws to protect a few, while protecting laws that destroy the lives of millions, this is the modern American teradiddle, the pretentious lie that we can both care about innocent life and not care about innocent life as long as we can parse what life is and isn't.
Yet the murder charges against the kidnapper of Cleveland show a kink in the liberal's amoral armor. We as a society know in our hearts how inconsistent such indictments are in light of our free wheeling access to abortion on demand. Yet we have chosen darkness over the light, it is our nature. We continue to sacrifice the unborn to the god of forces so we are not
"Punished"
by the unwanted children conceived by our lusts.
Yet we pretend to care for the ones who
are
born, even as we teach them the meaninglessness of their existence by the way we live our lives and the laws we make. Our spirits war against our flesh and all too often the flesh wins – Again I am reminded of Scripture:
"And Elijah came unto all the people, and said, How long halt ye between two opinions? if the LORD be God, follow him: but if Baal, then follow him. And the people answered him not a word." I Kings 18:21
Digital Publius
Share your thoughts here!
Join the Digital Publius community on FaceBook
© Hassan Nurullah
---
The views expressed by RenewAmerica columnists are their own and do not necessarily reflect the position of RenewAmerica or its affiliates.
---