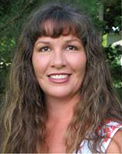 Gina Miller
Right Wing Watch liar, Brian Tashman

By
Gina Miller
October 3, 2014
Listen to an audio version of this column
Whenever we stand up and boldly speak out for truth over lies, especially when it is God's truth, we fully expect to be attacked for it.
Jesus warned us
, that as followers of Him, we would be hated because we belong to Him. So, it is no surprise that members of the Godless Left,
those whose understanding is blinded to truth and reason
, screech and wail at what we say.
We're in a spiritual battle, after all
. Naturally, they lie about us, about our words, about out motivations and intentions, everything, because this spiritual battle is for eternal keeps, whether these people understand it or not.
There is a blog site of the hard-Left called
Right Wing Watch
. I have
written about it before
. It's a propaganda arm of People for the American Way, a grossly misnamed, radical anti-American organization founded in 1981 by television giant, Norman Lear. Right Wing Watch's purpose is to monitor conservative and Christian media and to "report" on what is said. The standard template of their posts is an inflammatory, deceptive headline followed by a brief bit of equally-deceptive editorializing and selected excerpts of what was written or spoken by the conservative target.
Why do they do this? They see conservatives and Christians as threats to their tyrannical, communist agenda, so they work to perpetuate the evil character denigration of those of us who speak in defense of the freedom and foundation of the United States and who proclaim the truth of God's Word. They seek to falsely portray us as lunatics, when the sincere lunacy is in their own warped minds. However, they unwittingly help to spread the truth on their website when they quote excerpts of what we write and say, so in that way, they do a service for the side of freedom and truth.
Matt Barber, who is a highly effective, fearless warrior for the Christian Right, founded a new website at the first of the year.
BarbWire.com
is a really fine source for news and cutting-edge conservative Christian commentary. It became popular very quickly, and I was honored that Matt asked me to be a part of it from its beginning. With its fast popularity, it quickly became a target of the stalkers at Right Wing Watch. We have been amused at their attention, glad for the "free publicity," and up until yesterday, we laughed off their reports about us, in which they employ subtle, and not-so-subtle, deception regarding what we say.
Yesterday, Brian Tashman, who is a main poster at Right Wing Watch, "reported" on my latest column, "
Pamela Geller Maligned over Counter-Jihad Ads
." The title of my column is exactly what the piece is about, but Tashman titled his post, "
Gina Miller: Islamist-Gay Plot Destroying America
." Putting aside the fact that my column was not about the destruction of America, nor was homosexuality a subject of it, other than as one brief mention regarding our military, what I must address is his other, much more egregious lies. As I noted above, we are used to these guys misrepresenting what we say, but Tashman writes some despicable lies about me, false accusations that I will not let go uncorrected. [As an aside, you can see Brian Tashman being interviewed by an equally deluded liberal
here in this short video
]
He falsely claims that I am "angry" that James Foley's parents asked Pamela Geller not to use, in one of her ads, a picture of their son just before he was beheaded by a Muslim animal. That is a damnable lie. After including, in my column, a quote from Ms. Geller about the counter-jihad ad campaign, a quote in which she mentions that specific ad, I added a note for clarification, saying that Foley's parents later asked her to change the picture referenced in her quote, and she did change the image in that one ad, which was one of six different ads in the campaign. There was nothing else in the column about Foley's parents, nor was I "angry" about them asking her to change the picture of their son. I feel nothing but sympathy for James Foley's parents, and never did "anger" enter my mind concerning them. The only reason they were even mentioned in my column was to let readers know the image in the referenced ad had been changed, and why.
Not only did he flat-out lie when he accused me of anger, he also lied when he linked words I wrote later in my column to Foley's parents, words that in no way referred to them. He wrote:
BarbWire content editor Gina Miller is angry that James Foley's family asked anti-Muslim activist Pamela Geller to pull advertisements in New York that featured images of Foley's execution, writing that Foley's family are "the ones who are blasting her ads as they slavishly bow to the tenets of Muslim Sharia law."
"The ones who are blasting her ads..." refers to the New York Daily News writer who my column was focused on, as well as the politicians and other activists in New York who came out "screeching and wailing" against Ms. Geller's entire ad campaign. No one with even a grain of common sense, when reading my column, would associate that sentence with James Foley's parents – no one but a devious, deluded liar, as Brian Tashman clearly is.
And, here's the reason I'm addressing these blatant lies from Brian Tashman. He is adding to the grief of James Foley's parents with his lies. Granted, they may never see what he wrote, but that's not the point. It was a detestable assault on those people who have just had their son slaughtered in the most horrific way, and this dark-minded, utterly deceived, obsessive young man decided to fling across the Internet one more wound they surely don't need.
I would say that Brian Tashman should be ashamed of himself, but I realize that those like him who feed on the devil's deception have taken upon themselves a conscience seared against the truth, which is a stalwart defense against feeling any shame.
© Gina Miller
---
The views expressed by RenewAmerica columnists are their own and do not necessarily reflect the position of RenewAmerica or its affiliates.
---