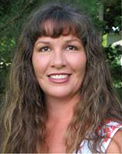 Gina Miller
Pamela Geller maligned over counter-jihad ads

By
Gina Miller
September 30, 2014
Listen to an audio version of this column
On Monday, I read a column at BarbWire.com by Pamela Geller of the
American Freedom Defense Initiative
. In it, she reported on the insane backlash in New York against her group's counter-jihad ad campaign that simply tells the truth about this diabolical movement. Elsewhere, on September 20th at Freedom Outpost, she announced the ad campaign in her column, "
New AFDI Ad Campaign Exposes Truth about Islam & Jihad that the Media & Government Ignore
":
The series of six ads will run on 100 New York City buses beginning next week. One key new ad points up the uselessness of the distinction between "moderate" and "extremist" Muslims, depicting two photos of Abdel-Majed Abdel Bary, a London-based Muslim who pursued a career as a rap artist until he turned to jihad and went to the Islamic State. The first photo shows Abdel Bary as a rapper; the second just before he beheaded American journalist James Foley. Abdel Bary's face is masked in the second photo, but British intelligence has identified him as the murderer of Foley. The ad bears the legend, "Yesterday's moderate is today's headline."
Due to a
request from James Foley's parents
, and out of sympathy for their grief, the photograph in that ad was changed to a different one with the barbaric Bary holding someone else's severed head.
The ads are right on the money. They're simple, common-sense declarations of the truth of what we face with hell-born Muslim conquest around the world. However, the deluded adherents to "political correctness" among us refuse to tell the truth about Islamic jihad, and instead, attack those of us who do. Rather than acknowledge the dangerous reality we face in demon-possessed Islamic drones who are hell-bent on spreading the bloody cancer of Islam, they revile the watchmen on the wall who warn of the imminent threat of this evil movement.
In her column at BarbWire.com titled, "
Jihad Double Standard – How the Media is Paving Way for Islamic Chaos in US Streets
," she focuses on a
hit piece in the New York Daily News
in which the
dhimmi
writer blasted her and the ad campaign as "fomenting fear and hate." The writer, Rajdeep Singh, who is a Sikh, claims that the ads could threaten innocent Muslim lives. I wonder if he thinks the ads are more dangerous to innocent Muslims than their fellow Muslims who are killing them by the thousands.
He attacks Ms. Geller personally, calling her "obnoxious" and a "messenger of hatred," and labeling the ads as "Islamophobic tripe" and "troubling." He cites an anecdotal story of a Muslim family who gave shelter to his grandparents in the late 1940s in the India-Pakistan region. While it's nice that his family received help from a Muslim family almost seventy years ago, this in no way negates the truth of Pamela Geller's ads that tell it like it is about Islamic jihad in our nation and world today.
Mr. Singh invokes the canard of the elusive "moderate" Muslim in defending his disdain for Geller and the ad campaign, as he writes:
There are fringe extremist groups in many religious communities throughout the world. ISIS, Al Qaeda and others are real threats to Americans. But they constitute a tiny fraction of the total population – which, in the case of Muslims, totals up to 1 million in New York City and more than 1 billion globally.

Nor is it the case that moderate Muslims are failing to condemn extremists. The devout Muslims I know are disgusted with these groups.

By pandering to the lowest common denominator, Geller is failing to acknowledge the devout Muslims who are working full-time to combat extremism and promote secular, pluralistic democracies in Muslim-majority countries.
Where are these "devout Muslims" who are "working full-time to combat extremism"? Where are they working to "promote secular, pluralistic democracies in Muslim-majority countries"? Maybe they're all over the place, but they just don't get any press coverage. Yeah, that must be it, because I've never seen or heard from any of these "moderate, devout Muslims" speaking against "extremist" Muslims. In truth, what the Left calls "extremists" are simply devout Muslims, Koran-thumpers, if you will, who actually follow the teachings of their book.
As for his claim that the ads pander to the "lowest common denominator," let's take a look at
what some of the ads say
:
"In any war between the civilized man and the savage, support the civilized man. Support Israel. Defeat jihad."

"Yesterday's moderate is today's headline. It's not Islamophobia. It's Islamorealism."

"Hamas is ISIS. Hamas is Al-Qaeda. Hamas is Boko-Haram. Hamas is CAIR in America. Jihad is jihad."

"Christians are becoming extinct everywhere in the Middle East except Israel. 2/3rds of all US foreign aid goes to Islamic countries. End US aid to Islamic countries."
These ads are what the Daily News writer claims pander to the lowest common denominator. I would bet that the vast majority of people reading this fully agree with those ads. Does that mean we are the lowest common denominator? No. We're just realists who are not swayed by the senseless tyranny of "political correctness."
We see what the Muslims are doing in our nation and around the world. We see the Muslim sympathizer in the White House (who has allowed
Muslim Brotherhood operatives into his administration
) downplay Islamic terror in our nation, mislabeling the jihadi terror attack at Fort Hood as "workplace violence." We have seen Barack Obama (or whatever his name is) arm and finance Islamists in the Middle East. We have seen him leave our southern border wide open to illegal aliens and Muslim terrorists. We have seen him allow our Ambassador and others to be murdered by Islamists in Benghazi. We have seen him purge our military and intelligence communities of rational reference to Islamic dangers and forbid them from monitoring mosques – all this while he decimates our military and floods it with "out and proud" homosexual deviants.
We have watched Obama set the Middle East on fire for the Islamists he favors over the ones he doesn't. I have no idea which Islamists are the "good guys" in his warped mind, nor do I care. What little stability there was over there when he took office has been obliterated by his evil machinations.
Sentient Americans see Islam for what it is: a satanic, militant-political ideology couched in a religion. It is a disease on the face of the earth, and everywhere it exists it brings brutal, violent oppression. Telling the truth about this evil belief system is not "hatred" or "Islamophobia." Pamela Geller's ads are spot-on, and we need many more like her. Nowadays, wherever real truth is told, haters of truth will always spit and hiss – and lie. Such is the case with the ones who are blasting her ads as they slavishly bow to the tenets of Muslim Sharia law that stand in stark opposition to everything that the United States of America represents.
© Gina Miller
---
The views expressed by RenewAmerica columnists are their own and do not necessarily reflect the position of RenewAmerica or its affiliates.
---