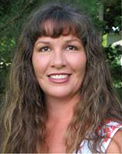 Gina Miller
Should Christians be politically active?

By
Gina Miller
September 18, 2014
Listen to an audio version of this column
Last week on Facebook I was chastised by a fellow Christian for being politically active. She accused me of blasphemy, idolatry, apostasy and scripture twisting for my defense of Christians being engaged in the public battle for the soul of our nation. She is apparently one of the "pacifist" Christians who believes that we are never to speak out against the evils done by civil government, because God ordains all authority.
Our conversation thread was on a press release
I posted from Senator Ted Cruz announcing his proposed legislation to strip the U.S. citizenship of any American who joins ISIS.
The lady, who uses a pseudonym of "Barefoot Inhispresence," wrote that God is sovereign. Then she cited Daniel's proclamation (2:20-21) that He establishes kings and removes them, and she takes Jesus' silence before Pilate to extrapolate that we should remain silent in the face of governmental injustice. I wrote to her, "Yes ... the Lord is sovereign. He also calls us to expose the works of darkness."
To which she responded:
As they apply to the Church, not rant about the gvmt. There is nothing in scripture telling us to focus on that except to pray for those HE has set in authority. Oh, except that to grumble against them is blasphemy against Him, and He takes that very seriously. Politics are not any focus in scripture...it should not be ours either. We are here to proclaim the gospel, period. And to make certain the Church is not being tainted by leaven. Like a bunch of professors who serve the enemy by distracting believers from their one commanded duty...to proclaim the gospel. And to obey the Lord.
To that, I replied:
How many times did Jesus rebuke the Pharisees? Remember, the Pharisees were not only the "religious" leaders but also the political leaders of Israel at the time. Jesus had strong words for the injustice and the hypocrisy the Pharisees displayed.

There are many evils that Christians have rightly condemned throughout the ages, slavery being one of them. Using the argument that Christians should never engage in the "culture wars," slavery would not likely be abolished anywhere, and no one would speak out against the mass slaughter of pre-born babies. We have no way of knowing how many lives have been saved because Christians have been willing to target abortion mills to pray and try to persuade women not to have their babies killed.

Our Founding Fathers were overwhelmingly Christian, and if they believed they should never speak against tyranny, such as that of King George, there would be no United States.
That was enough for her. She then threw the harshest of labels at me, a fellow Christian, and afterward "unfriended" me. She wrote:
Ah, that's too bad. You are more wedded to your "cause" than to the word of God in context and application. You ARE good at fallacious straw man diversions though. Very disappointing. Well, sis...that is idolatry, as well as blasphemy (again, only according to God in His word in Romans 13...you can easily ignore that some more I'm sure). Well, I did what God said to do, I warned you. Your choices and your idols are on your head not mine. But this ungodly, scripture twisting apostasy...I shall not "walk with."
Putting aside the fact that this woman is a stranger to me who knows nothing at all about who I am, what I do (other than the limited knowledge she can glean from my columns and Facebook posts) or the status of my walk with the Lord, and setting aside her condemnation of me (the very kind the "judge not" scriptures are actually talking about), is she right in her claim that Christians should not be politically active? This is a question with which many Christians have struggled, due to the lack of overt New Testament admonitions to do so.
Yet how many Christians throughout history, inspired by the fire of God's Word in their spirits, have stood firmly against evil actions by civil governments? Were they wrong? Was William Wilberforce wrong, as a member of the British Parliament and a Christian, to work to abolish slavery and to speak out against other societal ills, while advocating for God's morality in the public square? Was Telemachus the monk wrong for standing against the barbaric Roman gladiator spectacles, for which he paid with his life? Were our Founding Fathers (most of whom were Bible-believing Christians) wrong for standing against the tyranny of King George, standing to the point of violent revolution, in establishing a nation by God's grace? The list of Christians who have firmly engaged civil government with the powerful weapon of God's truth is long and includes the apostles and Jesus Himself.
As I said to "Barefoot Inhispresence," Jesus strongly rebuked the political-religious leaders of Israel, and this includes His fiery demonstration against the money changers in the temple. The apostles regularly defied the civil authorities when they refused to silence the message of the Gospel. You could argue that this was all exclusively in the furtherance of the Gospel, but does the Lord not call us to apply His Word to all areas of our lives?
Writing at the
Good News Herald, Gary DeMar states
:
First, while it's true that civil government is ordained by God, so are family and church governments. If there are problems in a particular family or church, shouldn't we be about fixing the problems? Civil governments don't get a pass when they do bad things.

Second, is praying for those who are in authority all we should do? How often have the people in Germany been criticized when the majority of the population did nothing when they learned of what Adolf Hitler was doing to the Jews? Corrie ten Boom was a Dutch Christian, who with her father and other family members helped many Jews escape the Nazi Holocaust during World War II. When Jews entered their watch shop, should they have sent them away and told them that the Nazi government was "ordained by God" and that they would pray [for] the frightened Jews? Should we praise the informant who turned them into the Gestapo because the informant was "supporting the God-ordained" government?

... Third, it's the duty of citizens to insure that civil governments stay within their jurisdictional boundaries. This is exactly what the apostle Paul did when he questioned the authority of a civil official regarding his rights as a Roman citizen (Acts 22:23–30) and later appealed to Caesar (25:11).

... If it was right for Paul to "protest" this single violation of his rights as a Roman citizen, why is it wrong to protest constitutional violations given the fact that Constitution itself in the First Amendment gives us the right – the obligation – to "petition the government for a redress of grievances"?
It would be hard to support the argument that Christians are wrong for opposing government actions that God calls evil. Abortion is murder. God calls us to defend the powerless among us. How can anyone justify standing by silently as millions of pre-born babies are slaughtered in the evil name of "choice"? Are the dear Christians, whose hearts are heavy with the burden of grief over this hell-born "woman's right," wrong to tirelessly spend countless hours in prayer and abortion mill sidewalk ministry to the women and girls who enter these dens of death?
Are Christians wrong for speaking out against the dangerous political agenda of the tyrannical homosexual movement? God calls the sin of homosexuality an abomination. This abominable sin is being used by our evil culture and political leaders as a "right" to wage a full-frontal assault on Christianity itself, as well as our God-given freedoms and the very foundations of our constitutional Republic – a Constitution and a Republic that is, next to the nation of Israel, the most God-blessed in human history.
Yes, God will avenge every wrong done by the Godless in this world, but I do not believe He desires us to stand silently by in the face of evil done by our civil leaders. Further, opposing this same evil is not "blasphemy" against the Lord nor apostasy against His Word.
In conclusion, here is an excerpt from a column by John Neish published at the
Wisconsin Evangelical Lutheran Synod
:
Many Christians seem to be unable to distinguish between their duties as Christian witnesses and as Christian citizens. They criticize politically active Christians.

Those well-meaning Christians who criticize politically active brothers and sisters are mixing apples and oranges – using the definition of the spiritual mission of the church to criticize Christians who exercise their political rights.

... God gave us this political system. Through it, he allows his people the opportunity to influence the political process. If we as Christian citizens are to give to Caesar the things that are Caesar's, we should participate. We also have a responsibility to act on our Christian principles.

We should not be content to treat political responsibility as though it were separate from faith. We are the light of the world. Is it proper for us, therefore, to stand silently by and watch those living in blindness steer themselves – and us and our children – into destruction? I feel very strongly that we will be held accountable for our continued silence.

We have the same political freedom as unbelievers. We have the same opportunity to stand up for and vote for legislation that represents our values. We have as much right to work for legislation to restrict evil as our opponents do to propagate it.

... The apostle Paul used his civil rights. Why shouldn't we?
© Gina Miller
---
The views expressed by RenewAmerica columnists are their own and do not necessarily reflect the position of RenewAmerica or its affiliates.
---