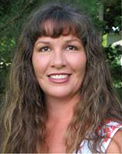 Gina Miller
Left goes nuts over truth about 'transgender' teen

By
Gina Miller
August 22, 2014
Listen to an audio version of this column
Last Saturday, I came across
a USA Today story
about leaders of a junior high school in New Jersey informing the mother of a 13-year-old boy, who believes he is "transgendered," that he is not allowed to come to school dressed as a girl. Back just a few short years ago this would not be "news." It would have been expected that no school, much less a parent, would allow a boy to dress like a girl, but that's no longer the case. Now, not only is it considered "scandalous" by our idiot media that this school would dare to insist this boy dress correctly as a boy, but the news report goes along with the charade by addressing the boy in feminine pronouns and by his preferred name of "Rachel," as does his mother. She is in full support of her son "transitioning" to female, as if that were at all possible.
So, I posted the story on
my Facebook page
with the comment, "This boy's lunatic mother should be put in prison for aggravated child abuse. This is utterly sickening! Our nation is going to pay dearly for embracing this demonic perversion and pushing our kids head-first into it." For a couple of days, there was no response, except for my Facebook friends lamenting the sorry state of our nation today and agreeing that the boy's mother was doing the child a great disservice (to say the least) by encouraging him in his mental delusion, instead of getting him help to overcome it.
Then, a few days later, the homosexual "tolerance" brigade hit, because the radical leftist
People for the American Way
's
Right Wing Watch
had been on my Facebook page and had
posted a piece on me
with a screen shot of my comment about the boy and his mother and some passages from
one of my latest columns
. This led to a steady, three-day stream of homo-activist trolls descending on my Facebook page attacking me and defending the boy and his mother. This is standard operating procedure for the militant Left. As we see the power structure and institutions of our nation abandon God, truth and reason, those of us who stand for God, truth and reason are increasingly hated and attacked for it. Those who intend to destroy marriage, to fracture our society and sell immorality of all kinds to the people of our nation (especially the kids) are growing ever more vicious in their anti-Christian campaign.
These people are a small group of frenzied, loud-mouthed homosexual activists and sympathizers who are of like mind. They move in packs on the Internet and collude to swarm comment threads to create the illusion that there are many more of them than there really are. Because they have on their side the media, Hollywood and entertainment industries, many corporations, schools and politicians, some might be led to believe that their demented ideas are widely accepted. They're not.
Nor is truth on their side. The "transgender" craze, which is part of the larger, tyrannical homosexual movement that ultimately
seeks to outlaw Christianity
, is being given "credibility" by desperate lies and bunk "science" that seek to convince us that, "
... male and female He created them
," is not the case, because they think they know so much more than our Creator. Since the premise of "transgenderism" – that a man could be a woman, and vice versa – is so outlandish, these people must come up with high-sounding "scientific" blather to persuade people that the issue of sex is much more complex than the simplistic idea that all people are either male or female. With enough grant money on the line, there is no lack of willing "political scientists" who gladly provide this movement with "scientific" talking points.
As an example, one of the "transgender" defenders who visited my Facebook page responded to my comment – that a male will always be a male and the DNA doesn't lie – with this:
Gina – Do you even know how DNA works? Before quoting keywords like "Chromosomes," I suggest you do some research on the indirect correlation between Genotype and Phenotype and how Genetic Expression in Development actually works. There are 22 other chromosomes beyond the so-called "Sex Chromosomes." The presence of a sequence of nucleotides or molecule with the right receptors in utero can completely modify or nullify the expression of specific genes.
You see? Here is nonsense speculation wrapped in scientific terminology that is meant to convey the notion that human sexuality is infinitely complex, and for us to claim that we are either male or female, well, that's just the childish silliness of the low-brow uninformed. Never mind that the best scientists in the world still do not, and likely never will, come close to fully understanding human deoxyribonucleic acid (DNA). And, further, none of this has anything to do with the fact that each of us is still either male or female, period, mental illness notwithstanding.
Rather than taking such a circuitous, pseudo-scientific journey to "prove" that "transgenderism" is truly possible, let us view it as it is: a mental and spiritual sickness. In fact, until recently, the mental health world naturally viewed "transgenderism" as the mental illness it is and always will be. It was only recently that the American Psychological Association and a few other groups bowed to political lobbying pressure and "normalized" their classification of such disorders to appease the militant, vocal minority of sexual deviant activists.
However, not everyone is going along with the charade. On Wednesday, CNS News carried a column that will send the radical homosexualists into pseudo-scientific orbit: "
Johns Hopkins Psychiatrist: Transgender is 'Mental Disorder;' Sex Change 'Biologically Impossible.'
" Oh, yes! Here's a man who's unafraid to tell it just like it is. From the column:
Dr. Paul R. McHugh, the former psychiatrist-in-chief for Johns Hopkins Hospital and its current Distinguished Service Professor of Psychiatry, said that transgenderism is a "mental disorder" that merits treatment, that sex change is "biologically impossible," and that people who promote sexual reassignment surgery are collaborating with and promoting a mental disorder.

... He also reported on a new study showing that the suicide rate among transgendered people who had reassignment surgery is 20 times higher than the suicide rate among non-transgender people. Dr. McHugh further noted studies from Vanderbilt University and London's Portman Clinic of children who had expressed transgender feelings but for whom, over time, 70%-80% "spontaneously lost those feelings."
Common sense tells us that a child who imagines he is the opposite sex will grow out of it. If he doesn't, then he needs to get treatment to overcome such delusions. And, just as I said about that "transgender" boy's mother being guilty of aggravated child abuse for encouraging her 13-year-old son –
a child, barely near puberty!
– to "become a female," so says Dr. McHugh:
Dr. McHugh also reported that there are "misguided doctors" who, working with very young children who seem to imitate the opposite sex, will administer "puberty-delaying hormones to render later sex-change surgeries less onerous – even though the drugs stunt the children's growth and risk causing sterility."

Such action comes "close to child abuse," said Dr. McHugh, given that close to 80% of those kids will "abandon their confusion and grow naturally into adult life if untreated ...."

"'Sex change' is biologically impossible," said McHugh. "People who undergo sex-reassignment surgery do not change from men to women or vice versa. Rather, they become feminized men or masculinized women. Claiming that this is [a] civil-rights matter and encouraging surgical intervention is in reality to collaborate with and promote a mental disorder."
But, of course, the rational among us know this, and we will keep repeating it. Do not underestimate the determination of this minority of Godless degenerates to use the weapon of "nondiscrimination" laws to silence Christians and others opposed to its immoral agenda. Our very freedoms are in this evil movement's crosshairs.
© Gina Miller
---
The views expressed by RenewAmerica columnists are their own and do not necessarily reflect the position of RenewAmerica or its affiliates.
---