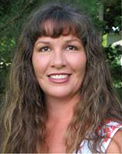 Gina Miller
Homofascists ramp up attack on marriage in MS

By
Gina Miller
August 15, 2014
Listen to an audio version of this column
Back in March
and
then in May
, I told you about a
new, brazen campaign
by homofascist activists to target three southern states, Mississippi, Alabama and Arkansas, with their aggressive push for the destruction of marriage and the creation of other special "rights" for sexual deviants. With the hellish support of homosexuality-lover Barack Obama (or whatever his name is) the militant homosexual movement is now on steroids, which makes them bolder than ever, bold enough to target conservative states with larger Christian populations.
Their deranged, multi-million-dollar program in the South continues, and this week here in Mississippi, homosexual activists descended on county courthouses in order to put into public record their "marriage" licenses from other states, since Mississippi still retains a bit of sanity and only recognizes marriage, not the counterfeiting of it.
As reported on Thursday here on the Mississippi Gulf Coast by
the Sun Herald newspaper
:
Seventeen couples from nine Mississippi counties planned to participate in the Campaign for Southern Equality's statewide day of action for marriage equality Wednesday by recording their out-of-state marriage licenses at their local chancery court offices as part of the public record.

Thirteen couples filed their licenses in their respective counties, but four couples in Harrison County were turned away.

Chancery Clerk John McAdams said he was unable to accept the licenses because the couples were seeking to file them under the miscellaneous records portion of the land records. He said the key was "land records."

"Any time it meets a statutory requirement, you can record it," he said Wednesday afternoon. "We find no authority to record a marriage license. This office has never recorded a copy of a marriage license in the land records."
Mr. McAdams goes on to explain and explain how and why he runs his office this way – you know, the normal way he's supposed to run it – and how he hates having to be the "bad guy." It's too bad he took that submissive tone. It's too bad he didn't plainly declare the absurdity of what these sexual deviants are trying to do, which is bastardize the meaning of marriage, and further, to subordinate the rights of most Americans to this campaign of perverse tyranny. Perhaps he doesn't understand the
goals of the radical homosexual movement
and doesn't see the danger to our freedoms this demonic crusade poses.
The Sun Herald column goes on to quote one of the homosexual women who managed to get her "marriage" license entered into record in Pearl River County:
"This forces the state to recognize that our marriage exists," Jenna Lockwood said. "This is a public record on the books for the rest of our lives."

She said marriage has come a long way in recent years.

"It wasn't this side of 50 years ago that even (some) heterosexual couples weren't allowed to get married," she said. "They say history repeats itself and forces us to right its wrongs and learn from them. I feel like that could happen again but it will never happen if we aren't brave and stand up for them."

According to a press release from the campaign, 21 same-sex couples have applied for – and been denied – marriage licenses across the state in the last two years. The release said 3,488 same-sex households reside in Mississippi, according to the 2012 Census, and 26 percent of same-sex couples in Mississippi are raising children.
Putting aside her asinine comparison of the senseless prohibition of interracial marriage (which is still legitimate marriage if it's between a man and a woman) to the proper prohibition of a grotesque parody of marriage, that last sentence is one of the most evil aspects of the militant homosexual movement: the children who are subjected to the custody of two sexual degenerates. At Renew America, Tim Dunkin, in his column, "
Gay Adoption is Child Abuse
," writes:
Let's face it – handing children over to gays to be raised is as much abuse as is locking them in hot cars for hours on end. In fact, it's even worse – you can rescue a child from a car and make sure it never happens to him... again, but once you start yielding to the fallacies that facilitate gay adoption and start allowing judges to force it into place via judicial fiat, you are handing children over to on-going, endemic abuse that will last for the next 18 years. That is a crime against humanity, and no sane society would do this. If the stories I've seen and read about the way many kids are "raised" by gay "parents" are any indication, a child caught up in this is in for a long, miserable, hellish ride. If, as a society, we claim to truly be against the abuse and harm of our children, then we have a moral responsibility to keep them out of the hands of gay couples, whether "married" or not. Let boys be boys and girls be girls. Don't let perverts corrupt our kids while trying to live out an impossible fantasy.
The Sun Herald story features photographs of three of the homo-activist duos, and one female pair is pictured with a little boy, about 3 years old, who is either the son of one of the women or adopted; the story doesn't say, except to call him their son. That's the heartbreaker of this. The poor child is being raised by two sexually demented women, a situation that turns truth and sanity upside-down, and we should remember him and others like him in our prayers. There is no doubt that some of the children in these awful places are the elect of Jesus, who will be "one of these little ones who believes" in Him, and the chances of their homosexual "guardians" causing them offense, causing them to stumble, are great.
Jesus had the strongest words for such people
.
The fast-spreading cancer of the militant homosexualist movement has now hit our southern states with a fury. The hour is late. We're far beyond the point at which we should give a rip what the radical communist Left says about us. We should not care a whit when they call us foolish, mindless names as we tell the truth about their evil agenda. As I have said many times before, there are two camps in this world, the Lord's camp and Satan's camp. Each of us is in one or the other. There is no neutral camp – NONE. Therefore, we see the forces of what we call "the Left" aligned against the people of God, whether they be Christians or Jews. All the demented "leftist" campaigns in our world, whether they are of radical homosexualists, tyrannical environmentalists, wicked communists or demonic Islamists, are of the devil (did you get that,
Right Wing Watch
?).
Here in the United States the homofascists are waging a powerful war against Christianity. It is being conducted in our media and entertainment industries, our federal, state and local governments, our schools, our corporations – everywhere. These people lie about their goals. They claim to simply want "marriage equality," but there is no such thing. Marriage is one thing only, the union of a man and a woman, and that's all it could ever be, regardless of how many rogue federal judges illegally write bad law from the bench. The "marriage equality" ruse is part of their campaign to destroy the rights of Christians and others opposed to their agenda, because it would force society to accept, recognize, accommodate and even celebrate homosexual duos parading as "marriages," or else.
They're also clamoring for "employment non-discrimination laws," which the criminal Obama recently mandated – without congressional approval – at the federal level. These evil laws are a way to strip people of their rights to conduct their businesses in the way they see fit, according to their conscience, which might happen to include no desire to hire a mentally disordered man who dresses as a woman. These laws would force employers to hire such people under threat of legal punishment.
This tiny minority of the population is being used as pawns by a larger power hell-bent on imposing tyranny over the people of the United States. The homosexuals aren't the only ones being used in this way. The environmentalists are also on board the tyranny train, just in a slightly different area, the area of property rights and freedom of mobility and consumption. The whole
"diversity"
program is yet another part of the devil's tyranny. I could go on.
As I said, the hour is late. We are quickly moving toward the very last days, and our nation is fast becoming Sodom West of the modern era. No good can come from this, only dark tyranny, and ultimately, the outlawing of Christianity. Don't doubt it for a minute. That
is
where this leads. We must speak out against this movement, resist it while we still can, and most importantly, we must pray for the Lord to have mercy on this wayward, sinful nation.
© Gina Miller
---
The views expressed by RenewAmerica columnists are their own and do not necessarily reflect the position of RenewAmerica or its affiliates.
---