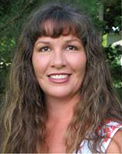 Gina Miller
Impeach Barack Obama, the anti-American, Marxist fiend

By
Gina Miller
July 21, 2014
Listen to an audio version of this column
The chaplain of one of
our local TEA Party
groups shared with us a column he stumbled on, which was written just before the 2008 national election that saw a real-life Manchurian Candidate installed in our presidency. The column, by former White House staff economist and budget analyst Jim Simpson, was published September 28th 2008 at American Thinker, and is titled "
Barack Obama and the Strategy of Manufactured Crisis
." It's a lengthy essay that connects the dots of radical leftist – or Marxist, if you will – influence on Barack Obama (or whatever his name is). The piece demonstrates that Obama is well-versed in the evil Cloward-Piven strategy of orchestrated crisis, overwhelming the system, whatever system, with demands, for the purpose of destroying it.
Mr. Simpson's article is well worth reading. He covers all the bases of Obama's anti-American radicalism. In addition to Cloward-Piven, he outlines the influence on Obama of Saul Alinsky, Bill Ayers and his wife, Bernardine Dohrn, George Soros, the Association of Community Organizations for Reform Now (ACORN) and others. He also addresses some of the main areas targeted by our enemies-within using the Cloward-Piven strategy: voting, illegal immigration and the mortgage industry.
Of Obama, Mr. Simpson writes:
He can be tied directly to a malevolent overarching strategy that has motivated many, if not all, of the most destructive radical leftist organizations in the United States since the 1960s.
He wraps up his piece with this:
Barack Obama, the Cloward-Piven candidate, no matter how he describes himself, has been a radical activist for most of his political career. That activism has been in support of organizations and initiatives that at their heart seek to tear the pillars of this nation asunder in order to replace them with their demented socialist vision. Their influence has spread so far and so wide that despite their blatant culpability in the current financial crisis, they are able to manipulate [Capitol] Hill politicians to cut them into $140 billion of the bailout pie!

God grant those few responsible yet remaining in Washington, DC the strength to prevent this massive fraud from occurring. God grant them the courage to stand up in the face of this Marxist tidal wave.
Tragically, we now know that those very few responsible remaining in Washington have scarcely lifted a finger to stop the Obama Crime Syndicate's Hell-born plan to destroy our nation as founded. Obama and his dear buddies have been allowed to implement Cloward-Piven-on-steroids all across our nation in all the areas mentioned in Jim Simpson's column, and more. Whether it's the insane, deliberate exploding of the welfare rolls, the wicked, near-daily flood of lawlessness from Obama, his administration and federal departments, the treasonous Obama administration-orchestrated illegal alien invasion of our nation from the southern border, the swapping of terrorist enemy combatants for an Army deserter, his EPA's war on our energy supplies, his war on our military and so much more, we are witnessing the defeat and destruction of the United States of America by enemies within.
I have seen it written by cynical people that if we detail the crime and corruption of our "leaders" but we offer no solutions, then we're just whiners. However, many of us
have
offered solutions. The problem today is that we have a system that has been infiltrated and compromised by people in power who disdain our Constitution and foundation of limited federal government. These people have, over the decades, built a nearly impenetrable superstructure that insulates them from the constraints of the Constitution and will of the People, at least those of us who demand a return to conservative, constitutional government.
It's so bad today, that those of us who demand that Congress impeach, convict and remove Obama and his collaborators from office are met with ridicule and the assurance that, "No one is ever going to impeach the first 'black' President." I assume they don't think Obama's "white" half will ever be impeached, either. Nevertheless, toward this end, many of us will still work to
elect an "impeachment Congress" this November
, putting people in office who pledge to be unafraid to use the one lawful tool our Founders wrote into the Constitution to deal with such a lawless chief executive as Obama is.
Aside from impeachment, what can be done to stop him? Something like John Boehner's lawsuit against Obama? The House suing Obama makes no sense to me. Why are they surrendering their rightful co-equal power to the federal courts? I heard Mark Levin on his national radio show point out the dangerous foolishness of this move by Boehner, noting that if a federal judge rules against the House or declares that it has no standing, that it will only further inflate Obama's self-declared "mandate" to continue his lawless dictatorship.
As painful and infuriating as it is to say, I am certain no one can stop Obama except the Lord Himself, if only He would. I don't have much hope that God will intervene, because I see the terrible state of our nation, our headlong flight into tyranny, as part of His judgment on the United States. We can see the detestable state of our culture, our collective embrace of all kinds of sinful behavior and the expulsion from our government, military, institutions and public square of all things Christian. Instead, America worships the "proud" flaunting and writing into law of homosexuality and other sexual deviancy, the mass-murder of pre-born babies "celebrated" as "choice," and the indolent, entitlement mentality of far too many people who shun work and instead insist that others pay for their living, and in so doing, choose for themselves lives of servitude to their government masters. Barack Obama is also part of the Lord's judgment on this wayward nation. It's not just him alone, but the entire American power structure that has sunk into diseased corruption and criminality.
Another thing we must consider regarding the Lord's judgment is God's promise to Israel. You don't mess with Israel without consequences. In Genesis 12:3, God said to Abraham (then, Abram), "I will bless them that bless you, and curse him that curses you, and in you shall all families of the earth be blessed." This promise has not changed, and it never will. We know that Obama and his allies have a demonic hatred for Israel. Obama has repeatedly shunned and insulted Israel, and he has sided with, and given material support to, Israel's Muslim Arab enemies. By this also we know that America is skating on thin ice, because of our wicked "leaders" who hate Israel.
Obama and his fellow travelers are allowed to behave as an oligarchic dictatorship. They are enemies of the United States. They are not incompetent. They are competent like devils are, and they mean our nation great harm. They are anti-American fiends. Who will stop them? Who will hold them accountable for their treason and crimes against the United States? Who will prevent the near-completion of "fundamental transformation" of our once-great nation?
The view from here doesn't look good. Nevertheless, we will not stop speaking out against them. We will not stop praying for God's mercy on this undeserving, wayward nation. We will not stop demanding that Congress do the right thing and impeach, convict and remove Barack Obama and his collaborators from office.
© Gina Miller
---
The views expressed by RenewAmerica columnists are their own and do not necessarily reflect the position of RenewAmerica or its affiliates.
---